Nice Item
By
Shopper

(Spring, TX) - May 7, 2013
Good quality and will make a great gift. We had ordered the gift box with the order, which was a dissappointment. For $5.95, the gift box could have been better. Felt like I paid for a box which should have come with the item anyway.

Nice item
By
Shopper

(Spring, TX) - May 2, 2013
The photo cube looks much better than in the pictures. Very nice product. However, I think buying the gift box was a mistake. The gift box is not worth the $5.95. I was hoping it will have gift wordings (from/to, etc.) on the top of the box, instead it advertises the company name.

Great Gift
By
Jessica A.

(Glen Burnie, MD) - May 21, 2012 (
See all reviews by this customer
)
The photo cube was a great choice for a graduation gift. I like that I was able to personalize it with my friends name. Processing and shipping were very quick as well.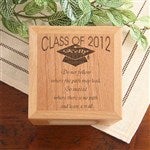 Great Personalized Grad Gift
By
Shopper

(Canada) - June 20, 2011
Great Personalized Grad Gift, good quality, love the fact that I could put the same saying on the exterior as I did on a personalized card I made. Great Value.

Small graduation photo box
By
David W.

(Independence, MO) - April 24, 2011 (
See all reviews by this customer
)
Wish there was a hinged lid on top, instead there is "cheap" cardboard bottom, that has swing "latch" holding bottom on, it's empty space inside box, not very usable "box", but the printing, and quality of the box is worth the value, IMO.

Great Gift!
By
Sarah S.

(albuquerque, NM) - May 11, 2010 (
See all reviews by this customer
)
The engraving was great! Being able to choose to have anything written was a big bonus. The only thing I wish was different was the size of the photo area. If it had been just a bit bigger I could have used graduation pictures with more than 2 people. Otherwise it is fabulous! and my graduate loved it.

Photo Cube
By
Lisa R.

(Norton, MA) - May 6, 2010 (
See all reviews by this customer
)
The photo cube is great, I just wish the engraving was centered on the hat.

Photo cube
By
Shopper

(King City, OR) - May 26, 2014
I was disappointed in the packaging of the tine I ordered. When I picked up the box, I could hear glass rattling. Thank goodness, nothing was broken, but the glass was laying loose in the bottom of the cube. Poorly packaged!!!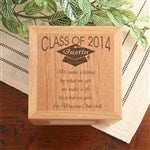 Wrong personalization
By
Gina D.

(winfield, IL) - June 4, 2013 (
See all reviews by this customer
)
This is beautiful & delivery was quick! The only problem is one of the letters is wrong! I will have to re-order if I want this for my daughter.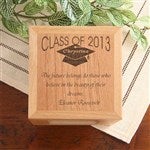 BUSY FONT
By
Denny C.

(Statesboro, GA) - April 28, 2010 (
See all reviews by this customer
)
I HAVE ORDERED THIS ITEM IN THE PAST FOR GRADUATION GIFTS AND HAVE ALWAYS BEEN PLEASED. THIS TIME THOUGH I WAS ALITTLE DISAPPOINTED WITH THE WAY THE INSCRIPTION AND THE NAME SEEMED TO RUN TOGETHER. I'M BLAMING IT ON THE FONT. SEEMED LIKE MORE SPACING SHOULD HAVE BEEN ADDED BETWEEN THE WORDS FOR EASIER READING. THANKS FOR YOU INTEREST.

Product fetures is so different
By
Shopper

(Marietta, GA) - April 19, 2011
The items appears very big in the picture so you should have put the size, because it is hard to have 3/3 size picture. Beside that everything is great.