Black Writing
By
Shopper

(Allen, TX) - May 7, 2012
The writing was beautiful and vase was great. The monogram in Black is very faint and hard to Read.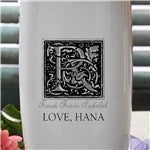 Floral Monogram Personalized Vase
By
Shopper

(Abingdon, MD) - April 17, 2012
The quality of the vase itself was great, however the personalized lettering was very small. (The name of the individual was large enough, however the message lettering was small, comparatively). I chose the maroon color and found the small writing to be barely legible. Overall the vase, which was a memorial gift given on the anniversary of a death was received with gratitude.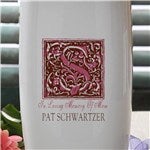 Vase as wedding gift!
By
Tatyana G.

(Tampa, FL) - November 1, 2011 (
See all reviews by this customer
)
I am very pleased with my purchase. The vase is beautiful and elegant! I received a similar vase as a wedding gift, and loved it, so I decided to get on for my cousin's wedding too!

monogram vase
By
MJ B.

(Wilmington, MA) - September 14, 2011 (
See all reviews by this customer
)
Bought this vase for my niece's wedding- It's a beautiful vase! Although the monogram is beautiful, it is slightly smaller than what it appeared to be in print. But, still a beautiful vase, and I'm sure the happy couple will love it! Service and delivery was top quality! Will be coming back for other gifts!

Awesome vase
By
Shopper

(Manlius, NY) - September 10, 2011
This is a great gift, especially for a wedding. We got it as a gift for our own wedding from one of the groomsmen and loved it so much we have purchased it for two different friends who got married. They have all loved it because it is so personal but in a very classy way. Ours was the green, which is really pretty. And we were only able to see the one vase we got for our friend, which we did in black. We did like the black, but the monogram seemed almost a little heavy, but still very pretty. I would definitly recommend this gift for anyone. It's such a nice personal touch without being chessy or weird.

Perfect
By
Nadine B.

(Fredericksburg, VA) - December 14, 2010 (
See all reviews by this customer
)
This is the perfect hostess gift, this is the second one I have orderd. I think it is my new tradition as a hostess gift. Easy and personal.

good quality
By
Amy H.

(Milwaukee, WI) - August 18, 2010 (
See all reviews by this customer
)
The vase I ordered looked exactly the way it did when I ordered it on line, no surprises. It was shipped in a timely manner. I was very pleased with my experience and will shop here again

Floral Monogram© Personalized Vase
By
Sandra W.

(Big Pine Key, FL) - April 7, 2010 (
See all reviews by this customer
)
It's a nice vase and cute way to personalize our anniversary. I was tired of collecting all the cheap glass vases that come with flowers when you order them. I have told my husband that even if the vase is free to forgoe it in the future as I have no more room for them. :) He doesn't know that I purchased the vase, but I have a feeling he will be buying me flowers for our day. It will be a nice surprise for him to see them in our new vase.

The only flaw is that the mouth on the one I received is mishaped. Not that noticeable with flowers in it but should still be more proportioned.

Elegant
By
Angela R.

(Big Lake, MN) - April 1, 2010 (
See all reviews by this customer
)
I purchased this as a gift for my parents...their 30th wedding anniversary will be this summer. I plan to fill it with flowers and I think it will make my mom cry (a happy cry). The vase is big...I like the size...the writing is nice...although I wish that, in the green color scheme, the first line of writing would be a bit darker or clearer...almost feel like i have to get right up to it to read it.
I would purchase this again.

Met Expectations
By
Anha V.

(Lexington , VA) - October 1, 2009 (
See all reviews by this customer
)
This came out exactly as it looks. Doesn't look cheap.

The design could be better
By
Seema P.

(Katy, TX) - January 31, 2014 (
See all reviews by this customer
)
This is the first of all my Personalization Mall's products that I was not 5 star happy with. Though it looked good in the photo, in reality the whole design is jumbled in one area. A bit of extra spacing in the design would have made a big difference. I chose Burgundy, it did not look that good. I guess green is the best that is why it is in their photo.

Lettering Isn't Dark Enough
By
Shopper

(Bluemont, VA) - April 29, 2012
The vase is nice and the main lettering in bold comes out nice but you can hardly see the words that are not in bold. If I purchased this item again I would not add the row of lettering that is not in bold.

Very pleased!
By
Sara M.

(Far rockaway, NY) - February 29, 2012 (
See all reviews by this customer
)
This is a perfect gift to put a smile on a woman's face. I gave this gift to my sister and to a teacher of mine. I was very pleased with the fact that I was able to choose my own colors, font, and add more words to it besides just having the monogram. It would be better if the monogram would have both first and last name initials not just the first..that is why I rated the gift 3 stars..Other than that..it is lovely! another reason I gave it 3 and not 5 stars is because I ordered the box for 7.99 to come with the gift and the fact that I am ordering a gift box it shouldnt say on it "personalizatin mall". If I would have known that I needed to advertise my gift through the gift wrapped box I paid for seperately, I wouldnt have ordered the box. other than that its a great gift!!!! very pleased

little blurry
By
Joy P.

(Bowie, MD) - May 6, 2011 (
See all reviews by this customer
)
love this website and i have always loved the products that i have received. This vase came quickly as always however the writing on the sec line was a little blurry and hard to read.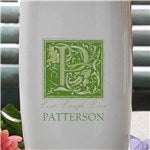 writing
By
Kathryn K.

(Barkhamsted, CT) - March 4, 2011 (
See all reviews by this customer
)
I love the monogram but the quote underneath is very hard to read in the sage color - I ordered another vase in black and those words are much easier to read

It so big!!!
By
natalie R.

(staten island, NY) - September 10, 2010 (
See all reviews by this customer
)
I love the the size of the vase, it looks great too. The only downfall is that the monogram and everything is a sticker! So I have to be careful not to get it wet.

Nice sized vase, contemporary look with a simple design
By
Jennifer J.

(New York, NY) - August 24, 2010 (
See all reviews by this customer
)
I rate this vase a 5 for value and being able to personalize it at a low cost. I ordered this in Black/Gray. It is a good sized vase so it doesn't look cheap and will be functional. Seeing this in person though, I rate this a 3.5 because I expected more precision with the personalization. Overall, everything was straight and came out fine but I am very picky and was expecting a more embossed look. I also wish the gray lettering was darker. This is a thoughtful gift; I bought this as part of a wedding gift. I'd prefer being able to use more than 30 characters for the personal note though. It was really difficult squeezing in the right words!

So-so
By
Shopper

(Chicago, IL) - April 25, 2011
Not the greatest quality pottery or imprinting.

Disappointed with Quality...
By
Ruth G.

(Gloucester, VA) - May 5, 2010 (
See all reviews by this customer
)
This is a nice gift idea and it would be better if it didn't cost so much for what it is. A clear label with color script/clip art/graphic, applied to a plain vase. Even if you're only a tad bit crafty you could create this same item for at least half the price. The ink was faded in some parts of the text too. A much bolder font would have been better. Hopefully the recipient will still enjoy it...

Personalization was Good; Vase was poor quality
By
Laurie H.

(Rock Hill, SC) - April 21, 2010 (
See all reviews by this customer
)
When I received my vase, I set it on the table to look at and it appeared to slant sideways. So I used a level and found that it was leaning to the right. The personalization was just as ordered. I sent an e-mail about the product and received a quick response and they shipped out a new vase almost immediately. Very happy with the customer service.

Missing Quality
By
Lindsey B.

(Aurora, IL) - February 22, 2013 (
See all reviews by this customer
)
I recieved this as a gift 4 years ago, so I ordered it as a gift for a bridal shower. I'm quite disappointed in the lack of quality in the one I just recieved. The current product feels and looks cheap and not a well made as the one I got 4 years ago