Compact!
By
Regina C.

(Rancho Cordova, CA) - December 28, 2009 (
See all reviews by this customer
)
I thought it was going to be regular binder sized but it's smaller. Nice and compact. Found that some of my tickets were a bit larger than the slots that are given but no problem to cut to size I guess.

TICKET ALBUM
By
pamela P.

(reseda, CA) - December 15, 2009 (
See all reviews by this customer
)
ITS NICE, BUT I THOUGHT IT WAS GOING TO BE A LOT BIGGER.

Nice product but pricey
By
Susan P.

(Richmond , VA) - November 20, 2009 (
See all reviews by this customer
)
The quality of this is great but it is much smaller than I expected. That makes it a bit pricey to me but I am happy with the graphics and functionality.

COOL Product For Rock Concert Goers - Great Gift For Teens
By
Stacey M.

(Eagan, MN) - November 5, 2009 (
See all reviews by this customer
)
My son has tried many ways to display his rock concert ticket stubs. This product is GREAT for that.

The ONLY thing I didn't like about it is the manufacturer's logo is VERY PROMINENT on the back. If this product was free, I can understand but because I paid for this I wasn't too happy about their LARGE self-promotion.

Stacey in MN

ticket album
By
Brittany A.

(High Ridge, MO) - December 14, 2012 (
See all reviews by this customer
)
A little smaller than I thought but a great idea nontheless

ticket album
By
Rachel B.

(Tampa, FL) - July 31, 2012 (
See all reviews by this customer
)
Although the idea of having a space to store and archive tickets was my main purpose for purchase, I am a little disappointed in the size of the product. I expected a much larger item. I am giving it as a gift and it looks like an afterthought or small gift when I intended it to be the main gift. Kinda disappointing.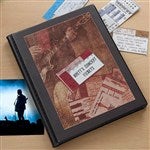 Cute, but...
By
Shopper

(Catonsville, MD) - April 1, 2012
I was disappointed in quality for the price. Ticket pockets very cheap looking.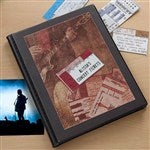 Pricey for what you get
By
Deborah H.

(Paw Paw, MI) - November 15, 2010 (
See all reviews by this customer
)
Album is small. Personalization is just a piece of card stock slipped into the plastic on the front of the binder. Still a neat concept and a cool gift for someone who "has everything."

Slightly dissapointed
By
Tiffany C.

(Waynesburg, PA) - December 23, 2009 (
See all reviews by this customer
)
From the picture of this item, it looks sturdy and like a hard cover bound book. It's unfortunate that the actual product looks little like the picture. It is very cheaply made and small. I was slightly dissapointed. I think there should be a better description of this item.

Dollar Store Album with a photocopy graphic for cover!
By
Shopper

(Lakebay, WA) - December 31, 2011
Not at all what I expected. Photo looks like a hardback bound album but it is actually a flimsy inexpensive binder with page protector type cover. Front graphic just slipped into front and back page protectors. Could easily have done this myself for a couple of dollars max. Save your money!

Stop! Read this first! PLEASE.
By
Jennifer S.

(Longmont, CO) - December 22, 2011 (
See all reviews by this customer
)
This should have been under $10.00. Period. End of story. It is tiny, made of cheap plastic, and looks like I made it on my computer. It looks so weak, as a stand alone gift, that now I have to scramble around to "put something with it". I am waaaaaaay disappointed and I brought this for two people this year. Ugg. Save your money and make it yourself .... or be prepared to spend a bunch more and tuck a real concert ticket inside. Shipping was nice and fast though.