Beautiful quality
By
Shopper

(Brookings, OR) - April 13, 2014
As always, this calendar is perfect for my husband's office at his scheduling desk so that his patients can see upcoming days at a glance. Everyone loves the updates of family photos too. I plan to do this every year.

Great Gift Idea
By
Shopper

(Batavia, NY) - January 2, 2014
Got these for the grandparents and they Love them! Great for hanging on the fridge

Great Gift Item
By
Shopper

(Sayre, PA) - December 28, 2013
All of the pictures - old and new - look great and bring back so many happy memories. Great item to put on the refrigerator.

Great product, fast delivery
By
Shopper

(Villa Rica, GA) - December 17, 2013
We've been ordering this calendar for several years now and it's been a success every time. We look at it year around and reminisce about the highlights of the past year. Great quality!

Great Calendar Gift!
By
Shopper

(Silver Spring, MD) - December 9, 2013
I ordered the first calendar as a quick add on gift for a family member. Once I received that one and saw how wonderful it was I decided to create different calendars for close friends to include as a thoughtful little gift with their holiday greeting card. I'm sure they'll be well received. Great idea at a reasonable price.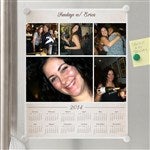 Great Gift Idea!
By
Jennifer C.

(Spring Valley, CA) - September 24, 2013 (
See all reviews by this customer
)
Very pleased with this product. Pictures came out VERY clear, and the calendar's a fair size too. The months aren't big enough to write any appointments on it or anything, but you can check which dates fall on what day :D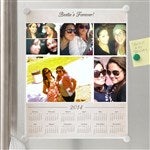 Great gift
By
Shopper

(Fredericksburg, VA) - August 8, 2013
I ordered these for grandparents for Christmas and was so happy I did. Loved the ability to choose 5 different pics. The size was great. Overall a great gift and everyone loved them.

Fantastic
By
Shopper

(GRAND BLANC, MI) - May 27, 2013
Turned out great. Really good quality. The better quality the pictures the better it looks.

High quality
By
Shopper

(Brookings, OR) - May 5, 2013
I was very impressed with the quality of this calendar. Each print was perfectly centered and very sharp, and the colors were exact, unlike other companies from which I have purchased items with photographs.

Photo Collage Family Calendar
By
Shopper

(Glen Burnie, MD) - December 27, 2012
Turned out GREAT!!
My father loved it

Shopper
By
Shopper

(Federal Way, WA) - December 15, 2012
The pictures are beautiful and I was happy with the quality.


Awesome idea!
By
Shopper

(Waldorf, MD) - December 7, 2012
I am so glad I found PersonalizationMall.com. The personalized calender is such a great idea. Everyone will definitely enjoy their gifts this Christmas.

Love this as a gift idea!
By
Debby R.

(Wichita, KS) - November 25, 2012 (
See all reviews by this customer
)
I wanted to give my daughter-in-law something "hand-made" this Christmas. What a wonderful idea the calendar turned out to be. I was very suprised and very pleased at the quality of the pictures printed on the calendar. They are clear and in focus, not blurry like some transfered pictures. I would recommend this "do-it-yourself" gift idea to anyone. I just uploaded pictures I already had on my computer and put them in the spaces provided. The calendar looks amazing. The instructions were very easy to follow too.

Looks GREAT
By
Brittney B.

(Ward, AR) - November 13, 2012 (
See all reviews by this customer
)
I was worried that it would be flimsy like a regular picture but it is on a card stock type of paper. It looks absolutely wonderful on my bulletin board at work!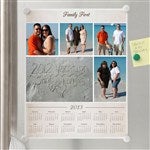 Perfect holiday gift
By
Shopper

(Wahiawa, HI) - November 6, 2012
I was very pleased with the quality of the product and quick ordering. This was my first order with Personalization Mall and everything exceeded my expectations. It will make the perfect holiday gift and keepsake. Please don't discontinue this product because I will definitely be back next year to purchase it again.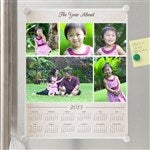 Awesome job... Received quickly
By
Fawn C.

(Peoria, AZ) - June 17, 2012 (
See all reviews by this customer
)
Great quality. Ordered on Monday received on Thursday with regular shipping. I would highly recommend.

collage calendar
By
Leslee M.

(Vista, CA) - April 27, 2012 (
See all reviews by this customer
)
Bought this as a Christmas gift. The family lives out of the country. Can't wait for them to see it. Love the quality of this product. I have check into having a calendar likes this done elsewhere (ie staples and office depot) They sell for a little less but you can only put on one picture. This one I was able to put on five. I like it so much I am going to order more for other family members and friends!!!

its really cuteeeee
By Shopper (midway city , CA) - January 20, 2012
this calendar is very pretty and meaningful as a gift for ur family member

Great item!
By
Shopper

(Colorado Springs, CO) - January 1, 2012
fast shipping, great gift for my mom

Decent Price, Decent Quality, Makes a GREAT gift
By
Shopper

(Bethlehem, PA) - December 29, 2011
Price was ok and the quality was decent. Got the black and white one shown for my mom and colored one (different photos) for my mother in law. I highly recommend getting your calendar in color instead of black and white. Being a photographer I could instantly notice there not truly black and white and def have a pink hue to them. The average person would NOT notice this though.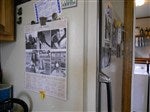 Great Quality
By
Tammy C.

(Clayton, NC) - December 27, 2011 (
See all reviews by this customer
)
I never imagined the calendar that we ordered for my husband's grandma would look as professional as it did when we received it. We were SO pleased with it and it made it all worthwhile when she opened it on Christmas Eve and wanted to show everyone that walked in the door. You would have thought we gave her a million dollars and that's what it meant to us seeing the look on her face.

Thank you again Personalizationmall.com for great quality products and most importantly awesome customer service.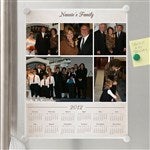 great calender and easy
By
Cindy A.

(Roanoke, VA) - December 27, 2011 (
See all reviews by this customer
)
I was very happy with the result of my calender. It was easy to do and not expensive at all. My boyfriend was very surprised with the personal touch.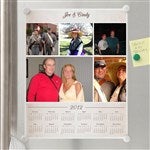 Great gift!
By
Katie M.

(North Attleboro, MA) - December 26, 2011 (
See all reviews by this customer
)
My grandparents loved it! Good quality product and everything was delivered as expected. Would definitely purchase again... maybe for Christmas next year!

Super Happy with this order
By
Shopper

(Cuyahoga Falls, OH) - December 16, 2011
I was super happy with this photo calendar order. I was trying to find the right gift for somebody who has everything and this was perfect. The photos I sent came out great and now John, who I bought the gift for, can always remember that magical moment he learned to skydive. Service was great and so was the shipping.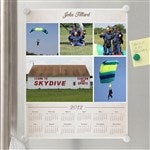 Very nicely done!
By
Shopper

(Jersey Village, TX) - December 14, 2011
I was expecting good quality but it turned out much better than expected. It will enjoy a nice spot in the kitchen either on or near the refrigerator. Of course, I believe it helped to spend a fair amount of time pre-order selecting good quality digital images. Before uploading them, I even carefully pre-sized and cropped them in the layout I wanted so that I knew they would fit the standard layout. The upload process went VERY smoothly and the result was well worth the effort!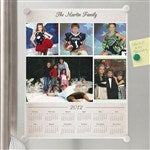 Surpasses my expectations....again
By
Sally K.

(Pompano Beach, FL) - December 8, 2011 (
See all reviews by this customer
)
It has become a tradition to present my husband with an annual Photo Collage Personalized Family calendar to hang by his computer. Once again the finished product is absolutely beautiful. We will all enjoy having this hang in our living room through 2012! Thank you for making my holiday shopping so easy!!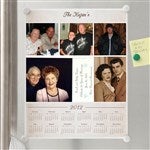 Great for the fridge!
By
ANN I.

(LYNCHBURG, VA) - December 6, 2011 (
See all reviews by this customer
)
This is the perfect gift for grandparents. I give my parents a calendar every year filled with pictures of the grandchildren. Who wouldn't want precious smiling faces hanging up all year long? This calendar is sturdy and very nice quality. Would be great on the fridge or hanging up in an office. Highly recommended!

Cute calendar, super fast service
By
Rebecca C.

(New Prague, MN) - October 31, 2011 (
See all reviews by this customer
)
The calendar is really cute, just as I expected it to be. The remarkable portion of this transaction was the turn around time. The order was filled within 1 day and shipped immediately. I received the calendar just 3 days after it was ordered. Pretty awesome. Thank you!

Family Calendar
By
Shopper

(Smithtown, NY) - May 19, 2011
We bought this calendar for my mother-in-law who lives out of town for Mother's Day. She loved it. It is a way for her to see her grandson's everyday.

Mother's Memories
By
Shopper

(Maricopa, AZ) - May 18, 2011
This was a wonderful gift for my mother who lives on the East Coast. We may only get to see her once or twice a year so this way she has photos of us all (including herself) as a yearly reminder of how much we cherish her. She loved the calendar. Definitely recommended

Picture Perfect
By
Loretta T.

(Columbus, OH) - February 3, 2011 (
See all reviews by this customer
)
The quality of the pictures on this calendar was excellent. They were just as clear and sharp as the ones I uploaded, if not better. My whole family loved it. I ordered 2 calendars and plan to order more. I have always been satisfied with every order. This company is great and you cannot go wrong with them. Love their work, and the prices are great. Been a customer for several years and keep coming back.

Loved it!
By
Julie C.

(Omaha, NE) - December 26, 2010 (
See all reviews by this customer
)
They loved it! Good quality! Pictures turned out nice.

Great
By
Patrycja M.

(Lakewood, NJ) - December 25, 2010 (
See all reviews by this customer
)
I got it for my husband for Christmas. It looks great. I recommend it.

FANTASTIC
By
MAY X.

(GRAND PRAIRIE, TX) - December 22, 2010 (
See all reviews by this customer
)
The quality is wonderful. You can't go wrong when ordering this item. It came out exactly as the preview did. I love it and can't wait to hear the great things my sister will say when she gets it. Thank you Personalization Mall!!!

Awesome Gift
By
Connie M.

(Denham Springs, LA) - December 21, 2010 (
See all reviews by this customer
)
I ordered one calendar for my son and family and was so pleased that I ordered 3 more for my other children and family. The quaility of the calendar is great....much more than I expected for the low price!!!! Order one day and the next day my order was out to be delivered....fast, fast, fast!!!! Will keep this calendar in mind for other occasions too!!!!

Very nice for the price!!!
By
CRYSTAL H.

(LAS VEGAS, NV) - December 13, 2010 (
See all reviews by this customer
)
This item looks great and is a great gift! The price is the best part!

Look great!
By
Khanh N.

(Belleville, NJ) - July 21, 2010 (
See all reviews by this customer
)
My parents love it.

Calendar
By
Marvelis S.

(Monroe, NC) - June 22, 2010 (
See all reviews by this customer
)
I ordered this calendar and was so pleased with how it turned out! My sister LOVED it! Delivery was fast and customer service is great! I have been a customer for years and have not been disappointed. Thank you!!

SUPER GOOD
By
Leah P.

(El Mirage, AZ) - June 10, 2010 (
See all reviews by this customer
)
I got this for my grandfather and put pic of my kids on it for fathers day and it turned out so nice! He is going to love it

Fantastic
By
Yaira G.

(Culver City, CA) - April 26, 2010 (
See all reviews by this customer
)
Such a beautiful family calendar. Put it on the fridge and love to look at the pictures and dates as needed. Fantastic mothers day gift and also inexpensive.