Paw Prints on Our Heart
By
AIMEE C.

(SUNRISE, FL) - September 20, 2013 (
See all reviews by this customer
)
There is a very special way that Personalization Mall has excelled in making a very delicate matter such as a tribute to a pet who is still with us or who is no longer with us, come across as sweet and dignified and not come across as kooky or tacky. This is a beautiful, well crafted plaque that will be cherished for years to come. From the font, to the color-scheme and the verse, the design team made this as a perfect as can be.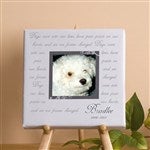 Paw Prints on Our Heart
By
AIMEE C.

(SUNRISE, FL) - September 20, 2013 (
See all reviews by this customer
)
We had purchased this before and when the heartbreaking time came purchased it again for our other fallen furry babies. The canvas is beautiful and a crisp and clean design. The colors are bold yet very calming and serene. We have used them on the wall in the 5 1/2 x 5 1/2 size as they come with a picture frame hook you can a fix to the back of the canvas. We have them in each color and they are each as unique and beautiful as the little soul they memorialize.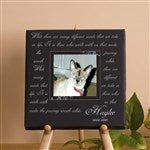 Fantastic All the Way Around!
By
Shopper

(Santa Fe, NM) - August 28, 2013
The ability to see how it would look before purchasing is a wonderful feature! Delivery was speedy, the quality is exceptional, and the recipient loved it!

Lovely memorial for a loved friend
By
Shopper

(Denville, NJ) - August 14, 2013
We were very pleased with this personalized canvas print. Carefully crafted, it is a unique alternative to a standard framed photograph and looks perfect on the wall in Heidi's favorite room. Shipping was incredibly fast and in my opinion price was very reasonable. Will probably buy another for a pet who died in 2004.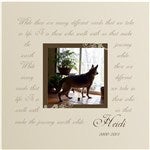 Beautiful gift
By
Shopper

(Brick, NJ) - July 7, 2013
My moms Boston terrier was the baby of our family. Spoiled with live beyond belief. When she passed away my siblings and I ordered this canvas for her wall of family portraits. it brought my mom to tears!!!! The picture came out clear and looks identical to the one we uploaded. It really was the perfect gift - I strongly recommend!!!!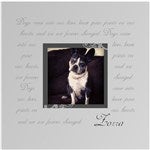 Simba Remembered!
By
Shopper

(Oklahoma City, OK) - July 2, 2013
I had my Simba for 19 years & wanted to make a little 'shrine' to look @ everyday. When I look at his picture on this little table top canvas I can't help but smile & remember the fun times he and I had.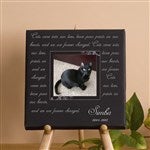 Perfect
By
Shopper

(Jackson, TN) - May 6, 2013
A perfect celebration of the life of a lost furry child.

Paw Prints on Our Heart
By
AIMEE C.

(SUNRISE, FL) - April 23, 2013 (
See all reviews by this customer
)
I cannot express how wonderful and beautiful this product is. It cannot ease the pain of losing a "furry child", but it helps to keep him alive in spirit with this beautiful plaque. The craftsmanship is so much better then anything else we looked at. Personalization mall got this product spot on. I am so happy we ordered it and am sure others will feel the same.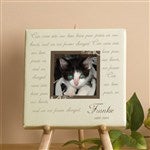 Papa Moses
By
Brenda W.

(North Charleston, SC) - March 11, 2013 (
See all reviews by this customer
)
I really love this photo frame.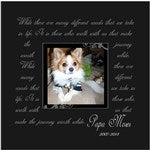 beautiful, classy memorial
By
Julie M.

(Cottage Grove, MN) - March 9, 2013 (
See all reviews by this customer
)
I had this created for a friend who recently lost her beloved dog. I was hoping for something pretty and classy yet sweet too. This surpassed my expectations! I now will be creating the same for my kitties who have passed. I can't recommend it enough. Btw, my friend was blown away by the gift. Ps. The detail of photo on canvas was incredible!!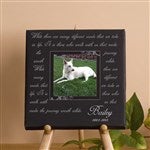 PERFECT in Every Way!
By
Ashley E.

(Ogden, UT) - March 3, 2013 (
See all reviews by this customer
)
What a way to memorialize a loved pet. My friend lost her chihuahua in a tragic accident by her own other dogs. It tore my friend apart. I had to buy her this for remembrance and she LOVED it! I would HIGHLY recommend this product!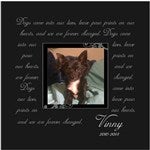 awesome
By
Shopper

(Wesley Chapel, FL) - March 2, 2013
I sent this to my cousin an d and she loved it , she said it brought tears to her eye.

Beautiful Memorial Piece
By
Ashley G.

(Gaithersburg, MD) - February 18, 2013 (
See all reviews by this customer
)
We recently had to put our Shih-Tzu down. She was 13 1/2 years old and the most amazing dog on this planet. It broke our hearts to let her go, but having this wonderful canvas up in our house reminds us of her. And although it hurts to lose a best friend, we know we have a wonderful angel following us around the house. If you have recently lost your best friend, I recommend reading "The Rainbow Bridge", definitely a tear jerker! But it brings you peace also.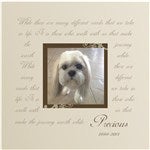 Arrived quickly. Great quality
By
Heather J.

(Ingleside, IL) - February 4, 2013 (
See all reviews by this customer
)
I ordered this as a Christmas present and it arrived in 4 days, including the weekend. It looked just like the picture on the website. I would definitely order from them again and recommend them.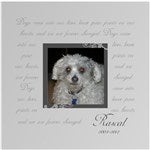 Great Product - Fast Delivery
By
Mallory R.

(Huntingdon Valley, PA) - February 1, 2013 (
See all reviews by this customer
)
This item was great. Came out EXACTLY like the previewed item and was delivered fast than expected. My mom loved it and i would definitely recommend.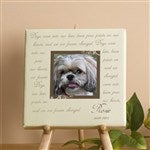 Great Remembrance Item
By
Anita M.

(Plaistow, NH) - December 30, 2012 (
See all reviews by this customer
)
I had a couple of these made for two of my customers who lost their dogs this year. They loved them and they came out great.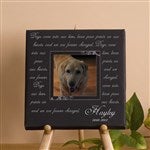 I ordered this item
By
diane F.

(rochester, ny, NY) - December 13, 2012 (
See all reviews by this customer
)
I am so glad I ordered this item. I am so impressed with the quality and of course the quick shipping. It is so much nicer than I expected. The picture I chose was placed in the frame perfect. I would highly suggest this item. I love personalized mall. This is not the first time I have ordered from them and it certainly won't be the last. I just love it!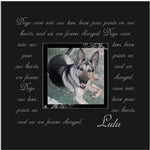 Beautiful, it helps :)
By
Alicia M.

(Berwyn, IL) - December 6, 2012 (
See all reviews by this customer
)
I ordered this while picking some custom Xmas gifts for others. I lost my dog in a tragic attack in September. The pain does not subside, but some things do help. This is definitely a beautiful piece of my Rocco's memory. Thank you so much for the unintended comfort! This quality and construction of the item is fantastic.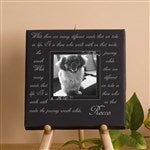 Very special memory
By
Roberta G.

(Roseville, CA) - November 3, 2012 (
See all reviews by this customer
)
This arrived very carefully wrapped and has been an important way for me to honor my beloved furry friend. A special gift idea for anyone who may want to do something special for someone who loses a pet.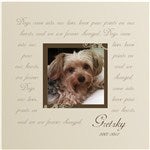 Beautiful
By
Megen C.

(Newton Falls, OH) - September 21, 2012 (
See all reviews by this customer
)
I had this sent to my father and his family after losing their beloved dog of 9 years suddenly. I ordered the canvas on Friday at 10PM and it shipped Monday! My father got the canvas on a Thursday, not even a week after his dog had to be put down. To say they were touched and surprised is an understatement. They absolutely love it.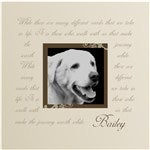 Love it!
By
Shopper

(New York, NY) - September 16, 2012
I made one for myself and another for my cousin in different color (black & tan) after my dog passed away. Material is great for displaying, quality is good, photo came out nice and the personalization and message on frame adds the special touch. I will make more gifts later as xmas gifts. Prompt shipping and communication also, very happy with purchase.

Perfect
By
Melissa O.

(Steubenville, OH) - September 7, 2012 (
See all reviews by this customer
)
I ordered this after we had our 13yr old dog put down after he got sick. This product was perfect! The craftmanship was top notch, the picture was clear and really brought my dog's personality to life. I ordered it on a Sunday and I received it the following Thurs!
I have ordered many items from personalization mall and have always been thoroughly impressed with my finish product!!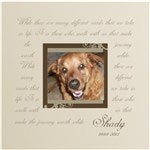 Pet Canvas Print
By
Stefanie C.

(Louisville, KY) - August 20, 2012 (
See all reviews by this customer
)
I ordered the pet canvas print on a Wednesday and received it on a Friday. it was perfect. I had just put my pet to sleep the Tuesday before so it was great receiving my item that same week. I've ordered many products from this company and I've been thrilled every time. The quality is great and shipping is extremely fast!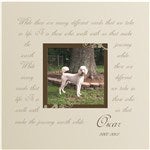 Wonderful memory
By
Shopper

(St. Petersburg, FL) - July 22, 2012
Our friends were just loved the memento of their beloved Greyhound.

Beautiful Memorial
By
Elizabeth H.

(Cave Creek, AZ) - July 20, 2012 (
See all reviews by this customer
)
I purchased this as a memorial to a beloved cat who passed from lymphoma. I wanted a special photograph of her, and this is perfect. The effect is that of a painting on canvas, and it was easy to create online. The quality is excellent, and the product was delivered very quickly. I will definitely purchase another one when another cat passes, and would purchase as a gift for someone who has lost a beloved pet.

Great Quality & Service
By
Shopper

(Wilmington, NC) - July 16, 2012
I ordered this item as a gift for my brother. He was incredibly touched when he received it after losing his beloved companion and best friend of 12 years. The quality of the canvas is extremely nice and sturdy. I was concerned about the picture I chose because it was footprints in the sand of my brother and his best buddy. It is hard to see a lot of definition in the picture with the standard print so I didn't know how well it would transfer to canvas. The transfer was fine. It remains difficult to see a lot of definition but my brother commented that he knows what it is and that is most important. I ordered on a Monday and even though we had a federal holiday on Wednesday, the item was still delivered by Friday (with standard shipping). Would definitely order again!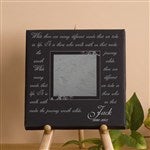 perfect memorial for my pug
By
Danielle F.

(FPO, AP) - May 23, 2012 (
See all reviews by this customer
)
I lost my dog of almost 12 years this past March. I have an area where his remains and photos are displayed, but wanted something more to memorialize my beloved pug. This canvas print was the perfect addition. I will be ordering another one for my mom who lost her pug two years ago.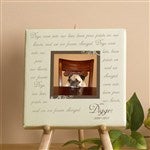 Memorial for a friends' pet
By
Shopper

(Cheektowaga, NY) - May 10, 2012
Grasping at the best way to memorialize the passing of a beloved dog of a friend, I found this site and this item. The quality was perfect, the image was well-preserved in the production. Thank you for your help in creating this wonderful keepsake.

Very nice!
By
Shopper

(Byron, IL) - May 9, 2012
I ordered this for my friend who lost her cocker spaniel. It really turned out nice and I know she will love it. I ordered late friday night and I think it was here by Wednesday.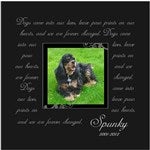 Great Gift!
By
Shopper

(Smithtown, NY) - April 22, 2012
I have bought this for 2 close friends who have lost their beloved dog. The minute they received this it brought a smile to their faces. It is made of a good canvas and picture quality is great. I recommend turning you own photo into the black and white option. It made it look classy!

Canvas Art
By
Dora S.

(Huntington Beach , CA) - February 13, 2012 (
See all reviews by this customer
)
I purchased a Paw Prints Canvas Art 6 months ago and loved it so much I bought another one. They are beautiful and personalization mall does a perfect job of making the picture fit perfectly in the frame. It makes a wonderful gift (which is what I did with both of the them).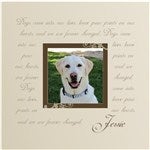 Just beautiful
By
Susan S.

(North Pole, AK) - February 11, 2012 (
See all reviews by this customer
)
I ordered this canvas for a memorial gift for my friend's cat, who I also dearly loved. The quality is fine and the display looks beautiful and polished. I ordered the black easel which fades into the background with the black canvas. Very nice! Thanks for the quick service, too.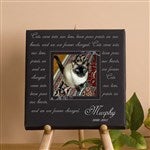 Great Gift!
By
Shopper

(Nutley, NJ) - February 5, 2012
this is a really great gift for any pet lover who has lost a pet.. it is beautiful yet affordable.. It looks more expensive than it is and a perfect memorial for any pet...I was very impressed!

thank you
By
Shopper

(Fairview Park, OH) - January 28, 2012
beautiful memorial for my dog.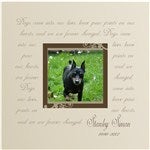 TREASURED PET MEMORY GIFT
By
Vicki W.

(Springboro, OH) - January 27, 2012 (
See all reviews by this customer
)
After purchasing one for our family in December 2011 (we lost our puppy 2 days before Christmas), our pet sitter/Nana lost one of her dogs. I was so pleased with the canvas we received so knew I had to order one for her. I was able to download a photo from her FaceBook site and it made the perfect treasured memorial gift for Nana. When we presented it to her she cried! Thanks for providing a wonderful selection of personalized gift and such HIGH quality. I HIGHLY recommend this product!!

Memory of our Pet
By
Vicki W.

(Springboro, OH) - January 16, 2012 (
See all reviews by this customer
)
Thank you so much for this beautiful personalized photo canvas. We unexpectedly lost our dog, Chloe Megan, at 8 years old and our hearts were broken. This is such a gorgeous keepsake hanging on our wall and reminding us of the love she brought into our family during those short 8 years. We treasure it!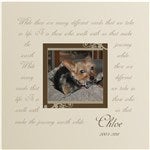 Beautiful canvases
By
Melissa S.

(Moreno Valley, CA) - January 12, 2012 (
See all reviews by this customer
)
I ordered 3 of these canvases, 2 of my angel who passed away last month and 1 of my baby that I still have. The canvases are beautiful, one of my black canvases came with the top and bottom blotchy in certain areas, almost looked as if during production ink was running out. I let personalization mall know right away, sent them pics of the defective item and they quickly sent out a new one, it arrived today and the quality was excellent! I'm very happy with these canvases and personalization mall has wonderful customer service! I highly recommend this product and this website!

Touching
By
Shopper

(Castro Valley, CA) - January 9, 2012
Purchased this gift for dear friends, whom lost their precious boy unexpectedly due to old age. The picture turned out perfectly and very pleased with the quality. My friends LOVED this gift and will treasure it forever.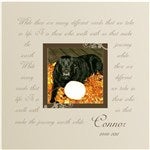 Great picture...great service
By
Shopper

(Mount Pleasant, NC) - January 3, 2012
I am very happy with the picture of my beloved Duke. Great quality picture....just as I expected.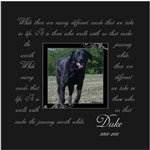 Breathless!
By
Shopper

(Seaford, DE) - December 30, 2011
I ordered this canvas print, hoping it would be a nice, thoughtful gift for a friend. I was absolutely thrilled when it arrived, to see how perfectly my photo was displayed on the background! So much nicer than I even dared to hope for! It was sent UPS extremely fast during the last few days prior to Christmas. Couldn't be happier. Highly recommend!!!