Elegant Jewelry Box
By
Shopper

(Fort Collins, CO) - January 1, 2014
I have bought other items from Personalization Mall and I am pleasantly surprised each time I receive a purchase. They ALWAYS exceed my expectations. This Jewelry box is very elegant looking and is a PERFECT gift for my teen son to give to his girlfriend! I love it!

Awesome gift!!!
By
Shopper

(Forney, TX) - March 8, 2013
This jewelry box was BEYOND my expectations as far as how nice it was. I did not expect the level of craftsmanship or clarity in the pictures, but I was totally proven wrong. We used this gift to give to my mother-in-law to announce our first pregnancy and it went over beautifully!!!! I would HIGHLY recommend this gift to anyone.

perfect!
By
mariela M.

(NEWBURYPORT, MA) - December 15, 2012 (
See all reviews by this customer
)
Images are clear and beautiful, the finish is very high end and jewelry box is simply beautiful. I was very impressed. Worth every penny.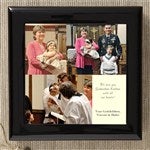 New Mommy Gift
By Shopper (Conroe, TX) - September 5, 2012
My daughter just gave us our first grandbaby...it's a girl ! Wanted to get her something personal & this was perfect!

Great gift
By
Austin D.

(Lewistown, MT) - February 12, 2012 (
See all reviews by this customer
)
I bought this for my best friend of 45 years and used photos from when we first met. It was her birthday gift and she absolutely loved it. I even made a mistake on the shipping address and called customer service. They helped me right away and fixed my own error. The item shipped quickly and in the time frame given. My friend and I are really pleased!

Tear Jerker
By
Shopper

(Pomona, CA) - January 23, 2012
I bought this for a close friend of mine who has gone through some hard times. When she received it she cried. Very beautiful and thoughtful gift.

Great Idea For A Present!
By
Shopper

(Petaluma, CA) - January 9, 2012
I gave this to my mother for her birthday, using three photos that were of us during memorable times, and wrote my own little message on it. when she opened the wrapping paper she was extremely happy and exited . she LOVED it!!!!! This is a beautifully done gift that has great quality and is well made! it did take 8 days to arrive so order it early before the occasion , it is worth it though!!! I honestly think this is one of the most sentimenal and thoiughtfull gifts i have found!!! :)

Moms loved it!
By
Tanya J.

(Williamstown, WV) - May 14, 2011 (
See all reviews by this customer
)
Our mothers both loved it. I haven't seen the finished product myself, but they haven't stopped talking about it.

Perfect Gift
By
Shopper

(The Colony, TX) - May 13, 2011
The box was beautiful and well made, the pictures were great quality, and the gift was a big hit on mother's day!

Pictured Perfect
By
Heather S.

(Springfield, IL) - December 20, 2010 (
See all reviews by this customer
)
The box arrived "ready to gift" in a very short turnaround time (less than a week!)

It was a special CHRISTmas present for a friend who'd lost a loved one and it reflected special moments/people to/for her - - - she absolutely LOVED it!

It was beautiful: the pictures were clear and the box was well crafted.

something special to always remind me...
By
debra H.

(bronx, NY) - December 12, 2010 (
See all reviews by this customer
)
the box was very beautiful and unique. because it is personalized , no one else has one just like me. it is me and my girlfriends' memory of the first day we met. I am very happy with the gift, i never expected. I can even put more memories into the box to keep. thank you

For my mom on my wedding day
By
Bonnie T.

(Kennesaw, GA) - June 3, 2010 (
See all reviews by this customer
)
I think my mom is going to love this. What I really liked is that it was so different. You can't just find this kind of thing anywhere and personalizing it was really easy. Love the preview feature!

Great gift for Great Grandma!!!
By
Dede B.

(Wellington, KY) - April 26, 2010 (
See all reviews by this customer
)
I wanted something really special for my Mom this year for Mothers Day. I have looked at the mall, several other stores for just a perfect gift. I found it "this is perfect", the photo's of our little blessing turned out beautifully....he is our only grandchild & Mom's only Great Grandchild......beautiful, can't wait to give it to her. She will LOVE IT!

Photo Jewelry Box
By
Malia N.

(Peoria, AZ) - April 23, 2010 (
See all reviews by this customer
)
It turned out so cute...Grandma is going to love it.

Perfect Gift
By
Krista T.

(Cleveland, TX) - February 23, 2010 (
See all reviews by this customer
)
I ordered this for my mom for Mother's Day and got it shipped straight to her house. It turned out beautiful. I was skeptical since I was ordering off the internet but it turned out awesome. This pictures were clear, the colors were great and the inside is soft. It is very elegant looking. She uses it all the time and its great to look back at the pictures. I would definitely recommend this product!

Gifts for my Sisters
By
Denise L.

(Sayreville, NJ) - January 13, 2010 (
See all reviews by this customer
)
I had an upcoming statwide meeting in which it was my turn to purchase gifts. I purchased 9 (one for myself). Each box was individually personalized for my Sisters. They "Loved" them. I am very glad I came upon this site. My recommendation is for anyone looking for an inexpensive gift, but looks expensive, shop here.



Wonderful gift for young Mother's.....
By
Mary Ann F.

(Riverside, CA) - December 28, 2009 (
See all reviews by this customer
)
I purchased this jewelry Box for both of my Daughter's this Christmas. They both Love it! It's inexepensive but very nicely done and Personalization Mall turned the order around very quickly for me! It's a great
little gift for Mother's to view their children everyday on top of their dresser! I couldn't be more pleased with my purchase and Personalization Mall who I will use again! Thank You, Personalization Mall!
MaryAnn F.

Wonderful Christmas Present
By
sherri G.

(bronx, NY) - December 22, 2009 (
See all reviews by this customer
)
I gave this jewelry box as a christmas gift to my sister from my son. She loved it so much. The jewelry box is a nice size and easy to open. I will continue to give this to other people as gifts. I am very satisfied. You won't be disappointed.

Beautiful!
By
Kristin W.

(Franklin, IN) - December 20, 2009 (
See all reviews by this customer
)
This jewelry box is absolutely beautiful!! I bought one for my mom and used pictures of us from my wedding. I know it will bring tears to her eyes. It looks like it cost way more than it does. The pictures are very clear. It's very well made. I also received it in just a couple of days after I ordered. I have ordered a few things from here and have never been disappointed!

Great Item
By
Stephanie L.

(Brooklyn, NY) - December 13, 2009 (
See all reviews by this customer
)
I thought that the pictures were not going to come out well because of the size of the file but they came out great and i know that when family members see it they will go awwwwww.

Birthday Gift
By
Renee R.

(Richmond, CA) - February 9, 2012 (
See all reviews by this customer
)
This was a gift for my daughter's twenty-six birthday. She received it two days before her birthday (wonderful) and was very excited to open it; however she did wait until her birthday. The morning of her birthday she called with pure heartfelt joy and tears; she loved it. My daughter indicated the photos came out perfect and the box was beautiful. I'm very happy her gift arrived before her birthday, and I'm glad the verse offered by personalizationmall went so well with the photos.

I"m falling in love with personalizationmall already, I've ordered another gift item as well, and I can't wait to see it. I will also be ordering two more jewelry boxes for my other two daughters. I love purchasing gifts that my girls can cherish, and hopefully cherish for a lifetime. I will definitely continue to use personalizationmall.com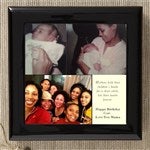 Lovely!
By
Shopper

(SCHWENKSVILLE, PA) - December 28, 2011
Exactly what I expected... I just wish it would've had a music box option... Loved it, though!

Very nice gift
By
Shopper

(Canada) - May 25, 2011
I was very pleased when reseiving this box the only downside was shipping to canada almost costed as much as the box. The box is fair size and 3 fairly good quaily printed pictures the black is shiny and solid I'm sure my friend will love it death!!

Satisfied Customer - Great Gift!
By
shaunte W.

(NYC, NY) - February 23, 2010 (
See all reviews by this customer
)
I am very pleased with my order, the product is exactly what I expected! Fast delivery!

Nice ... But SMALL
By
Shopper

(Hazlet, NJ) - December 16, 2011
I really liked this idea And the finished product is really nice, however it's really small and with three picture and the writing its a lot
Would recommend but just beware of the fact that it's pretty small product

Great other than the photo part was attached crooked
By
Jaquelin K.

(Portland, OR) - April 19, 2010 (
See all reviews by this customer
)
The jewelry box was just like it was pictured online, but when they put the tile with the pictures on it in the center of the box one edge stuck out significantly more. I wish they wouldve taken more time to make sure it looked ok before putting it together.

Almost Perfect
By
Christopher B.

(Saint Augustine, FL) - December 30, 2010 (
See all reviews by this customer
)
My daughter received the jewelry box I ordered but the tile was rocking back and forth. The defect certainly took away from the impact and the thoughtfulness of the gift. She asked me to fix it, so I had to pull up the tile. I reset the tile with hot glue. I hope it sticks. I wish the tile had been better attached to the jewelry box.