Beautiful!
By
Melissa V.

(Henderson, NV) - December 28, 2009 (
See all reviews by this customer
)
I purchased this as a gift for my sister and she loved it! The design is very feminine and elegant and the engraving is beautifully done. There was a problem with the first one I received, but Customer Service was excellent and reshipped it directly to my sister, so she would receive it in time for Christmas!

Perfect Gift!
By
Maria Elena V.

(Stroudsburg , PA) - October 22, 2009 (
See all reviews by this customer
)
My sister is going to absolutley love this mug!

Great item
By
Sandeep A.

(San Diego, CA) - October 14, 2009 (
See all reviews by this customer
)
we liked it a lot

Perfect Personalized Present!
By
Laura R.

(MARGATE, FL) - October 8, 2009 (
See all reviews by this customer
)
I think this product is wonderful because you have a choice of which quote you would like and it comes in nice colors! It also makes the person you are sending it to feel really special because you took the time to put some thought into it.

Engraved Mug order
By
Beckie M.

(Livermore, CA) - October 5, 2009 (
See all reviews by this customer
)
The mugs arrived promptly and look terrific! thank you for your prompt service and high quality. I will definitely consider ordering from your website in the future.


Special Mug for a Special Lady!
By
Martha M.

(Pomona, NY) - May 9, 2012 (
See all reviews by this customer
)
Wished there was an extra line for etching in the back but that's my only issue. I wanted to write something personalized but there wasn't enough room -
Nonetheless I wrote with love, it was still a very cute and personal detail for my God-Mother!

Daily Reminder of Support
By
Kristin B.

(Mechanicsville, VA) - April 10, 2012 (
See all reviews by this customer
)
I ordered this mug for my best friend who recently went through a divorce because I wanted her to remember, on a daily basis, how strong she is, how life will be better for her, and how much I support her. It makes it so special, since I was able to express how I feel in my own words. I have ordered this mug a few times and it is unlike anything I have ever seen before, with the wording being actually etched into the cup. This, however, is the first time I have ordered it in blue, and the words are not as easy to read as in the other colors, but it is still lovely, and I know she will be inspired by it, and will love it. Personalization Mall always delivers good quality products, in a timely manner, and I would recommend them to anyone who wants a very special, one-of-a-kind gift.

quality
By
mitzi T.

(dalton, GA) - December 15, 2011 (
See all reviews by this customer
)
I have enjoyed numerous purchases from personalizationmall.com. Unfortunately, this mug was not one of their best items. In some places where the words were engraved were less than clean cut, especially on the edges. Other than that it was fine.

Wonderful Gift
By
Shopper

(Leeds , AL) - December 14, 2011
The size of the mug was a bit smaller than expepected but overall the design was perfect.

Beautiful Gift
By
Kathleen B.

(Buford, GA) - September 17, 2011 (
See all reviews by this customer
)
This was a beautiful mug and made a great gift for my best friend as she started Grad School.

personalized coffee mug
By
Jeanne R.

(Scotts Valley, CA) - July 25, 2011 (
See all reviews by this customer
)
I have bought many items from this company. They have never disappointed me.
The personalized mug was a gift for a friend that I buy for from Personalization
mall a lot. She says "just when I thought you couldn't top your last gift, you surprise me with another just as individual and nice as the one before". She loves the big handle and the fact she can warm up her coffee in the microwave.
The fact that I could say anything on the cup made it even more special to her.
Thank you for being professional about your products.

A very pleased customer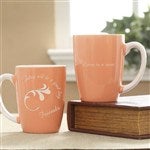 Satisfied
By
Shopper

(Palmyra, PA) - May 20, 2011
This came in record time. No complaints with the speed of service. The writing on the mug is not nearly as distinct as the photo leads you to believe. I purchased the same color as the photo and can barely see the writing from a distance. The white writing blends in with the color. Otherwise it appears sturdy. My daughter was happy with it.

GREAT BIRTHDAY GIFT.:)
By
Shopper

(Sanger, CA) - February 11, 2011
This is a very nice item and I am impressed, perfectly engraved. Smaller than I expected, but still a nice birthday gift and it was packed well. :)

Nice Gift
By
Kristen B.

(Groves, TX) - August 18, 2010 (
See all reviews by this customer
)
This turned out exactly like the picture on the screen. Its a beautiful gift. My only concern is that the writing on the mug is not glossed over. The print is raw. Besides that, its very nice.

Etched mug in 4 days?! Could it be?
By
Jessica Z.

(Merced, CA) - June 22, 2010 (
See all reviews by this customer
)
As weddings tend to go, there were last minute additions to the wedding party - which means last minute thank yous a week before the big day. I knew personalization mall had excellent turn around time, I just had no idea I could get such a nice item so quickly. A screened mug in 4 days, sure. But an etched mug? I was skeptical, but they guaranteed it would be before the wedding. I received it this past weekend, and I absolutely love it. I just wish the name where etched in the same font weight as the other words, as I think it would look a bit more fancy. But overall, a very lovely gift at a good deal and amazing turn around time.

Stylish--Nice engraving! Makes a great gift, but smaller than I anticipated.
By
Kristy C.

(Burbank, CA) - May 25, 2010 (
See all reviews by this customer
)
I ordered this as a going-away present for a friend. The engraving turned out really well, with a depth to the lettering as the color was engraved off the mug. It looked much nicer than I anticipated. My only complaint was that it didn't end up being as big as I thought it would be based on the picture on the website... I didn't realize the spoon sitting there and that it was probably a standard teaspoon.

Perfect gift for new teacher
By
Virginia K.

(Mount Zion, IL) - November 30, 2009 (
See all reviews by this customer
)
I bought this for my granddaughter who is beginning a teaching career. The mug is beautiful and I am sure she will be delighted with the inspiring messsage and her name. I gave it four stars only because it was a little pricey with shipping.

Loved the concept but.....
By
June A. T.

(Albertson, NY) - October 7, 2009 (
See all reviews by this customer
)
I think it was a terrific idea especially for someone who needs some encouragement.
But I was disappointed in the engraving and the size of my personal message. I would have liked to see it larger and bolder. It's trying to get a message out, why not make it larger. You have to look close on the lettering. Overall, I think Personalization Mall is a great site!!!!
I will continue to order.