Very Nice!
By
Shopper

(VALENCIA, CA) - October 24, 2011
I really loved this just that crystal wasn't lined correctly. one side is higher than the other but... not THAT noticable except me. overall it's really nice. it's good enough to have it for keepsake.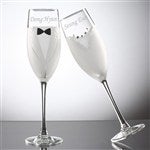 Beautiful!!!!!!!!!!!!!!!!
By
Kirsten B.

(Elberton, GA) - September 30, 2011 (
See all reviews by this customer
)
My glasses were perfect on my wedding day 09-17-2011. I got a great deal on the glasses and plus they were just beautiful. I like the fact that the glasses were different and this is a perfect keepsake.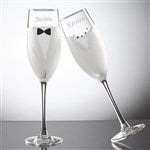 Perfect Gift!
By
Shopper

(warren, NJ) - August 15, 2011
Came in a beautiful box, no need to wrap. Such a unique gift!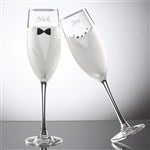 Perfect Engagement Gift
By
Debi C.

(Socorro, NM) - July 29, 2011 (
See all reviews by this customer
)
Beautiful flutes and love that they are shipped in a box that can be
used as a gift box. The flutes are resting on pretty white satin material so makes for a perfect presentation. Very happy with how fast I recieved them after ordering and the quality. I'm sure my son and future daughter inlaw will be very happy with their personalized flutes.

FAVORITE THING EVER
By
Shopper

(Portland, OR) - July 26, 2011
This is seriously one of the most beautiful flutes I have ever seen. The quality was worth every penny. My sister LOVED it! I would recommend this 100%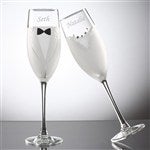 beautiful, special, and unique
By
Erin M.

(Acton, MA) - May 19, 2011 (
See all reviews by this customer
)
My "wine night" friends and I bought these flutes for our "wine night" bride for her shower. She loved them so much she used them as her toasting glasses at the wedding.
I think these are a great keepsake, and something she can use over and over and be reminded of her wedding day.
Even better - the hotel (where the wedding reception was) BROKE a glass, but PersonalizationMall.com said they would replace the broken glass and only charge shipping on the replacement flute. Who does that?! This goes to show that their customer service is willing to go above and beyond. I highly recommend these flutes AND PersonalizationMall in general!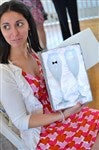 WOW!
By
Sarah S.

(Edinburg, TX) - March 21, 2011 (
See all reviews by this customer
)
I ordered these for our wedding. My fiance loved them when we got them! He was really stunned by how beautiful they looked. He wants to use them already! Im excited hes just as excited as I am with the glasses we chose.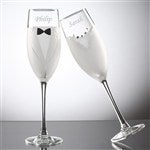 Excellent product & service
By
Sandra G.

(Canada) - March 11, 2011 (
See all reviews by this customer
)
From ordering to receiving the service was professional and fast. The glasses are exactly as pictured, came in a beautiful silver presentation box and I couldn't be happier with this engagement present for my son and soon to be daughter-in-law. Thank you so much!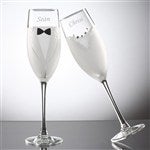 Big Hit!
By
Shopper

(Wallingford, CT) - March 10, 2014
This is the forth set I have purchased for engagement or bridal showers and they are absolutely beautiful and always a "Big Hit"!!!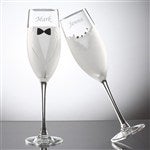 Great gift.
By
Shopper

(Naperville, IL) - January 24, 2014
They loved them. Arrived as promised.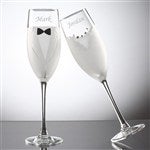 Outstanding
By
Noha H.

(Springfield Gardens, NY) - January 7, 2014 (
See all reviews by this customer
)
That is my 2nd time to order these flutes, they are simply beautiful and elegant. Very good quality.. My friends love it!

Toasting flutes
By
Shopper

(leander, TX) - July 19, 2013
You cant go wrong with these glasses! They arrived very quickly and were perfect when I opened them! I couldn't be more happier with this purchase!!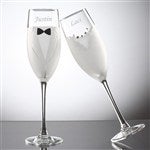 Nice gift
By
Shopper

(Norfolk, VA) - June 29, 2013
Came quickly and nice quality!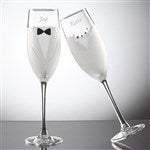 Beautiful flute set
By
Shopper

(sugargrove, IL) - March 16, 2013
I was really surprised when the flutes came in they were way more beautiful then the pictures they display on the INTERNET. They come packaged in a really nice box and the shipping was fast.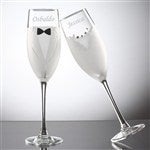 Very cute the kids loved them.
By
Jan L.

(Omaha, NE) - March 11, 2013 (
See all reviews by this customer
)
I was a bit disappointed in the steam being very thin, but the kids loved them and that is what mattered. Also having the date on the glass would have been nice, we just had the names.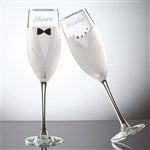 Better Than Expected
By
Shopper

(Gurnee, IL) - February 18, 2013
The picture does not do this Flute set justice. I can't wait for the bride and groom to see this set on their wedding day at the head table..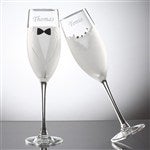 quick shipping!
By
Megan S.

(Xenia, OH) - October 7, 2012 (
See all reviews by this customer
)
Ordered them on a Tuesday night and they arrived Saturday! I was afraid our names weren't on them because it came so quick but they are and they're beautiful!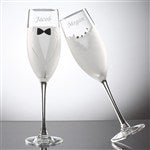 Love is in the air
By
Shopper

(Wallingford, CT) - August 6, 2012
This is the fifth set of glasses that I bought for an engagement. Each time the excitement upon opening is grand. They are a favorite for both the bride and groom and all tell me that they will display in their china closet after using them at the wedding. A must get. Quality and uniqueness cannot be beat!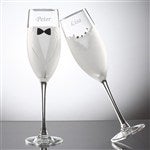 Excellent Quality
By
David W.

(Port Neches, TX) - July 17, 2012 (
See all reviews by this customer
)
Glasses were better than expected.. Shipped fast and packaged well. Thanks again for a lasting memory..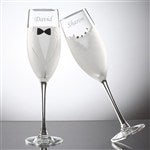 Elegant
By
Shopper

(Palm Harbor, FL) - February 6, 2012
If I could, I would rate this flute set 5+. The Swarovski crystals on the brides flute and the black bow on the grooms flute make this set both elegant and unique. They also arrived beautifully boxed.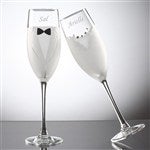 Beautiful glasses!!!
By
Shopper

(Plano, TX) - January 23, 2012
Glasses came in a beautiful satin box and they were absolutely perfect! The glasses looked so much more expensive than they were. The perfect gift for a wedding shower! I would definitely recommend these to anyone for their special day!!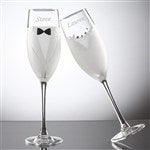 Amazing!!
By
Shopper

(United Kingdom) - January 16, 2012
I loves them, I ordered them for my wedding but I never thought that they would look so good and presentable. The packaging was A-Ok and the flutes are just perfect!! Seriously I highly recommend this item for every couple ;)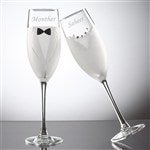 We LOVED them!!!!
By
DeLauren E.

(San Diego, CA) - January 10, 2012 (
See all reviews by this customer
)
We are so pleased with these flutes. They totally match our personalities and we know they will be a hit at our wedding. I posted a picture of them on my Facebook and got so many great comments on how cute and different they are.

Great buy. Very different from traditional flutes, so if you're anything but traditional, like us, you will LOVE them!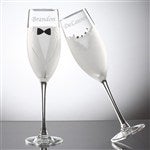 happy
By
Barry J.

(Las Vegas, NV) - October 1, 2009 (
See all reviews by this customer
)
While this was a gift and we never saw the actual flutes, we already received a thank you note for them and the recipients were very pleased with them
Service was prompt.

Beautiful
By
Brandi P.

(Miami, FL) - October 1, 2009 (
See all reviews by this customer
)
These are such beautiful glasses and well worth the price. I fell in love with them online and when I received them, it was breathe taking. When I showed them to my fiance he loved them too. They're really and truly beautiful glasses.

Beautiful!
By
Caren G.

(Berne, NY) - November 11, 2009 (
See all reviews by this customer
)
These are just lovely! Shipping was fast and product arrived well packaged. I am very happy and my daughter will be too!

my wedding flutes
By
NIA B.

(CRANSTON , RI) - February 15, 2010 (
See all reviews by this customer
)
these flutes are beautiful elegant an exactly what i was looking for. they were shipped to me in an orderly fashion. i would highly recommend this product to anyone getting married

CUTE!!
By
Christina F.

(Huntington, NY) - February 15, 2010 (
See all reviews by this customer
)
These are so cute!! My fiance and I are a few years away from our wedding, but I got these as a fun Valentine's Day gift for us, do go with a bottle of fancy champagne. The design on the glasses, as well as the engraving is done very nicely, and I am very pleased that I decided to order them.

Great
By
Jialin Q.

(Coram, NY) - October 7, 2009 (
See all reviews by this customer
)
They packed the flutes very well, no worry about breaking.
And they looks great! We love them.

Mother of the bride
By
Susan D.

(Highland, MD) - March 9, 2010 (
See all reviews by this customer
)
I seen these and ordered two sets for bridal shower gifts. One for my daughter and one for a friends son. When I rec'd them in the mail I could not believe the huge box they were carfully packed in. They were perfectly packed and absolutly beautiful. I would recommend these to anyone that needs that special shower gift.

The Very Best
By
Kimberly V.

(Pickens, SC) - October 9, 2009 (
See all reviews by this customer
)
I bought these for my daughter's wedding and they are even more beautiful in person! The fact that they were blemish free, came packed so well there was no chance of getting broken and are absolutely adorable makes them well worth the price.

Gift box missing
By
Patricia V.

(Victoria, TX) - October 1, 2009 (
See all reviews by this customer
)
I love these glasses and my best friend too who's wedding it was...the only thing I forgot to check and kind of expected was a gift box for that price...so I had to go and get a gift box, what was not easy to find I have to say! but seems to be a okay quality and the names came out very nice...

Nice glasses!
By
Dennis H.

(Brick, NJ) - December 18, 2009 (
See all reviews by this customer
)
These are nice! If I was ultra picky I would complain about one of the glasses having a small dimple in the side, but I'm not, so I think they make a nice addition to our home. I wish it said swarovski somewhere on the bottom, or maybe came with a card or something that identified the crystals as swarovski, rather than me telling my wife about it when she opens the set on xmas. Overall satisfied.



Nice Gift - Authentic Swarovski ?
By
Nirali G.

(Fords, NJ) - October 31, 2009 (
See all reviews by this customer
)
First - The glasses are NICE!!
Issues

1) No Gift Box -- They come in a recycled brown box bubble wrapped inside. Yes they are well protected and all but how do you want me to present it to the recipient at the party/event ? In a bubble wrap? Or go out burn gas, money and time to buy a gift box that would barely do justice to the presentation of an expensive gift.

2) No Swarovski Logo -- How does the recipient know the value or the brand of the glass? I am paying for the customization and for the BRAND. What good is the glass if they don't mention any where what brand is it?

Even though they can be a GREAT gift I don't think I got the value for the premium price I paid for these.


Wedding gift
By
Diane C.

(Ireland) - December 14, 2009 (
See all reviews by this customer
)
A great shame that this gift does not come in a box (was delivered in bubble wrap which is great for delivery, but not so pretty to give as a wedding gift).

Could do with more sparkles/swarovski..

Excellent fast delivery to Dublin, Ireland.

Bad experience
By
RUI L.

(New York, NY) - February 1, 2010 (
See all reviews by this customer
)
I was shopping for a wedding gift. I bought this, and received about two weeks ago. I have to say this is actually a very lovely wedding gift. However, the problem is no gift box coming with it. It comes with the USPS shipping box and soft wraps. This item is in the PersonalizationMall.com Wedding Gift Directory, this is a wedding gift, and as a wedding gift it suppose to have a nice gift box, a nice looking. Now I have to try some where else to find a gift box that fits the thing.

I was also thinking to return it. However, since the gift is personalized, I cannot get refund, but only store credit.

I have to say, dispointing.


Very Nice
By
Sandra H.

(Monroe, NY) - April 20, 2010 (
See all reviews by this customer
)
Was exactly what i ordered...Very Nice Quality.

Overall it was good
By
Rosanna C.

(Brooklyn, NY) - October 3, 2011 (
See all reviews by this customer
)
bought this for my friends bridal shower. and there was a mistake with my order. the bride's name was totally wrong. it was suppose to be "mrs. chow" but i received a "bianca". i called them up and asked for them to replace my order and sent them a picture of this flute set. they were quick to respond and i got my order before the bridal shower. everyone loved this gift i got and it looks more expensive than it is.

Wedding gift
By
Wesley Y.

(Canada) - April 7, 2010 (
See all reviews by this customer
)
The package arrived quickly and the set of flutes is just beautiful! They used a nice piece of cloth to wrap the inside of the package, although you see a little bit of foam..but overall, well worth the buy!

A perfect gift..
By
Ace A.

(San Diego, CA) - February 12, 2010 (
See all reviews by this customer
)
I was surprised that the Groom's tie was not etched on but glued on. Nevertheless i liked the quality. Delivery was fast and it was packaged carefully. I plan to order again in the near future. The only negative is that there are no presentable packaging available for this product.