Looks very cute!
By
Michael H.

(Loveland, OH) - October 30, 2012 (
See all reviews by this customer
)
This little sign looks very cute in my landscape.

Just what I needed
By
Carrie P.

(rochester, NY) - October 23, 2012 (
See all reviews by this customer
)
My house has a stone front and a screened in porch that spans most of the front of the house. The design makes it difficult to find anywhere to put a visible house number. I had been looking for something that I could stick in the fron flower bed. This does the trick and was reasonably priced. I would prefer not to have my "initial" on it--just the rectangle of the address. Also I wish that the stake were just a little taller so it rose above the black-eyed Susans a little more.

Nice product
By
Jennifer D.

(Olive Branch, MS) - October 20, 2012 (
See all reviews by this customer
)
The yard stake is nice and looks great. The metal is sturdy and it's a neat idea that the printed part is magnetic. That way, if you move, you can have another printed up.

need the numbers to be darker
By
Shopper

(phoenix, MD) - October 19, 2012
Very good quality but the numbers and words should be in black or another color so it is easier to see.


Cute
By
Christina S.

(Colorado Springs, CO) - September 20, 2012 (
See all reviews by this customer
)
Loved that the magnet on this yard stake is changeble in case we move or want to change it out with the seasons. The magnet seemed to have warped just a bit but it is not too noticeable and things do happen when exposed to the elements. Shipping was quick, thanks!

Perfect 'New Home" gift!
By
Theresa F.

(Norwood, MA) - September 12, 2012 (
See all reviews by this customer
)
The sign is sturdy and is easily placed in the yard. I like that you can remove the magnet and have replacement magnets for each season, or for every time you move! I bought one for myself last year and this year I bought one for my clients who just bought their first home. They loved it!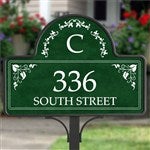 Difficult to stake!
By
Shopper

(Saratoga, CA) - September 7, 2012
Bought this as a surprise gift back in July.
Husband was delighted with it, but 2 months later it's still in the garage, as we could not stake it easily.
Plan to have it as a wall plaque in place of door numbers instead.

Cute Yard Accesory
By
Shopper

(Killen, AL) - August 22, 2012
The sign is adorable. Looks great in our flower bed by the front door. Even our mail carrier commented on how nice it is. Love that if we move we can take the post with us and just purchase another magnetic address sign.

Good but short
By
Pranamee S.

(Pleasanton, CA) - August 17, 2012 (
See all reviews by this customer
)
I liked everything about it; quality, texture, sturdiness, finishing and the price. But, the length of the stake is a little too small.. rest everything goes fine :) Thank you for the great product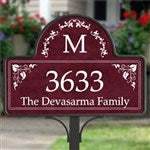 Love these magnets
By
Shopper

(Saint Augustine, FL) - April 4, 2012
Love these and have them for just about every occasion. Only reason I didn't give 5 stars is not sure how they'll hold up to the weather and sun here in FL. Had no problems with the Fall leaves one or the Seasons Greetings one so hoping the rest will not fade badly in the FL sun...we'll see. Anyway got this one for the in between times...would like to see more to choose from too :) Hoping they'll last too. Put the fall, Halloween and the Season's Greetings ones away without any problems...have the tulips one up now for Spring!

Pleased with purchase
By
Shopper

(Gilbertsville, PA) - December 27, 2011
Very pleased with this purchase. Got it for my husband for Christmas. He liked it and thought the quality was very good.

Very cute...just a little smaller than I thought
By
Chantal A B.

(Knoxville, TN) - October 9, 2011 (
See all reviews by this customer
)
It's a cute sign and great design with being able to swap out magnets. The sign is a little smaller than I thought it'd be.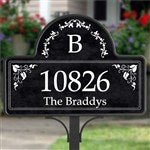 Great product
By
Shopper

(Des Moines, WA) - October 3, 2011
This is a great product. I like that you can change out the magnet with the seasons. I will definately be purchasing a magnet in the future.

2nd 1 bought
By
Shopper

(levittown, NY) - August 16, 2011
This is the 2nd one I bought. I think this is really cute but my only complaint is that it does fade after a few months.

Stake shorter than I thought and damaged during transport
By
Alex K.

(Canada) - June 29, 2011 (
See all reviews by this customer
)
The stake is shorter than I thought.

Also the shipping packaging is poor and the top of my stake was bent during tranportation. The packaging could of been a lot better to avoid damage. Basically a box with some paper wrapping to prevent the stake from moving. Nothing to protect it.

Other than the stake looks great, except I know there is a dent in it and it bugs me.

Just what we needed
By
Shopper

(Laurel, MD) - June 18, 2011
It was perfect shape and size. Our house isnt seen right off the road, so we needed a sign with our address. This is perfect. I just got it, so not sure how it holds up yet, but happy thus far

Magnetic Yard Stake
By
Sheryl M.

(Cridersville, OH) - June 12, 2011 (
See all reviews by this customer
)
This yard stake adds an elegant way to decorate your garden. We recently redid the front garden and this was the perfect touch at a small price! Somewhat concerned with the power of the magnet, but other than than completely satisfied!

Great Quality/Wish it wasn't so small
By
Athena M.

(Plymouth, MA) - April 16, 2011 (
See all reviews by this customer
)
This is such a nice sign. It looks so classy and the quality was better than I expected, but it's just so short that it gets overlooked.

Really Nice!
By
Shopper

(Brandon, MS) - February 7, 2011
I ordered the yard stake in "blue". My only issue is that the blue looks black. Otherwise I like the way it looks and it looks good in my front yard.

Address yard stake
By
Debbie S.

(Smithsburg, MD) - October 1, 2010 (
See all reviews by this customer
)
This is very high quality and looks great! Just thought the stake would be longer.

Monogram Address Yard Stake
By
Tracy B.

(Knoxville, TN) - September 16, 2010 (
See all reviews by this customer
)
It is very nice, however, I wish it came with the ability to adjust the height of the stake. I would have like it to be higher so people could see it better. I would also have liked a little battery operated (perhaps) or solar light at the top so that people could see it at night as well. I read someone else's review about raising it and was wondering if perhaps if there was anything that was developed yet that can be purchased? Thank you for the quick delivery!

Excellent Quality
By
Marlo C.

(Torrance, CA) - November 30, 2009 (
See all reviews by this customer
)
I am very please with my personalized purchase from your website. I purchased this item for my friends who recently purchased a home. I know they will love it! Great quality and craftmanship.

Great!
By
Althea B.

(Phillipsburg, NJ) - October 7, 2009 (
See all reviews by this customer
)
My parents love this. They have gotten may compliments.

Monogram Address Yard Sign
By
Diana G.

(Toledo, OH) - October 1, 2009 (
See all reviews by this customer
)
The magnetic address yard sign is perfect for a high visibility sign. It comes exactly as shown and looks very professionally done. I wish the stake was a little longer but otherwise I am very happy with the product

Good product, needs improvement
By
Shopper

(Lottsburg, Va 22511, VA) - January 28, 2014
Love the item, looks good, interchanable magnet faces, relocates in yard easly, but does not wear well in area near water with lots of wind. It does chip and peel. First monogramed face plate only lasted two years.

Frame was bent/peeling
By
Kristin T.

(Acworth, GA) - December 28, 2013 (
See all reviews by this customer
)
The magnet looks great, but the metal frame was bent and peeling on the top part, while still in the package. Not sure why that got past an inspection before it was shipped out. It was supposed to be reshipped to me prior to Christmas and was not!

2nd time to purchase
By
Teresa E.

(Carthage, TX) - June 21, 2013 (
See all reviews by this customer
)
I ordered the stand and magnetic sign over a year ago and I love it. However, the print on the magnetic sign does not hold up well to the elements. I will definitely be sealing this new one with a clear coat before placing it outside.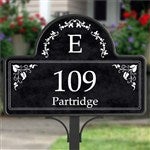 Review of Elegant Monogram Address, magnet only
By
Gary F.

(Newport News, , VA) - October 12, 2012 (
See all reviews by this customer
)
This is a nice product, but they do fade more quickly than I had anticipated. I have just purchased one replacement and one back-up replacement, knowing that the first one will fade relatively quickly. Thank you.

FAIR BUY
By
Randy A C.

(Flint, MI) - June 23, 2011 (
See all reviews by this customer
)
THIS ITEM IS NOT A BAD BUY, IT SHOULD HAVE BEEN TALLER,PLUS ONE OF THE WELDS WAS BROKEN BUT IT WAS USEABLE. THE PRICE SHOULD BE MORE AROUND $20.00 PLUS SHIPPING. NOT A GREAT BUY AT 30.00.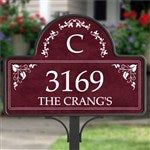 Okay for the Price
By
Shopper

(Shelbyville, KY) - May 30, 2011
This was a nice sign for the price, however, I was wanting something that looked a little more elegant.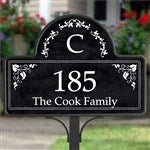 Very small
By
Shopper

(Katy, TX) - April 28, 2011
I love the look of this yard stake, I just wish it was twice as big. I was planning on putting it right in front of my houes, but it would need to be at the mailbox in order for anyone to actually be able to read anything but the numbers.

CUTE
By
ANTHONY P.

(GARFIELD, NJ) - April 4, 2011 (
See all reviews by this customer
)
I purchased two of these address magnets. They are very nice. Time will tell if the printed magnet will hold up to the weather conditions here in NJ. However, i was hoping the metal shaft that you stick into the ground would have been lot longer. But all in all not a Bad Product

Too Short
By
Shopper

(BEAVERTON, OR) - April 3, 2011
I like the sign and it functions as expected. I would like the stake to be longer. It gets a bit lost in my shrubs.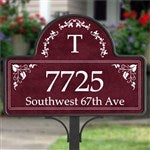 Looks Nice But...
By
Shopper

(Bethlehem, PA) - April 3, 2011
1 week after recieving it, the stripes on the left side of the magnet plaque became discolored (yellowish). Haven't heard back from customer service on this yet after a few days sending an email to service. The metal frame is sturdy and easy to put into the ground. The embossed magnet is attaching nice and flush to the back metal plate.

Not good in Humid climates
By
Nancy B.

(Houston, TX) - May 22, 2010 (
See all reviews by this customer
)
I loved the sign and put it up immediately. Unfortunately, Gulf Coast humidity and this sign do not make a good mix. The magnet was not strong enough to bet the humidity. It curled up and fell of the sign within a two day period. Still using the sign but it is now glued on.

Great Looking!!!
By
ZULFIQAR C.

(avenel, NJ) - March 19, 2010 (
See all reviews by this customer
)
Ok quailty wise. Paint got chipped off so easy that it came off in deleivery but It was send to me new one right away. I am not sure how good it be in winter weather. Oh well! it is good looking overall. Thanks for superfast shipping.

address yard stake
By
DENISE W.

(LUCEDALE, MS) - January 9, 2010 (
See all reviews by this customer
)
Had to get a replacement 3 weeks after purchase because with being outside the vinyl started to pull away from the magnet and would not stick!

Does not hold up
By
Jackie P.

(Troutville, VA) - May 12, 2012 (
See all reviews by this customer
)
We ordered two different magnets - the cute snowman and the elegant monogram. The print on the snowman is too small to read so we didn't use it long. The elegant monogram looked great for a couple of months, but now it is a mess - pulled away from the post, appears damaged from the rain and weather. Post is a little too small to be effectively read - should be larger and the magnets thicker and sturdier. I really hate this as I was very excited about the purchase but would not recommend it now that I have used it.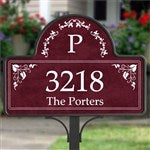 Disappointed
By
Shopper

(Napoleon, OH) - December 16, 2011
My husband and I purhcased this sign for our new home. We thought it would make a great xmas present for the family. When ordering I thought the price was way too reasonable for the sign and post. I read the description three times to see if I needed to order the post separate and could not find anything. I placed the order and to my surprise the post didn't come with it. Very disappointed because now I have to place another order and pay additional shipping.

Frustrated.

Fades quickly and completely in < 1 year
By
John B.

(Saint Petersburg, FL) - November 27, 2011 (
See all reviews by this customer
)
I purchased this item and put it in my yard in May 2011. I threw it away at Thanksgiving as the face of the magnet turned white and basically turned to paper as the sun simply ate it up.