Beautiful!
By
Ashley S.

(North east, PA) - January 19, 2013 (
See all reviews by this customer
)
I bought this for my husband, he desperately needed a coffee cup. So for valentine's Day I decided to make him one with pictures of us and our dogs :} He's going to love it. Normally I buy him plastic ones and they never last. I can tell this stainless steal one is going to last a long time. Fast shipping too, as always! Looks so beautiful!! Thankyou!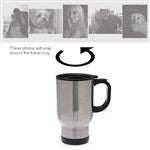 Photo Cup Review
By
Bob B.

(Chicago, IL) - January 9, 2013 (
See all reviews by this customer
)
The cup turned out beautiful! The picture quality was fabulous and you could see enough detail to make the feeling sentimental! The cup itself is pretty good too! It will be a great commuting mug for my ex-wife to see our children daily!

Good Gift
By
Andrea I.

(Aliquippa, PA) - December 28, 2012 (
See all reviews by this customer
)
This was a nice gift to give, but the pictures were not bold enough. I did my pictures in black and white, and the ones that had more white in them were hard to see on the mug. I wish I would have darkened the pictures a bit, or chose pictures with less white in them. I thought the pictures would be bigger than they were, but they were small on the mug.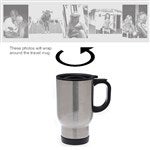 Photo Collage Mug
By
Shopper

(Wibaux, MT) - December 14, 2012
This is awesome! I made it for a grampa gift at christmas and it turned out great! I definitely recommend this. Dark pictures work best as one of the light pics didn't turn out as good as I wanted! But otherwise I love it. And it also shipped really fast too!!!!

travel mug
By
Shopper

(Morgantown, WV) - December 12, 2012
I never expected this mug to look so great. The pictures came out great. I am giving this mug to my my brother for Christmas I can't wait to see his face.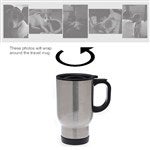 Pics hard to see
By
Donna C.

(Georgetown, DE) - December 8, 2012 (
See all reviews by this customer
)
While I like the mug, with the pics. Being black and white, they are very hard to see against the silver background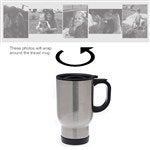 Photos washed out
By
Shopper

(Wasilla, AK) - November 29, 2012
Photos are viewable but very faint...you have to hold the mug close to your face to see what they are. I used the lighten feature and it didn't help.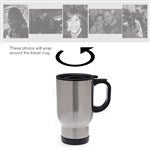 Nice quality pictures
By
Kea D.

(Canada) - October 22, 2012 (
See all reviews by this customer
)
This mug was smaller then I thought but still very nice and the pictures look wonderful, I ordered this for my mother-in-law for chrismas I wish the pictures came in color but black and white looked very good of the metal mug.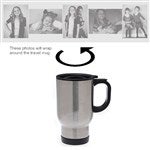 fathers day delight
By
Patrick G.

(Ofallon, IL) - June 25, 2012 (
See all reviews by this customer
)
This gift was pure excellence. It exceeded my expectations in picture quality and presentation. My father truely loved it, engraved with old memories leading to the present, and can now enjoy coffee every morning with a smile.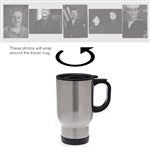 Made mom cry!
By
Jessica V.

(Madison, WI) - May 21, 2012 (
See all reviews by this customer
)
This was a wonderful Mother's Day gift...actually brought tears to my mother's eyes...and this is not something that happens often. I would recommend this for anyone!!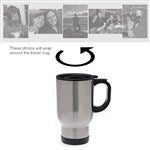 Taking memories everywhere.
By
Sherrie R.

(Bronx, NY) - May 15, 2012 (
See all reviews by this customer
)
Whether drinking coffee, hot chocolate or iced tea, it's like any other travel mug you take with you. The black and white pictures look so good on the mug and I love taking it everywhere with me. It keeps the drinks hot or cold and the handle is great for a better hold of the mug. I ordered one for myself, my mother and my mother in law. And I know I will order more in the future. Keep up the great work. I love this website.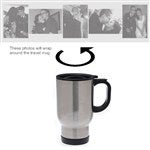 Fantastic Mothers Day Gift!!!
By
ryan H.

(Waukesha, WI) - May 15, 2012 (
See all reviews by this customer
)
I thought being black and white the picture quality would be lacking...boy was I wrong! Very clear pictures, great detail. It turned out to be a very quality gift. Could maybe offer other sizes of mugs as my wife likes a big cup of coffee on the run;)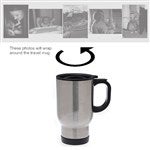 its a pretty cool gift
By
Shopper

(E.Atlantic Beach, NY) - April 30, 2012
I like it but the pictures aren't very clear in the black n white, the colored pictures on the mugs come out better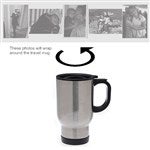 heather;s Cup
By
Adrienne D T.

(Washington, DC) - March 13, 2012 (
See all reviews by this customer
)
The photos were dark and did not blend well with the cup. The pictures could have been on a lighter background so that they would stand out. Otherwise, I was satisfied with the cup. It was a gift and I hope the recipient will like the gift.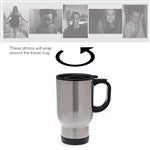 Loved it
By
Han D.

(Houston, TX) - February 26, 2012 (
See all reviews by this customer
)
I got this as a gift for my uncle as a thank you gift and he loved it.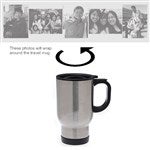 Outstanding Look!
By
Judith L P.

(Live Oak, FL) - February 19, 2012 (
See all reviews by this customer
)
Was so pleased with my travel mugs. I wasn't sure how good they would look in black and white. But to my surprise they were beautiful! Outstanding job! Also was pleased with how fast I got them. Keep up the good work.

Judith Leigh Peters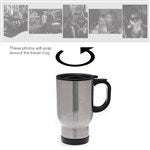 WHAT ELSE CAN YOU SAY
By
Ramona L.

(Lewisburg, TN) - January 9, 2012 (
See all reviews by this customer
)
5 STARS!!! I Designed this mug for a friend who wrote a script and it is in pre-production! You have no idea how great that feels, to just get to that stage. So when I decided on this Travel Mug for him, his mother and daughter. I thought OK its a nice gift.

I had no idea that I would get the response we received.

"THE BEST GIFT EVER"! Was his response, he had received so many special gifts over the years but nothing so personal. WOW! I had a hit and this was a friend of my husbands, so to have him talk for 20 minutes about a cup, was fun.

We gave several gifts from this sight for the holidays this year and every order arrived in perfect condition and on time.

This website has definitely become my favorite site for gift giving. My IPHONE takes great pictures so now I am going to make certain I snap pictures over the year and will find a perfect gift for holidays, birthdays, anniversaries over this next year. Thanks a MILLION!!!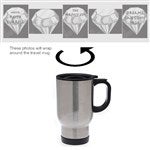 Grandpa Loves
By
Shopper

(mesa, AZ) - January 6, 2012
Made this as a gift for my dad for christmas with my girls pictures on it. The pictures came out very well.I highly recomend this Travel Mug. A awsome price and it is personalized. I also loved that I ordered 1 week before christmas and I recived it in 4 days with standared shipping. One of the best gifts I purchesed this season.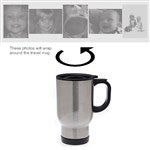 Sweet
By
Amanda L.

(carthage , NY) - January 3, 2012 (
See all reviews by this customer
)
i got this for my father in la. It was a good size and pictures were printed nicely. I've done the photo ones man times and they did come out a little light printed harder to make on this. Overall iwas happy. He was too. 5* if the pictures had been Easier to see.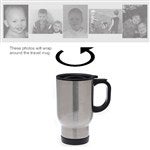 Photo Collage© Personalized Travel Mug
By
John A.

(Cogan Station, PA) - January 1, 2012 (
See all reviews by this customer
)
The mug is great. With 5 pictures, the pictures are small. The lid is hard to drink from; not enough air gets in from the other side.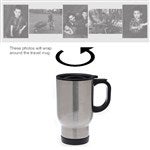 Great gift!
By
Shopper

(Mount Airy, MD) - June 21, 2011
The mug was a perfect gift for my husband. The pictures came out wonderful. The only suggestion I would make is to make the cup a little larger.

Perfect
By
Jodilynn S.

(Johnstown, CO) - December 23, 2009 (
See all reviews by this customer
)
This is exactly what I wanted. The quality of the mug is excellent; sturdy and well-made. Some of the other mugs I looked at only let you use one picture and the mugs were plastic, but thankfully I found this website. It is a Christmas gift for my husband and I know he will love it. I definitely recommend this product.

Awesome Father's gift!!
By
Kelly K.

(Scottsdale, AZ) - June 25, 2011 (
See all reviews by this customer
)
This was fast, easy and turned out great!!!!

Fathers Day gift
By
Shopper

(Coxs Creek, KY) - June 22, 2011
I think my husband really liked this personalized mug for fathers day. I wish there was one of these offered in an even bigger size! Protein shakes not coffee! Great gift!

Photo mug
By
Shopper

(Gainesville, FL) - December 10, 2011
Looks nice

Great!
By
Michelle S.

(Amherst, NY) - December 1, 2011 (
See all reviews by this customer
)
The photos turned out great! It was a gift for my father with pictures of my daughter and he loves it! My only complaint is that the mug itself is a little smaller than I would have liked....we like our coffee! I also wish the pictures were a little bigger. But it's still a great product and I'm happy with how it turned out!

Almost perfect
By
Krystal L.

(englewood, CO) - November 23, 2011 (
See all reviews by this customer
)
The mug is nice and the pictures on it cam out great ONly one thing I dont like....the size. wish it was larger

Great gift, price and service
By
Mary S.

(Corona, CA) - December 22, 2009 (
See all reviews by this customer
)
Just received the mug and it was perfect. I am amazed at how quickly it was created and shipped, even a week before
Christmas. I am impressed. The tools to upload the pictures and crop them were easy to use and I loved the preview it gave. I will definitely be back to get more gifts in the future.

Very cute!
By
Sandra J.

(Humble, TX) - December 14, 2011 (
See all reviews by this customer
)
I purchased this for my father, who is a new Grandpa! He never starts his day without a cup of coffee, so it'll be nice for him to see pictures of his family every morning! The mug is a good quality. My only concern is that some of the images came out very dark. If I'd have known that, I would have lightened the images before uploading them. Other than that, it's a great gift!

photo collage let down
By
Dolores P.

(Altadena, CA) - December 16, 2010 (
See all reviews by this customer
)
A great idea but the pictures came out too small and too dark to recognize any one. I probably will not give this as a gift. It will sit on the back shelf of my kitchen. Very disappointed with the results.

Drips and tacky logo on it
By
Shopper

(Greensburg, PA) - May 16, 2011
The rim on the cup is so thick that it drips. You have to hold your lips up to it until the liquid is back in the cup or it will drip on you. Plus the photos are small and dark. Lastly, the personalizationmall.com logo on it is tacky.

Not Satisfied
By
Shopper

(Columbia, MD) - May 31, 2011
I have gotten items from you before and the quality was great. The photos I sent for the mug on my end were clear but they showed up on the mug very dim and lacked clarity. The item I did before was a color shot and the personalized item was in color. On the mug I sent color shots and the mug generated black and white which was indicated at time of purchase. But I expected better quality in the transformation from color to b/w.

Cute gift
By
Tracy C.

(Staten Island, NY) - July 6, 2011 (
See all reviews by this customer
)
The pictures on this mug came out very clear. I thought the mug was actually a little bigger, but I still loved it.

Photo Collage Travel Mug - Great Gift
By
Shopper

(Rockaway, NJ) - October 29, 2011
I ordered this mug for my mom from her grandkids and she absolutely loved it. I also thought the quality was great and it shipped within 1 day. The only complaint is that it has the companies website right under the pictures and did not have an option to put a caption like "Nana's Buddies" or something fun. I felt having the website in such a bold spot look cheezie. I would like for it to have been at the base or somewhere else.

Broken
By
Shopper

(Shepherdsville, KY) - May 2, 2011
When I got this item the handle was broken and it wasn't what I was expecting. It is very small. Definitely not worth the money. I will be sending it back.

Super gift idea!
By
Brenda V.

(Nicholson, PA) - December 23, 2009 (
See all reviews by this customer
)
The quality is teriffic on this products and Im shure after the holiday gift giving season this item will be put to great use.

Mostly happy
By
steven S.

(Newhall, CA) - December 31, 2010 (
See all reviews by this customer
)
Can't complain about much with this company. Very fast response and solved my Christmas procrastination problem. On theses mugs, unfortunately, they print their company logo below the pictures. I feel it detracts from the work you put into it to make it right. Otherwise, a great idea for gifts.

Husband's Christmas gift from the kids!
By
JC H.

(Northglenn, CO) - December 25, 2009 (
See all reviews by this customer
)
My husband absolutely loved his new travel mug. The pictures turned out awesome. Thanks for the speedy shipping too! I would highly reccomend Personalization Mall!!

Great Travel Mug
By
Jennifer M.

(Brookhaven, PA) - December 26, 2009 (
See all reviews by this customer
)
Love the stainless steel, everything we can do for the ennvirnoment helps! Photos look great and order was here in no time at all!



decent pics for the price
By
crystal A.

(long beach, CA) - January 4, 2011 (
See all reviews by this customer
)
mug a lil small but for the price i'd say it was a good buy