Anniversary present
By
Shopper

(Port Orange, FL) - December 18, 2011
This product was very nice and came exactly how I expected, besides that I didn't realize how small it was when going to be when ordering it. I wish it was a little bigger but I would have still bought it if I knew the dementions. I loved how you could personalize it how you want to make it even more special. It was my present to my boyfriend for our anniversary.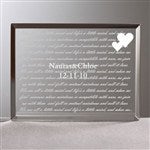 Greatest little gift ever!
By
Ruth R.

(Alexandria, VA) - July 22, 2011 (
See all reviews by this customer
)
I bought this item 2 days before we got married. I was waiting patiently for it to come. He came home from work and laid down to rest. Around 6:30pm, I was going crazy waiting for the package. The reason why was because I had been telling him for the past 2 days that I had a surprise for him. But finally around 6:50pm I received a text message from my tracking number saying my item was already delivered. I told him to go open the door and see what was there. He went and came back with the package. He asked what it was and I told him to open it. He was so curious about what it was and when he finally opened it he put on the biggest smile I've ever seen. He started reading what it said and got so cheesie. He was just smiling and so happy. He loved it. He told me he loved what it said and everything about it. He started kissing and kissing me and kept saying thank you, I love you. It was the greatest little gift ever :)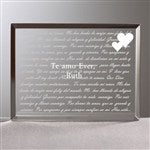 Knew he'd like it - didn't realize he'd LOVE it
By
Lisa G.

(College Park, MD) - July 11, 2011 (
See all reviews by this customer
)
My husband is not big into photos and having things on his desk at work and that's why I thought this was nice. Being clear is unobtrusive and acrylic it's durable. He doesn't have to be so careful with it. I was able to write my own sentiment which made it even better. It was actually for an "anniversary" of sorts of when we met. I had our names put on it in the large part of the title and then "A day in history" put underneath that. Then in the body I had the date we met and some sentimental wording. The turnaround time to order and have it sent was LESS than a week - impressive. The quality was better than I expected. The price - awesome - and a coupon to boot! This was the second purchase I've made....definately NOT the last!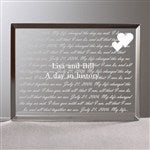 I turned it in to exactly what we needed!
By
Natasha W.

(Crescent Springs, KY) - June 27, 2011 (
See all reviews by this customer
)
We decided to go with personalization mall for our wedding gifts to our parents and grandparents. I had a hard time something that I liked that would work for all of them. I ended up liking the look of this product and personalization mall made it so easy to personalize it in a way that turned out perfect for all of our grandparents! Then when we received our order in the mail, we so happy to see the high quality material used to make each of our gifts! They are just beautiful! We can't wait to present them at our rehearsal dinner!!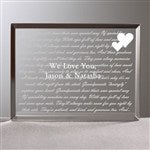 Fantastic Keepsake / Very Thoughtful
By
Amber W.

(Stoneville, NC) - June 13, 2011 (
See all reviews by this customer
)
I purchased this for my husband for our Anniversary. I chose to add my own sentiment. I knew the size prior to ordering since it is listed in the description. It is almost impossible to read the script etched in the back but it's still really nice.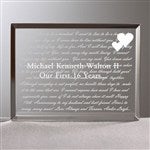 Okay.
By
Kimberly A.

(Jonesboro, GA) - April 4, 2013 (
See all reviews by this customer
)
When I got this product in the mail I never thought it would be so small. It came before delevery date that was good but when I opened it half of my words were missing. Other then those two things it was nice. Didnt look like the product on my preview image.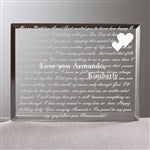 Love It
By
Shopper

(Glen Burnie, MD) - March 5, 2013
It was perfect I gave it to my boyfriend as a gift. I used my own message on the keepsake. He has it at work on his desk. He was shocked and really liked this gift idea.

Thank you,
Shopper in Glen Burnie MD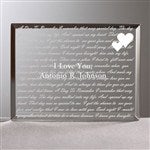 Almost Perfect
By
Holly W.

(Mineral Wells, TX) - February 6, 2013 (
See all reviews by this customer
)
Received the product amazingly fast!! It's beautiful but I can't read the poem that I wrote in the background. I really wish the print was larger. It will still be the sentimental gift that I was hoping for, just a tad disappointed.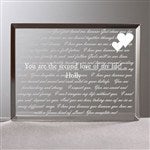 Great gift!
By
Shopper

(Brentwood, NY) - February 4, 2013
I gave this as a gift to my fiance for our 2 year anniversary and he loved it! I would have liked it to be a little bit bigger and it was kind of hard to read the writing but it was still beautiful. my words to him are now forever engraved on this little keepsake.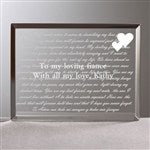 small small small
By
Heather J.

(Cincinnati, OH) - September 30, 2012 (
See all reviews by this customer
)
I didn't realize how small this was - and when you customize the background writing - it's basically unreadable.

Really for such a cheap item - a piece of lucite - you'd think they could make it a little bigger

but the quality of what it is is fine.