Soft and cozy
By
Shopper

(university city, MO) - June 22, 2011
This is an excellent quality robe. It is super soft and comfy.
Just know this is one size fits all - meaning it is enormous in size. But that's what makes it so comfy. Overall, great purchase.

Fit for a King
By
Chanel K.

(Chicago IL, IL) - February 21, 2011 (
See all reviews by this customer
)
I purchased the robe for my boyfriend. Since I was purchasing online, I was a little nervous about the quality of the robe, but he absolutely loves it. It is so warm, fuzzy, and comfy. It is one size fits all, I was skeptical about that as well, but it actually does. I put it on and it fits me, I'm 5'0, and he is 5'6 and it still fits. The only thing I do not like is the size of the initials. I think it's too big, but he doesn't seem to care. This is a great gift under $50.00 anyone would love it.

Suprisingly good value
By
Jessica H.

(Gastonia, NC) - February 15, 2011 (
See all reviews by this customer
)
I was a little anxious as first as to the quality and hate buying any kind of clothing online, but was pleasantly suprised when received. Fleece is heavy and soft, embroidery nice and size is generous.

Great gift idea
By
Shopper

(Hasbrouck Heights, NJ) - February 15, 2011
I bought this for my husband for Valentine's Day and he loved it. He liked that I put his name on it. It fits well, although he's on the smaller side so it seems to be a little too big but he was fine with it. The robe was fuzzy and warm and he can't wait to wear it. The only thing that I was concerned with was that there were little strings hanging on the inside of the robe, like the sewing wasn't done properly. But I just cut them off.

Loved it but...
By
Shopper

(highland heights, KY) - February 4, 2011
I love the way the robe feels however i was a little bit disappointed in the stitching which is supposed to be the main part because it wasnt as neat as i expected but overall i love it and i bet my boyfriend is gonna love it too

Awesome gift!
By
Shopper

(Southampton, NJ) - January 5, 2011
Bought 3 of these, for my fiance and my two brothers, and they absolutely love them!! They are very soft and seem to fit them all nicely. (varying between 5'11 and 6'3, 140 - 160lbs) Pair it with slippers, and you have the perfect gift!!

Title the review?
By
Fabricio B.

(Hereford, AZ) - June 18, 2010 (
See all reviews by this customer
)
Delivery was fast, product was accurate, website was easy to use. Price was steep but considering that I ordered this from Afghanistan for my father, I don't have much of an option.

Overall, I was satisfied with my purchase. The convenience of ordering online is great for deployed soldiers. Wish they would offer a military discount though.

Looks good but makes a mess
By
Jennifer S.

(DESTREHAN, LA) - September 16, 2013 (
See all reviews by this customer
)
The embroidery looks amazing but the robe itself makes a mess. Upon taking it out of the packaging, the fleece shed everywhere. I'm going to run it through the washer but fear there will be nothing left afterwards.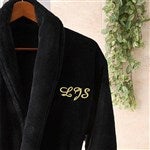 Very big
By
Shopper

(Bethel Park, PA) - February 20, 2012
I got this for my boyfriend for Valentine's day...I didn't realize it was going to be so big! He's not a tall guy, about 5'6", but it is more than just long on him. I wish there had been sizes to choose from! He'd probably have to grow at least 4 inches and gain maybe 40 pounds for this to fit better.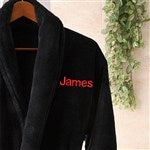 Embroidered Luxury Fleece Robe
By
Guy B.

(Denver, CO) - May 28, 2010 (
See all reviews by this customer
)
First off I want to say that I've ordered from Personalization Mall a few times and always have been happy with the product and how fast I receive the package. Although I loved the robe itself, the embroidered name wasn't done very well. I had it done in script and it looked patchy. I am still pleased with the service they have.

The robe shedds!
By
Shopper

(Glen Ellyn, IL) - December 23, 2013
These robes shedd terribly! I bought three of them, two are black and one is white.
The black was the worst - The robes leave fuzz everywhere, even after washing.

Although they are soft and embroidered so nicely I would never purchase these again due to the fabric fuzz they leave all over the house and on the person. Now I need to go get three new gifts! The robes are just too messy to wear. Bummer!

The other purchases I made were wonderful - they were not robes!

shopper

He loved it BUT..
By
Shopper

(sacramento , CA) - February 16, 2013
I got this for him for Valentines day. He absolutely loved he kept saying "wow..wow!" I was like "well do you like it?!" and he said "it's got my name on it!" haha he put it on and wore it the rest of the night! My only complaint was that he pointed out that the tie portion was cut weird and one end is half the size then the other! and it looks funny! I was heartbroken he saw a flaw like that seeing as I paid quiet a bit for this robe and shipping!!! disappointing.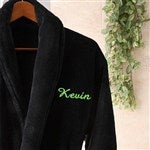 Not a happy grandpa
By
Shopper

(south bound brook, NJ) - February 11, 2013
The robe is nice. Not happy with the how the robe fit though. I bought this for my husband , not a big man, average height 5'10 , 185 pounds . The robe is very short and the arm length is soooooo short. Very disappointed!!!

Script - dont do it if you have an "O"
By
Shopper

(Horsham, PA) - September 21, 2012
I got this and had "Mommy" embroidered on it...it definitely looks like "Mammy"! So embarassing!