Best robe ever
By
Shopper

(Burlington, NJ) - July 23, 2014
I bought this robe and the mens matching robe for my husband and we both absolutely love it!! It is the softest most comfortable robe we have ever had! The monogram was perfect as well and they arrived very fast! Will definitely order from this company again!!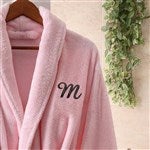 Perfect Gift
By
Anthony F.

(DIAMONDHEAD, MS) - May 10, 2014 (
See all reviews by this customer
)
The item arrived on time and was a smash hit with it's receiver. It was exactly as ordered and I plan to give more personalized gifts for birthdays, graduations and Christmas....


HIGH QUALITY ROBES!!!!
By
Shopper

(Waynesburg, PA) - March 17, 2014
I am usually apprehensive to purchase items like this without seeing them first especially when having it customized. I must say these robes are DEFINITELY WORTH getting!!!!! They are absolutely of high quality and exceptionally soft!!!! They were a hit with the bride-to-be. I purchased them both (black and pink) and had Mr.& Mrs monogramed on them. I made a basket and included the Mr.& Mrs. Always right mug with the movie "The Vow"..too cute...These are something they can take on the honeymoon. If you are looking for something different for a shower gift or even for someone for any occassion i highy recommend these robes.

robe
By
Shopper

(La Quinta, CA) - March 3, 2014
Excellent very comfortable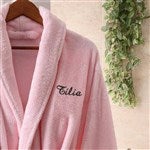 Valentines's Day
By
Shopper

(Saginaw, TX) - February 24, 2014
My wife love it. Thanks

Excellent
By
Guerin J.

(Sarasota, FL) - February 12, 2014 (
See all reviews by this customer
)
THe Robe was just as I had hoped and beautiful. I was especially impressed as to how fast it arrived just on regular shipping.

Great experience
By
Sharron C.

(Orange Park, FL) - January 1, 2014 (
See all reviews by this customer
)
The robe I ordered for a gift was of high quality and the monogram was done very well. Product arrived quickly and encountered no problems whatsoever. Would recommend this product and Personalization Mall with no qualms.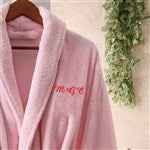 Christmas Gift
By
Chris R.

(Houston, TX) - December 29, 2013 (
See all reviews by this customer
)
This was a Christmas gift. Embroidery came out perfect. The robe was really soft & warm. Shipment was really fast.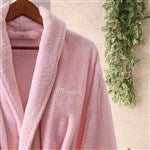 warm and soft
By
Claudia B.

(Pattersonville, NY) - December 27, 2013 (
See all reviews by this customer
)
I got this for my daughter who is due any day. The quality is great and she loves it!!! It will be nice for her and the baby when she comes any day now. The products and quality are very good, I am happy I found Personalization Mall.com. I got my gifts in a very timely matter too.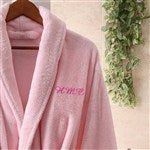 LOVE LOVE LOVE-So soft
By
Destinie K.

(Granbury, TX) - December 24, 2013 (
See all reviews by this customer
)
This came very fast and is super soft and plush, the name was very nice on it as well. Would buy again as a gift!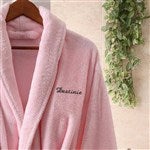 IDK
By Shopper (Dallas, TX) - December 9, 2013
I want to get one for my mom but she a little big will she be able to fit it. it say one size fit most

Super Soft
By
Shopper

(Douglas, AZ) - October 29, 2013
I bought 3 robes with initials embroidered in flamingo pink stitching. I am so happy with my purchase! They are super soft and cozy! I really liked the option of previewing your embroidery with the different colored stitching prior to placing the item in your cart. Will most definitely buy more in the future.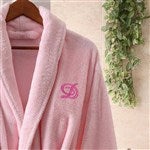 So comfortable
By
Danelle M.

(Peoria, AZ) - July 20, 2013 (
See all reviews by this customer
)
I splurged and got myself this robe. I love it. It's so comfortable and luxurious with my initials on it as a bonus. It is now my favorite robe. Softest robe I have ever felt. I highly recommend this robe.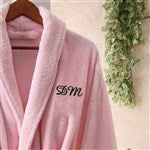 daughter in law is happy
By
Shopper

(Cortland, NY) - May 13, 2013
I took a chance in getting this robe for daughter in law in florida---without knowing her tastes,favorite colors,if climate is too warm for this robe,or if it would fit. To my surprise--for Mother's day----she liked it!!!!! I am relieved and glad---got there on time,too!!!All the other review spoke highly about this robe and influenced me--glad I did. thanks

Valentines Present
By
Marty R.

(Bentonville, AR) - February 16, 2013 (
See all reviews by this customer
)
My wife loved the robe. This is the second time we have ordered from your site and have been pleased both times. The items we ordered were everything your site said they were and were delivered on time. So glad I found this site will be ordering more products from your company. Have told friends about this site.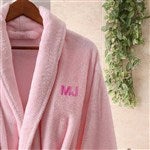 SOOOO SOFT
By
Shopper

(Honolulu, HI) - February 15, 2013
My Wife loved it so much she sleeps in it. The fleece is soft and comfortable. You can personalize the robe with your Loves name.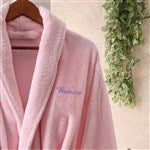 Happy Customer
By
Candice H.

(Bedford, OH) - February 10, 2013 (
See all reviews by this customer
)
I was initially sent a robe that was damaged, but upon calling customer service they were more than apologetic with the item received. I just had to email them a photo of the damaged item and the same day my issue was resolved with them sending me a new robe. I was very pleased with this action and the rapid results. My new robe is perfect no defects and I know the quality is great because I purchased the mens about 1 year ago.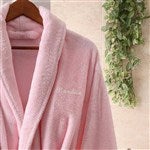 2nd Anniversary
By
Shopper

(Saint Helens, OR) - January 25, 2013
This anniversary is cotton, she loves this robe, i can't hardly get her out of it.

Super, Super, Super Soft and Pretty
By
Diane V.

(Frankfort, IL) - November 11, 2012 (
See all reviews by this customer
)
I purchased this for my Mom for Christmas. She needed a new robe, but I wanted her to have something special. Personalization Mall never disappoints, so I immediately searched this site. So happy because this robe is beautiful. The thread they used is very colorful and it looks so much nicer in person than on the site. I made the personalization a bit more personal because she is so pro Grandma. I can't express enough how soft this robe feels. Mom is going to love this robe.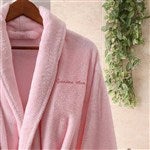 Soft, warm and cozy
By
Susan S.

(Fountain Valley, CA) - November 3, 2012 (
See all reviews by this customer
)
I bought two of these robes as birthday gifts. Each woman loves the warmth, texture and quality they provide. I order all my gifts from Personalization Mall because everyone loves a personalized present. This company is so efficient and has excellent quality products and extraordinary customer service.

Very warm and comfy
By
Shopper

(Oak Park, IL) - October 29, 2012
I got this robe for my girlfriend with her name on it as a suprise, she abosolutely loved the robed and couldn't thank me enough.

Absolutely perfect robe for any woman!
By
Joanne J.

(Canada) - August 27, 2012 (
See all reviews by this customer
)
I purchased this robe for my best friend's daughter's 32nd birthday. I could not believe how soft it was and the embroidery in burgundy was absolutely beautiful and even better than the picture shows.

As soon as she opened it, she slipped into it and wore it much of the week-end.

She has a four month old baby girl who snuggled up against the robe and fell asleep. That is a good indication of how very comfortable this product is.

Perfect gift! for any woman for any occasion!

Very plush, excellent
By
Shopper

(Parkton, MD) - May 20, 2012
Personalization Mall make shopping easy, fast and they have a great selection!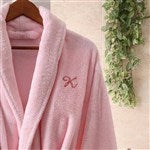 a very nice surprise
By
David S.

(Grand Rapids, MI) - May 13, 2012 (
See all reviews by this customer
)
I was amazed at the craftsmanship of the products I ordered for my wife this Mother's Day. Everything came exactly as ordered and within a few days. The price was perfect and fit well into my budget. My wife was surprised when she open the box and the robe was in there. She knew nothing of this gift and it fit perfectly. You have a new customer for life. I couldn't believe how easy your website is to use even for a first timer as myself. I had no problems at all. Thanks for being there when I needed you!!!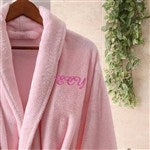 Excellent Quality
By
Jeremiah L.

(Winston, GA) - February 24, 2012 (
See all reviews by this customer
)
My wife really enjoying the fleece. The material was actually better than I expected. The embroidery was perfect, also better than i expected. The fleece was over-sized and my wife loved it.

Bravo Zulu to Personalization Mall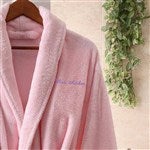 Great robe
By
Shopper

(New Castle, PA) - February 22, 2012
Love it :)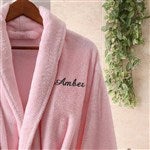 Military Wife Adores it…
By
Keith G.

(FPO, AP) - February 19, 2012 (
See all reviews by this customer
)
I got this for my wife for Valentine's Day from over sea's… She received on the day they said that they said that they would deliver it. Wife loved it. Said it was very soft and cuddly. Easy to order and fast shipping.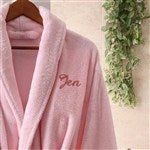 Very nice robe
By
Mark K.

(Louisville, KY) - February 18, 2012 (
See all reviews by this customer
)
The embroidery was just the touch needed to make this soft and comfortable robe a little extra special for my lovely wife's Valentine's day. She loves it and some pampering is a really good thing.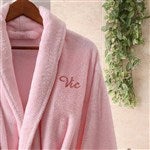 SOFT AND CUDDLY
By
MARSHA Z.

(WANAQUE, NJ) - February 14, 2012 (
See all reviews by this customer
)
SHE LOVED THE PERSONALIZED ROBE. IT IS SOFT AND CUDDLY.

My Valentine
By
William K.

(Merrick, NY) - February 3, 2012 (
See all reviews by this customer
)
Beautiful robe!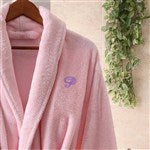 Super Soft
By
Shopper

(Lincoln, NE) - January 30, 2012
Super soft and good quality robe. Buy with confidence!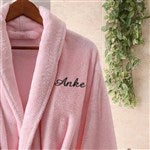 super soft
By
sherry V.

(dighton, MA) - January 30, 2012 (
See all reviews by this customer
)
better quality then i expected, super soft, well made

A Hug from Mom
By
Brenda Z.

(Mantua, OH) - January 18, 2012 (
See all reviews by this customer
)
I purchased this soft robe for my daughter's birthday. She lives a few hours away and due to her hectic schedule as a doctor, I don't get to see her as often as I'd like. She loved it - just like a hug from mom!

Personalized Fleece robe
By
Marc O.

(Silver Spring, MD) - December 28, 2011 (
See all reviews by this customer
)
Super ultra soft (and I'm picky). Good quality and they turned the personalization around VERY fast which was a comfort during the hectic holiday season. A++!

Softer than I imagined
By
Shopper

(Wareham, MA) - December 26, 2011
I understood it would be soft when I read the description but I never imagined how short they sell themselves in describing the piece. It is so nice and soft. Perfect for lounging around the house. The fit is nice too. Not too big that it's awkward when moving around but not too tight that it's uncomfortable. I got it as a gift for someone for Christmas but after seeing it I want one myself!!

Best Robe!
By
Shopper

(Prattville, AL) - December 22, 2011
This robe is a gift for my mom. Its thick and soft with large stitching. The robe is perfect for anyone who seems to stay cold or just likes to relax in comfort!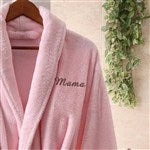 Pink Personal Robe
By
Shopper

(St. Clair Shores, MI) - December 12, 2011
This is soft and luxurious. A good price for what appears to be good quality

Angela/R.I.
By
Angela G.

(Cranston, RI) - February 28, 2011 (
See all reviews by this customer
)
Beautiful robe, bought one for my daughter last year, and now for my niece and nephew. The quality is unbelievable, especially for the modest price. Having it monogrammed for free is a special touch. It is a beautiful gift that everyone has absolutely loved receiving. Now it's my turn!

Quick Delivery
By
James J.

(Mcguire AFB, NJ) - February 14, 2011 (
See all reviews by this customer
)
I bought this for a valentines gift while deployed to the desert, it was sort of a last min thing but it still arrived on time. The robe is comfortable and looks as described would definately recommend.

Soft and Warm personalized robe...Fabulous.
By
Joanne L.

(Saint Georges, DE) - February 12, 2011 (
See all reviews by this customer
)
I bought this as a gift for a BFF's birthday. She absolutely loved it. It was a beautiful pink, the embroidery was large and neatly done. It was a big hit. I am only sorry they didn't have matching pajamas and slippers...I would have bought them all...thanks for always being there when I need a very special gift!