Very sentimental gift!
By
Catlin I.

(Felton, CA) - December 20, 2009 (
See all reviews by this customer
)
This was a gift for my husband in honor of our 35th anniversary. I really like that it is on the canvas rather than under a frame. However, if the lettering was just a bit bigger it would be a better product.
Service was very fast and arrived well-wrapped, in perfect condition.

butch and colleen heart in sand
By
colleen E.

(clementon, NJ) - December 8, 2009 (
See all reviews by this customer
)
love it!!!!!

paradise island canvas art
By
NANCY R.

(BROAD CHANNEL, NY) - November 3, 2009 (
See all reviews by this customer
)
i loved the canvas beautiful work , but i was unhappy with the fact that it dident come with a white frame, the last one i orded i took in a black frame . because in that house it went well , but this other house was very lite and bright with no black in it , so i really think you should sell black or white frames to go with the canvas,
thank you
NANCY RUPA

Very Nice
By
Melissa W.

(East Earl, PA) - October 28, 2009 (
See all reviews by this customer
)
The only con in this picture is the date....maybe make it a little larger...for those of us that wear glasses, it was a little hard to read....

Great Gift !
By
Christy D.

(Vienna, VA) - October 13, 2009 (
See all reviews by this customer
)
Great gift...great purchase... Just like the picture...

Heart in Sand Review
By
Dawn J.

(Long Beach, CA) - October 7, 2009 (
See all reviews by this customer
)
I liked it alot, but your not able to see the personalized writing in the sand on the sample online. When I got it I was a little disappointed the writing looks more computer generated, it doesn't look like the way the heart is carved in the sand.

Undecided
By
Shopper

(Enid, OK) - February 23, 2013
The canvas was nice but the names are obviously fake. If you intend to buy I would have it in a spot where you are unable to see it up close.

More detail
By
Shopper

(Antelope, CA) - June 7, 2011
It would have been nice to have had the option of placing a short personal message, as was the case with your "ocean rock" piece.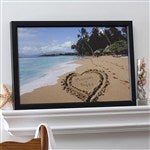 Nice... but!
By
Shopper

(Wellington, FL) - April 19, 2011
The canvas is really nice, but it is costly to custom frame it and the selections aren't very good from this site. Also, you'll find the size odd to frame with ready made frames. The canvas itself is a good present.

Pretty but.....
By
Shopper

(Virginia Beach, VA) - March 22, 2011
This picture is really pretty but when you buy the big size like I did the picture isn't really that clear. I had bought a smaller one previously and the picture was really clear but I don't feel the same about the big one. Also I hope you dont think the words look like the are actually written in the sand cause there not. They look like they were just drawn on. But I knew that when I ordered it. Oh and the frame is not worth $30.00. You can get a really nice frame for cheaper or about the same price.

Do not order frame...
By
Pam R.

(Orange City, FL) - December 14, 2010 (
See all reviews by this customer
)
Frame is cheap made and looks cheap

A Little cheesy
By
Jillian B.

(Newton, NH) - December 6, 2010 (
See all reviews by this customer
)
I thought this would look more so like a real picture but it looks cheesy and pretty fake :(

So, so
By
Gail M.

(Chula Vista, CA) - May 12, 2010 (
See all reviews by this customer
)
I must admit I was disappointed. Although the idea is great and personalization nice, I was pretty disappointed in the actual image. It was not crisp and clear as it appeared to be online. It looked more like something I could have copied on a color copy machine. Now I'm stuck with it as a wedding present but not happy with the price I paid. Sorry to have to write this. I have enjoyed your other products.

Beautiful Canvas, horrible personalization
By
Cheryl J.

(Bloomfield, CT) - April 26, 2010 (
See all reviews by this customer
)
The personalization was not very good. I agree with the other reviews that its looks like someone wrote the names with a sharpie pen. Hopefully, it will look better when its hung on the wall. All of the other products I have order from this company, have been excellent. So, I was disappointed with this particular item, specifically the personalization part. Hopefully they can work on this part because the concept is really nice.

Nice Canvas.. cheap printing
By
Annette T.

(Huntington, NY) - February 18, 2010 (
See all reviews by this customer
)
Although I was very happy with the actual canvas picture itself, I was not pleased with the printing on it. It looks like someone stamped names on the canvas, not remotely close looking to writing in the sand. I know it cannot be actual sand writing, but it looks like it was stamped on.

Beach Canvas
By
Kristen Y.

(Ava, NY) - February 12, 2010 (
See all reviews by this customer
)
Not impressed with the writing on this item. Does not look like someone drew our names in the sand - you can totally see that the writing is on the canvas in black as opposed to brown like the sand. Frame is wonderful quality and the canvas print itself is very good.

Canvas quality good, but personalization looks like it is written in sharpie
By
Veronica T.

(Jacksonville, FL) - February 10, 2010 (
See all reviews by this customer
)
I was very excited to get this for my boyfriend for Valentines because his house is beach themed and I thought it would go well. While I am very impressed by the quality of the canvas and the picture, the personalization is looks like it is written in sharpie. That said, it isn't written in sharpie, but the writing doesn't go with the rest of the picture. Overall, the quality of the canvas is durable and heavy and will look nice on his wall, but the personalization I could have done myself.

Not as good as I expected
By
Deborah W.

(Jacksonville, AR) - February 2, 2010 (
See all reviews by this customer
)
I was a bit disappointed when I opened it. Not as good as other things I have ordered in the past. The canvas was actually larger than I expected (which was great) and the picture itself was beautiful. I was disappointed in the way the names and date looked. I had expected them to look as if they had been written in the sand, but sadly it looked liked someone took a magic marker and wrote them in.

printing could have been better
By
Howard W.

(Orange, CT) - January 26, 2010 (
See all reviews by this customer
)
over all photo good BUT... look of names (font) didn't look like they were "drawn in the sand"

Disappointed
By
Karen R.

(Quakertown, PA) - December 3, 2009 (
See all reviews by this customer
)
I just received this item yesterday and I'm a little disappointed with the quality of the names. I agree with other reviewers when they say that it looks like the names were written in with a Sharpie. From a distance it looks good, but close up it looks a little cheap. Disappointing after receiving other wonderfully personalized items from Personalization Mall.

Nice but...
By
Christine S.

(Green Bay, WI) - October 8, 2009 (
See all reviews by this customer
)
I bought this for a wedding present for my sister. She got married on the beach. The quality of the canvas itself is great. The printing of the names however was very cheap looking. Like someone wrote them in with pen. Overall was pleased. My sister loved it! Thought it was the coolest thing. I however did not like the cheap look of the writing in the sand.

Not so happy
By
Ann G.

(Sarasota, FL) - October 7, 2009 (
See all reviews by this customer
)
I thought for the amount I paid for this canvas and frame it was't worth it. To me and others it should have been around $55 pt $60 the most.

mixed feelings
By
Joan M.

(GREELEY, PA) - October 6, 2009 (
See all reviews by this customer
)
"Our Paradise Island" was perfect for the occasion and received well. I'm sure it will be enjoyed for a long time. I was a little disappointed in the quality.

It's Ok, but not awesome
By
Shopper

(Ooltewah, TN) - December 18, 2012
I won't reiterate what other's have said. Simply stated, BUY THE SMALL ONE. The larger prints are blurry looking and unfocused. The names in the sand look out of place and "computer generated" as others have noted. Smaller is key. I purchased the 16x24. Go smaller. Its a neat idea, but I was disappointed with how out of focus the picture looks. Its ok at an "across the room" viewing distance, but anything closer it is quite noticeable that the resolution on the picture isn't very high.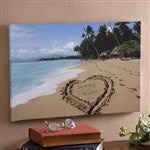 Paradise Island is pixelated!!!
By
Shopper

(Tualatin, OR) - December 5, 2012
I am not satisfied with this product because the only thing that is not pixelated are the letters in the sand - otherwise everything else is extremely blurry. I could have taken a better high resolution picture on the beach and had it blown up and it would have been much better quality.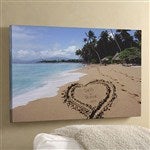 Very disappointed!
By
AG M.

(Liverpool, NY) - October 7, 2011 (
See all reviews by this customer
)
I was so excited to order this and was very disappointed when I received it. The picture itself is blurry and the writing of the names and the year looks odd against the blurry picture. The canvas has no backing and you can see how it was stretched and stapled on the back. For the cost it could be better.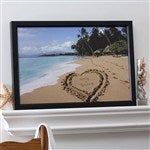 Product nice, customer service & personalization poor
By
Shopper

(San Diego, CA) - August 30, 2011
When I added the 2 names to this picture, the PersonalizationMall.com site capitalized a letter in one of the names that I typed in lower case.
Customer service said they couldn't help me.

I didn't get to 'personaliz'e my item the way I wanted it, I got what Personalization.com thought I wanteded with no other options to choose from.

Nice, but...
By
suzanne M.

(south hadley, MA) - August 25, 2011 (
See all reviews by this customer
)
I liked the idea of the photo, however, upon seeing it in person, I feel that it is lacking something. I think it would look better if there were a few footprints on either side of the heart, plus maybe a rock or stick laying next to it, showing what drew the heart. I think that would make it look more realistic.

Not there best
By
Shopper

(phoenix, AZ) - February 8, 2011
I bought this as a gift for my boyfriend and was rather disappointed. I have purchased other items so did not expect this. The canvas and picture are rather nice; however the personalization unfortunately looks very "digital" and gives the entire picture an amateurish appearance. The overall impression is rather juvenile.

Good Idea - Not so great quality
By
Eddie D.

(Mayfield, KY) - January 31, 2011 (
See all reviews by this customer
)
I haven't ever ordered anything from Personalization Mall before so this was the first thing. I ordered this for my wife for Valentines Day as a gift but I was disappointed in the quality of the image you get with it. Granted, my wife is a photographer so I tend to pick images apart as well and I am sure she is going to pick it apart but it is a really good idea tho. I don't think I will order any more canvases from personalization mall but I will probably try other things.

Not impressed. Don't buy.
By
Matthew T.

(Tucson, AZ) - December 10, 2010 (
See all reviews by this customer
)
The photo's was not very high quality. It looked a little fuzzy and not sharp.

Also the writing for the custom names looked poorly done. The font and effect used did not look realistic and it was obvious it was computer added even from a distance.

Disappointed
By
Mischelle R.

(Harrison, OH) - May 19, 2010 (
See all reviews by this customer
)
Should have gotten the picture framed. The canvas does not look as good, shiny, cheap.

A little too grainy
By
Erin L.

(Pittsburgh, PA) - May 7, 2010 (
See all reviews by this customer
)
I was VERY excited about this piece, my fiance and I just got engaged in Hawaii, and I thought this would be a nice present to him now that we are home. It is VERY grainy... I mean, it is like they stretched it out too much. I am not very happy with it, but I cannot return it. :(

The script was disappointing
By
Jennifer M.

(Ephrata, WA) - February 11, 2010 (
See all reviews by this customer
)
I love the website and order gifts from here quite often, I am almost always 100% pleased with my orders. However the script on the Canvas looks like its written in ink rather than drawn into the sand... I was dissapointed.

Did they use a maker to write the names?
By
Meagan D.

(Indianapolis, IN) - January 21, 2010 (
See all reviews by this customer
)
This item gets mixed reviews. Reading pages 1-4 in the reviews makes it look like an exceptional item. However, I would strongly agree the page 5 reviews. The canvas itself is wonderful. The names written in the sand do, indeed, look like they were written in with a marker. I give a star for quick shipment and another star for the great packaging of the product.

Love the Picture... not too happy with the Personalization...
By
Jeannette M.

(Menlo Park, CA) - January 19, 2010 (
See all reviews by this customer
)
We bought this for our friend's for their Wedding present, and I am almost embarrassed to give it to them. I love the picture and the idea of it all... though expected the personalization to look better... a little more like it WAS written in the sand. If it were written a little bit lighter in color, closer to the color of sand, I think it may have been better. As it is, it look o.k. from far away, but when you see it up close it looks... well... just too fake.


Cheap Looking
By
Wendi P.

(Litchfield, IL) - October 26, 2009 (
See all reviews by this customer
)
I purchased this as a bridal shower gift and was very dissapointed. I put in the bride and groom's nicknames to make the gift more personal, and now I am glad that I did. It turned out more as a gag gift than anything. The names look like someone wrote them in with a sharpie. I do not recommend this, and can't beleive I paid $50 for it!

Name Spacing
By
Jackie M.

(Orlando, FL) - April 8, 2013 (
See all reviews by this customer
)
If you had not given me this chance to "sound off" about the product I purchased, I would probably not send this review. But since the information was right here for me, I do indeed want to express my unhappiness. The spacing of the names in the heart are not good. The first name, Bernadette, the "B" is actually so close to the line in the heart, you can hardly see it. There was more than enough room on the end of the name to space it more evenly and thus the entire picture would have been perfect. The idea and the picture is amazingly beautiful, I just think the spacing was off and the gift is not as attractive as it should have been.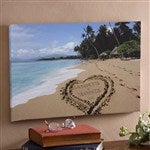 Disappointed With Poor Quality Of This Canvas!
By
Shopper

(Rancho Cucamonga, CA) - March 6, 2013
I sent away for this personalized canvas as a special wedding gift for my daughter and her new husband; She hesitated to tell me that the quality was very poor of the canvas print and actually looked quite cheap overall. Being that I sent this from out-of-state before attending the wedding, I asked my daughter to call the company to ask for any recourse (refund or replacement), but she felt the company representative dismissed her concerns and basically said there was nothing to be done. I felt really bad but just sent the new couple a check instead and will not be ordering further from personalization.com. Thanks.

Paradise Island Canvas- terribly dissatisfied
By
Shopper

(Charlotte, NC) - December 28, 2012
When I received the product I was very unhappy that I spent so much money on an item that was poor quality. The pictures on the website looked great, however when I received my order it was awful. The picture was very "pixel-y" and the personalized wording was poor. I ordered this to give as a gift but once I saw how bad it looked, I would never want to give this to anyone.