Fast and Quick Turnaround, great quality
By
Shopper

(Midlothian, TX) - September 29, 2014
I ordered this banner on a Monday and received the banner on Thursday, 3 days later and I didn't have to pay for expedited shipping!! I was so surprised with the arrival and very happy with the quality of the banner. It turned out great for my stepdaughter's birthday the Saturday of that same week. Thank you so much. I will continue to use your business and refer to others.

Special Surprise
By
Shopper

(Winter Haven, FL) - June 19, 2014
My sister just turned 40 and we personalized this banner with a baby photo of her and "40 and fabulous". Very nice quality at a reasonable cost and turnaround time was quick. She was very surprised to see this banner hanging at her desk at work the day of her birthday.

Perfect! As Always...
By
Shopper

(Madison, AL) - April 21, 2014
I ordered this banner for my niece who turned sweet 16 - rush delivery for her birthday party. The banner was a big hit!! Everyone loved it. I had to send it to Canada since personalized mall could not ship to Canada - only USA. This a high quality banner!!

Recommendation: Allow shipping to Canada for all your products!! thank you!

Great
By
Richard T.

(Rolling Meadows, IL) - November 22, 2013 (
See all reviews by this customer
)
Nice quality

Good quality, what I expected
By
Shopper

(Ft Myers, FL) - October 19, 2013
Nice banner, good quality, internet picture matched final product, arrived on time. Would go with this company again in the future.

Great!
By
tammy J.

(richmond, VA) - August 30, 2013 (
See all reviews by this customer
)
Fast shipping..wonderful product!

Very professional looking
By
Shopper

(La Mesa, CA) - July 29, 2013
Received product today & very pleased. Had to have it sent twice because of damage in the mail & smudges on the banner. Customer service was easy to work with & they were concerned that I was happy w/ the product. Thank You

Alison's Sweet Sixteen Party
By
Toni C.

(Davie, FL) - May 4, 2013 (
See all reviews by this customer
)
There were compliments from both adults, teens, and the staff at the location of our party! We were amazed how realistic the clarity of Alison's picture was! We bought silver glitter pens for the guests to sign on the outside of her banner. Your products are of great quality and I will be ordering one for two other upcoming birthday's as well as a baby shower!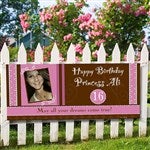 Birthday Banner
By
Shopper

(Linwood, MI) - March 19, 2013
Fantastic banner! Great Quality!


I Will Order More!
By
Elizabeth D.

(Suitland, MD) - October 5, 2012 (
See all reviews by this customer
)
I was asked to create a banner for the Mother of my Church since we were celebrating her 90th Birthday! I ordered this on Monday and received it on Thursday. This is the third banner I've bought from Personalization Mall and I'm always impressed to receive it and hang it up!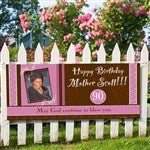 I love it!
By
Shopper

(Glendora, CA) - September 22, 2012
This is my first time ordering with Personalization Mall. I found them on line and took a chance. The photo banner arrived quickly and I was delighted when I saw the high quality of material and that it looked exactly as I had designed it on line. I am really happy with the service - thank you!

Birthday banner
By
Shopper

(warren, NJ) - September 16, 2012
Ordered a banner for my grandmother's birthday. It looks amazing. I used a black and white photo of her and it came out stunning. I received it in the mail much earlier than expected as well!

Love this banner!!
By
danny L.

(mansfield, TX) - August 19, 2012 (
See all reviews by this customer
)
My huband and I bought this banner for our daughter's 40 birthday. We absolutely love it. The quality is extremely good. The photo is clear. We ordered it on a Sunday night and had it in our hands before the week was over. We were quite impressed. You have certainly earned our business.

Better than I expected
By
Shopper

(Glen Burnie, MD) - August 17, 2012
I expected this to be good based on the reviews here, but it is even better than anticipated! Awesome colors, durable, still haven't used it, saving it for my daughter's party in a week, it is a gorgeous banner, I would def. recommend!!!

Excellent!!!!!
By
Gustavo M.

(San Antonio, TX) - July 17, 2012 (
See all reviews by this customer
)
Quality: Great
Production Time: Fantastic
Price: Unbelievable
Definetely a great purchase, easy to order and quick printing and delivery.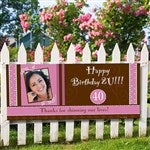 PERSONALIZED BIRTHDAY BANNER
By
Analydia F.

(Costa Mesa, CA) - June 6, 2012 (
See all reviews by this customer
)
I LOVE IT!!! My Mom is going to love it when she sees it. It was easy to order and I got it really fast too! All of my family love it too! Thanks for making this day extra special for my Mom!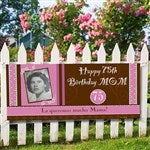 Beautiful Banner
By
Rosalie C.

(Dallas, TX) - May 12, 2012 (
See all reviews by this customer
)
This was a perfect banner for my goddaughter's 13 birthday. The quality is excellent!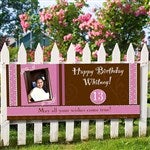 The Banner came out great!
By
Shopper

(District Heights, MD) - March 16, 2012
The banner came out great! The picture wasn't granny and it was larger than I had imagined.

I wish it had come with the string to hang it, but that can easily be purchased at a hardware store.

Birthday Banner Idea
By
Joseph W.

(Imperial Beach, CA) - March 2, 2012 (
See all reviews by this customer
)
The banner we received was very well constructed and printed nicely, they were able to add special symbols which made the customizing process more personable to the individual involved. The only suggestion I have, would be to mention the photo needs to be from a quality camera, instead of cell phone pictures. Due to resolution issues when trying to enlarge the print for proper viewing. Overall my family and myself were very pleased with the outcome of this product and the speedy delivery was a bonus.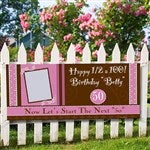 Banner Makes Birthday Impact!
By
Michael R.

(San Francisco, CA) - January 28, 2012 (
See all reviews by this customer
)
I designed and ordered a personalized banner for my wife's birthday which includes her name and photo. We placed it at the Sushi restaurant and it was a hit! It added to the several items 9Birthday card, cupcake wrappers, larger poster, etc) I ordered which made her birthday very special this year. In fact we like the banner SO much it is currently displayed in our kitchen as we extend her birth-day to a week long celebration!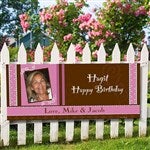 Impressive!
By
Danielle D.

(San Francisco, CA) - December 22, 2011 (
See all reviews by this customer
)
I had this banner made for my mother's 50th birthday and used a scanned photo from 1968. The quality was really amazing!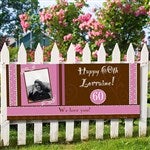 Birthday Banner
By
Shopper

(Grenada, MS) - October 29, 2011
Great Gift. Mom and Everyone that saw it loves it !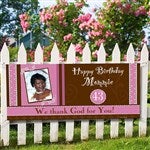 Wonderful Birthday Banner
By
Shopper

(Kankakee, IL) - August 9, 2011
This banner is a great addition to a birthday party. Size is nice & fits nice across a garage door. Very satisfied w/it for the price I paid.

Birthday Banner
By
Shopper

(Taylorsville, NC) - August 5, 2011
It's perfect. Good quality. Just wish the string to hang was included. Looks great.

Banner
By
Dena W.

(Rahway, NJ) - June 27, 2011 (
See all reviews by this customer
)
I ordered this banner for my nieces baby shower and it was absolutely beautiful. The lenght and width were perfect, the colors blended right in with the decor. It got rave reviews!

Better than pictured
By
maria A.

(yonkers, NY) - June 21, 2011 (
See all reviews by this customer
)
Received the banner and was pleasantly surprised by the quality of the product and the clarity of the picture. The heavy vinyl material makes it durable for indoor or outdoor use. Another customer gave us the idea to have each person in attendance write on the banner as a beautiful keepsake for my Mom's 85th birthday. As usual, the item arrived in a timely manner and packed very safely and securely for transport and storage. Definitely a thumbs up!

75th Birthday Banner
By
Carolyn P.

(Ramsey, MN) - May 12, 2011 (
See all reviews by this customer
)
This banner is W O N D E R F U L! The photo was clear and the quality excellent.It also came in 3 days.I was so impressed I've been showing everyone. I can't wait for my mom and everyone to see it on her 75th Birthday party!From now on I will only order any banners from here. THANK YOU!

Great 21st Birthday decoration!
By
Andrea C.

(Pinellas Park, FL) - April 11, 2011 (
See all reviews by this customer
)
My daughter and her friends loved this. It's sturdy, rolls back up nicely and the grommets are a great touch!

The Birthday Banner
By
Dorothy S.

(Chesapeake, VA) - March 28, 2011 (
See all reviews by this customer
)
When I bought the banner from personalzation Mall It was beyond my expectation. It was longer then I expect which is a great thing, my family just love it. I would recommend everyone to get one for there mother. I bought one for my Mother 75th Birthday Great Job. The Banner has a great quality.


Hit of the Party
By
Kathy P.

(Amherst, VA) - February 27, 2011 (
See all reviews by this customer
)
We ordered this banner for my Mom's 80th Birthday and it was beautiful . Everyone signed it before she arrived. It is something she will always cherish . We decorated the room using the colors of the banner-pink roses, etc . It was beautiful. Thanks again for a job well done !!

Great Banner
By
Courtney D.

(Moody, AL) - January 31, 2011 (
See all reviews by this customer
)
Turned out better than I could have even imagined! Also shipped very quickly. Great quality....my friend will be able to keep it forever!

PERFECT!!
By
Diana M.

(harleigh, PA) - December 20, 2010 (
See all reviews by this customer
)
Nicer then I thought it would be. Picture looks great!! Very Pleased with purchase.

Finally, a marvelous product
By
Kayatta S.

(Concord, NC) - December 14, 2010 (
See all reviews by this customer
)
I love it when the product you purchase actually looks like the product you purchased online. So many times, the products are totally different. Thanks for such a great banner.

Loved the banner!
By
Pamela D.

(Glen Allen, VA) - November 13, 2010 (
See all reviews by this customer
)
We had a banner made for our daughter's 18th birthday. It was exactly as it showed on the preview and made very well. She loved it and we have had numerous compliments on it and people asking where we got it. Also, it was shipped out the day after I ordered it. Thank you so much!!

awesome
By
Anabel Y.

(holiday, FL) - August 16, 2014 (
See all reviews by this customer
)
I really love it. It was so perfecti put only 4 stars becuase it was some scratches on it.

Another great banner product (pun intended)
By
Susan G.

(Port Charlotte, FL) - July 4, 2014 (
See all reviews by this customer
)
It is becoming a tradition for us to order announcement banners for family births. We had previously ordered the one that said "ITS A BOY" and filled in the info. Unfortunately that product is no longer offered....so we found another style that allowed us to create a similar sentiment by using the "Birthday Party" format and rewording it a little. The first banner hung on the front porch until the baby turned a year old and it still looks like new. It is packed away for celebrating in the future, maybe when he turns 18? I hope this one proves to be as good. The colors are vibrant and the material seems strong.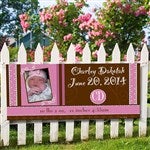 looked bigger in photo
By
Shopper

(Palmdale, CA) - September 27, 2011
the preview made it appear larger, but still cute