Great Guitar Picks!
By
Shopper

(Goodyear, AZ) - July 1, 2011
They sent exactly as ordered and was here in a couple of days.

Very Cool
By
Shopper

(West Branch, MI) - July 1, 2011
We had some picks made for a guitar lover in our family. Personalization was perfect. Shipping was quick. Good quality. I only wish the font could of been a little larger to fill up more of the pick. All in all--the item was exactly what we wanted for our friend. Thanks!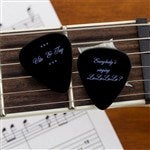 Guitar Picks
By
Shopper

(Newburgh, IN) - June 6, 2011
I ordered guitar picks to celebrate a special occassion. Excellent choice! They turned out absolutely perfect. Great gift to share! Quick turn around. Exactly as I ordered. I will order from here again!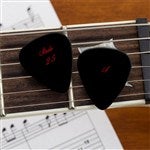 Guitar picks
By
lynn W.

(jesup, GA) - June 2, 2011 (
See all reviews by this customer
)
Great deal. fast shipment. Could not be more pleased.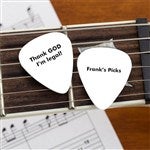 Thumbs Up
By
Dana P.

(Yardley, PA) - May 29, 2011 (
See all reviews by this customer
)
Excellent customer service. I chose white picks with purple writing. The larger the font, the clearer it is. Steer clear of small text!
Very pleased.

Personalized Guitar Pick
By
Erica P.

(Warner Robins, GA) - May 21, 2011 (
See all reviews by this customer
)
These guitar picks were perfect! The order was processed and shipped very quickly. They are good quality and my husband, who is in a band, loved them. Thanks!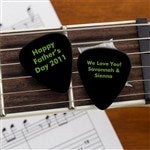 guitar picks
By
Shopper

(downingtown, PA) - May 21, 2011
They looked exactly like the pictures and were good quality pick (says my brother that plays guitar)

Graduation Pics
By
Deborah K.

(Bartow, FL) - May 14, 2011 (
See all reviews by this customer
)
Fantastic job I was totaly amazed at how fast we recieved the pics.

Great gift idea
By
Shopper

(Pittston, PA) - March 29, 2011
A very unique one of a kind gift to remember an important event. I would definitely considering buying this item again.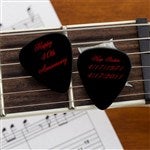 guitar picks
By
Shopper

(Newport, KY) - March 19, 2011
Great and novel idea to gift a guitar enthusiast. Nicely done.

Exemplary Products and Services!
By
Larry G.

(Fort Worth, TX) - March 12, 2011 (
See all reviews by this customer
)
I recently received my Personalized Guitar Picks from you - and I was blown away! They arrived swiftly, and just as gorgeous as your "Design Preview Window" showed.... no, even BETTER!!! I'm extremely pleased and will likely be making subsequent purchases. Thank you very much!! You guys ROCK!!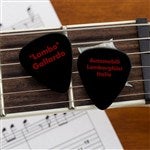 Guitar pics
By
Christine A.

(New Windsor, NY) - March 24, 2014 (
See all reviews by this customer
)
Please be careful with the font you choose. The quality of the pics are fine, the script font is extremely small and difficult to read. I will order again, but I will be careful with the font and what I write on them. The preview makes it look larger than what it actually looks like. They were however shipped in a timely manner.

Very Nice Picks
By
Shopper

(Stockton, CA) - December 2, 2013
These guitar picks look very nice and seem sturdy and good quality. I am happy with them.

I only wish you could space out the 3 lines of text without putting them directly underneath each other. I wanted the year 2013 written underneath a 2 line message, but it wouldn't allow me to skip a line to separate the year from the message. That was disappointing, but other than that, no complaints.

Personalized guitar picks
By
Shopper

(Thousand Oaks, CA) - October 19, 2013
I did this for my boyfriend's 18th birthday and he loved them. They were easy to customize, with lots of options. I do wish I could have made less than 20. And wish the 20 I bought could have had different phrases on them instead of the same thing over and over. Overall, great idea. I would use it again.

Overall Satisfied, But........
By
David R.

(Cortland, OH) - August 18, 2013 (
See all reviews by this customer
)
The picks I received were as ordered and arrived faster than expected. The feel of the material is good. The only complaint I have is that the color of the picks (in my case blue) comes off rather quickly when they are used, revealing the white base color. Not sure if there is anything that can be done about this other than using a better quality coloring. My advice would be that if you are buying these to throw into the crowd at your gigs, don't use them before you give them away.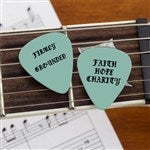 Lovely!
By
Shopper

(Auburn, GA) - April 19, 2013
These picks were part of our wedding favors, & they came out beautifully! My only small complaint is that the baby blue is a little darker than I expected, but other than that, they're perfect!

Guitar Picks
By
Terri B.

(Pleasant Hill , MO) - March 26, 2013 (
See all reviews by this customer
)
Picks were personalized quickly and correctly. My husband played guitar so I wanted to pass them out to his friends at the visitation. Wasn't sure if I would receive them in time but they were delivered 3 days before the visitation. Everyone loved the remembrance.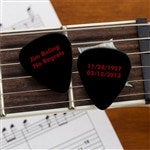 Nice gift
By
Shopper

(Holbrook, MA) - December 9, 2012
Nice gift for the guitarist.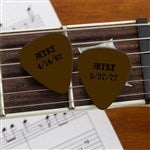 guitar picks
By
trish W.

(old forge, PA) - September 28, 2012 (
See all reviews by this customer
)
the picks arrived in plenty of time for my event and were just as I had ordeded them. The only thing I noticed was after using them for a little bit, the edge turned white. Never noticed that with other picks I have used, but as these were more of a novelty for my guests, I was okay with it.

Personalized guitar pick
By
Shopper

(Easley, SC) - August 26, 2012
For the money, they were good. All were a little "dirty" which happended during printing process. Print was a little small, could have been bigger. Gave out as favors for musicians 50th birthday party.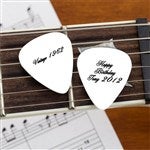 Great gift
By
Shopper

(Germantown, TN) - May 9, 2012
My husband really enjoyed getting these. It's a neat personal touch that adds a little something special.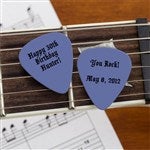 guitar picks
By
Vicki L.

(Branson, MO) - May 1, 2012 (
See all reviews by this customer
)
I bought these guitar picks for my nephew who turned 11 years old. And he just told me Monday night that he really loves them. Thank you for making him so very happy with this product!!!!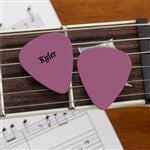 Super excited!
By
Rachel H.

(Chandler, AZ) - April 27, 2012 (
See all reviews by this customer
)
We love our guitar picks! We're using them for our wedding favors, and they're just what we wanted. However, the brown is a little darker than it was in the pictures, but the picks still look super cool! Thanks!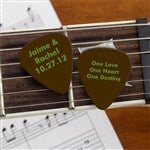 Guitar picks
By
Shopper

(Elma, NY) - March 12, 2012
My husband really liked the sturdiness and feel of the picks. After using them for one night of playing the red color was worn off on the tip of the pick, initially we thought the picks were a solid color. Over all he was very happy using them, liked the red color and the personalization.

Picks for my Friend
By
Shopper

(Euless, TX) - March 6, 2012
This is the 2nd time I've ordered guitar picks for friends of mine in the music business. Both times I've been totally pleased with the product as have my guitar playing friends. One of my friends is a lead guitarist who can definitely turn out the tunes and he loves them. They both are excited to have picks with their names/logo and say they are durable, less breakage with them than those at the guitar store.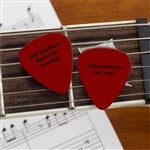 pretty picks
By
Shopper

(Spring Valley, NY) - February 27, 2012
I thought the personalized guitar pick was a very nice personal gift for a fair price. I was only disappointed in the small font size. I ordered script and it was difficult to read my message because the font size was so small. Wish i had known. I'd have preferred a choice of fewer characters and larger font size as an option. The quality of the product was good. The gift: cute and original.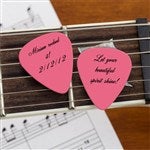 Great gift
By
Shopper

(Silver Spring, MD) - February 26, 2012
Besides the writing being a little smaller than anticipated. It was great. It was a gift and the guitarist said it was a really good pic too. Nice quality

Good gift idea
By
Shopper

(Ames, IA) - February 20, 2012
My boyfriend loved these personalized guitar picks that I got him for Valentine's Day. I put his name on one side and music lyrics on the other side. I thought it was a very unique gift idea! They were processed and shipped quickly and they were of good quality.

COLORS DIDN'T BLEND
By
Shopper

(WATERTOWN, MA) - January 10, 2012
I WAS VERY PLEASED WITH THE QUALITY OF THE MERCHANDISE, AND I SIMPLY LOVE YOUR WEBSITE. THE ONLY PROBLEM I HAD WAS WITH THE COLORS I PICKED OUT. BLACK AND RED LOOKED GOOD IN THE PHOTO, BUT I COULD BARELY SEE THE PRINTING ON THE PICKS.I WAS VERY DISAPPOINTED WITH THAT TURNING OUT THE WAY IT DID. I SHOULD HAVE CHOSEN WHITE, BUT THE PICTURE LOOKED FINE. OH WELL! I WILL DOUBLE CHECK NEXT TIME. NM

Cool Guitar picks.....
By
Shopper

(Ahoskie, NC) - November 11, 2011
Wow, what an idea for the guitarist in your family....Inexpensive and cool for anyone playing with a pick......I had two sets made, one for myself and one for my daughter.....It's a cool way to give something different that I know will find it's way around the circuit....you would be surprised how fast these little buggers find their way out of the fence......you can have the pick printed on both sides like I did, or just one side...whatever you want.....cool colors......I gave my picks a rating of 4 stars due to a few of the picks having lines in them that shouldn't have been there.....just straight ink lines for some reason.....but who cares......it doesn't cost much to have them made and it's a lot of fun.......

Great novelty item!
By
Shopper

(Henderson, MI) - August 29, 2011
Ordered these to give to fellow guitarists at a music festival we attend annually and we LUV them! The ONLY negative is that they're pretty thick&rigid so they're not so great for actual guitar playing. GREAT keepsake though!

really cute but couple issues
By
Christina S.

(Louisville, KY) - August 16, 2011 (
See all reviews by this customer
)
I do love these picks for my wedding favors. The only thing I would recommend is to stick with smaller number of characters and I would only go with white or black ink. We bought some in blue and some in purple both with the grey text. The blue shows up better. Thinking we should have just used black. Would recommend the product just tweek your thinking on printing : )
Also the text is a bit small so if you have older people you may want to think of mixing these with something else so that you can have something for everybody. That's what we did.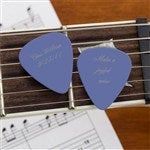 Great buy
By
Shopper

(Shelby Township, MI) - July 11, 2011
They look great! I ordered some for my boyfriend for our anniversary. I had some song lyrics written on one side, then our anniversary on the other side. Super cute!

Very nice!
By
William E H.

(Provo, UT) - June 27, 2011 (
See all reviews by this customer
)
These guitar picks are very nice quality, they play nicely and they are a good size. The color is excellent and they look just like they do in the preview. My only problem is the font is super small (I used Script) and the words are hard to make out unless you look at it super close. Bigger fonts please! Other than that, they are beautiful. I'm super excited to give them to my friend. The quality is excellent and they shipped in 2 days. This was so nice as I ordered them last minute. Thank you, thank you! I will buy from this company again :)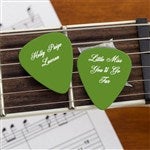 Exciting
By
Sharon D.

(Derby, CT) - June 20, 2011 (
See all reviews by this customer
)
my husband was so excited to see his name on a guitar pic!

Band Re-Union
By
scott S.

(leander, TX) - June 13, 2011 (
See all reviews by this customer
)
I ordered some band logo picks for an up coming band re-union gig. The turned out pretty good. And from the time I ordered them to the day I received them was 5 days. Very fast shipping. Plan on buying more.

guitar pic review
By
Shopper

(Griswold, CT) - April 23, 2011
They were very nice, but my only complaint is that the writing is so small, they are bit hard to read. Other than that, nice!

Good stuff!
By
Michael S.

(Modesto, CA) - March 26, 2011 (
See all reviews by this customer
)
I really like the product I received. It was exactly as I expected it and will definitely use this company for future items!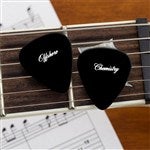 pick a gift
By
kelly G.

(south dennis, NJ) - January 18, 2014 (
See all reviews by this customer
)
Guitar picks were cool could have been a little bigger as far as the writing on the pick...

Tri-color
By
Shopper

(Allston, MA) - March 11, 2013
Picks were made and shipped quickly which was fantastic. The visibility of the writing on the picks was good. Our only complaint is that the pick color is painted on over a white pick, so if you were to use it for playing the color pulls off and reveals white underneath, which can be cool.
If we were to make more picks we would probably choose a white background, or more likely we would find a place that makes them for guitarists/businesses.
All in all, the product was good. Best for party favors.