BRIDAL SHOWER GIFT
By
Christine M.

(West Milford, NJ) - January 30, 2012 (
See all reviews by this customer
)
Absolutely loved them! I put differnt sayings on each and bought the canvas to match. The picture on the mug looks so real it's incredible.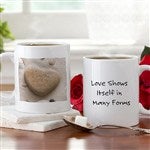 Perfect!
By
Sarah S.

(Grover Beach, CA) - January 9, 2012 (
See all reviews by this customer
)
I got this for my fiance and wrote my own verse =] He loved it!

Great Gift!
By
Shopper

(Beaverton , OR) - December 15, 2011
It turned out perfect and such FAST shipping!

Loving it!
By
Lori K.

(Pasadena, CA) - December 7, 2011 (
See all reviews by this customer
)
I loved the quality of the cup and that it was a cute verse in the back of the cup. I highly recommend this gift for anyone that is looking for a unique gift for somone special in their lives and not just for their significant other =)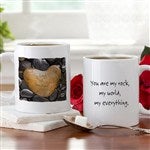 Beautifully created
By
Sandra S.

(Staten Island, NY) - November 29, 2011 (
See all reviews by this customer
)
The mug arrived very quickly and was packaged well so that it wouldn't break. It was made exactly how I would want it. Extremely pleased with this order.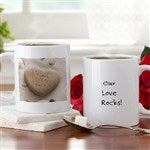 Awesome
By
Shopper

(Carrollton, TX) - November 20, 2011
They are just like the picture. There awesome. Can not wait to put them
in the stockings.

Mug rocks!
By
Coral E.

(Australia) - October 28, 2011 (
See all reviews by this customer
)
Bought two of these as a novelty wedding gift. They are great!
Imaging exactly as depicted on website when ordered!
Excellent quality - definitely will be recommending the products!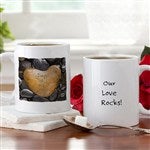 Awesome deal!
By
Tiffany Z.

(Westland, MI) - October 24, 2011 (
See all reviews by this customer
)
What a great deal for personalized coffee mugs! Cheap price but great product, exactly as specified.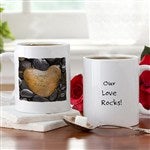 Very thoughtful gifts
By
Carol M.

(Canton, GA) - October 21, 2011 (
See all reviews by this customer
)
The personized mugs arrived sooner than we expected, perfectly packaged for shipment. The quality and appearance is excellent with really good attention to detail in the graphics. The mugs themselves are a good shape and size and with nice unexpected oversize handles. We are very happy with our purchase and the service. We will be return shoppers!

Love them!
By
Stacy A.

(Three Rivers, MA) - October 7, 2011 (
See all reviews by this customer
)
I sent these to my mom and her husband for their housewarming present and personalized with the closing date on the property. They absolutely loved them!! I would highly reccommend this product!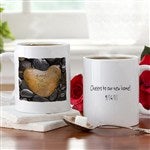 Wonderful gift
By
Shopper

(Poulsbo, WA) - October 2, 2011
My husband loved the quality and clarity of this mug, great gift!!!

Great idea, matching Heart Rock greeting card :)
By
Shopper

(Lakewood, WA) - September 21, 2011
Love it!!! I purchased 2 for my friends' upcoming Anniversary, with a matching Heart Rock personalized card. I'm pretty sure that they will be pleasantly surprised, and I hope "thrilled!!!" Thank you for having this product. The print quality of the image and script were spot on! Please try to improve the print quality on the canvas art (love that product, but it could be better). Thanks!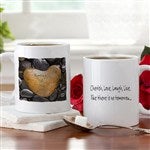 Heart rock coffee mugs
By
Shopper

(Tilton, NH) - September 17, 2011
I purchased this gift for my husband for our Anniversary. It looked very nice in the picture. When I received it, I could not of been happier with my purchase. Loved the quality. My husband was very happy to receive this. I have purchased other items from here. I was very satisfied with everything I received. For that, I will always be coming back!!

Makes me smile!
By
Shopper

(Dousman, WI) - September 2, 2011
Gave my husband this for his birthday. Made him smile (and makes me smile every morning over coffee). Colors and picture are extremely crisp, very nice!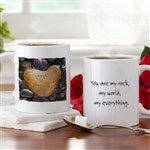 Joyful Gift
By
Shopper

(Lockport, NY) - June 28, 2011
I ordered this gift on short notice for a very special couple of friends and they really loved them - I ordered one mug with the woman's name first and then a second mug in reverse and picked different quotes for each one so they were a special pair of mugs. The order arrived quickly and in good condition. I would like to see this item with a slightly larger image of the heart rock but otherwise I am very happy with the product!

Beautiful cup
By
Shopper

(Cabot, AR) - May 9, 2011
I ordered this cup for my husband on our anniversary. It more than exceeded my expectations and I received it just as promised; in a day or two. Thank you for such a beautiful item and for keeping your word in the shipping process.

coffee mug
By
Shopper

(Dayton, OH) - February 23, 2011
thank u.my husband loved his gift.

Coffee and Romance
By
Michael R.

(Corpus Christi, TX) - February 15, 2011 (
See all reviews by this customer
)
I bought this for my the love of my life. Now she has a little reminder of us while she's enjoying a hot drink! A great thing about this item is that text is included on both sides of the mug. I recommend it!

A cup of love.
By
Susan B.

(Goffstown, NH) - February 12, 2011 (
See all reviews by this customer
)
This mug is very nice looking, a good size and the artwork is fantastic. The heart shaped rock is just beatiful with names on it. Being able to express yourself in three different lines is really cool. I would definitely recommend it to everyone. I can't wait for Valentines Day to see what my sweet husband thinks. I am sure he will cherish it forever.

I really liked them
By
Shopper

(pillager, MN) - August 5, 2014
They are very cute. Nice size mug but I would not get one any smaller. These would even be nicer if a person got one bigger than the 15 oz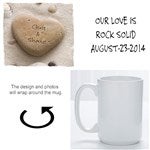 Really Cute
By
Misty B.

(Stockton, CA) - February 12, 2014 (
See all reviews by this customer
)
I purchased this for my hubby as a Valentines Gift! Very Nice gift, the only down fall is the writing is not what I expected. Not enough to be a deal breaker...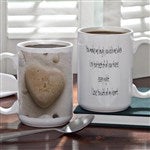 so nice I ordered another
By
Karen C.

(Harrisburg, PA) - January 19, 2014 (
See all reviews by this customer
)
I bought this as a gift. Haven't give it to him yet but i liked it so much i bought myself one. Definately worth the price


Great gift
By
Shopper

(Cambridge, MA) - January 8, 2012
This is my 4th anniversary gift for my bf. It is very suitable for poor students as us.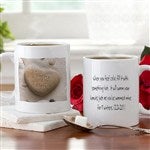 product
By
Shopper

(Exton, PA) - November 26, 2011
I liked the handle - it is easy to grip - and the mug is not too heavy. The quality of the workmanship and engraving were very satisfactory.

It's nice
By
Shannon R.

(franklin, IN) - January 23, 2012 (
See all reviews by this customer
)
I like this. Its cute holds 8oz of coffee and cream and sugar easily.. you know w/out cramming it in there. beach graphic looked a little light for a white mug. its right handed though. lol