Lovely birthday present for my father
By
Shopper

(Haddon Heights, NJ) - June 11, 2014
I bought this to match to style of the 10884 - My Monogram Personalized Reusable Travel Tumbler which I got for my mom's birthday. The travel mug is brilliantly colored and seems like good quality for my dad.

Great!
By
Shopper

(Lansing, MI) - December 17, 2013
These turned out great! I hope the girls love them. The color and the personalization are exactly how it showed in the preview.

My Monogram Travel Mug
By
Shawna S.

(ROCKWALL, TX) - September 22, 2013 (
See all reviews by this customer
)
This is the seventh of these cups that I have ordered in the past year. The firs six were a Christmas present for my crew mates who absolutely adored them! I bought a seventh to replace one that was lost, and this most recent eighth was for a workmate that is a part of a different crew but who loved it so much he had to have it. The cups fit perfectly in cup holders with enough meat to keep them in place, the writing is clear and legible while the script adds a touch of personal that is very nice. Their names on the cups made it that much more personal. The lid holds a tight seal, even a year later and the stainless steel is neigh on indestructible. A great gift idea!

MamaD55
I really like the mug. I think there should be more colors to choose from. I could see on the Greg and you need more colors like gold or spring colors so you can see the messages.

Cute useful product
By
Esha M.

(Victor, NY) - August 23, 2013 (
See all reviews by this customer
)
I got this for my friend's birthday and she loves it. It was exactly what I saw on the website.

Monogramed Coffee Cup
By
Shawna S.

(ROCKWALL, TX) - August 5, 2013 (
See all reviews by this customer
)
I ordered one of these for each person on my crew. Including myself. They were the best gift of the year! Our company purchased us cups as well, but they had no handle, our names weren't on them, and the site wasn't either. My crew is the envy of the rest! Awesome cups, very useful, fit in a cup holder easily, and hold over 12 oz easy!

My Monogram© Personalized Travel Mug in 6 Colors
By
Barbara L.

(Pittsboro, NC) - May 13, 2013 (
See all reviews by this customer
)
Great-looking mug! I bought 2 mugs - one each in grey and red. The red is a bit dark so it was harder to read the text in the red, but you could read it. The grey was a light grey and very nice. The only thing I would recommend is to be aware that this is not to be washed in a dishwasher. The pattern is not engraved into the metal of the mug but rather is on a film that is placed onto the mug. My guess is the film could be damaged by the heat of the dishwasher, hence the recommendation of hand washing. The recipients of these mugs loved them so much, though, that they didn't mind this minor inconvenience at all.

Amazing
By
Shopper

(Springfield Gardens, NY) - January 23, 2013
Great mug .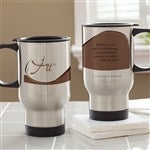 Great As A Gift!
By
Stacy S.

(Longview, TX) - December 1, 2012 (
See all reviews by this customer
)
I got two of these mugs. One for my mother and one for my step father as a gift from my daughter. These are really cool! You can write your own little message on the side, and the Monogram on the front looks very professional. I think I'll be getting a couple of these for my coworkers, and other friends that are hard to buy for!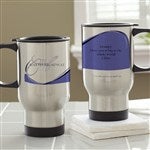 love them!
By
Shopper

(Algoa, TX) - June 19, 2012
Beautiful design and so useful. I gave them as gifts to my students and they loved it!!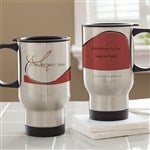 The coffee lover!
By
Shannon L.

(Severn, MD) - December 13, 2011 (
See all reviews by this customer
)
Great personalized item for a gift for a coffee lover!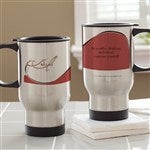 great travel mugs
By
Shopper

(Erie, PA) - August 7, 2011
the mugs turned out great, bit pricey but they look great. definitely recommed it! :)

Great gift
By
Mai K.

(Louisville, OH) - August 1, 2011 (
See all reviews by this customer
)
I love this mug. I ordered grey. The color came out darker than it's in the picture but it's not a big deal. It's still great.

gift
By
Shopper

(orange, NJ) - June 25, 2011
purchased as a birthday gift
arrived very quick.and everyone loves
the style and quality of this mug
would purchase from your company again

Travel coffee mug
By
Shopper

(Portage, IN) - June 24, 2011
good quality. Arrived within days of ordering. Very satisfied

Staff Loved Them
By
Shopper

(Fountain City, WI) - May 20, 2014
Bought these for our staff for educational support staff week … they loved them!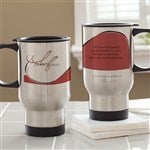 monogrammed travel mug
By
Nancy S.

(Herrick, SD) - May 10, 2014 (
See all reviews by this customer
)
Very nice cups but the print on the blue background is hard to read.

excellent Valentines gift
By
Beatriz R.

(Tampa, FL) - February 19, 2014 (
See all reviews by this customer
)
I purchased this price on what i thought was last minute....however i was still able to receive it on Valentines day...the quality is great! The monogram was perfect....the only thing i would have wanted different was that the initials behind the name are cursive and lowercase...which i think comes standard...if out would not have been for that i definitely would have rated the product a 5 star....personalization mall never disappoints me! :-)

Personalized message mug
By
Fannina D.

(Park Ridge, IL) - January 4, 2014 (
See all reviews by this customer
)
I ordered the personalized travel mug as a gift; and I created my own personal message. I chose the red color and it turned out great. I thought having a message personalized was a nice touch without being tacky. I had an Italian saying on it, so it really was well received by our family friend. SHe will treasure it; as she is also a grandmother of three, I had the whole family's names on it along with a family circle quote. She loved it.
The only thing is that the name engravement is on the back of the mug and the saying is on the front. I think it would have been better if the saying was on the back and the engravment in the front, but overall the mug looks nice, and the quality of it is not cheap, but a nice stainless steel, heavy. SHe can put her coffee in with no problems.

I would definately recommend this particular personalized mug over the others because of the customized message options.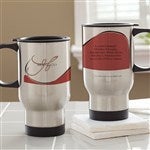 Great Design
By
Shopper

(Dallas, TX) - December 11, 2013
Everything looked great! I wish the Font was a little bigger so it'd be a little easier to read, but it still looked really nice and I think my Grandfather will Love his new Coffee Mug! He's been drinking out of the same one for the past 5 years, so this will be a nice change for him!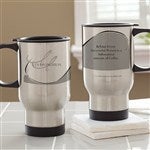 Comments
By
Asheley A.

(Orange, NJ) - May 14, 2013 (
See all reviews by this customer
)
I bought this gift for my father who is always on the go and he loved it. Instead of using an ordinary travel mug with a company;s logo he now has his own personalized one. The design was shown as the picture. Besides it being a bit smaller than expected I was very pleased.

Monogram travel mug
By
Lorraine R.

(Reseda, CA) - February 13, 2013 (
See all reviews by this customer
)
the mug is very dark grey, The blue is very light and it was a bit difficult to read the personalized message due to the light lettering,and you can tell that after a couple of washes it might peel :( HOWEVER the mug was very professional looking and its a great size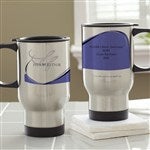 great buy
By
Shopper

(Bellevue, WA) - January 8, 2013
excellent buy. my team loved it.

monogrammed coffee mugs
By
Shopper

(Lancaster, PA) - July 28, 2012
Loved the mugs but the choice of lettering for the monogram was undesirable in my opinion - the A looks more like a lower-case Q. Otherwise, I really like them!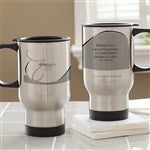 Traveling coffee cup
By
Shopper

(North Tonawanda, NY) - February 20, 2012
The only thing I did not like about this cup is that it was too small. I would have like for it to have been larger. I like the choice of colors, the personalization on the cup was beautiful. I had one made for my brother and he loved it.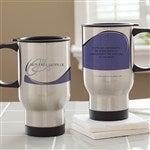 Wonderful except it is hard to read the black writing on blue
By
Cynthia C.

(Colbert, GA) - December 30, 2011 (
See all reviews by this customer
)
This is a great product except it is hard to read the black writing on the blue background. I ordered the mug online Sunday night and was so surprised to have it arrive Wednesday morning!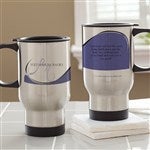 Good buy for the price
By
Shopper

(Coralville, IA) - July 31, 2011
The coffee mug excellent quality and the best thing about the personalization mall is assurance of product being shipped to you asap and also no errors made in the written text. I have ordered twice from this site and have been very impressed. I will definatly recommend this to other friends and family

Good looking cup, but...
By
Shopper

(Roseville, MI) - December 29, 2011
Got this for my son and niece for Christmas. Great looking mug, however he dropped it today and the handle snapped off rather easily. Otherwise I would have rated it higher.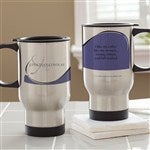 Beware the logo
By
Shopper

(Oak Creek, WI) - December 19, 2011
Purchased as a Christmas gift for family member. I was surprised to find out that Personalization.com logo printed right on the cup under the quote, I find this tacky and wish I woud've known.....Beware ' www.personalizationmall.com ' will be printed right under the quote you picked!

NICE CUP SMALL LETTERS
By
Shopper

(Malden, MA) - December 8, 2011
The travel cup is good quality. Very disappointed with the size & color of the letters on the cup. Very hard to read & too light.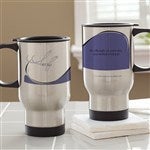 Nice coffee cup but advertisement on cup
By
Shopper

(Wilmington, NC) - July 30, 2011
It is a nice coffee cup but I hate the fact that it says personalizationmall.com on the coffee cup... it makes the coffee cup look tacky.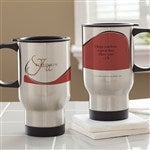 Good if you like a *little* coffee
By
Erika S.

(Middletown, DE) - May 11, 2012 (
See all reviews by this customer
)
When I ordered this item, I did not read the dimensions of the cup itself. I was expecting a standard 16 - 20 oz mug. I was disappointed that it is a smaller dimension than I was expecting and that the lid does not appear to fit as snugly as I would like. The etching the store did to personalize it is beautiful, however.