Titonka, Iowa
By
Shopper

(Titonka, IA) - April 19, 2014
I ordered these as Christmas gifts for our sons and they loved them! During a recent business trip, the airlines lost one of our sons luggage and they have since reimbursed him for all his belongings. He called right away and wondered where I got the toiletry bag so he could get another one exactly like it. I had originally ordered black, however when he went to the site, he loved the brown one (he is 26), so replaced it with that. I have ordered two more of them for gifts since the original two were ordered. Very good quality and they especially like the way they stand up with a large opening when opened.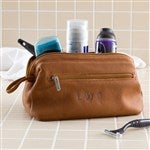 Very pleased
By
Stephanie B.

(Sandy Springs, GA) - April 19, 2014 (
See all reviews by this customer
)
I got this for my soon to be son in law. I was extremely pleased with the quality of the product, the timely shipment and the cost. I have ordered from this company numerous times and will continue to do so.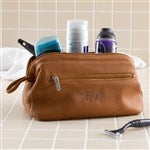 High quality
By
Laur S.

(Glenview, IL) - April 6, 2014 (
See all reviews by this customer
)
Like this product - it is of quality material and was shipped to me within a matter of days. I'm very pleased.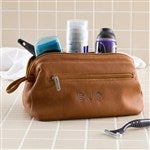 Overall good
By
Jodi H.

(Bentonville, AR) - February 18, 2014 (
See all reviews by this customer
)
Leather is nice. Great gift for the men in your life. However zipper was sticking a bit and had scratches to leather when it arrived.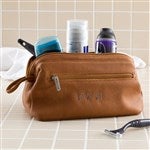 Choices for lettering
By
Shopper

(Euless, TX) - February 11, 2014
I love my product however I wish there would have been a choice for the color of lettering on this toiletry bag as there was on some of the others.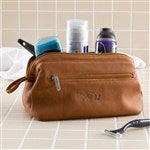 Nice
By
LuAnn L.

(Harrisburg, IL) - February 9, 2014 (
See all reviews by this customer
)
I have ordered several times from personalization mall and have never been
sorry. Very high quality and just a beautiful bag. Valentines Day is our
Anniversary and I know my Husband is going to LOVE IT!!!!!
Thanks.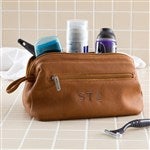 Trusted Site
By
Shopper

(Houston, TX) - January 31, 2014
Just as shown. Received quickly, no problems. Would have given 5 stars except a little smaller in person that I thought but lovely and not cheap looking at all.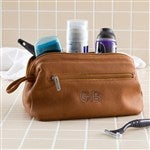 Great gift
By
Shopper

(Williamsport, PA) - January 15, 2014
I ordered this for my dad and soon to be brother in law for our wedding gifts. When it came I was very pleased with the size, the lettering, and the quality. I will keep this in mind for gifts down the line.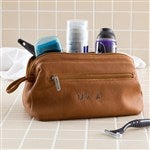 Toiletry bag
By
Maleah G.

(Royal, IL) - December 28, 2013 (
See all reviews by this customer
)
My husband loved it! And was excited about his name engraved on it. Would recommend, very nice, well made!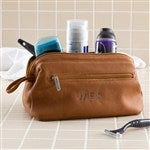 Thick quality leather
By
Kelly I.

(Melrose, MA) - December 27, 2013 (
See all reviews by this customer
)
I bought this for my growing 15 year old son who has a older style toiletry carrier that was more to youth. It was time to have a manly traditional style bag. Yes this is expensive but the quality is there!
My only wish was that the fine soft quality leather was a bit deeper of a browner tone. It is not stiff at all! I almost feel like this could show some stains that might occur in a bathroom setting too easy. The stitching is nice and thick on the monogram.
My only slight qualm was that when it was shipped it had only a tiny bit of soft tissue to stuff it. I immediately used the hard paper box stuffing to shape the collapsed bag during shipping. I will store it with this when put away. It is leather and will misshape. I want to keep this in good condition. This is a keeper for my years. Would make beautiful gift for a man who can appreciate this quality item!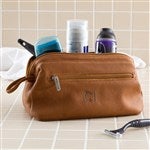 Beautiful!
By
Shopper

(Joliet, IL) - December 26, 2013
My husband loved it. Great quality, soft, and bigger than I thought it would be.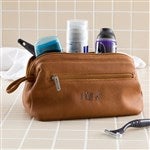 Personalized Tan Leather Toiletry Bag
By
Marie S.

(Doylestown, PA) - December 20, 2013 (
See all reviews by this customer
)
The bag is a Christmas gift for my husband. It is beautiful: much better than I expected. Can't wait to see how thrilled he will be, not only with the bag, but the initialization. Could not be more pleased with this purchase.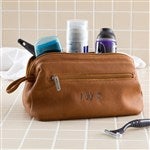 Great Toiletry Bag!
By
Rebecca S.

(Roanoke, VA) - December 20, 2013 (
See all reviews by this customer
)
I ordered one bag for my dad and one bag for my father-in-law (the men who are always hard to buy for). I was very pleased with the size and quality, and the personalization looked very nice. For an added touch, I put in the bags a small shaving cream, men's body wash, deoderant and mouthwash. I think it will be a great gift!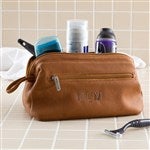 Great gift!!
By
IRINA F D.

(Boston, MA) - December 13, 2013 (
See all reviews by this customer
)
My boyfriend liked it a lot. Strongly recommend it!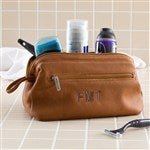 great gift!
By
lori J.

(rapid river, MI) - December 12, 2013 (
See all reviews by this customer
)
Ordered for a christmas gift-absolutely love it. Very good quality and will definately purchase the same item in the future.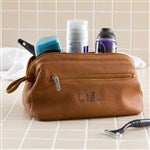 Great product
By
Lillian A.

(Gretna, LA) - December 10, 2013 (
See all reviews by this customer
)
Excellent product and very professional personalization. Aweseome!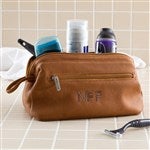 Great Men's toiletry bag
By
Shopper

(Driftwood, TX) - December 7, 2013
Quite pleasantly surprised by the quality! Soft leather, nice job on the monogram - I looked elsewhere at some other more expensive brands - and am very satisfied with this one. Some of the mid line toiletry bags are made of vinyl - need I say more? I would purchase this again!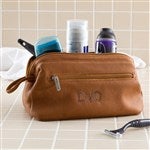 Great
By
sherrie M.

(Sanibel, FL) - November 20, 2013 (
See all reviews by this customer
)
My husband is going to love it. Thank you for a great product.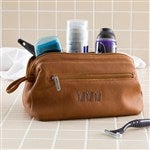 Awesome quality
By
Shopper

(RALEIGH, NC) - November 12, 2013
The leather is super soft and the mongramming is subtle enough not to be feminine. It is going to make an awesome gift for my new beau who travels regularly for work! This is a GREAT item and I'm blown away by the quality!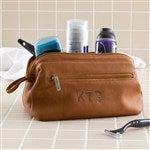 Fabulous
By
Shopper

(Canada) - October 29, 2013
Very elegant with the initials! Great size and quality.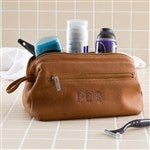 Soccer Mom
By
Shopper

(Delmont, PA) - October 25, 2013
I bought them as banquet gifts for Sr. High School boys to take to college and they are beautiful and will carry them into their career life. Good purchase.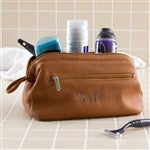 Great Value and Fast Shipping
By
Amanda C.

(Louisville, KY) - October 11, 2013 (
See all reviews by this customer
)
I was looking for something similar to an item I had seen on etsy.com for my brother for Christmas but I didn't want to spend over $85, I found this to be comparable in quality and style And an overall great value.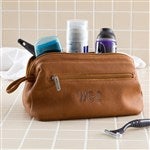 Perfect Groomsmen Gift
By
Brett D.

(Clarksville, TN) - September 15, 2013 (
See all reviews by this customer
)
These made perfect gifts for my groomsmen. I was a little worried about the quality of the bags and leather when I ordered them, but was pleasantly surprised when they arrived. The bags are very well made out of quality leather (I don't know the exact type, but it had an excellent supple but firm feel and rich leather smell). My groomsmen all loved them and I'm sure they'll get years of use out of them. The initials embroidered onto the leather was also well done. Not too tacky or anything like that. The size and color of the lettering was perfect.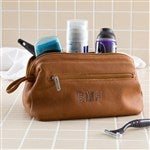 Great gift for men
By
Shopper

(Lempster, NH) - September 3, 2013
Excellent product for hard to buy for men. Great quality and perfect size.
My goof when ordering, so both were monogrammed with the same initials. So if ordering more than one be sure to review lettering before submitting your order.
I just applied a self sticking label on one and it looks fine.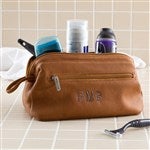 Great Quality
By
James S.

(Hickory hills, IL) - July 30, 2013 (
See all reviews by this customer
)
Great quality, soft leather bag. Can't go wrong with this.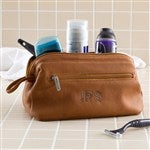 Just perfect!
By
Shopper

(Stony Brook, NY) - July 23, 2013
I needed an elegant looking gift for a male and this looked perfect on the website. Not only is this of the highest quality and looks beautiful, the monogram added just the right personalized touch. I was amazed at how great it looked and at the unbelievably great service. I needed the gift in 2 days, and while I was skeptical - everything worked out perfectly. I have bookmarked this site and will order again and again.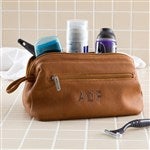 Very Nice & Good Quality!
By
Shopper

(Cypress, TX) - June 23, 2013
I bought this bag for my husband and he absolutely loves it! The quality is very good and the bag is perfect for traveling. I would highly recommend this toiletry bag.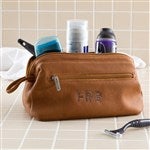 he's happy!
By
Nancy H.

(Palm Beach Gardens , FL) - June 20, 2013 (
See all reviews by this customer
)
So hard to buy gifts for men. I was delighted to find something he could really use and that he actually likes. The leather is very nice and soft -the zipper works easily. He likes that the bag will stay in the open position so he can see what is inside. I plan to buy for all the men in my life.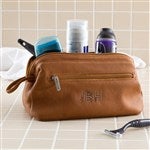 Smaller than you think!
By
Joelle B.

(Tucson, AZ) - June 14, 2013 (
See all reviews by this customer
)
The leather seems good quality, but it's small and expensive for the size.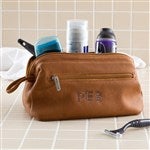 Pleased...
By
Shopper

(Murphy, NC) - June 10, 2013
This is an excellent buy. Recently over a period of several weeks, I have purchased four Personalized Tan Leather Toiletry Bags ~ one for myself and three for gifts ~ and have been very pleased with them. The bag is a quality item, will last a long time, looks good, and makes an excellent gift.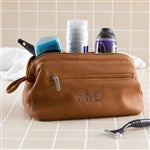 Toiletry bag
By
John W.

(Moscow, PA) - June 8, 2013 (
See all reviews by this customer
)
Gave as graduation gift to dear friend's son whose going off to college,hope he loves it as much as I do.Top quality great price.This is my 2nd order from personalzation mall and will shop again because of great products and outstanding service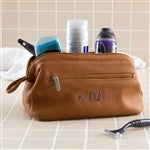 Great travel bag
By
Teresa G.

(Cumming, GA) - May 28, 2013 (
See all reviews by this customer
)
I purchased this as a graduation gift for my nephew. The quality is excellent and I received the item very quickly. I would definitely purchase this again.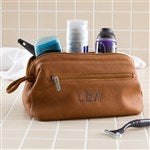 High Quality
By
Shopper

(Newnan, GA) - December 18, 2012
I would definitely buy this item again. The tan is a great color and a nice change from black.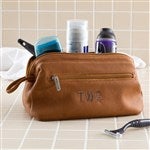 Great gift for men
By
Shopper

(Grove City, PA) - December 14, 2012
My daughter ordered this for her boyfriend for Christmas and he absolutely loved it.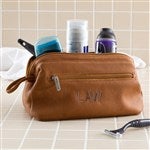 Perfect gift for son-in-law
By
Joan D.

(Pittsburgh, PA) - December 13, 2012 (
See all reviews by this customer
)
I ordered this toiletry bag for my son-in-law for Christmas. The leather color and quality are excellent as well as the monogramming. It arrived in timely fashion at a reasonable price.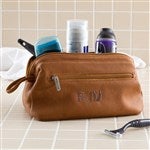 Awesome company
By
Shopper

(Wyckoff, NJ) - December 11, 2012
Love the product and the customer service!,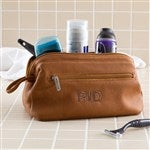 Great Gift!
By
Shopper

(Duarte, CA) - December 6, 2012
I got this bag for my boyfriend as a 2 year anniversary present, and it is so beautiful. I was anxious buying it online and not being able to touch the leather, but its very soft and nice. The initials are well done and simple. Not to gaudy, which I'm sure most men will appreciate.

I can't wait to give it to him.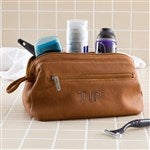 Great Product
By
Shopper

(SAND SPRINGS, OK) - December 6, 2012
Because we travel a lot, I bought one for my husband last year for Christmas. I was surprised at the good quality it was when I received it. He's used it all year during our travels and it still looks brand new. I bought another one for my son this year! Highly recommend it!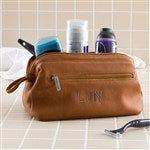 Exactly what I wanted. Great buy.
By
Dale C.

(Canada) - December 6, 2012 (
See all reviews by this customer
)
This bag was a great find. The size was perfect and colour and material. I was a bit surprised by the function of the bag - how it's the type that stays open when you open it. Not sure how to describe it. But it gave it structure. I hope the guy I bought it for loves it like I do. Lol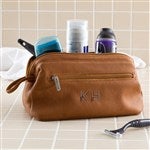 great quality
By
Shopper

(Sturbridge, MA) - December 5, 2012
Perfect size and excellent quality. Great gift.