Perfect Gift
By
Shopper

(Centerville, GA) - September 24, 2011
When I previously ordered this travel case, it was only available in the cloth version (the leather was out of stock). I was very impressed with it and the personalization was perfect. My husband loves it and uses it constantly. I ordered the leather version for a Christmas gift and I know he'll love it, too.

Returning Customer
By
Shopper

(Jackson, TN) - September 6, 2011
This is my second travel case to purchase as a gift for special men in my life. The first was for a nephew that was graduating and this one was for my son's 16th birthday. I purchased many others prior to these from other sources but now only purchase from personalizationmall.com. The quality is excellent and I am very happy with my purchases.

Just what I was looking for!
By
Shopper

(Huntington Beach, CA) - August 22, 2011
It was perfect, great quality, thick and durable leather, solid frame to keep everything inside safe, and shipped so fast!

Leather Travel Case
By
Shopper

(Billings, MT) - August 12, 2011
This case is absolutely fabulous! GREAT quality ~ wonderful look to it ~ and it's roomy too. I love it ~~ and am sure my husband will too. The personalization takes it over the top for being really, really nice:)!

Personalized Leather Travel Case
By
Shopper

(Madison, MS) - August 7, 2011
I bought this as a gift for a graduate. It came nicely presented in the gift box I purchased. I was happy to give this to someone whose parents are able to buy anything he needs or wants. He loved it. It is quality leather and was personalized nicely with three letters. I will not hesitate to order again. Thanks!

repeat buyer
By
Sandy L.

(Floyd, VA) - July 25, 2011 (
See all reviews by this customer
)
ordered this travel bag for my son in law and he loved it!!!!!! the quality of of the travel bag was excellent- really beautiful and having it personally engraved with your initals is a plus- really makes it special- sometimes its hard to buy gifts for people when they have everything or can buy anything they want so something like this is really special and what man doesnt need a travel bag- even if the have one- they can always use another one- once again I am so happy with personalzations malls products and service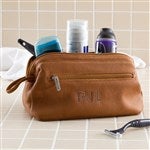 Love it!
By
Shopper

(Charlotte, NC) - July 24, 2011
I was a little hesitant about buying this after some of the reviews mentioned it was smaller than the anticipated, but it's actually bigger than what I thought it would be. My fiancé has his clippers, tweezers, electric shaver and there's still tons of room! Definitely worth the price!

excellent quality; better than expected
By
Shopper

(Millis, MA) - July 17, 2011
The quality of this travel case is far better than I expected.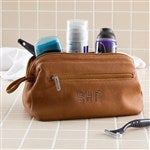 The Best
By
John B.

(Rocky Mount, VA) - July 9, 2011 (
See all reviews by this customer
)
Looked for months for a shaving kit that I would not have to replace on a yearly basis. Finally gave up and checked your web site and read some of the reviews and that is the reason I purchased your product!
Also, I was told by all the department store chains that these were only Christmas items.
Best ever. Wish I had tried your products sooner!!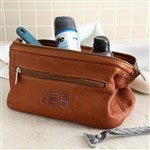 Milamo Persomalized Leather Travel Case
By
Shopper

(Nashville, TN) - July 3, 2011
The travel case was excellent in quality. Especially like the inner lining. Could have been bigger , but this will not keep me from buying another one. Makes a grest gift!!!!

great little travel bag
By
Shopper

(Worcester, MA) - June 22, 2011
I purchased this for my husband as a Father's Day gift. He was talking about trying to find a leather travel case and really liked this one and loved the fact that it was personalized.

Good for travel size items, razor and toothbrush.

(note: picture on review is the review picture provided by site, it looks much better in person)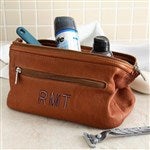 Soft leather, great case
By
Callie W.

(North Syracuse, NY) - June 21, 2011 (
See all reviews by this customer
)
Couldn't have asked for anything better. It's a beautiful case with extremely soft leather and a great design. The personalization looks great and makes it a really wonderful gift.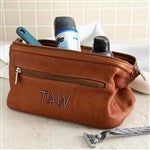 Great!
By
Shopper

(Maumelle, AR) - June 21, 2011
I received the travel case and the whole box smelled like leather! Great, soft leather. Very nice and classy.

Great gifts for groomsmen!
By
Noah R.

(Chicago, IL) - June 20, 2011 (
See all reviews by this customer
)
My fiancee bought this item for me years ago and now I have the pleasure of gifting my 7 groomsmen with these high quality lovely items. Great leather, quality embroidery and sturdy construction make these a favorite!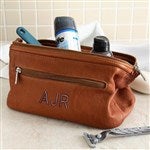 Great buy!
By
Shopper

(Rincon, GA) - June 20, 2011
I ordered this bag for my husband for father's day. I ordered it on a Wednesday and it came in two days. It's a great size and it looks nice too. He loved it. Great value!

Great gift!
By
Shopper

(Bryan, TX) - June 19, 2011
My boyfriend loved the bag I gave him for his birthday. The leather feels soft and of good quality; would definitely recommend!

Quality products with fast service
By
Jason A.

(Bolingbrook, IL) - June 15, 2011 (
See all reviews by this customer
)
I purchased these bags for my Groomsmen and ushers and was thrilled with both the quality of the bags, the craftsmanship of the embroidery and also the ease of ordering. The bags arrived very quickly and neatly packed. Would highly recommend to anyone.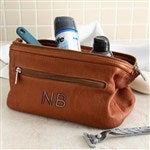 Great High School Grad Gift
By
Shopper

(Layton, UT) - June 6, 2011
My son loved this monogrammed travel case as a gift for his high school graduation. I filled it with all the essentials so he's set for heading off to college. The only draw back is that it was a tad bit too small. But otherwise it was a great gift (my husband wants one now)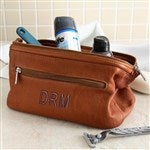 repeat buyer
By
Sandy L.

(Floyd, VA) - June 1, 2011 (
See all reviews by this customer
)
what can i say that i have not already said about personalization malls's products!! this travel leather case is beautiful the inside is roomy with a zippered compartment one on the outside too. the leather is beautiful love the color and the engraving came out awesome- price and turn around time again incredible. great gift for the any man.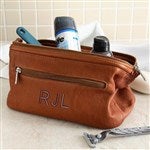 good travel kit
By
Shopper

(Saint Louis, MO) - May 31, 2011
A great graduation gift, the kit looks nice, has a great feel to it and appears more expensive than it is. Prompt shipping too!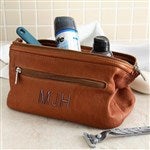 great graduation gift
By
Shopper

(Denver, CO) - May 29, 2011
very nice quality leather, monogram stitching and design.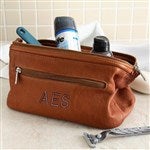 Great gift!
By
Shopper

(Teaneck, NJ) - May 17, 2011
I got this for my boyfriend and he loved it. Very good quality leather, engraving is very nice. Would highly recommend.

Perfect gift!
By
Shopper

(Lompoc, CA) - April 30, 2011
I purchased this travel case for a grandson who is going into military service. It should last him into old age - excellent quality and the personalization, I hope, will deter theft. I highly recommend it.

Quality
By
Shopper

(Phoenix, AZ) - March 1, 2011
I have never been disappointed on anything from this site! Husband is hard to buy for so for Valentines Day I went here. His old travel case had seen better days so I ordered this one. He loved it! Just the qulity alone is great but to get it engraved for free made this a unique gift that is also useful. Love this site!!!

very happy
By
jeneen J.

(brooklyn, NY) - February 28, 2011 (
See all reviews by this customer
)
Love!!!! Love this travel case. High quality product

Great Product!
By
Shopper

(Thorndale, TX) - February 20, 2011
Arrived in great time and my boyfriend LOVED it! Thanks!

He loves it!!!!
By
Stacey B.

(Southaven, MS) - February 15, 2011 (
See all reviews by this customer
)
I was truly impressed with the quality of the leather. It is so soft and smooth. My husband said that this is the best gift he has ever gotten. He absolutely loves it. I will continue shopping on Personalizationmall.com for future gifts.

better than expected!!
By
Jill D.

(Kearny, NJ) - February 15, 2011 (
See all reviews by this customer
)
the leather was terrific, the embroidering was fantastic. great buy.

Better then expected !!
By
ilissa M.

(Highland Park, IL) - February 12, 2011 (
See all reviews by this customer
)
It is hard to tell from a picture the quality of an item. But, this travel case turned out to be better then expected. I will for sure order this item again.

Beautiful!
By
Shopper

(Ann Arbor, MI) - February 11, 2011
Awesome Valentine's gift for my husband! The leather was very supple and expensive looking! Nice size, good quality. The font of the letters is kinda "blocky". I wish that Personalization Mall offered a variety of fonts to choose from on the personalization (maybe a more script-like font). Otherwise great gift!

A touch of class
By
Nidia L.

(Ashburn, VA) - February 9, 2011 (
See all reviews by this customer
)
I bought this travel case for my husband and he loved it. He is fussy about color, quality and leather. Every deserving man should own this. The color is exactly as it shows, the grain of the leather is very nice. Its very solid and my husband would put it to good use. Thanks for your quality workmanship!!!!

Beautiful Leather
By
Shopper

(Wrightsville Beach, NC) - February 5, 2011
I was extremely pleased with the personalized travel case. My husband had a case with similar leather for years. It needed to be replaced and I wanted to find something similar. The size is perfect. He liked the fact that it is soft for packing but stands upright for use. It arrived on time and monogram looked great.I was amazed at how quickly the order was completed. Thanks.

Beautiful Bag
By
Shopper

(Concord, MA) - January 30, 2011
This is a lovely bag, beautiful quality soft leather, monograming is lovely too.

Nice quality!
By
William F.

(Bixby, OK) - January 17, 2011 (
See all reviews by this customer
)
I was very pleased with the quality of this leather. The monograming was done nicely as well. I purchased these to give to each of my sons as groomsmen gifts.

T. Ward, GA
By
Terri W.

(Dalton, GA) - January 14, 2011 (
See all reviews by this customer
)
Fast Shipping. Very handsome and well made. My father-in-law was very impressed. It was a wonderful Christmas gift.

Great Gift
By
Carla F.

(Greenville, SC) - January 8, 2011 (
See all reviews by this customer
)
As with everything I have ordered from Personalization Mall, this gift arrived promptly and was perfectly as described. I am telling everyone I know about my great experiences this Christmas ordering from PM, and I have already ordered ahead some things for next year. Great e-commerce site, great products and great service. Totally impressed!

Leather Travel Case (personalized)
By
Mary S.

(Chapel Hill, NC) - January 3, 2011 (
See all reviews by this customer
)
This was very good quality and I was very proud to give this as a gift.

Personalized Leather Travel Case
By
Starla W.

(Gallup, NM) - January 2, 2011 (
See all reviews by this customer
)
Excellent quality product. Wonderfully soft leather. Very quick service and shipping, personalization was correct. An excellent shopping experience. So nice to have exceptional customer service. It's hard to find these days.

travel case
By
Maureen G.

(Dennis Port, MA) - January 2, 2011 (
See all reviews by this customer
)
Very pleased. The quality was good, the website was easy to use,and my order arrived in plenty of time for Christmas.
My son is very happy with his new travel case.

Just what I wanted!
By
amy M.

(denver, NC) - December 31, 2010 (
See all reviews by this customer
)
I ordered this for my fiance for Christmas. He is a manly man and wouldn't like anything feminine. When this came, I was ecstatic! It was perfect! The leather was great quality and the size was exactly what I was looking for! When I gave it to him on Christmas day, he loved it! I may order one in the future for my dad!