GREAT QUALITY
By
Maxine C.

(Brooklyn, NY) - October 20, 2013 (
See all reviews by this customer
)
The quality of the glass and engraving is great.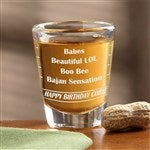 Cute Gift
By
Karen B.

(Monroeville, PA) - September 30, 2013 (
See all reviews by this customer
)
I bought this for my brother in law's 60th birthday. It was very cute, I gave it to him along with a bottle of his favorite scotch. I think that Personalization Mall has the nicest gifts!

Great birthday ideas
By
Shopper

(Gainesville, FL) - January 28, 2013
Great birthday gift! Perfect way to customize a glass.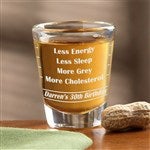 Shot shot shot!
By
Shopper

(Bronx, NY) - October 1, 2012
I loved this, it's very unique and makes for a very cute gift! I think overall it's a tiny bit pricy, but deffinitely worth it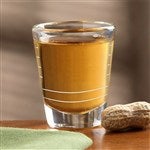 Good work!
By
Shopper

(Cape Coral , FL) - September 21, 2012
Product arrived fast, packaged very well, perfectly done, no complaints whatsoever! Great special gift for special occasions - something different and funny to give.

Cute gift for hubby
By
Scarlet P.

(North Las Vegas, NV) - August 7, 2012 (
See all reviews by this customer
)
Really affordable, it got here super fast.
Everything I've ever purchased from this site, I've absolutely loved!

Shot Glass
By
Melissa B.

(Dubuque, IA) - August 5, 2012 (
See all reviews by this customer
)
Turned out perfect! You guys do amazing work, super fast shipping & the prices are great.


Great Gift
By
Shopper

(Victoria, TX) - June 25, 2012
Perfect birthday gift! Will order again for sure.

Fun Birthday Gift!
By
Stephanie D.

(Paramus, NJ) - April 10, 2012 (
See all reviews by this customer
)
This is a great gift to give for a milestone birthday. It's fun and you can compose your own message. Shipping was quick...very satisfied!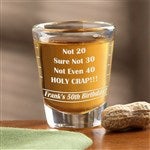 A great gift idea
By
charnae G.

(new castle, PA) - March 10, 2012 (
See all reviews by this customer
)
I got to personalize this and a great gift idea for any birthday. very fast delivery and I was very pleased.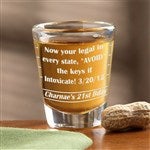 product features that i love!
By
Kelsey J.

(Ellsworth, WI) - March 3, 2012 (
See all reviews by this customer
)
This turned out absolutely perfect! such a great gift to give to my best friend!!!!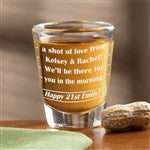 The perfect shot of love
By
Shopper

(Manlius, NY) - January 28, 2012
My MIL loves to entertain and she loves her grandchildren so a shot glass that says a shot of love from each of our three was the perfect addition to a basket full of items to entertain.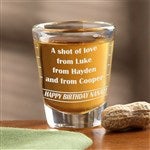 Very Happy!
By
Shopper

(Camillus, NY) - July 5, 2011
I bought 2 of these and had them personlized with meaningful lines of poetry. They were beautifully done and arrived very quickly. I will, without a doubt, order gifts from this site again.

Father's Day Delight
By
Eyvonne K.

(APO , AE) - June 6, 2011 (
See all reviews by this customer
)
I purchased several of these for a family friend who is like a father to my son. He loved them and the personalization just added to the surprise since all entires were of personal times or moments shared with my family.

GREAT GIFT FOR GUY!
By
Shopper

(Latrobe, PA) - May 9, 2011
I bought this item for my brother for his 50th birthday. Much better than a gag gift that he would never use, and it was fun to personalize with a cute saying.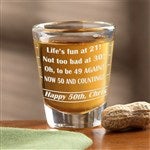 Worst Shipping
By
Shopper

(Houston, TX) - May 31, 2013
It took a month for this shot glass to arrive. As it was a birthday gift, so it was pointless to order. Also the customer care did not bother to help me with the expediated shipping.

For a Man that has everything
By
Pelumi A.

(bronx, NY) - November 30, 2012 (
See all reviews by this customer
)
I bought this for my friend that has all the clothes, shoes and colognes more than me and four sisters combined. His closet is like a mega store. I didn't want to add to is already enormous collections so I bought this thoughtful gift. I was able to write words from my heart plus he loved it! Priceless!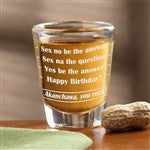 Great gag birthday gift!
By
Karyn D.

(Homewood, IL) - September 21, 2012 (
See all reviews by this customer
)
I celebrated my boyfriend's 40th birthday with this shot glass. When the order arrived, it was broken into pieces. I was worried his birthday toast would be ruined. Personalization Mall immediately replaced the glass and shipped it to me via next day air so that it would arrive by his birthday. It did and I was relieved! =) He loved the shot glass and took his first shot in it! Really nice glass! Great way to celebrate milestone birthdays!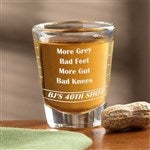 Here's to u Birthday Girl
By
Shopper

(Henrietta, NY) - October 29, 2011
50th BD "celebratory" shot glass for an out-of-town female friend. I was pleased I was able to customize the item and come up w/"memorable" attributes. She said she laughed (whew!). Hope I get to see the glass. Shipped and delivered ahead of expectations although the post office provided less than accurate info.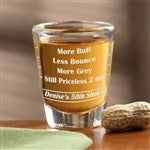 Personalized Shot Glass
By
Frank O.

(Troy, VA) - July 27, 2013 (
See all reviews by this customer
)
Before ordering seven of these for my friends, I read many of the customer comments about the lettering being hard to read. Unless the glass is actually full of darker liquid it IS hard to read. The manufacturer should simply change the lettering to black and it would get a "five stars rating from me. I took the chance and ordered anyway just for the shock value my friends will have when I give them out. Each glass also comes in its own black, felt pouch--a plus.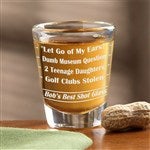 Cute-makes a nice gift
By
Shopper

(Chelmsford, MA) - January 21, 2012
I am happy with this purchase. The only reason I didn't give it more stars is that the printing on the glass is lighter, therefore a little harder to read, than what is shown online. It should be darker white or maybe printed in black.

shot glass
By
Shopper

(Rockwall, TX) - November 14, 2012
the letters are so light really hard to read. I would not order it again