4th of July Wedding Banner
By
Judy D.

(Louisville, KY) - July 9, 2012 (
See all reviews by this customer
)
The banner was very nice, accurate and arrived on time. I got raving reviews from the guests on how nice it was. It added a nice touch to the wedding reception.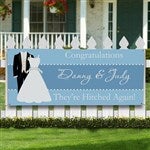 Banner
By
margaret V.

(seaford, NY) - June 15, 2012 (
See all reviews by this customer
)
Love it!!!! Fantastic service tooo!!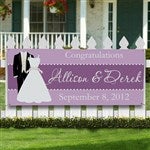 Great Quality Banner
By
Louise M.

(Perry hall, MD) - May 17, 2012 (
See all reviews by this customer
)
This banner is a bargain. The quality is exceptional for the price. I would highly recommend it.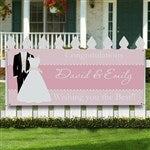 Better than expected!
By
Shopper

(Spring, TX) - May 8, 2012
I was surprised at the quality of my banner. With the price being more than affordable, I wasn't expecting the excellent durability I received! I am so excited to show it off at an upcoming shower!

GREAT WEDDING BANNER
By
Richard R W.

(Ormond Beach, FL) - May 5, 2012 (
See all reviews by this customer
)
Love this!! Great quality and was surprised how quickly I got it.
I enlarged cute pictures of the couple when they were kids, cut them
out to fit at the neck of each, and had them laminated...attached with
clear packing tape on the back.(I zoomed and cropped on 4x6s to get 8x10s).
It's going to be used at the rehearsal party, then on the Winnebago they
are leaving the curch in, then as a Welcome Home banner at their home after
the honeymoon! I'm sure it will then be hung on their pool deck for a while!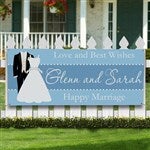 Great Banner
By
ANGELA V.

(Lenexa, KS) - April 16, 2012 (
See all reviews by this customer
)
Very nice sturdy banner. Worth every penny.Cannot wait to display it at our daughters wedding. Great color/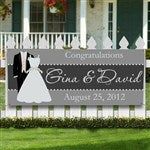 Great Shower Banner
By
Shopper

(Holbrook, NY) - April 13, 2012
great Quality!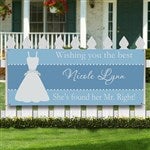 Fantastic product
By
Erika W.

(Montgomery, TX) - April 2, 2012 (
See all reviews by this customer
)
This product was great - durable, easily seen, waterproof, beautiful. I used this at a bridal shower and the bride is going to reuse it outside her wedding venue to let guests know they are in the right place! I received many positive comments and guests asking me where I bought this. Will recommend this to others!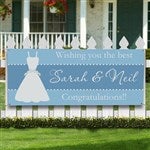 Nikki's Wedding Banner
By
Shopper

(Aberdeen, SD) - April 1, 2012
This banner turned out beautiful! We are very impressed. We will be ordering another; this time with a picture. We will suggest your products when someone is in need. Thanks again, you did a great job!!!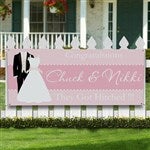 Wedding ideas
By
Shopper

(RSM, CA) - March 30, 2012
I ordered the grey bride & groom wedding banner for my son's rehersal dinner. In addition to the dinner I thought it would make a lovely focal point when entering the driveway at the location of the wedding. This banner is excellent quality and exceeded my expectations. I have not ordered too many items online because I can't "feel" the quality but this was "so cute" I had to have it for this special event! I am so happy with this purchase, thank you for using good quality materials in your banner products;) Mother of the Groom

Awesome !!
By
Colleen S.

(Lynn, MA) - March 25, 2012 (
See all reviews by this customer
)
I am so pleased with banner , and the quality is A+++++ . shipped very fast !! Thank you A pleasure to do business with !!!!!!!!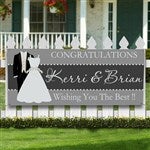 It's just perfect
By
Karen C.

(North chesterfield , VA) - March 16, 2012 (
See all reviews by this customer
)
I dirent know what to expect but this was more than what I had in mind I'm very happy with this banner and it was the last thing I order and I've place more than 20 orders in different web sites and it was the first thing I receive I believ it took a week from when I order it and I order some flutes from here that have our name and wedding date and they both came fast and at the same time it's amazing since they had to print our names I love it! Very please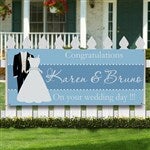 Awesome Banner
By
Marwa M.

(Weehawken, NJ) - February 20, 2012 (
See all reviews by this customer
)
This banner totally made the difference at my friend's bridal shower. I would recommend using the picture of the bridge and groom if you go with the pink banner. It helped a lot with contrast and made a great impression! Looks exactly like the picture and is the perfect size for any front lawn.

Wedding bonus
By
Elizabeth T.

(Phoenix, AZ) - February 10, 2012 (
See all reviews by this customer
)
Thank you so much for the wonderful banner! I wanted to have a keepsake for our wedding pics to send out to our guests in thanking them for joining us. This was perfect! Great quality as well.

Just what we wanted
By
Shopper

(Winchester, TN) - February 6, 2012
Just wanted to say how extremely HAPPY we were with the Perspnalized Wedding Shower Banner and with the service we received. I ordered the banner around 10:00 on the Wednesday night before my daughters shower on Sunday. I had looked at other sites and also called some local shops only to hear long shipping times or too high of a price. I found this website and the banner and my daughter loved it. I received a message the next morning around 10:00 a.m. that it had shipped. I could not believe it I received it in time for the wedding. I don't think I have ever received better customer service. The banner was perfect. Quality was top notch. I will be buying from this company again. Thank you so much for being the best of the best.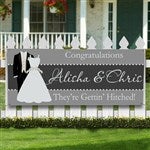 Awesome Banner!
By
Jason J.

(Brackenridge, PA) - January 27, 2012 (
See all reviews by this customer
)
My finance and I love the banner. It looks great and if very well made.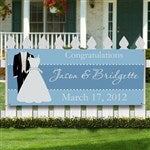 Wonderful Purchase !
By
Shopper

(Saint Joseph, MI) - December 21, 2011
I have ordered two banners now and they are TOP NOTCH QUALITY ! I would recommend to anyone. I have purchased personalized ornaments and have been wonderful. Fast service and great quality. You will not be disappointed !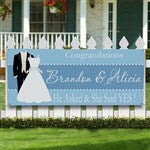 AMAZING!!!!
By
amy R.

(florham park, NJ) - October 21, 2011 (
See all reviews by this customer
)
I absolutely love love love this banner. i had it made for my brother's wedding and he adores it too. can't wait to hang it on their special day!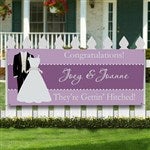 Wedding Banner
By
Chelsy S.

(Bossier City, LA) - August 21, 2011 (
See all reviews by this customer
)
Amazing! It couldn't be more perfect. Great quality for a great price.

Excellence Quality
By
Denise C.

(Buffalo, NY) - August 16, 2011 (
See all reviews by this customer
)
You will love the quality and size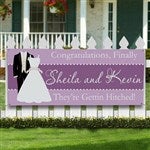 Durable & Adorable too!
By
Shopper

(Newtown, CT) - August 3, 2011
Purchased this banner to compliment the invitations purchased for my future daughter-in-laws Bridal Shower.
Our guests could not believe how adorable the banner was that we displayed from our deck overlooking our patio and pool.
We plan on using it again at the Rehearsal Dinner as well as on the "wedding trolley" the bride & groom and their bridal party will be using on their wedding day.
Highly recommend!!!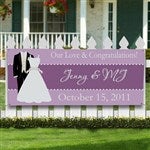 Love it!
By
Laurie J.

(Bulverde, TX) - July 30, 2011 (
See all reviews by this customer
)
Absolutely love it!! Really big and high quality!! Very nice for the price!!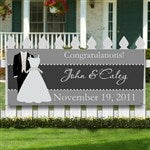 Reception
By
Shopper

(Middletown, IN) - July 28, 2011
Looks Great!!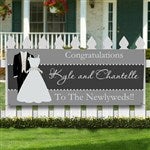 Impressed
By
Shopper

(Fairview Park, OH) - July 26, 2011
I was very impressed with the way my signs ordered as well as the quickness in delivery! The signs are great quality for hanging outside and will look great. I ordered them and received them 2-3 days later - wow!

The perfect touch
By
Karyn H.

(Walden, NY) - July 26, 2011 (
See all reviews by this customer
)
I purchased this banner for my daughters outside reception to hide a sign over the pavilion at a local park. I wasn't expecting too much but when the banner arrived I was so pleasantly surprised. Great heavy quality, weatherproof, and the grommets were a big help in hanging it!
I changed the printing around using their invitation heading as the middle of the banner.
I would definitely recommend this product!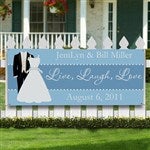 Xcellent Quality
By
Shopper

(Stafford, VA) - July 26, 2011
I received this very quickly upon ordering and was very happy with the quality of the banner. The vinyl was heavy duty with eyelets for hanging not some cheap thin vinyl that wouldnt make it through a wind storm. This will be perfect to hang outside of my daugters wedding reception.

WORDS JUST CAN'T EXPLAIN!!!
By
Latonya D.

(Trenton, NJ) - July 25, 2011 (
See all reviews by this customer
)
Ordered this banner for bridal shower.. Looked even better in person than in the picture. Not to mention the GREAT quality! Would recommend this product for ANY occasion. Can't wait until my house warming!!!!!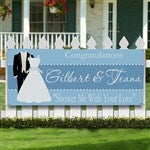 Another exceptional product from Personalization Mall!
By
Valerie P.

(Saint John, IN) - July 24, 2011 (
See all reviews by this customer
)
Ordered this for my friend's daughter. "Yeah" it was during a 30 percent off sale and used my reward pointstoo. It was nicer than I expected and she loved it. We will put it up at the shower and again at the reception hall. Well worth the price even without the discounts.

Wedding Banner
By
Mary H.

(Midlothian, IL) - June 22, 2011 (
See all reviews by this customer
)
Was much nicer than expected. Could use inside or out - very happy with the product.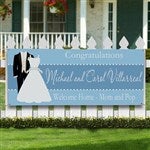 Very pleased
By
Shopper

(Anaheim, CA) - June 14, 2011
The banner is absolutely beautiful! It looks exactly as shown. It is sturdy and weather proof. Everyone was amazed with its quality and look. I would highly recommend this banner. The color purchased was plum...very nice!

Great banner!
By
Linda J.

(Mitchellville, MD) - May 20, 2011 (
See all reviews by this customer
)
Well worth the money -- we used the bride only for her shower and at the end of the party all the guests signed the banner with a good wish for the bride. Heavy gauge material stood up to a pre-shower rain and was a still beautiful welcome for the bride and guests. Loved this item!!

20th Anniversary Banner
By
Kathryn M.

(Lorton, VA) - May 9, 2011 (
See all reviews by this customer
)
The quality, color and design of the banner was far better than I ever expected. I would definitely recommend this product for indoor or outdoor use. Very well worth the money spent! No regrets!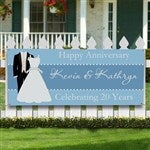 nice quality
By
Shopper

(Louisville, KY) - August 2, 2013
I had shopped around for a banner for a couple of weeks. This was by far, the best quality and design i found. The price was great for the quality. I was very pleased with the speed it was made and shipped. The only thing that keeps the fifth star from this review is i couldn't add a color to personalize, even for a fee. Aside from that, it is a wonderful product and i am very pleased.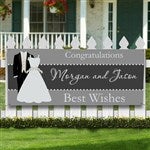 Top Notch!
By
Kevin H.

(Wilbraham, MA) - September 23, 2011 (
See all reviews by this customer
)
I ordered this unsure if I would receive it in time. Not only did it show up in time, but also a day earlier than expected.Excellent Quality, exactly as previewed.
The only downside of this purchase was that it should have been able to have been expedited. The packaging is not much different than what a poster would ship in, etc.

plum colors were way off
By
Donna N.

(Marion, IL) - April 3, 2014 (
See all reviews by this customer
)
I gave this banner 3 stars because the colors were way off. I ordered the plum, and the colors look like a dark pinkish purple. It is in no way close to the plum colors shown on the screen, which would have been perfect for the wedding color scheme. Otherwise, everything else about it is great. If it were the colors shown in the website picture I would have given it 5 stars. A little dissapointed, but we'll use it.