Great!
By
William H.

(Charlotte, NC) - July 8, 2014 (
See all reviews by this customer
)
Purchased this for my nephew Andrew and he LOVED it. He is 3 years old and already working on his alphabet and numbers, and he loves that the book is all about his name! Of course now I have to order my other 2 nephews each one since I know they will love it just as much! Great item, and it came with a box of washable crayons! Completely worth the price!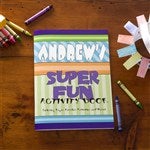 Super Cute!
By
Shopper

(Tucson, AZ) - November 19, 2012
This is awesome! PERFECT for my niece. The book itself is very well done and high quality. It has so many activities to do in the book as well. And at such a low price! You've done it again, personalizationmall.com!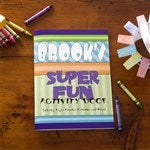 Brother will love it
By
Autumn P.

(fort worth, TX) - September 11, 2012 (
See all reviews by this customer
)
bought this to keep my baby brother entertained during my wedding, i think he will love that it has his name all over it!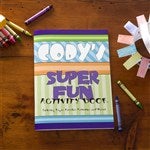 Personalized color book
By
Shopper

(Oglesby, TX) - January 3, 2012
I was very pleased with this book, and quite pleased that they came with crayola crayons instead of an off brand :o)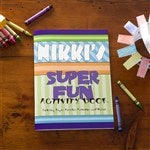 Eye popping
By
Shopper

(Baldwin, NY) - January 2, 2012
This is a perfect gift.
At first they didn't realize their names were on the books. The moment the first one saw her name and then realized that the book was all about her, she was engaged to the fullest. Everyone got excited and wanted to complete their activities.
I was filled with joy and very appreciative to the company for having this as an option for a gift.

Cute
By
Shopper

(Tampa, FL) - January 18, 2012
I bought this for my niece and nephew. And it looks really cool. they Love it.

Coloring books
By
Shopper

(Franklinton, LA) - July 19, 2011
Absolutely love the coloring books. They are well worth what you pay for them. They are not small books. My granddaughter and son are going to love coloring in them. Will be purchasing some more for christmas presents. They also make great birthday gifts. Highly reccommend these coloring books.

Only a little fun
By
Shopper

(Warwick, NY) - August 31, 2014
Ordered these for my granddaughters and I was hugely disappointed! While the covers are catchy, the books are very short on pages for the price! My girls will be through these in a flash! Thumbs down...sorry!

Great coloring book
By
Shopper

(Philadelphia, PA) - December 18, 2011
Although my son is not old enough to use this coloring book I thought it was a cool idea for him to have a personalized book. It is more than I expected it is very educational and entertaining for a toddler. Can't wait to help my son use his own personalize book

Made my niece's day!
By
Shopper

(Laurel, MD) - July 21, 2014
My niece was so thrilled to get her very own personalized activity book. Perfect gift to brighten a little one's day.

Really fun gift
By
Tracey T.

(San Saba, TX, TX) - July 19, 2014 (
See all reviews by this customer
)
This is a gift for my 3 year old granddaughter and I think she will love it!! It is so cool how every page has her name worked into it! I will definitely buy more of these for gifts!

Perfect
By
Diana V.

(Florence, NJ) - July 22, 2014 (
See all reviews by this customer
)
My 3 1/2 year old is learning all the letters in his name and this book is a perfect compliment to that. He loves finding his name in the word searches! This is a great book to encourage coloring and letter recognition!

Great!
By
Shopper

(Scituate , MA) - August 4, 2014
The quality of the coloring book and crayons are top notch. I think the little boy I am giving it to, will be very happy to see his name displayed throughout the coloring book.

Perfect for any child
By
Carmeletta S.

(Brook Park, OH) - July 28, 2014 (
See all reviews by this customer
)
I ordered these for my friends kids for Christmas this year, I can't wait to see the looks on their faces when they open them. I love the way they look. I'm very pleased with them.

As good as it can get
By
Shopper

(Cape Coral , FL) - December 12, 2012
I purchased this with the idea of an unique present for triplets that we do not know well yet the kids are becoming friends - so it had to be something fun, something not too extravagant and something that would be addressed to each of the three of them, I didn't want to go with one present for all three, but rather make them feel special in their own way. So this is how I came up with the idea of having three separate personalized books and found exactly what I was looking for here. I love the final product, I have no complaints whatsoever. The books arrived quickly, they look great, each page is personalized and offers lots of activities, making the child feel as it was made just for them, there is a big box of 24 crayons to go with it - just ideal. In general, if I need something really special, I always turn to Personalization Mall. I have been a customer for years and there has not been a failure with them. Service, shipping, final product - all big A's. Thanks.

Super Fun Indeed!
By
Paul-Janet N.

(Murfreesboro, TN) - August 5, 2012 (
See all reviews by this customer
)
This is an outstanding product to remind a child of how exceptional she is! We were delighted to find this personalized gift for a school-aged child welcoming a new sibling (in this case two- fraternal twins). Great and varied activities and quality of materials (Crayola), nice packaging, speedy delivery.

Really Cute
By
Shopper

(Berkeley, IL) - June 30, 2014
Made this for my grandson. At 4, he may be too young for some of it but he liked seeing his name in the book.

Good quality
By
Shopper

(Garden Grove, CA) - July 14, 2014
Good quality. Bonus with crayons!
Contents great and educational plus fun!!

Personalized Activty Book
By
Louise E. P.

(Elsmere, KY) - July 7, 2014 (
See all reviews by this customer
)
I was having a 6 year old visit with me with her grandparents.
Didn't know what to get her to keep her busy....She loved the Activity Book and was delighted to see her name on each page...it made it extra special.