Pet ID Tag
By
Kate B.

(Canada) - December 26, 2011 (
See all reviews by this customer
)
Cute tag. Perfect size for small dogs.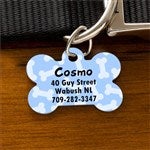 Bigger than I expected
By
Randy J S.

(Manhattan, IL) - December 10, 2011 (
See all reviews by this customer
)
It was bigger than I thought it would be which is a good thing. I love this tag. It's awesome!!!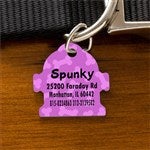 love it
By
Crystal W.

(Jeffersonville, IN) - December 6, 2011 (
See all reviews by this customer
)
I love it because you can personalize it however you want!!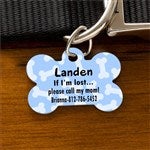 Personalized Pet ID Tag- Circle. (Pink with Bones)
By
Randi G. P.

(Jacksonville, FL) - July 8, 2014 (
See all reviews by this customer
)
VERY IMPRESSED! Tag is COOL! Made well and very sturdy! I love it!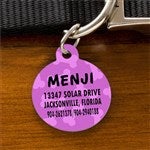 dog tags
By
Shopper

(Lily Dale, NY) - June 8, 2014
as advertised, very readable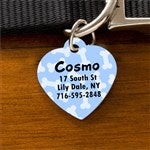 LOVE IT
By
Shopper

(Carneys Point, NJ) - May 17, 2014
These little pet tags are adorable. I bought 6 of them. Only wish they had the "O" ring for them. Otherwise they are perfect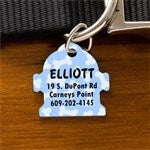 Loved!
By
Shopper

(Saint Marys, PA) - May 6, 2014
Great quality! Getting a new puppy soon and def gonna order one for her! (: so cute!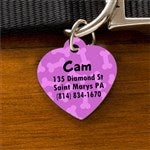 Adorable!
By
Jennifer C.

(Morristown, TN) - March 11, 2014 (
See all reviews by this customer
)
I've yet to be disappointed with the quality, price, and timeliness of products from PersonalizationMall! This is by far my favorite website for shopping. We ordered new tags for all three dogs after a move, and they are the best tags they've ever had! They're very bright and waaaaaaay easier to read that those typical engraved tags from the machines at supermarkets. Good job, PM!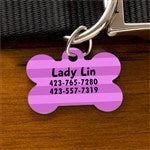 love the tag
By
Kathleen J.

(Saco, ME) - July 27, 2013 (
See all reviews by this customer
)
I love the dog tag I bought for my Stuart. It's a fun pattern, colors are easy to see and it's lightweight which is important given the rabies and microchip tags that he has to wear as well. Very afordable! He's more handsome than ever sporting his new tag. I don't have a picture yet where you can see his tag but here's my sweet boy. When my Norman gets bigger I'll get one for him too!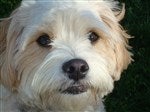 Very Pleased
By
Lisa H.

(lancaster, PA) - June 4, 2013 (
See all reviews by this customer
)
I am very happy with my order, just as I ordered it, fast delivery and happy my dog officially has his address now :)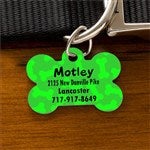 super job, super fast
By
kerry P.

(chandler, AZ) - February 25, 2013 (
See all reviews by this customer
)
placed order, done correctly and very fast shipping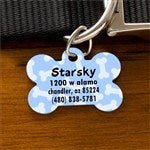 Nice tags!
By
Shopper

(Huntington, WV) - January 24, 2013
I really like these tags. In fact, this is the second time I've ordered them. I do suggest ordering the bone shape. I had the heart shape for one of my dogs and the phone number wore off faster because it lies closer to the edge. Good quality, easy to read, decent price.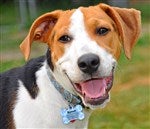 VERY NICE ITEM
By
JAMES E G.

(HAVERTOWN, PA) - December 23, 2012 (
See all reviews by this customer
)
VERY FAST SHIPPING AN THE ITEM IS JUST WHAT WE WANTED.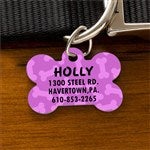 Super easy to read
By
Paulette B.

(Kimbolton, OH) - November 28, 2012 (
See all reviews by this customer
)
I Love these tags because they are very easy to read!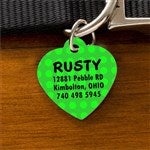 so cute
By
Diana V.

(Gilmer, TX) - August 6, 2012 (
See all reviews by this customer
)
I received the pet tag so fast that was great. It is so cute. This is a gift for family we just met for the first time in 60 yrs of not knowing them they will love it because they are crazy in love with their pooch.

Thank You so much
Diana VanDerbur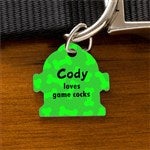 Cute ID Tag for My Cutie
By
Donna D.

(Wilson, NC) - August 1, 2012 (
See all reviews by this customer
)
My Puppy actually looks rather cute with his new ID tag. It arrived in a timely manner as promised and the quality of the Dog Tag is exceptional. The information that I provided for the ID Dog Tag was just as I had submitted it and the lettering is great.

Great Job, PM, I'll definitely be back!

Donna~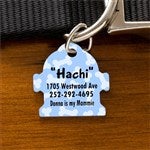 Great gift!
By
Maureanne B.

(Almont, MI) - April 6, 2012 (
See all reviews by this customer
)
I purchased this item for my sister Marjeanne, for her Doberman Madeline, the hot pink really stands out against her black coat, most others just have room for the name and number, this one i had room to add their address as well. and the extra decorations of bones on it, makes it as unique as Maddy is. it was an early Easter gift, and when she recieved it, it was immediately put on her collar. I tell everyone i can about this company and how much i enjoy the products and prices, thankyou for allowing me to share this with others as well. Sincerely, a proud aunt!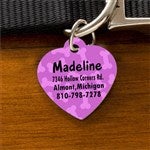 Excellent!
By
Shopper

(Tampa, FL) - February 20, 2012
I love the design and the letter is perfect, not too big, not too small.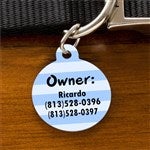 Best pet tag ever!
By
Susan R.

(Byron, IL) - March 31, 2012 (
See all reviews by this customer
)
I have ordered many diiferent ID tags for my dog,but this one is the best! Very colorful and clear to read. Seems like it will last a long time! Once again, very pleased with my item!

Great Tag
By
Shopper

(White Marsh, MD) - May 4, 2012
Very cute, just what I needed, great price.

Cute tags
By
Christie L.

(Avon, IN) - August 1, 2012 (
See all reviews by this customer
)
Great quality. Love them! So far they have lasted longer than any metal tag I've ever owned

Custom Dog Tag
By
Shopper

(Loomis, CA) - October 23, 2012
The tag is very cute! Also, the tag was made and shipped very quickly! I would highly recommend using PersonalizationMall.com for custom pet tags!

Adorable pet tag
By
Shopper

(Holly Springs, NC) - October 5, 2012
Tag was perfect! I liked being able to customize the color and pattern. Shipping was even faster than stated!

Love it!
By
Shopper

(Ville Platte, LA) - November 2, 2012
It is perfect! I love it!

Love it
By
Shopper

(PORT JEFF STATION, NY) - October 27, 2012
Color is bright so you are immediately drawn to it. Better than expected.

BRIGHT COLORS
By
Shopper

(FORT WAYNE, IN) - September 26, 2012
Normal size tag. The back side is the regular metal. The front side lettering is a good size and easy to read. It shows up against my dark colored dog.

kids love it
By
Shopper

(Silver Lake, KS) - August 17, 2012
great quality, my boys helped me pick out color/style, very cute!!

dog tags
By
Shopper

(Atlanta, GA) - August 3, 2012
perfect and so cute ordered one for my dog and one for my moms dog.just right size for our small dogs and very cute on them.

Tuesday's ID tag
By
Paulla S.

(Saint Albans, WV) - September 18, 2012 (
See all reviews by this customer
)
It's perfect! The lettering is bold and easy to read and the tag itself is bright, colorful and very noticeable. I feel so much better knowing that if my pup gets out I have a better chance to get her back. Thanks so much! By the way...the price was great, too.

dog tags
By
Shopper

(Atlanta, GA) - August 24, 2012
so cute ordered them as gifts for my moms dogs. she loved them and so did everyone who sees her dogs.vet even loved them wanted to know where she got them.

personalized pet ID tag
By
Shopper

(Salem, NH) - January 30, 2012
I am very pleased with the product and it looks great on my cat
as she has some orange in her. I feel better now knowing she would
be returned to me if she got lost. I would recommend the product
to anybody.





Nice product
By
joan S.

(Suttons Bay, MI) - September 23, 2013 (
See all reviews by this customer
)
I love this id tag! The colors and designs are bright and cheerful. The name and address are easy to read. I have purchased tags from other vendors whose tags are engraved with letters so small that the information would be impossible to read if my pet was lost. This tag is extremely easy to read. My only suggestion would be to change the design of the ring which holds the tag to the collar. It is difficult to clamp completely closed. We actually lost our first personalization mall tag as a result of this. I would have given this tag 5 stars if the ring was better constructed.

Great
By
Cheryl B.

(Marthasville, MO) - December 20, 2011 (
See all reviews by this customer
)
This came just as it looks in the picture. So nice to know our precious girl has a new tag with updated phone numbers on it. Makes it easy and clear to read if she were to ever get out. Even though she is chipped this is much faster!!

Nice
By
Tonja D.

(Dayton, OH) - September 29, 2013 (
See all reviews by this customer
)
It is very thin & light weight, put shows up well on my dogs collar.

A jump ring option?
By Shopper (Rochester, MN) - January 24, 2014
The tags I ordered are adorable and seem to be very sturdy; standing up to our new puppy's sharp teeth without chipping. The only reason I haven't given this product a 5 star rating is the included link didn't hold up for an active adult dog. With less than a month's wear my 8 year old Cocker spaniel lost her tag. I wish that the tags came with a small jump ring or at the very least the option to choose between the standard link or a jump ring. I am ordering a replacement tag for Lily, but will purchase a small jump ring to ensure this one isn't lost.

cute tags
By
Barbara H.

(Roanoke, VA) - November 9, 2013 (
See all reviews by this customer
)
These are cute light weight tags that come in more different colors than are usually offered. I liked the orange.

Good
By
Shopper

(Waltham, ME) - December 19, 2011
very pleased with the price and quality of this product. It was also arrived in a very short amount of time.

not what I expected
By
Shopper

(Kettering, OH) - December 19, 2013
Not too sure it will hold up for more than a year ... purchased it for a very active beagle...

Wouldn't purchase again
By
Shopper

(Manhattan, KS) - September 30, 2013
This item easily scratches> very disappointed.

Didn't like the metal ....
By
Shopper

(St Louis, MO) - January 21, 2013
The design was adorable, but the metal was lighter than I expected and it jingled when I put it on my dog's collar. This probably was just a preference since my dog's old ID tag was heavier it didn't jingle as much, so I wasn't used to hearing her tag jingle all the time.