Cash Box
By
Cynthia C.

(Farmington, MO) - June 11, 2012 (
See all reviews by this customer
)
Lock was a little more difficult to open than I would like but my 8 year old niece loved the box and that she would be able to keep some things hidden from her 3 older sisters. She loved the personalization and was happy with the gift.

Personalized Cash Box
By
Shopper

(New York, NY) - May 16, 2012
My daughter hasnt seen it yet but I think its cute. Its a lot smaller than I thought it would be though. I see that it is offered elsewhere in purple. Wish PM offered it in purple. My daughter would have loved that. Either way its a great present!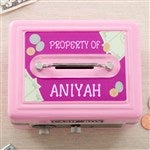 cash box
By
Shopper

(Greensboro, NC) - December 29, 2011
The cash box looks good and seems a good value compared to others I saw on line. It is a bit smaller than I had thought but is big enough to store paper bills and coins. I had hoped my grandaughter could store a few of her treasures but really not that much room. I would purchase the cash box again.


good quality
By
Irene M.

(Scarsdale, NY) - December 16, 2011 (
See all reviews by this customer
)
I luike this item a lot but wish it was a little bigger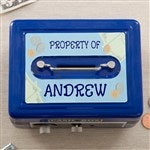 Christmas Gift
By
Shopper

(Selden, NY) - December 14, 2011
nice but wish it was a littl bigger.

Smaller then I thought
By
Shopper

(Tolleson, AZ) - July 19, 2013
Smaller then I expected .
The quality of the lock isn't the best.
Good idea.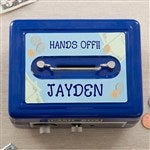 Not bad, but not great
By
Lacy T.

(Crossroads, TX) - December 6, 2012 (
See all reviews by this customer
)
It's not a bad box, but it is smaller than I expected. I was also a bit disappointed that the 'personalization' is only a sticker that was already peeling off when I got it.

The lock itself looks a little flimsy, not sure how well it will hold up.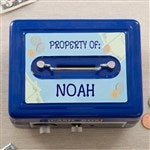 Ring Bearer Gift
By
Jamie H.

(Geneva, IL) - August 1, 2012 (
See all reviews by this customer
)
This was certainly cute and he really loves his name being on it, however, we expected something a little bigger and a little nicer. He does enjoy it very much but we found an additional one, much larger for the same price and it came with an alarm system! We gave that one to the other ringbearer.
However, it was still made a good workmanship and quality, just know that it's quite small in size.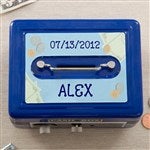 not really a combination lock
By
Shopper

(Mc Cormick, SC) - May 4, 2012
Nice box as I expected, but not really the combination lock that you expect. No turning R L R etc. and uses only one number. But still cute.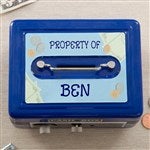 My Expectations Where Higher!
By
Marian D.

(North Little Rock, AR) - January 30, 2012 (
See all reviews by this customer
)
I bought this for my grandchild who will be 13. The quality of the sticker/label on top of the box looked cheap and cheaply-made! The box is metal and okay. I expected more than a sticker that is glued on top of a metal box!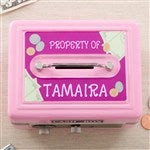 Not what I thought
By
Diane D.

(Boynton Beach, FL) - December 14, 2011 (
See all reviews by this customer
)
I purchased 2 of these cash boxes, 1 for each of my nieces (9 and 5 years old), and I was disappointed to see they were quite small. Not what I pictured at all. I guess they are good for little hands, and they will be ok. The personalization is poor quality, it is a sticker with their name generated on it, and not stuck on very well as each item the sticker is already peeling off!