Okay quality fast shipping
By
Shopper

(YUKON, OK) - December 12, 2012
The print isn't very bold. Some of it is spotty.

Nice Shirt
By
Laninia D.

(Charlotte, NC) - September 26, 2012 (
See all reviews by this customer
)
I purchased this shirt for my mom for her birthday and the personalization was great, however she said that it wasn't a fitted ladies tee. I got a large and she said it was huge and had a boxey shape. So other than that she really liked the shirt.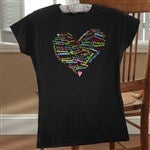 Ladies heart t-shirt
By
Rachael N.

(Chandler, AZ) - September 23, 2012 (
See all reviews by this customer
)
Awesome idea just really light print and small words!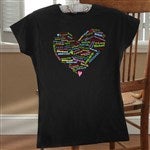 fitted sizes run small
By
Karen Z.

(Manistee, MI) - September 13, 2012 (
See all reviews by this customer
)
I was VERY disappointed in the 7 personalized shirts I ordered!! The was a note that stated "fitted sizes run small" and I should have ignored that. I
normally wear a large, so I ordered an extra large. OMG it does not run small at all. The note was input by the company not a comment from reviewers, so I
took it as fact. Therefore all 4 of the XL I ordered should be L and the 2 L I ordered should be M. These were obviously gifts, and I know I am stuck with them but please please remove that comment from your website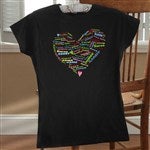 size
By
Shopper

(Trinity, FL) - May 21, 2012
I ordered a Large b/c the website said it runs small and its way too big :(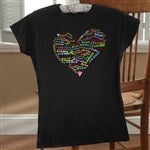 Beware of what you see
By
Shopper

(Surprise, AZ) - June 11, 2014
Wrong dimensions—the advertised photo shows the sides of the heart to be approximately 2" from each sleeve's seam. What I received was a medium-sized shirt with the heart's edges almost 5" from the sleeves. That means the heart they sent is considerably smaller than indicated in the promotion picture. It isn't nearly as impressive.
Wrong color—the shirt I selected was supposed to be a bright royal blue. What I got was a dull, possibly royal blue.
Wrong vibrancy—the photo indicated bright, vibrant printed names. What I received had half of the names dim and hard to read.
Thank goodness I had this product sent to me instead of directly to my granddaughter. I'm wondering now about all of the other gifts I had Personalzation send directly to relatives; who may be too polite to mention if what they received was of poor quality.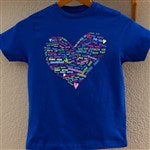 great idea, but poor sizing
By
Stacey D.

(Sugar Grove, PA) - August 1, 2013 (
See all reviews by this customer
)
I ordered a cookie jar for my parents' anniversary and decided, while I was at it, I'd add a tee for my mom's birthday. I chose the fitted tee, since it's a much more feminine look. But be aware that they run very small. I ordered a large, but it is quite tiny. I ended up keeping it for myself (I'm usually a M, sometimes S) and it's even skimpy on me. I have been babying it - cold water wash and hang to dry - and I still think it shrunk a bit too. Cute tee and I get comments whenever I wear it, but be aware of sizing!

Also note that, because our names happen to be short, I was able to include all 15 members of our family by doubling them up in the 8 lines! ie "Stacey Randy" It's such a great design idea, but I do wish the program scattered the names better - the same names end up very close to each other where it seems others could be used instead.

I was very pleased with the great service - my items were shipped within a day.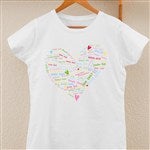 Mother's Day
By
Tonya E.

(Manquin, VA) - May 16, 2013 (
See all reviews by this customer
)
I loved the t-shirt, but was disappointed with the dull coloring. I ordered the white shirt. The shirt colors looked as though it was washed about 5 times. I would like to have another shirt with deeper, vivid colors.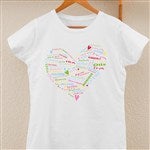 Satisfied
By
Heather S.

(Denton, TX) - April 20, 2013 (
See all reviews by this customer
)
I purchased the t - shirt for myself and my mother. I cannot speak for her, but mine is very fitted. I was surprised at how fitted it was. I still love the shirt, but the decal is already wearing, although I have washed as stated and only worn once.

Not truly a fitted Tee
By
Shopper

(Zionsville, PA) - December 6, 2012
The shirt is darling but do NOT expect it to be a Ladies Fitted Tee once you hit the larger sizes. I ordered an extra large and it is as square and wide as a standard t-shirt. I called the company and the woman just argued with me. Don't expect any customer service! I ordered this as a gift for the kids grandma but because it isn't the fitted ladies cut it will be too large. Another waste of money for me from this company.


Woman's Fitted Shirt
By
Joanne S.

(Saratoga Springs, NY) - May 21, 2012 (
See all reviews by this customer
)
As a Mother's Day gift I recieved one of you fitted women's shirts size L.
These fitted shirts are not for women, but are junior sizes and should be
marketed as such. They should not have been included in your Mother's Day
offers. Very few mothers can wear a junior sized shirt. Your advertising is
misleading. I ordered and paid for the replacement of this fitted shirt -
ordering Her Heart of Love T-Shirt size L. I hope that you will consider
my comments. Thank You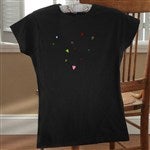 Not a fitted t-shirt
By
Shopper

(Mandeville, LA) - May 18, 2012
The t-shirt is definitely not a fitted t-shirt and the quality of the shirt is not that good. I would not buy this again. I bought it As a gift and was a bit embarrassed and felt like I had to make excuses for my gift. This is the first time I have been disappointed on a purchase from Personalization Mall.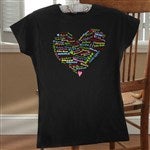 Not what I expected...
By
Carrie H.

(Loudon, TN) - May 11, 2012 (
See all reviews by this customer
)
I really like the design and printing, but I thought the fabric could have been better quality for a $25 t-shirt. Also, the adult XL seems WAY TOO SMALL, more like a size medium... So this was not the best purchase for my mom's mother's day gift...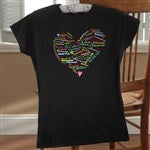 Not what shown
By
Shopper

(Surprise, AZ) - June 16, 2014
The product does not live up to what is shown on the catalog picture. The colors of the shirt is duller. The heart is much smaller than shown and half of the names are dull and hard to read.

change in shirt quality
By
Shopper

(Wakefield, MA) - February 12, 2013
shirt quality has change to a much thinner material. It is no longer a fitted cut. Company contacted and money refunded. Design was cute.

not a FITTED t-shirt
By
Shopper

(Columbiaville, MI) - November 27, 2012
I ordered the ladies black fitted t-shirt in xl and it was HUGE! Not fitted or tapered in in the least. It is basically a men's xl t-shirt. So buyer beware!