Perfect
By
Lyndsay T.

(Danville, VA) - September 27, 2014 (
See all reviews by this customer
)
Beautiful tie for grandpa!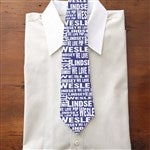 Love it
By
Katherine L.

(Kansas City, KS) - July 11, 2014 (
See all reviews by this customer
)
Everyone always complements my husband on this tie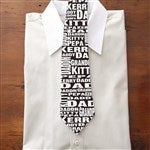 Great Gift!
By
Dion K.

(Auburn, WA) - June 21, 2014 (
See all reviews by this customer
)
We ordered two of these ties for our Principal. One had our school name and the other had our daily mantra. He absolutely loved them!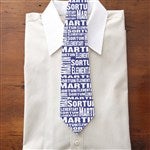 PERFECT FATHERS DAY GIFT
By
Shopper

(miami, FL) - June 18, 2014
I was extremely pleased with the quality of the material and flow of the design. i purchased it as a corny and funny gift but the tie came out so nice that it couldn't fit into that category. GREAT PURCHASE. I'm pleased!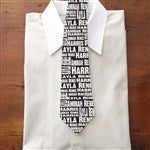 Great Gift for Dad and Grandpa
By
Shopper

(Tampa, FL) - June 15, 2014
I bought two of these for Fathers Day. One with all of my Dad's grandchildren's names and one for my husband with all of the things he loves or loves to do. Both were a big hit and I am happily recommending this gifts to others.

LOVE
By
Stephanie C.

(Spring, TX) - June 14, 2014 (
See all reviews by this customer
)
I love it, it is really cute. I ordered the blue and it looked almost purple which is the only down side. Other than that it is a good quality tie.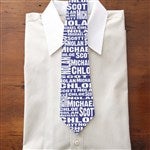 AWESOME PERSONALIZED TIE...MADE ME WANT TO ORDER MORE ITEMS
By
Shopper

(Reynolds, GA) - May 7, 2014
I purchased this tie as a gift for a very dear friend of the family. He is an awesome grandfather who loves his grandchildren dearly. The tie was personalized with each of his grandchildren's name and we cannot wait to give it to him. The workmanship was better than expected and this made such an awesome gift and I was so happy with it that I placed another order within hours of receiving the pkg.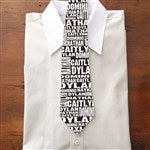 TIE ONE ON
By
Betty W.

(Frankenmuth, MI) - April 15, 2014 (
See all reviews by this customer
)
VERY IMPRESSED with product! A very elegant-looking tie and the delivery was speedy! I showed it to several friends before giving it as a gift, because it was such a unique gift!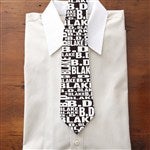 So cute!
By
Cricelia C.

(Wylie , TX) - March 8, 2014 (
See all reviews by this customer
)
The tie was so cute! It was a perfect gift for our dad!

A Tie for Dad/Poppop
By
Nenah E.

(newark, DE) - December 30, 2013 (
See all reviews by this customer
)
I absolutely LOVE this tie! I got it as a gift for my dad and am very satisfied with the it. At first I was a little hesitant about the quality of it because of the price but to my surprise, it exceeded my expectation! It is made of this beautiful silk material and the names are just "ironed" onto the tie. I know that out of all of the ties that my dad has, this will be the one that he will hold onto forever because it has his name, his wife's name, his daughters' names, and his grandchildren's names on it!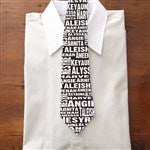 AWESOME SERVICE
By
Shopper

(Quincy, MA) - December 19, 2013
it was on time , great present !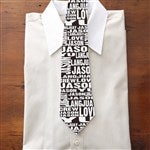 Happy Customer
By
Shopper

(Lowell, MA) - December 14, 2013
I could not be happier with my purchase. This necktie came in exactly as I designed. It was a nice quality as well.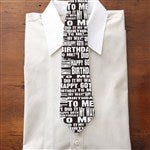 Awesome!!
By
Shopper

(Monroe, NC, NC) - December 10, 2013
A one of a kind gift for a Doctor that has everything!!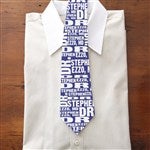 Could only be better if.....
By
pam L.

(annapolis, MD) - December 5, 2013 (
See all reviews by this customer
)
the personalization wrapped around the entire tie instead of just the front. otherwise, beautifully made. look forward to my husband opening this gift and wearing it at work. it has a sentiment he's exclaimed in frustration from time to time. i wonder how many will glance at the tie and how many will read it and go "oh!" :)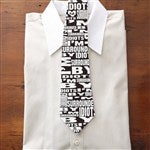 Great gift for grandpa
By
Shopper

(Tempe, AZ) - November 19, 2013
We purchased this tie for each of our father's for Christmas. My husband's father has 8 grandchildren, and my father has 11. There is only room for 10 names, however for my dad, we put 2 four letter names together with a space between (they are twins anyway) and it turned out perfectly!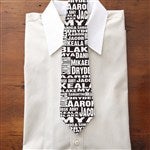 Great Product
By
Shopper

(Lancaster, PA) - July 24, 2013
We are very happy with the Personalized ties--great look and good quality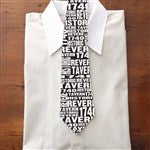 Great Gift!
By
Priscilla W.

(Ossining, NY) - June 25, 2013 (
See all reviews by this customer
)
My father & father-in-law loved the personalized tie with all of the names of their grandchildren. It was a great success!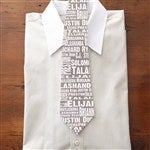 awesome
By
LaDonna M.

(Opelousas, LA) - June 23, 2013 (
See all reviews by this customer
)
This necktie is awesome! All of my family was shocked to see this necktie! They wanted to know wherr I bought it from, who did it, etc. Getting another one done for my father n law and brother really soon!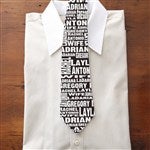 AWESOME!
By
Shopper

(Colorado Springs, CO) - June 23, 2013
It was a very cool gift to give my dad for fathers day and not only did he love it but so did everyone else. It looks very nice as well. Recommended for many dads out there!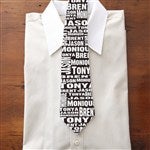 he loved it
By
Phyllis W.

(Missouri City, TX) - June 16, 2013 (
See all reviews by this customer
)
The tie was a hit for Father's day!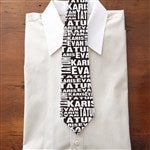 Personalized Men's TIe
By
Susan M.

(Longwood, FL) - June 10, 2013 (
See all reviews by this customer
)
I was more than pleasantly surprised with the results of my purchase. The is execellent quality; looks and feels rich; looks 10 times better than the picture. If your man or the man you are purchasing for is into ties of a different look, this is the one for him. My brother wanted a Beatles tie, so I had John, Ringo, George and Paul put on the tie - KILLER!!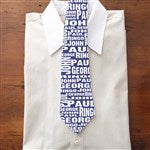 Only Great for short names
By
Tamera W.

(Olathe, KS) - June 3, 2013 (
See all reviews by this customer
)
I was so excited about the prospect of a fun tie that would show all of the grandkids names on it. It doesn't. There are three repeating names that are the only ones you can actually read, the rest are cut off on the front and/or the back. Bummer! And most of the names are only four letters, so I should have been able to see the whole name!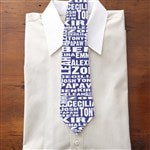 Not as I imagined.
By
Shopper

(Crestwood, KY) - April 23, 2013
The words I used looked great - but the back of the tie looks like white satin - cheap looking. If they would continue the pattern on the back - like a regular tie, it would really improve it.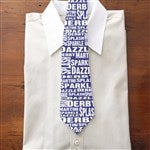 Distressed Personalized Tie
By
Bridgitte S.

(Antioch, TN) - March 27, 2013 (
See all reviews by this customer
)
I loved the idea of this tie as my father has ALWAYS worn one! Crazy ones, expensive ones but never one this personal..with all the grandkids names. While I wasn't exceptionally pleased with my first glance at the tie...I contacted the company to express my concern. Their response was polite, quick and made me review the description online. The tie is gorgeous..my problem is I ordered the TAN and it looked "distressed", like the colors ran in certain areas. Once I was told this was a "distressed" look and I looked at the darker ones I did recognize this. The quality is 100%! It was just me that didn't realize it would look distressed. My father..the tie guy..the military, well dressed man I was afraid would not like it. HE LOVED IT!! I presented it to him yesterday and he loved the color and never even mentioned the "distressed" look. He did comment on how he enjoyed the tan and how he could wear it with anything!Great Gift! I suggest the description state the distressed look.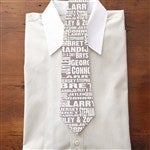 Awesome Grandfather's gift!
By
Shopper

(glendale, NY) - March 25, 2013
My dad trully love the tie with the name of his grandchildren on it. thnak you!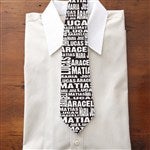 Great tie!
By
Michele H.

(Lexington, KY) - March 11, 2013 (
See all reviews by this customer
)
Having the grandkids names on a tie is just fabulous!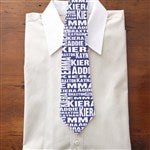 Mens tie.
By
LaDon S.

(Pulaski, TN) - February 9, 2013 (
See all reviews by this customer
)
It is a pleasure to do business with you. Your prompt service will keep us coming back. Thank you.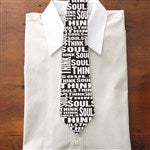 Impressed
By
Shopper

(royal oak , MI) - January 27, 2013
This is a very good product and reasonably priced. I ordered as a silly party gift for a colleague, which turned out to be not so silly, but a really impressive gift! The tie (blue) itself was well made with satin fabric you'd expect in a higher end product. The printing looks professional & exactly as shown online with the personalized message. No errors. Everyone at the party who saw the tie were in amazement and kept asking "where did you find that?" and "how did you do that?" Little do they know I spent a total of 15 minutes searching & creating online, and $18 dollars. The end product looks much more expensive.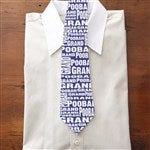 repeated name tie
By
Nikki C.

(White Pigeon, MI) - January 23, 2013 (
See all reviews by this customer
)
I bought this tie for my brother who has 3 children. When I received it I thought it was better than what I had expected and now want to buy one for my dad with all 6 grandkid's names on it.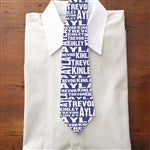 Nephew gifts
By
Bob and June M.

(Palos Hills, IL) - January 8, 2013 (
See all reviews by this customer
)
Bought these ties for my nephews for Christmas. Colors are bright and the names stand out well. The fabric is very nice as well.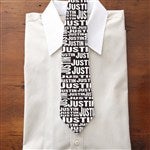 Adorable!
By
April M. R.

(Whittier, CA) - January 2, 2013 (
See all reviews by this customer
)
I purchased this tie in blue for my father-in-law and it turned out great. I had six names on it (grandkids and great grandkids). The quality is very good and the tie is adorable. He will wear it with pride.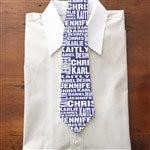 What a unique gift!
By
Shopper

(Norfolk, VA) - December 18, 2012
The blue is lovely -- it has a white back, so it becomes a comedy tie, almost, but the front is just lovely!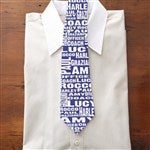 Perfect Gift for GrandDad
By
Carol W.

(Covington, GA) - December 11, 2012 (
See all reviews by this customer
)
My father is probably the PROUDEST Granddad in the world. This was such a cute gift idea. I am very pleased with it and can't wait to give it to him for Christmas!!!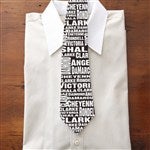 The gift that she'll love too!
By
Kathleen G.

(Nesconset, NY) - December 10, 2012 (
See all reviews by this customer
)
What a great gift. Next year I'm buying my boss one with the Company name on it. My only complaint is the narrow choice of color combination. And that the wording is a "streched out" I guess you'd say. But I think my niece's boyfriend will like it and my niece will love it since it's got her name on it too. No wondering who that boy belongs too now!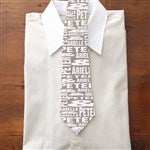 Great gift
By
Shopper

(Henrico, VA) - December 9, 2012
Great gift tie. Very pleased with the quality.
Fun gift!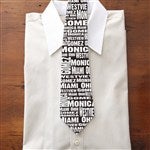 Not my favorite purchase
By
Patricia G.

(Old Bridge, NJ) - December 6, 2012 (
See all reviews by this customer
)
This is a cute idea for a gift and it is nice that you can add so many names, but the names get cut off in different spots on the tie, and, I'm not sure why, but the white lettering on the tan tie looks like it is dirty. If you look really close, it is clearly something that is created by the printing process, but I didn't like that from a few inches away it just looks dirty.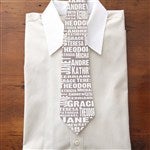 Personalized neck tie
By
Shopper

(Mustang, OK) - December 1, 2012
The quality and beauty of this item is just unsurpassed and it was more than I expected. The reason I gave it four stars instead of five is because one of the names on it is seven letters long, and some of it goes off the edge and is not legible; however, it can be read vertically, just a little harder to read.I got it in blue and it is really striking.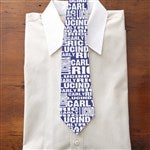 Fun
By
JULIA I.

(MOUNT VERNON, WA) - October 29, 2012 (
See all reviews by this customer
)
This will be a great gift for our nephew, we just wish that it said the full name more than just a couple times.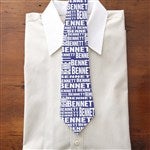 Quality work for a reasonable price
By
Jeff L.

(Port St Lucie, FL) - October 12, 2012 (
See all reviews by this customer
)
I am pleased with both of my personalized men's ties. They are family members, so they are very special to me. the one thing I can think of is if you made sure that every name completely appears at least once on the part of the tie that would be visible.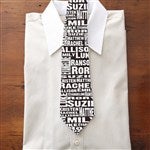 Tie
By
Jalixa R.

(Bridgeport, CT) - October 2, 2012 (
See all reviews by this customer
)
I had ordered for standard shipping and in just 2 days it came in the mail. It looks exactly like the picture, I'm very happy that it doesn't look like cheap fabric.