Perfect gift
By
claudia C.

(brooklyn, NY) - June 24, 2014 (
See all reviews by this customer
)
He absolutely loved it, a great memorable gift!

amazing
By
Shopper

(panorama city, CA) - June 20, 2014
this keepsake box is great. i gave it to my husband for fathers day and he loved it. he is now using it as a jewelry box and it is perfect for that. the quality is great. does not look like it would cost less than $30. it makes for a great gift or even for personal use

absolutely beautiful
By
mary S.

(Columbus Grove, OH) - December 18, 2013 (
See all reviews by this customer
)
I got this keepsake box as a present for my husband from his son when I opened it today I was completely blown away it was absolutely beautiful it far exceeded any expectation I had I know he'll love it as much as I do. You guys are great and will be receiving many more orders from me in the future as well from all who sees what a beautiful piece of art this is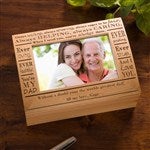 Awesome
By
Shopper

(LANCASTER, TX) - June 24, 2013
I looked for over an hour on here debating on what to get my dad for Fathers Day and this caught my eye the instant I seen it.. When I recieved it and opened it, it exceeded all of my expectations.. My dad starting crying when he got it so I will most def recommend this to anyone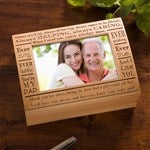 Unique Gift
By
Shopper

(Centerville, GA) - June 21, 2013
This is a very unique gift. The quality of the wood and engraving is outstanding. It's even better since you can add a special picture. Highly recommend.

Perfect present for Dad from Bride to Be
By
Kelly S.

(Davenport, FL) - June 19, 2013 (
See all reviews by this customer
)
I bought this for my father to give him before our walk down the aisle. I am so happy with my purchase! It is beautiful! The amount of characters they allow you to have for personalized text is greater than any other website I have tried. It was nice to be able to fit everything I wanted to say to my Dad. I can't wait to see his face when he opens it on my wedding day!

Keepsake Box
By
Mindy S.

(Menomonee Falls, WI) - June 18, 2013 (
See all reviews by this customer
)
The outside of the box is beautifully engraved. I also like that we can change the picture out as the kids get older. My husband displays the "treasure chest" (according to our son) in our bedroom and keeps his watch, wallet, and any other things he keeps in his pocket in this box. The only suggestion I have would be to line the inside of the box with some type of cloth.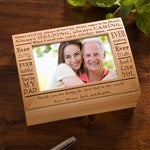 Perfect Gift.
By
Courtney C.

(East Falmouth, MA) - June 17, 2013 (
See all reviews by this customer
)
I bought this keepsake box for my boyfriend for Father's Day. His son is 10 years old. His son approved the personalized line I made up, I then ordered the gift box option, and added a 4/6 picture of my boyfriend and his son from the previous Father's Day. It was a big hit with my boyfriend:) I know he'll treasure it forever. He kept thanking me for the perfect gift. :)

Great Gift!
By
Shopper

(Union Mills, NC) - June 4, 2013
I am so happy with this purchase! The box is beautiful and will be something that is cherished always. This is the perfect gift for Dad!! Also, I couldn't believe how quickly I received it. I have never been disappointed with a product purchased from Personalization Mall!!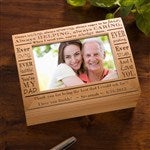 Love it-Great purchase!!
By
Shopper

(Hagerstown , MD) - May 31, 2013
I was so excited when I open the box!! My Dad is going to love this. Just as ordered....highly recommended!!!

Dad's keepsake Box
By
Anita C.

(Forest Hill, MD) - December 23, 2012 (
See all reviews by this customer
)
Love the quality of the box! The personalization was perfect!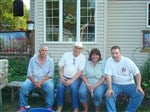 A quality purchase
By
Wanda W.

(Stockbridge, GA) - June 25, 2012 (
See all reviews by this customer
)
I was very pleased with this product as well as the quality of the product.

Beautiful
By
Marisa T.

(Covington, GA) - June 25, 2012 (
See all reviews by this customer
)
I highly recommend this item. I got it for a father's day gift from my son. It is great quality & it shipped the next day after ordering it. I would not hesitate to get this as a gift again.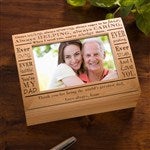 Dad keepsake box
By
juliane L.

(Andover, KS) - June 21, 2012 (
See all reviews by this customer
)
Beautiful box. Sturdy and great quality. My Dad loved it! Perfect Father's day gift. Engraving exactly as I wanted it. Thanks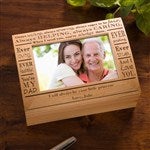 Loved it
By
Shopper

(Lebanon, IN) - June 21, 2012
Great gift! Gave it to my husband (from our son) for his first Father's Day. He loved it. Great quality and price.

Very nice
By
Christina J.

(Houston, PA) - June 18, 2012 (
See all reviews by this customer
)
Just bought this for my husband for father's day and he loves it. Decent quality and fast shipping, I'm pleased!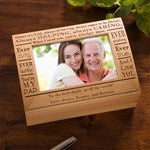 Beautiful
By
Shopper

(EVERET, WA) - June 16, 2012
It's a beautiful piece. I know My husband will love it for Father's day. I will be ordering here again.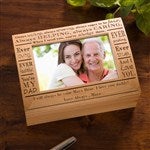 Great gift for Dads
By
Shopper

(Gainesville, FL) - June 15, 2012
Nice size, construction, and price


Excellent quality
By
Shopper

(Eagle Point, OR) - June 13, 2012
I purchased this keepsake box for my husband for Father's Day. I am pleased with the quality. It is well made and am sure it will last a long time. The engraving was very well done. I opted for the economy shipping and it came right on time! Thanks for helping me give such a thoughtful gift! Since receiving this item, I have ordered a wedding gift from your site! I know it will be great quality and I am certain I will receive it before the wedding!