Beautiful gift
By
Susan D.

(Bradenville, PA) - April 20, 2012 (
See all reviews by this customer
)
This was as I expected. Will make a really nice gift.
Thank you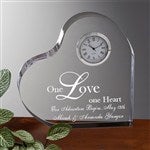 For all time hear clock.
By
Paula S.

(Big Lake, MN) - April 14, 2012 (
See all reviews by this customer
)
The clock is beautiful & will make a wonderful anniversary gift. The gift box is not what I thought it would be. I'm not sure I like that the website address is on it. As a gift it should not really say where it is from.

cherished gift
By
Shopper

(Stuart, FL) - April 10, 2012
I purchased this item for special friends celebrating their 50th anniversary. It arrived on time and was even nicer than expected. The personalized portion was clear. The recipients were very touched by the gift.
I have never been disappointed by Personalization Mall.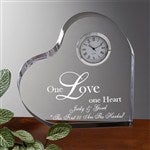 Beautiful
By
Shopper

(Shawnee, KS) - April 7, 2012
This is more beaautiful than it is on the website. I ordered this as.a gift for my husband for our anniversary. I was .very pleased with the product & the engraving! Very fast shipping!

wedding / engagement clock
By
rick T.

(iowa falls, IA) - February 28, 2012 (
See all reviews by this customer
)
picture doesn't do it justice..!!

great as always!
By
Geovanny S.

(stanton, CA) - February 20, 2012 (
See all reviews by this customer
)
Recieved with no problems and loved everything of it

Great little gift
By
Patti P.

(Lithia Springs, GA) - February 18, 2012 (
See all reviews by this customer
)
I gave it to my husband for valentines day and he loved it.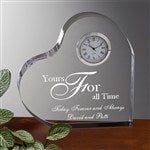 A wonderful gift I have ever bought
By
Shopper

(Durham, NC) - February 13, 2012
It's really as what we expected. I will recommend this gift to all my friends. Everyone said "WOW" once they had a look on this gift. We all love it!

Special Bridal Shower gift
By
Debra K.

(Freedom, PA) - February 11, 2012 (
See all reviews by this customer
)
I am hosting an "Around the Clock" bridal shower for my niece next month. The engraved clock is a perfect gift for the event. The engraving makes it a keepsake reminder of her special day. I'm sure she will love it!

Engraved Heart Clock
By
Shopper

(Dolan Springs, AZ) - February 11, 2012
I purchased this for my wife for a Valentines Day present. Product exceeded my expections & the wife loved it!! The experience with this site was all positive, would reccommend & definitly will use them agian.

Excellent Gift
By
Yusri F.

(Canada) - February 5, 2012 (
See all reviews by this customer
)
Makes a beautiful gift. The actual product looks much better than the pictures.
Reasonable shipping.
Will return to buy something else.

Thanks.


I sent for a 10th Anniversary Gift and They Loved It! On their Mantel :-)
By
Shopper

(Weston, FL) - January 20, 2012
A fun time searching for the exact product for the right occasion.
Quality products and always something that will be just appropriate for many occassions. Will shop here again!


Wedding gift
By
Shopper

(Annapolis, MD) - December 12, 2011
I needed a wedding gift for a non Christian wedding and this was just perfect! I was very pleased with the final appearance and it arrived very quickly

Very good
By
Shopper

(Pleasant Hill, CA) - November 22, 2011
I ordered this clock from Personalization mall, Its just awesome :) It arrived in 10 to 11 days , I liked it very much, but can anyone tell me how to change time of its clock? because the clock is set according to EST and my timezone is PST. If anyone knows how to change time please share .

Helpful
By Shopper (Los Angeles CA, CA) - October 31, 2011
It was really great.

what i like
By
kevin B.

(inwood, WV) - October 28, 2011 (
See all reviews by this customer
)
this company and it's items have yet to let me down, i will continue to order products from them as long as they keep sending out quality items, the fact that you can personalize the items just makes every gift that much more special to those who receive them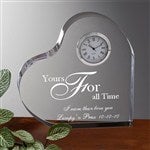 very nice
By
Shopper

(Katy, TX) - October 18, 2011
I bought this for my wife and she really loves it so much. I am so impressed !!

Wonderful gift
By
Shopper

(Churchville, NY) - October 17, 2011
I bought this engraved heart clock as an engagement gift for a friend. This was my first purchase from Personalization Mall so was not too sure what it would look like. Well, it arrived within just a few days and it is just lovely!! I am proud to give this item to our friends and know they will treasurer it for many, many years. I will definitely recommend this product and company to all my friends. It is very tasteful and just the right size--not too large and "showy".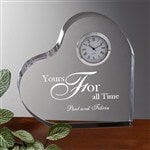 The Prefect Gift
By
Mary D.

(Safety Harbor, FL) - October 14, 2011 (
See all reviews by this customer
)
I ordered this beautiful clock for my favorite cousin and her husband, for their 50th wedding anniversy. When they received their gift, my cousin cried. She said it was the most beautiful clock she has ever seen. Her husband loved it too. I am so happy with the order. I am starting to do my Christmas shopping and certainly will be looking at Personalization's array of different gifts. Thanks again for the great service.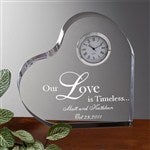 A PERFECT HEART
By
mary S.

(Wilmington, DE) - September 12, 2011 (
See all reviews by this customer
)
I needed a gift for my god daughter and soon realized that I had only 3 days until the wedding. Well Personalization Mall to the rescue. I ordered on Thursday - the heart arrived on Friday and everything about it was perfect. The bride and groom have very unique names and voila they were spelled correctly. The heart is so beautiful I am sure they will love it too!. THANK YOU for saving the day.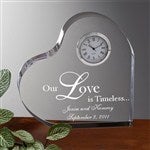 Great products and service!
By
Shopper

(San Diego, CA) - August 20, 2011
Product was just as described and just as beautiful as pictured! This made a wonderful gift as I had hoped! Delivery was prompt and within the time frame given.


Awesome and on time
By
Shopper

(TORRANCE, CA) - August 6, 2011
It was the same as on the website. Awesome.

no regrets
By
Shopper

(Miami Gardens, FL) - July 23, 2011
Wonderful piece. My girlfriend absolutely loved it for a 1st anniversary gift. I'll be coming back here in the future.

Beautiful!!
By
Valerie R.

(McDonough, GA) - July 23, 2011 (
See all reviews by this customer
)
We got this for a wedding gift for a friend and we're very confident they'll love it! It's so pretty and adding their names and special day makes it very personal just for them. It's a little smaller than what I thought it was going to be, but still we're VERY pleased with our choice. We received the item very quickly, another big plus in continuing to be a satisfied customer.

wedding gift
By
Susan T.

(Temple, TX) - July 10, 2011 (
See all reviews by this customer
)
This gift was a wedding gift to our neighbor's daughter. At the last minute -- not wanting to get the expected place mats listed on the gift register -- as I was looking at your website, I decided to get something unique for the couple to have as a lasting reminder of their day. I was not sure if I would receive it in time since I had procrastinated. To my surprise, I received this in amazinginly fast time(ordered at the beginning of the week and had it for a Saturday wedding)!!!! I opened it to wrap it and wished I had ordered the same thing for my daughter's wedding a month earlier!!! It was a treasure!!! I have not received a thank you note from the couple as of yet, but I suspect the couple will be as pleased as I would be to receive such a wonderful keepsake!!!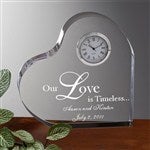 25th Anniversary
By
Kathleen F.

(Kissimmee, FL) - July 8, 2011 (
See all reviews by this customer
)
We recently celebrated our 25th Anniversary in Feb. Was looking for something different than an engraved plate. Then found the PersonalizationMall site. Saw a review for this clock and I was sold! The glass product is silver and a perfect saying engraved on it, with a little clock on top. Our perfect 25th anniversary memory for us to last a lifetime. Thank You!!!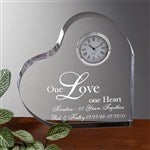 lovely gift
By
ruqayyah R.

(santa clara, CA) - July 5, 2011 (
See all reviews by this customer
)
It is an amazing romantic gift for many occasions . The size is perfect and the thickness too . I really love it and my husband too

Beautiful Heart Clock
By
Shopper

(Geneva, NY) - June 24, 2011
This clock is beautiful! My parents loved the personalized engravement on it because it makes it more special to remember their anniversary. The quality is great and the product arrived really quickly. I was overall very pleased with this product.

Awesome
By
Dylan B.

(Sparta, WI) - June 18, 2011 (
See all reviews by this customer
)
Very good product.

exactly what I wanted to purchase
By
Shopper

(Plattsburgh, NY) - May 24, 2011
the couple were very happy w/their anniversary clock

Loving the Engraved Heart Clock
By
Joanne B.

(Carnegie, PA) - May 21, 2011 (
See all reviews by this customer
)
This is not the first time I have ordered this beautiful clock. The recipients were absolutely thrilled at the personal touch with the wording AND the clock which daily reminds them of their special "time." I am personally pleased with the delivery time--usually within a few days of my ordering. The gifts, such as this one, are beautifully made and well-made as well. I highly recommend anyone considering this clock to purchase it as well. Thank you.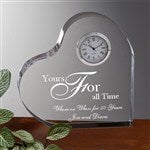 Perfect 50th anniversary gift
By
Judi M.

(Huntington Beach, CA) - April 29, 2011 (
See all reviews by this customer
)
I have purchased this gift twice for 50th wedding anniversary gifts. The recipients were absolutely thrilled with this very classy and "timeless" gift. I would recommend it for other special anniversary occasions.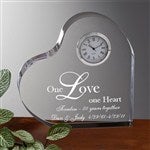 Nice gift
By
Shopper

(Shepherdsville, KY) - April 26, 2011
Nice small desk clock and works great for a 15 year aniversarry gift.

Anniversary Gift
By
Shopper

(NOVATO, CA) - April 18, 2011
It is beautiful and well made. The perfect gift for a husband who says he never needs anything. Perfect for his desk at work.

Great gift.
By
Teresa M.

(Clarks Summit, PA) - April 10, 2011 (
See all reviews by this customer
)
I think my husband will love it. Very nice gift for an anniversary. Great quality and fast delivery. Always pleased with the merchandice i receive from your company.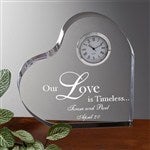 Engraved memento
By
Tamara M.

(Tempe, AZ) - March 27, 2011 (
See all reviews by this customer
)
I was looking for a timeless memento to give my sister for being my Maid of Honor at my upcoming wedding. This engraved heart/clock was so perfect for me because I had a very close friend write a song for me called "For All Time" and my sister knew that he sang it to me every year, on my birthday from the time I was 24 until he died just before my 50th birthday. My fiancée didn't know about the song at the time I showed him this piece but because it is so elegant, the engraving so beautiful and the meaningful words that each person can put onto the piece itself, made him order one for his brother. This is an absolutely beautiful piece and would be great for any occasion; I'm just glad I found it because it will mean the world to my sister when I give it to her on the day I marry my wonderful fiancée. You cannot go wrong on this gift!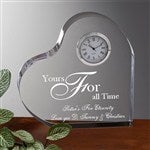 Anniversary gift
By
Shopper

(Fremont, CA) - March 19, 2011
I bought this as a 2nd anniversary gift for my husband and he really liked it. It's good for a desk clock.

My wife loved it!
By
Shannon Q.

(Warner Robins, GA) - March 8, 2011 (
See all reviews by this customer
)
I gave this gift to my wife for our first anniversary. Having known each other for 25 years, been best of friends when we were young but losing contact after high school, the inscription "Our love is timeless" was very appropriate. After both of our first marriages went south we rekindled our friendship and fell in love all over again. The quality of this clock is very good. The personal inscription really added to the look and made this gift special. I highly recommend it! Shipping was very fast!

Great Gift
By
Shopper

(Glenarden, MD) - March 7, 2011
I bought this give for a friend 25th anniversay, it was delivered directly to the couple so I did not see the final product, however according to the couple this was the best gift they recieved.They described it as being very beautiful.The process in purchasing was very easy, the price was great and delivery was prompt.I have no regrets.

Valentine's Day Gift
By
Shopper

(Brooklyn, NY) - February 22, 2011
The item can be customized and looks very good on a dark desktop. The clock can be taken out and easily set as well. Highly recommended as a Valentine's Day or Anniversary gift.