Iphone photo insert
By
Kimberly D.

(Staten Island, NY) - January 11, 2013 (
See all reviews by this customer
)
I love this photo insert. The pictures are clear and it feels really durable.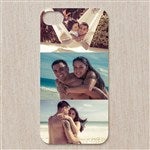 Such a good purchase!
By
Shopper

(Cincinnati, OH) - January 6, 2013
I ordered 3 of these for family members for Christmas. Because the case was only $20 I was afraid the quality would be bad. When I first opened the package the case itself seems flimsy, but once it's on the phone the case provides plenty of protection. The pictures turned out great! I will be purchasing another case for my mom. Very very satisfied with my purchases!!

iPhone case
By
Cassie B.

(Franklin, OH) - December 29, 2012 (
See all reviews by this customer
)
Great gift! Being able to personalize makes it so nice!!

AWESOME!!!!!
By
Shopper

(Montgomery, AL) - December 26, 2012
I purchased this case for my 17 yr old for Christmas and she absolutely loved it!! She said it was the best gift EVER! I will definitely order from your site again! Thanks Personalization Mall!

Perfect gift!
By
Jamie S.

(Columbus , OH) - December 26, 2012 (
See all reviews by this customer
)
I got this for my sister, Christmas gift. Photos of her and her husband from their wedding day then one of each of their beautiful kids. She loved it!!! Anyone who sees it says that it's so amazing. Love that it helps you crop and cand change the pictures to black and white( what I did) wod deffinately recommend this for the sentimental mom or anyone really. I want one now. :)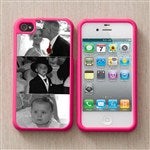 Great Product
By
Andrea H.

(Liberty Lake, WA) - December 26, 2012 (
See all reviews by this customer
)
Love it.

Great gift.
By
Eric G.

(Cut Off, LA) - December 20, 2012 (
See all reviews by this customer
)
I purchase this case for my husband for Christmas. We lost our second son to SIDS in Oct 2012. He was born sept 2 2012. My husband literally cried when he opened it. It's a good way to show everyone what he look like if they never met him. We may not be able to show him in person but this is a good gift for that. The price isn't bad and it's a very nice case.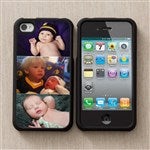 Very pleased
By
Bethany I.

(Mayfield, KY) - December 18, 2012 (
See all reviews by this customer
)
I have ordered four of these phone covers and have been more than happy with all of them. They are very easy to assemble and worth the money. The first two I recieved however were broken, I immediatly called the company and within two days I had already recieved replacement bumpers. The customer service was very easy to talk to and very helpful. I would highly recommend this company and product. Plus shipping is very fast!!

Amazing phone cover
By
Shopper

(Ellisville, MS) - December 10, 2012
It makes the phone so personalized and light weight! I love the new cover!! my PIC of choice and yes very very good quality.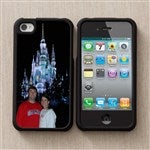 LOVE LOVE LOVE this
By
Shopper

(Cicero, NY) - December 10, 2012
I was not expecting such a high quality picture for such a low price. I loved this and purchased several more once I got mine. They r so easy to switch out. I was very pleased.

A great memory case
By
Shopper

(Olathe, KS) - December 7, 2012
I love my new case. The materials used feel like they are of good quality. I have received several compliments on my case. This originally started out as a Christmas present but I thought it was too cute not to get one for myself.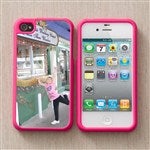 Love it!
By
Shopper

(Schiller Park , IL) - November 28, 2012
This was for a gift and it was perfect. You have to have a good picture but if you do it turns out wonderful.

Shipping was awful
By
Shopper

(Knoxville, TN) - February 21, 2014
The product is great. I placed the order on 2/10th and it was guaranteed by Valentine's day [14th] to Asheville, NC. According to UPS, it arrived in Asheville on the 12th then was shipped to Greensboro NC on the 13th. Per UPS, it couldn't be delivered on time due to weather [snow]. It arrived on the 17th. Very frustrating since there were no driving problems on the 14th.

Slightly blurry, but still awesome
By
Shopper

(Brentwood, TN) - December 19, 2013
The photos weren't quite a crisp as the originals, but these still turned out really well. The site's editing tools were simple and reasonably easy to use, and the finished product is just like the proof that they generate for you before you order. I anticipate getting more of these.

Awesome Idea!
By
Shopper

(Ottsville, PA) - December 19, 2013
I made my own photo, using a unique Philadelphia Phillies logo/sign for my boyfriend who is a HUGE fan. This photo came out so much nicer than I thought that it would, especially since I had to crop it to get it to fit just right. This is such a unique and creative idea that's not too pricey. I'm very excited to see his reaction on Christmas! My only hesitation is how well the photo will hold up against daily "wear and tear". It would be nice if there was a thin piece of plastic or something that could be laid in front of the photo to help protect it.

Love these inserts!!
By
Shopper

(Savona, NY) - December 18, 2013
The quality of these inserts are great!! The picture came out clear and the fits in the holder perfect!! Only thing is, I wish there was a clear protective film on the holder that protects the picture. I think eventually the picture will wear once the phone is used. It hasn't been used yet as this is Christmas present for my MIL.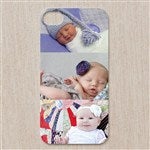 Love it!
By
Jennifer H.

(Puyallup, WA) - September 15, 2013 (
See all reviews by this customer
)
I just got my phone cover and it's so awesome! It was slightly grainy but you have to look very close to notice. I would recommend this!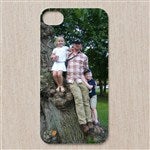 Cool and fun stuff
By
Shopper

(Madison, WI) - August 23, 2013
This case is a very cool and fun stuff. I've bought 7 or 8 cases so far for family, friends and myself. I would have rated a 5 star if the quality of the photo print could be better.

Great!
By
Shopper

(Fredericksburg, VA) - July 23, 2013
Love my picture insert. It printed one picture brighter than I expected but it did start as brighter than the others.

Cute idea, but color a little off
By
Shopper

(Odenton, MD) - June 9, 2013
I really like that I can personalize my phone case with just about any picture I want. And the fact that the picture is right on the metal and not just a skin sticker is nice. My only complaint is that the colors were off and the pictures are darker than the originals. Recommend using only light/bright images, as ones that are even remotely dark will come out darker.

Love it!
By
Kelli M.

(Arlington, TN) - May 31, 2013 (
See all reviews by this customer
)
I wanted a personalized phone case to easily distinguish my phone from my husband's. This was perfect!
It also allowed me to show friends and family recent pictures of my kids without flipping through the hundreds I have in my phone's photo album.
But best of all, when I take cell phone pictures of my kids (and they're looking right at the back case), I say "smile like this" and they (usually) grin from ear to ear looking at themselves. :)
The only reason I didn't give this a 5 star rating is because my new replacement case (just purchased on 5/22/13) is lacking the picture quality that my first order (on 11/14/12) had. I'm not sure if it is due to my new case's use of edited photos, if they changed how they made them since Nov., or if I just got a lemon this last time, but it is much "fuzzier" looking than my first order. Even still, it is a great item for the price!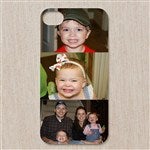 Very nice
By
alexis C.

(belleville, NJ) - January 13, 2013 (
See all reviews by this customer
)
At first i was a little scared cos i was unsure on if this was legitimate or not.. but then when my orders came in i was in love !!! Literally so nice , just a tad blurry but barely noticeable. Also, you need a case to insert this slate in, but you can get it at the mall for 10$. Otherwise this was a very good deal! :p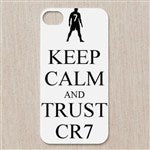 Chipped photo insert
By
Kimberly D.

(Staten Island, NY) - January 11, 2013 (
See all reviews by this customer
)
The first time I tried to insert this into my case (on the same day I received it), the back chipped. I called Personalization Mall and they agreed to send me a replacement immediately. All I had to was send them a picture of the chipped case. Great service! I have not received the replacement yet, but have also ordered others with no problems on them.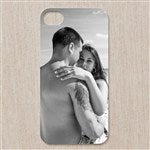 Nice idea but I bought the wrong product
By
Anthony B.

(Lake Grove, NY) - December 26, 2012 (
See all reviews by this customer
)
I have ordered tons of items from Personalization Mall and I have referred many people to this site and this item was such a great idea. Unfortunately, it was a gift for my wife and she got the I phone 5 and this case is for the I phone 4. Not knowing much about these phones (I am a Samsung guy), I trusted a review that I read saying the cases were the same size. Dead wrong. I would have given 5 stars if not for that problem. I am left with something I cannot use and since it is a personalized picture, I cannot get rid of it either. Oh well and so it goes. I should be more careful before ordering a personal item. That being said, the product came as described and the photos I uploaded printed beautifully.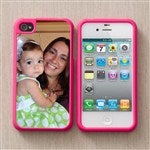 Photo iPhone Case
By
Shopper

(North Huntingdon, PA) - December 20, 2012
Love the case! Can't wait to give it as a gift to a new mommy! Wish the photos would've turned out a little lighter.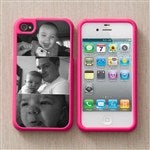 Overall happy with it
By
Angela H.

(Des Moines, IA) - December 9, 2012 (
See all reviews by this customer
)
Overall I like the case. My phone has been dropped twice now and it's held up fine. I like the picture I just wish the colors were more even. On the actual case, the pink background has almost taken over the picture and even my daughters skin is extra pink and blotchy which I'm not to thrilled about but in the end I have a phone case with my daughters picture on it and that's what I wanted.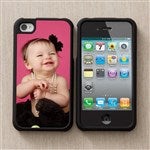 iphone 4 photo insert
By
Shopper

(Sacramento, CA) - August 4, 2013
It would be nice if it come on a case. Providing the sticker or glue so we can put it on the phone or case wpuld be nice too, a long with inagructions on how to put put it on.

The photos were blurry
By
Leila V.

(Las Vegas, NV) - December 8, 2012 (
See all reviews by this customer
)
I was so excited to get costum case if my kids and when I downloaded very High Res pics I wasn't worried about the quality. But when I got it in the mail, the pics were blurry and the faces weren't crystal clear. :(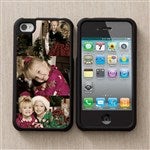 ok
By
Shopper

(New Milford, CT) - November 28, 2012
the pictures came out amazing but i must of read it wrong because i was expecting an actual case, not the back for one. As long as it's what you want, it's a good product.

Nice quality picture but case is flimsy
By
Joslyn P.

(Clifton, NJ) - December 27, 2012 (
See all reviews by this customer
)
I ordered the photo collage iPhone case as a christmas gift for my daughter. I did not realize from the description of the product that this is 2 separate pieces; the photo insert and the outside case to hold the picture in place. I received the photo insert prior to christmas. It was a good quality photo but the company did not sent me the case to hold the picture in place until after christmas so that was disappointing. (and I had to call to get it)

When I received the case, not only was I disappointed that I received it after christmas but its a flimsy case and not very study. Had I known this, I would not have ordered this product.

iphone case
I just got this and its flimsy and cheap

Poor quality
By
Shopper

(Crown Point, IN) - January 10, 2013
Bought case for birthday present and broke as soon as we tried to put it on the phone. Loved the idea but quality not good. Disappointed.

Broke within 5 minutes of receiving
By
Shopper

(Los Angeles, CA) - December 27, 2012
What a poorly made product. The case snapped when we were trying to put the phone in. The picture plate is nice so we are going to superglue it on another case. But very disappointed overall.