Time to drink up!
By
Jennifer A.

(Manalapan, NJ) - December 10, 2013 (
See all reviews by this customer
)
Great idea for wine lovers, especially because there are three lines for personalization.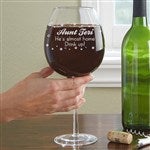 Great Gift
By
Shopper

(Huntersville, NC) - December 6, 2013
Very fast shipping which I liked and it will be a great gift for my coworker who is a wine drinker.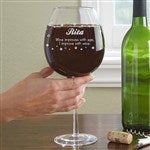 Very pleased
By
Anna P.

(Winston Salem , NC) - November 30, 2013 (
See all reviews by this customer
)
Everything arrived on time and as described... I will definitely do business with them again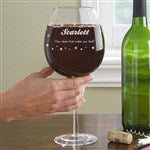 Wonderful Gift!
By
Melissa Y.

(Tampa, FL) - November 11, 2013 (
See all reviews by this customer
)
This was a birthday gift, and she was delighted to receive it. Perfect for anyone who enjoys a regular glass of wine. Would happily buy again.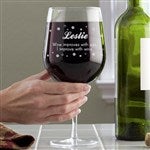 Great gift
By
Shopper

(Chicago, IL) - October 27, 2013
This is not the first item I've bought at personalization mall and it won't be the last. As always the product is great. I gave this glass as a gift and it was perfect.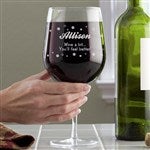 Very Nice
By
Debra M.

(Port Saint Lucie, FL) - October 21, 2013 (
See all reviews by this customer
)
My niece is going to LOVE this Christmas gift this year! And what a GREAT way to give a gift then to personalize it!! Very nice quality !!
Thank you!!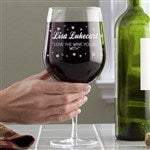 Fun!
By
Tanya B.

(Great Falls, MT) - October 11, 2013 (
See all reviews by this customer
)
I purchased this as a Christmas gifts for a friend and I love it. She will have a great time using it.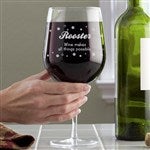 A very wonderful Retirement GIFT
By
Anjanette W.

(Hopewell, VA) - September 30, 2013 (
See all reviews by this customer
)
This item was very nice/personal/perfect gift for someone that is retiring...

Great Gift
By
Shopper

(Mechanicsburg , PA) - September 20, 2013
We gave this to our boss who was leaving our account and he LOVED IT!

Great gift!
By
Shopper

(Glendale, AZ) - August 18, 2013
My boss loves wine so we bought this for him and he LOVED it!

Wine Goblet
By
Shopper

(Lewisville, NC) - August 4, 2013
Perfect and beautiful as always!!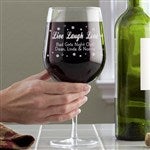 Great gift!!
By
Shopper

(Ayr, NE) - July 22, 2013
Both of the recipients were happy when they each received their Wine Glass. I bought one for a 70th birthday and another for her 65th birthday.

Appreciation Gifts
By
Shopper

(Salinas, CA) - July 19, 2013
Really like the way these came out! Nice Job! Thank you!!

Great gift
By
Shopper

(China, ME) - July 18, 2013
This glass turned out perfect...great delivery service.

Awesome Gift!
By
Shopper

(Washington, DC) - June 29, 2013
I gave this as a gift to a parent couple at my daughter's school as a token of my gratitude for their commitment to the kids and the school community and they absolutely loved it! I hadn't even realized the wine glass holds the an entire wine bottle! Excellent gift! Highly recommended.

Cute!
By
Alana S.

(Winterville, NC) - September 16, 2013 (
See all reviews by this customer
)
This glass is great! Its big, but not as overwhelmingly big as you would think - which was good! The etching was accurate, although it does look a little cheap because its whiter than usual, but I'm still very happy with it! thanks so much! Pmall rocks! :)

Nice glasses
By
Shopper

(Franklin, IN) - June 3, 2013
These glasses were great didnt realize how big they were the girls should love them for the wedding!

Big Wine Glass
By
Shopper

(San Mateo, CA) - September 16, 2013
I am very happy with my purchase as it is exactly as described. It is a cute gift and my friend loved it. The only thing I was disappointed in was the gift box which I paid an extra $3.00 for. Since most items come in the "Personalization Mall" box already, I assumed this was going to be a nice gift box. It was a somewhat nicer version of the Personalization Mall box with their logo (company name, etc) stamped on the top. I could not use it to give the wine glass as it would have looked somewhat tacky. I ended up going out and purchasing my own gift box. Other than that, my review is that this product was what I expected but save your money and purchase your own gift box.

LETTERING TOO LIGHT
By
Shopper

(jersey city, NJ) - August 23, 2013
I purchased this product to use it for a birthday party where the theme is alcohol. I am using the wine glass to put on top of the cake with fake ice inside. Since the wine glass is going to be empty, its difficult to see the lettering. Maybe if they could add a BLACK outline to the lettering it would be perfect because you can read the glass when it's full and also when it's empty.