Will make a great gift creation
By
Robert P.

(Wakefield, RI) - August 31, 2014 (
See all reviews by this customer
)
Very happy with the way the item is and how good the design came out.

Cat
I'm not a cat,
but mommy loves
me anyway

Worth it
By
Shopper

(Colorado Springs, CO) - May 3, 2014
The onesie is soft & isn't thin, it's beautiful

Perfect gift!
By
Shopper

(Boynton Beach, FL) - April 4, 2014
I put the baby's name in large font and bright pink, then the date of birth as a "shadow" in smaller font, lighter pink behind it. Came out perfect!

Babies first personal onesie!
By
Sissy M.

(Lorena, TX) - December 30, 2013 (
See all reviews by this customer
)
I designed this for my soon to be born grandson and his grandfather. It was so very cute. It was a fun gift. I love the fact you can design whatever you want.

Great Little Onsie
By
Denese W.

(Santa Clara, CA) - December 16, 2013 (
See all reviews by this customer
)
This onsie came with our picture on it for our granddaughter, it's so cute. Thank you for the fast shipping as well.

THE CUTEST!!
By
Joanne S.

(Bel Air, MD) - December 15, 2013 (
See all reviews by this customer
)
The onesie is perfect for my grandson to wear under his christening outfit. Again, quality workmanship. Thank you

personalized onesie
By
Mary G.

(Walnut Creek, CA) - December 12, 2013 (
See all reviews by this customer
)
Just personalized a onesie for my grand daughter for Christmas. It arrived quickly and is adorable!

Outstanding!!!! Excellent!!!!
By
MARY S.

(FARMINGTON HILLS, MI) - December 7, 2013 (
See all reviews by this customer
)
Unbelievable!!! The printing and design came out wonderful. True to what I expected and final design shown on screen. The quality is excellent. Cotton fabric really, really, nice - not thin cotton like some baby onesies. Finished seams - excellent. I ordered 24 month and it seems larger in size than I expected - very roomy. I was a little skeptical but bottom line...I am very, very, pleased and happy with purchase. Price - perfect!!! Will DEFINITELY be ordering something again. Don't be afraid to design and order something - YOU WILL NOT BE DISAPPOINTED!!!

outstanding as always
By
TammyLyn B.

(Amherst, NY) - November 6, 2013 (
See all reviews by this customer
)
outstanding as always

My grandson and his daddy will be thrilled
By
Shopper

(st. johnsbury, VT) - October 15, 2013
I was very pleased to receive the baby bodysuit and the t-shirt that I ordered. I had a photo of my baby grandson holding his daddy's finger and I put it on both items with the saying "Buddies Forever". I think my daughter and her hubby will be very pleased, and my grandson will look adorable in his "onesie", and even after he outgrown it, I'm sure my daughter will save it for sentimental reasons.


you did it again
By
Marisol H.

(Bronx, NY) - September 21, 2013 (
See all reviews by this customer
)
Is my 3rd purchase in your page and you send me exactly what I was expecting. Can't wait to make another shopping thanks!!!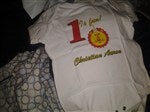 Great Gift
By
Shopper

(Huntsville, AL) - September 15, 2013
This was a gift for the new Mom and Dad and they loved it. It's a gift that I could not have bought in the stores, unique and personalize just for the little baby girl and her family.

Extremely satisfied customer
By
Debra A.

(Tallahassee, FL) - September 12, 2013 (
See all reviews by this customer
)
Ordered personalized onesie to match tee-shirts adults were wearing to an outdoor summer event. The bodysuit ran true to size (12 months), personalization was simple, color/font/and design options were quite varied, and the end product was amazing! Normal delivery times were reasonable and thankfully, expedited shipping was available. Received many compliments on the final product! Great job!

great baby bodysuit
By
Joanna R.

(New Bern, NC) - August 31, 2013 (
See all reviews by this customer
)
i purchased this for my son in prep for my husband's homecoming from deployment. i'm very happy with the quality of the fabric. it's soft, smooth and seems more expensive than its actual price. the prints thought wasn't of my expectation. the color/shade is darker, not as glowing as it looks like when i designed it on their website. it's definitely an area for improvement. but overall, it was a great buy.

Excellent!!
By
Theresa S.

(Davie, FL) - August 18, 2013 (
See all reviews by this customer
)
This was a gift for a cousin who is expecting. I loved the fact that you can create and build you own onesie!! It was a lot of fun. When she received it, she cried on how beautiful it was. Excellent!!!

came out very cute!
By
Shopper

(West Palm Beach, FL) - August 24, 2013
The first one I made didn't come too good but the second one came out really cute!!

Crooked
By
Shopper

(Redding, CA) - December 8, 2013
The screen print looks good it is just crooked! I wish whomever printed thought about centering it. If my daughter wears it for her birthday with pants the screen print will not be visable :(

poor quality image
By
Jacquelyn C.

(Greenville, NC) - May 16, 2014 (
See all reviews by this customer
)
you couldn't even read it because it was too small and the colors, although I chose bold ones, barely showed up. It was not useful for my mother's day pictures or for anyone else to read either

Where do I even begin?
By
Shopper

(Canada) - December 16, 2013
The product I received was beyond unacceptable. The colors used to print were atrocious and the logo I designed ended up looking like a black circle. When I emailed this company to request a reprint of the product they said they were incapable of properly manufacturing the product with the correct colors. The baby bodysuit itself was in perfect condition, no complaint on that whatsoever. The printing, on the other hand, was just awful as I mentioned before. If you are designing your own logo for this company to print I would suggest making it in primary, contrasting colors as I'm sure that's the only thing they're capable of printing in.