It looks even better in person!
By
Krystyn L.

(Los Angeles, CA) - November 23, 2013 (
See all reviews by this customer
)
The recipient of this gift will definitely feel that he/she is of utmost importance because this is one of the most aesthetically-pleasing pens I've ever seen. However, the engraving on the case seemed a bit light and canted. When reflected upon a light, I can barely see it. Also, it doesn't write as smooth as I thought it would. Nevertheless, it definitely makes one awesome gift!

Professionally made pens!
By
Shopper

(Buffalo, NY) - May 9, 2013
Love the way these turned out and got them in less than a week from the time the order was placed over a weekend!. Great quality. Only thing is that the pens move around a little in the holder. Wish it had a tighter fit to hold pen. Other than that....LOVE THESE ITEMS.

FABULOUS
By
Shopper

(Miami, FL) - August 4, 2012
Recieve this item in wonderful condition. Contained a small scratch but it just looked nice. Just wished they had a seperate gift box with a beautiful bow....like some of the mugs...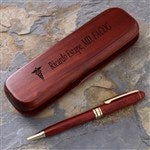 Nice Pen Set Makes a Great Gift
By
Shopper

(Lubbock, TX) - February 19, 2012
I was very pleased with this pen set. I bought it for my husband as a gift and thought it turned out really well. The wood has a nice feel to it and seems to be good quality. The engraving was done well. It is nice and deep and looks professinoal. The wood box could be designed a little differently, as you have to turn the pen a certain way to make the lid close properly. The pen writes smoothly and they claim you can buy refills for it at any office supply store (we have yet to try thought). This set will look very nice on my husbands desk and will be something he can use for years to come.

nurse gift
By
Shopper

(Fremont, NH) - December 24, 2011
Our friend was surprised with the gift and liked the wood finish on both the box and the pen. The engraving was also very nicely done.

Rosewood pen
By
Michelle L.

(Tucson, AZ) - November 1, 2011 (
See all reviews by this customer
)
The rosewood was beautiful. However, I was disappointed the cadeus was not on the pen itself. Otherwise, well made. One suggestion-letting the customer know ahead of time, what type of refills the pen takes would be an added bonus. I made a mistake on the spelling and cannot send this back to personalization but the did offer me 30% off on a new pen. Better than nothing since it was MY mistake.


Redwood Pen Set
By
George G.

(Union Beach, NJ) - October 20, 2011 (
See all reviews by this customer
)
I was happy with the gift. The only thing I was not happy with that the item was not delivered on the date that I wanted it delivered. Also that my last name was misspelled. Other wise I was happy with the Redwood pen set that was delivered. I wish it would of been deliverd on the date i wanted it delivered and that my last name would of been spelled correctly.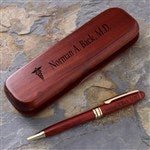 Engrave rosewood pen set
By
Moira M.

(bronx, NY) - October 4, 2011 (
See all reviews by this customer
)
it was exactly as they describe it. I love the product.I will defetnetly buy other gifts here.

Good gift item
By
Shopper

(Canton, MI) - June 27, 2011
Bought this item for two of my friends as they graduated from med school and also nursing school. I saw the item after my friend received it. It was nice but I expected the lettering to be darker. The engraving with name and qualification did not stand out (dark) as seen in the picture. But still a good gift purchase.

Nice
By
Shopper

(Keansburg, NJ) - May 23, 2011
Just be sure to write M.D. when you write your personalization. I had thought all I had to write was the name of the recipient and that M.D. would be at the end of it...

Beautiful and Classy
By
Shopper

(Salisbury, NC) - May 16, 2011
The pen arrived on time and was as beautiful as the picture. It matched and exceeded expectation- my sister loved it!

Rosewood Pen
By
Shopper

(Riverside, CA) - March 21, 2011
It is a very nice gift. But the quality of the wood of the box looks much superior then the wood of the pen. May be its the polish or something but both do not look the same. That is the only thing I did not like other then that I would definitely use personalization mall again for other gifts and recommend it to others.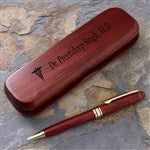 Very Satisfied
By
Shopper

(Lafayette, NJ) - February 4, 2011
I was very satisfied with my choice. It was exactly what I had expected and was especially happy with how quickly I had received the item

Rosewood pen
By
Mazie V.

(Canada) - November 17, 2010 (
See all reviews by this customer
)
Box and pen were nice, the only thing I would suggest is to line the grove the pen sits in to give it a more finished look and so you don't hear the pen rattling around when the box is picked up.

Very nice
By
Linda B.

(San Antonio , TX) - July 1, 2010 (
See all reviews by this customer
)
Overall this is a very nice product. The engraving is clear. The pen however is a little 'cheap' (lightweight)
but it looks good. $19.95 would be a better price point.

Overall nice pen
By
Luke E.

(Hopkins, MN) - May 12, 2010 (
See all reviews by this customer
)
The case looks nice and pen is nice too. Seems to be of good quality. I bought this for my wife who graduated Med school and it is a very nice personalized gift.

Rosewood Pen Set
By
Robert S.

(Valley Center, KS) - December 6, 2009 (
See all reviews by this customer
)
Ordered it for my daughter-in-law. She hasn't gotten it, yet. We won't get her reaction until Christmas. Suggestion: Make more room for the pen's pocket clip. The lid won't close all the way as it is. Could use a little more space between 1st name, middle initial, and last name. Just seems a little crowded. But, that said, I'd like a set for myself!
Besdt Regards,
Bob Smith

Not what I expected
By
Laurie H.

(Clearwater, FL) - August 5, 2014 (
See all reviews by this customer
)
I was hoping for a choice of pen color as I needed red and the local stores don't carry red refills. Additionally, the lid doesn't close well. The pen has to be just right to get it to close.

OK for the price
By
Paul W.

(Houston, TX) - May 11, 2014 (
See all reviews by this customer
)
Wanted to get a thoughtful but inexpensive give for a special occasion. It did fit the bill. I just wish the engraving on the box was deeper and darker to be able to read. Not near as clear as the advertised photo. Have to tilt it in just the right light to see it. The pen would have been nicer as well if it was actually engraved instead of stamped.

Disappointed
By
Shopper

(Guam) - December 16, 2013
I'm not satisfy. The reviews are overrated. The Rosewood Pen Set is a little rough and too heavy, could have be lighter and look more polished. The back of it was scratched. However delivery was quick.

Darker than expected, text does not stand out
By
Shopper

(Alpharetta, GA) - May 21, 2012
Good quality. However the wood is darker than in the picture and so the darker text does not stand out. Does not have the same effect as you look in the picture.

Good gift idea
By
Shopper

(Clemmons, NC) - May 14, 2012
I bought 2 of these pen in a case. I did not like the first one because the dark ink that was used to write the name of the recipient was not dark enough. Infact it looks like no ink was applied at all. Then I got the second one and it was absolutely perfect. I am not happy with the first one because I expect both to be perfect. So I will suggest quality assurance for this company to make sure each product going out is perfect since i paid for it.

Engraving poorly done
By
Gayle L.

(Terry, MS) - May 27, 2014 (
See all reviews by this customer
)
The engraving on the box was poorly done. The medical symbol was barely visable. I would have returned the set but I did not have time to get a replacement before the graduation.

Not what it appears
By
Shopper

(East Meadow, NY) - May 3, 2014
It is a cheap looking case with a pen...not impressed