Brother's helper
By
George R.

(Fond du Lac, WI) - December 26, 2011 (
See all reviews by this customer
)
This tool is compact, is not big or bulky like many others. It appears sturdy and well-built. My brother-in-law works in the food industry and really liked that it was made of stainless steel and could be used at work. He liked it engraved with his name so he could always identify it as his. He explored it and looked at all the tools upon opening the gift. He also liked the case being compact so it would fit nicely on his belt. The case, black nylon, matched another case I had given him.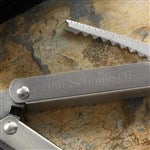 Personalized 9-Function Multi-Purpose Tool
By
Shopper

(CEDAR CITY, UT) - December 24, 2011
Quite happy with this product. The engraving is simple but elegant.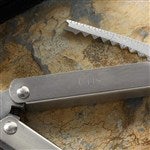 Excellent gift!
By
Shopper

(Xenia, OH) - December 12, 2013
Very nice compact tool set. The engraving looks great. Great customer service as well.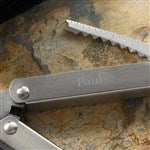 Groomsmen Gifts
By
Ronnelle C.

(APO, AP) - July 31, 2013 (
See all reviews by this customer
)
We thought these would be awesome gifts for the groomsmen in our wedding! They turned out pretty nice! I just wish that we could personalize it with first and last name! But the product was nice!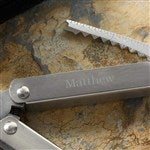 Good Quality Item
By
Shopper

(Minot, ND) - December 31, 2012
My Husband Loved this Item!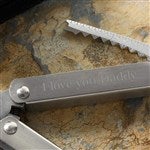 Wonderful little tool.
By
Dan C.

(Albertson , NY) - June 19, 2012 (
See all reviews by this customer
)
As an emt in New York, I bought and personalized this gift for my paramedic partner. There are a few problems with it, however overall it is a wonderful little tool.
1. It's not heavy duty. Though stainless steel, it's good for everyday civilian use, but it won't stand up to the pressure and abuse that ems providers need to rely on.
2. The tools don't have a lockback mechanism. While they do stay open for the most part, be careful because the knife portion and other tools can close on your fingers if you're trying to work too quickly or Arn't careful.
3. My biggest reason for only giving three stars however, Is that you can only personalize one side of one arm of the tool. For what ever reason, the store will fit more characters on the smaller stainless steel knife than on this multi tool. Personally I think it doesn't look as good with only one arm personalized. Plus I couldn't fit my partners entire name and title. That being said for the average person it is a beautiful gift.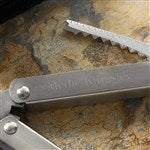 Great Groomsman Gift
By
Shopper

(Hot Springs Village, AR) - May 14, 2012
My son could not decide on his groomsman gifts and I told him about this site and I have loved everything I had gotton from it. We ordered 9 multi-function tools, engraved with the groomsman name and wedding date. They looked great and everyone was impressed with the tool and personalization. He and (I)could not be happier with the service and product.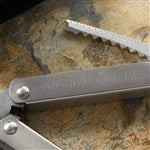 nice for the price
By
donah C.

(vienna, OH) - March 8, 2010 (
See all reviews by this customer
)
We purchased this for our 'almost' 16-year old nephew to reward him for achieving his Eagle Scout award. It looks nice, we haven't given it to him yet. We're always disappointed when things are made in China, so that's my "only complaint"; but, unfortunately this is what our society has turned to! Overall, it looks nice for the price.

Nice
By
Jeffrey D.

(Weehawken, NJ) - July 30, 2010 (
See all reviews by this customer
)
The product looks good as well as the imprinting. I had a last minute name change taken care of quickly. I had 13 finished products at my door in less than a week.

Thank you.

engraving light
By
Katherine W.

(Concord, VA) - April 19, 2010 (
See all reviews by this customer
)
The tool is nice, but the engraving was kind of light, like not very deep.

It is cheaply made
By
kathryn C.

(salinas, CA) - April 20, 2010 (
See all reviews by this customer
)
It is cheaply made and worth alot less than the listed price:( Disappointed

Grooms gifts to ushers, etc
By
Anna Marie P.

(Anadarko, OK) - May 25, 2010 (
See all reviews by this customer
)
the quality of the product leaves a lot to be desired... wanted a gift that would be used and this seems like it will break with any use...

It was alright..
By
Shopper

(Manassas, VA) - June 23, 2011
I got the Knife for my boyfriend because he had the same one from a long time ago but it was hard to open, and was beat up so I ordered a new one, special. I was dissipointed when I got it though because even the new one was EXTREMELY hard to open, and it looked scratched up when i got it. but.. im sure Itll still be handy.

Disappoint
By
Wendy L.

(Lakewood, CA) - July 26, 2010 (
See all reviews by this customer
)
Made in China...augh... Engraving will rub off over time; not well done. Overpriced.

Multi-purpose tool did not meet my expectations
By
Kathleen S.

(Houston, TX) - May 4, 2010 (
See all reviews by this customer
)
The multi-purpose tool did not live up to what I was hoping. I originally wanted to order 30 of these for high school graduation presents for my son's friends, but did a trial run by ordering just one for my son first. I will not be ordering them for a couple of reasons. First, the personalization was very cheaply done, it was very difficult to read as the engraving was too light. Also, when my son tried to open up the tool it was VERY difficult to open and use. When pulling out one of the pocket knives features of the tool, my son cut his thumb. All in all it was not as great a gift as I was hoping!

Multi tool
By
Beata K.

(Canada) - October 6, 2010 (
See all reviews by this customer
)
Nice piece, a little sticky to open. Nice engraving. Arrived very quickly!

last minute gift
By
Kelly G.

(Mediapolis, IA) - January 2, 2011 (
See all reviews by this customer
)
I needed a last minute Christmas gift for my husband & this fit the bill! To get something personalized right before Christmas was wonderful! This website has NEVER let me down!

Very Nice Gift(s)
By
Bret W.

(Ventura, CA) - December 21, 2010 (
See all reviews by this customer
)
I purchased 6 of these for my crew as a holiday gift. I put each of their names on theirs. It came out very nice and arrived very fast as well.

Cool Tool
By
Shopper

(Miramar, FL) - June 25, 2011
Item was purchased as a Father's Day gift. The personalization was really smooth and added an extra special touch. The tool itself is pretty compact and comes in a very nice packaging. Great gift for a "Mr. Fix-It"/tool-lover

A+
By
Shopper

(FPO, AP) - February 11, 2011
This was a gift for my Grandfather because he is ALWAYS outside working, even though he is retired. He LOVES this tool, and I know will use it for everything everyday. Definitely the perfect gift for the hardworking man/woman. Absolutely recommend.

Awesome customer service!
By
Elizabeth W.

(Plantation, FL) - April 5, 2010 (
See all reviews by this customer
)
We ordered two of these for the ushers at our wedding. One arrived in perfect condition. The spring on the other one popped out and could not be used. I called customer support and they shipped a new one out to me ASAP at no charge. I don't even have to worry about the hassle of shipping the damaged one back. Great shopping experience!!

Groomsmen Gifts
By
Shopper

(Oakdale, MN) - October 25, 2012
Got these for the Groomsmen in our wedding. Very handy and very sturdy. I would have liked to see darker engraving though. I was slightly disapointed by how light the engraving was. I think the guys will still like it though!

great item
By
Tracy B.

(Winchester, MA) - July 18, 2014 (
See all reviews by this customer
)
Got these for our groomsmen. Great items. Thank you!

Great Groomsmen Gift
By
Brandy R.

(Cocoa, FL) - December 28, 2009 (
See all reviews by this customer
)
My husband and I picked this item for his three groomsmen. When they came my husband ended up wanting one! They look great and the personalization makes them even better! All the guys just loved them! I would definitely recommend these, especially if you have a diverse group and can't find something they all will like!

Exactly as I had hoped
By
Shopper

(Delaware, OH) - November 7, 2012
Good quality, personalizations were correct