Groomsmen gift
By
Shopper

(Novi, MI) - November 30, 2011
We recently ordered these flasks for groomsmen gifts. They arrived quickly and looked as expected. My only very small complaint was that I did NOT order them gift wrapped and though I do not believe they were shipped that way, they were wrapped so nicely with tissue paper and a sticker, that it was slightly difficult to slide them up out of the tissue paper to view/check them for accuracy. We did slide them and it worked, and it's nice how presentable they were for standard shipping, but I did want to double check them before giving as a gift and the nice wrap job was ALMOST too much. As you can see, not truly a "complaint." Funnels included, very nice.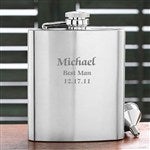 AWESOME!!!
By
Georgiana K.

(Clarksboro, NJ) - October 7, 2011 (
See all reviews by this customer
)
We ordered this for our best man and it is very cool looking and perfect for our Eggy and he is going to love it. Very strudy and personalization came out great. Good Job. I would definitely recommend this for anyone.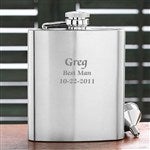 Nice
By
Shopper

(Victorville, CA) - July 8, 2011
I liked this product but it seemed a little thin. Would have still purchased it though.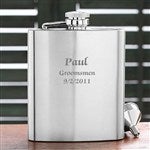 Great Groomsman Gift
By
Shopper

(Belle, WV) - June 13, 2011
Great gift for the groomsmen in our wedding. The groom chose a unique saying and put it on all of them, worked out well, looks great and shipped fast!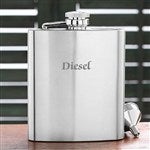 Not just for groomsmen
By
Cathleen W.

(Chicago, IL) - June 7, 2011 (
See all reviews by this customer
)
I bought this flask for my fiancé on his 30th birthday. It was a great gift and he loved it.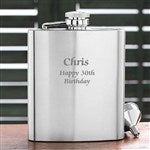 we both loved it
By
Kasandra B.

(Brooklyn, NY) - February 10, 2014 (
See all reviews by this customer
)
I bought this as an anniversary gift to my partner of 8yrs when.he saw it he fell in love ,as did I .its quality is quite impeccable. I will definitely recommend this to my friends and family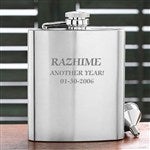 Very classy!
By
Nichole R.

(Russellville, KY) - February 6, 2014 (
See all reviews by this customer
)
Love it!! Very nicely done!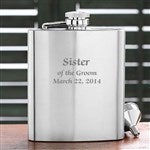 Large Personalization Mall Logo on Bottom of Flask
Ordered seven custom flasks for my wedding. Look great except for one major complaint. The bottom of the flask has a large logo from Personalization Mall.com that is also etched in. To me it makes the flask look tacky and like an advertising giveaway as opposed to a customized gift.

When I emailed customer service I was told, "Regarding the Personalization Mall logo on the bottom; we, as a company, reserve the right to promote our name on any of our poducts." Wish I would have known about that beforehand. Before you buy anything you may want to ask if it will include a logo.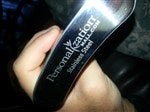 Groomsmen gifts
By
Antonio R.

(Millbrae, CA) - May 20, 2013 (
See all reviews by this customer
)
Ordered these as groomsmen gifts for my upcoming wedding. The personalization came out really well and the shipping was really fast, even for the standard shipping option. There weren't any mistakes (I ordered 7 of them) and I'm looking forward to handing them out when the time comes. I LOVE the 3 lines of customization as well, that's a great bonus.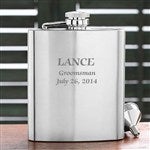 Pocket Flask
By
Randy H.

(Columbia, SC) - May 11, 2013 (
See all reviews by this customer
)
My best friend and best man is a restaurant owner who "has it all." He didn't have one of these, and the opportunity to buy him a personalized flask, engraved with a reflection of our 30-year friendship, was priceless.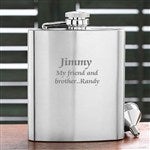 Father's Day Gift
By
Shopper

(River Forest, IL) - June 19, 2012
He loved it!
Can't stop showing his friends, great choice.

Met expectations!
By
Shopper

(Mitchell , OR) - June 12, 2012
Great quality! Expectations met. Got exactly what I ordered!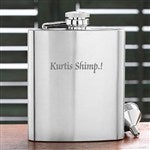 Perfect
By
Shopper

(Glendale , CA) - April 3, 2012
This was the perfect gift for my boyfriends 21st birthday I had them engrave what I wanted them to and my boyfriend felt in love with it I'm a happy shopper and always order from the website such nice gifts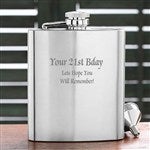 Groomsmen gifts
By
Shopper

(San Diego, CA) - February 25, 2012
Great product for a great price. They looked better than I expected. Can't wait to give them to my guys!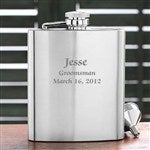 Wedding Party Gift!
By
Shopper

(Clinton, IA) - January 27, 2012
We got this for our Best Man, Groomsmen and Ushers! Although we have not had our wedding yet, they all turned out great! Never disapointed when using Personalization Mall!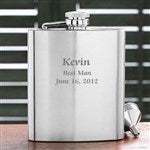 great gift
By
Shopper

(mount vernon, NY) - December 16, 2013
I gave this flask as a Xmas present to a few different people and I love that I could personalize the gift to suit each individual.

beautiful ingraving
By
Cynden H.

(Pullman, WA) - May 8, 2010 (
See all reviews by this customer
)
I bought this as a wedding present for my fiancee. We are getting married 5/15/2010. I got it personalized with
"David
Loving Husband
5.15.2010"
The engraving is beautiful and it with standard shipping it came in 5 days. It shipped within 24 hrs!

Just what I wanted
By
Dori L.

(Middletown, NY) - July 7, 2010 (
See all reviews by this customer
)
My best friend and I absolutely love our matching Felix Felicis (liquid luck) flasks. I will definitely order from you again!

Very good item
By
Steven H.

(Lakewood, OH) - April 7, 2014 (
See all reviews by this customer
)
Item is fantastic, only downers I would say is they could use a good polish before sending them out as they were a little dingy but looks good in the light. Also the "personalization mall" stamp underneath could do with out but I guess they have to make money somehow. Overall though a very nice item!

The Perfect Gift!
By
Nathan W.

(Omaha, NE) - February 1, 2010 (
See all reviews by this customer
)
A must for anyone and any Occasion! The engraving is perfect and you can put anything you want on it! Turned out great for my groomsmen and they loved it! Don't hesitate to buy, you wont find any other place like it!

loved it
By
Clara R.

(Plantation, FL) - February 21, 2010 (
See all reviews by this customer
)
i got this for my bf for V-day i only used the firt two lines and didn't enter a date- it came out perfect and it looks nice and of good quality- i'm happy with it

Engraving made it worth it
By
Trian M.

(Salt Point, NY) - October 1, 2009 (
See all reviews by this customer
)
I was very happy with the quality and the beauty of this flask. It was more than double the cost of similar flasks I found on other websites, but I was able to engrave this one, so I paid the price. In honour of my husbands sense of humour I engraved it with the phrase "Ninja Booze" and gave it to him for this 30th birthday. The look on his face when he saw that was priceless.

PERFECT!
By
Karen F.

(Pittsburg, TX) - January 22, 2010 (
See all reviews by this customer
)
We really like these for our men participating in our Wedding Party. The inscription with their Name, Title of their part in our Wedding, Date is wonderful making it a treasured keepsake for the guys.

Just about perfect
By
Shopper

(Houston, TX) - January 3, 2013
I got this for my boyfriend as a Christmas present and it came out looking great! I would most definitely recommend this to someone

Pocket Flask - Just OK
By
Nancy B.

(Burlington, MA) - October 8, 2009 (
See all reviews by this customer
)
The material wasn't the best...

Good product
By
Dan J.

(Hastings, MN) - October 2, 2009 (
See all reviews by this customer
)
We ordered these for groomsmen gifts & they came super fast & look great. Not sure how it will hold up on fingerprints but I think they are really nice...lots of options for personalization. Thanks!

Smudges
By
Shopper

(Selinsgrove, PA) - April 1, 2011
This product smudges when touched by anyone. I find myself needing to polish it constantly. I felt terrible giving it as a gift.

Somewhat displeased
By
Lisa C.

(Clinton, IL) - August 19, 2011 (
See all reviews by this customer
)
I ordered several items and was satisfied with all except for this item. The engraving doesn't show up that great on item. This item was also supposed to come with a funnel and didn't receive. I called to get one shipped day after I received order, has been over two weeks and still have yet to receive funnel.

2nd time around
By
DONALD E.

(RANDALLSTOWN, MD) - September 2, 2010 (
See all reviews by this customer
)
Excellent product this time, first one came with bad personalization, but they replaced it with no problems. I highly recommend this product and company.

Liked the item..they forgot to send the funnel
By
Shopper

(Imperial, MO) - January 29, 2011
I liked the item but understand what everyone was talking about in regards to the finger prints. You barely touch it and it gets smudged. They forgot to send the funnel with it, I e-mailed them and they quickly sent me the funnel. Overall it is a good item for the price.

Nice!
By
Tanya G.

(Rio Rancho, NM) - January 21, 2010 (
See all reviews by this customer
)
My Fiance got this for his dad, which is also his best man at our wedding. The flask is very nice. Although, I thought it would come with the funnel but it didnt.

Good gift
By
Ashwini B.

(Blacksburg, VA) - May 10, 2010 (
See all reviews by this customer
)
The flask came well packed with the funnel included and is of good quality material. The engraving, and the flask as a whole is quite beautiful but the only problem it has is it's extremely susceptible to fingerprints and doesn't look great after you've held it for a while.

groomsman gifts
By
Kristine C.

(Cheshire, CT) - August 31, 2011 (
See all reviews by this customer
)
We bought these for our groomsmen and bestmen. There came out great and are going to pair them with their favorite bottles of alcohol.

Wedding Party Gifts
By
Shopper

(Indianapolis, IN) - September 19, 2011
My fiance bought these for each member in his Bridal Party. They are great! Quality is very nice, engraving turned out great and they the price was the best we could find! Awesome gift!

Fabulous Flask!
By
Tonda L.

(Laurelton, NY) - August 21, 2011 (
See all reviews by this customer
)
Bought this for my boyfriend for his birthday and he absolutely loved it! The personalization was the key! Furthermore, the flask itself was gorgeous and displayed a lot of swag! :) I would suggest it surely for other occasions than a wedding!

Flask
By
Shopper

(Pittsburgh, PA) - July 30, 2011
I love them. They look so good and turned out awesome!!!!

These are great!!
By
Shopper

(Westborough, MA) - August 20, 2011
got these for all my groomsmen they are really great!!

Great Price
By
Amanda B.

(Canada) - June 10, 2013 (
See all reviews by this customer
)
Very nice flask, great price to also include personalization. The best man will love it.

love it
By
Shopper

(Rockwall, TX) - November 25, 2013
We bought this as a christmas gift for a brother in law and we couldnt be happier with it. It looks amazing and we hot it so so quick. Best money I have spent.

Best Man's Gift
By
Shopper

(Mountlake Terrace, WA) - November 15, 2012
This was the perfect gift for the Best Man at our wedding. This flask is very classy.