Cool!
By
Tayesha C.

(Brooklyn, NY) - February 19, 2014 (
See all reviews by this customer
)
My son loves puzzles and for his 3rd birthday I got him this birthday puzzle he loves it...he can learn his full name and the names of all the household members...Great way to infuse early literacy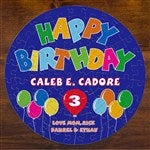 ADORABLE
By
Shopper

(white plains, NY) - February 2, 2014
This is a great gift for a little one. very cute, bright a unique fun gift for a child.

Colorful & Festive
By
Shopper

(Shippenville, PA) - September 20, 2013
I purchased this for my grandson's 3rd BD. It arrived with the pieces in a net pouch, so this should prevent scattered/lost pieces--great idea. It should improve his eye-hand coordination, is quite colorful, & looks like fun!

Frame Worthy
By
Isabella B.

(Piscataway, NJ) - September 1, 2012 (
See all reviews by this customer
)
My friend and her daughter loved this puzzle so much that they are considering framing it. I was so happy that they liked it that much.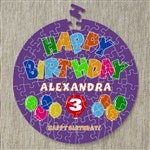 Personalized puzzle.
By
Shopper

(Hampden, MA) - August 2, 2012
Great, inexpensive gift for kids. Reusable puzzle that they can use over the years.

4th Birthday Gift
By
Andrea H.

(Staten Island, NY) - July 27, 2012 (
See all reviews by this customer
)
Purchased to go along with a gift i get for my niece. She is four years old, so i know i will have to help her with it. But super cute idea.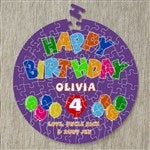 birthday puzzle
By
Kathleen E.

(Williamstown, NJ) - February 25, 2012 (
See all reviews by this customer
)
Great gift to give children who like to do puzzles. Niece loved it. We had to use puzzle glue after she did it. It is really cute idea.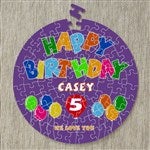 Amazing puzzle!
By
Lisbeth R.

(Bronx, NY) - January 23, 2012 (
See all reviews by this customer
)
This will be fun to do with my little sis-in-law. Great bonding!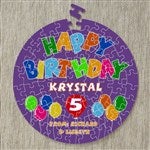 My Neice Loved It !
By
Veronica K.

(Bolingbrook, IL) - February 25, 2011 (
See all reviews by this customer
)
I was trying to be different and not buy my neice the typical things. I wanted the gift to be a bit more "personal", so I decided on this gift. She lives in another state, so when she received the gift, she called me and she was thrilled to see her name and birthday on a puzzle. She felt extremely special... Great touch to her birthday, I must say !

Review of Birthday Personalized Puzzles
By
Jean N.

(West Haverstraw, NY) - March 2, 2010 (
See all reviews by this customer
)
Thank you very much for the work that you put together in the creation of the Happy Birthday Personalized Puzzle. I especially liked the fact that you allowed adequate spacing of the children's names that I had the space for the name - Felix-Benjamin as You were the only company that sponsored and supplied a product for the child that I could have that allowed the use of the full name of the child.

All the puzzles have arrived with no damage and the packaging is very useful to prevent loss of the pieces to the puzzles.

I put together on eof the puzzles and it is a beautiful gift for the 11 year old girl.

I will look to you for any future gifts that I need for the children as they will make their day a special celebration.

Not just for kids!
By
Joyce B.

(Queensbury, NY) - January 11, 2010 (
See all reviews by this customer
)
Ordered this for our friend who loves puzzles and is turning 70!! We know he will love it!

Can't Wait till She Sees It
By
Diane G.

(Lincoln, RI) - February 15, 2013 (
See all reviews by this customer
)
My granddaughter will be 3 in April. She loves to make puzzles so I can't wait until she makes this one to see her name.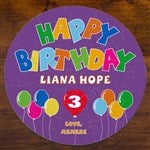 Cute puzzle
By
Pamela S.

(McKinney, TX) - April 6, 2012 (
See all reviews by this customer
)
This puzzle is very cute and looks exactly like it is in the catalog. It is smaller than I pictured it, but it does say on the website that the diameter is 7 1/2 inches across, so that's my fault for not reading that more carefully. It is a bit pricey for that size of a puzzle, but with it being personalized, it is worth the price. We bought it for our grandson's birthday, and with it being small, he will most likely glue it together and hang it on his bedroom wall. It's a good birthday gift for young children.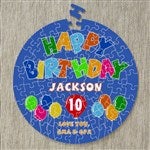 Birthday puzzle
By
Shopper

(Canada) - August 18, 2012
I bought this for my four year old niece and it was
Really hard for her to put together.
Thought the pieces were bigger

Birthday Puzzle
By
Donna B.

(Renton, WA) - April 29, 2012 (
See all reviews by this customer
)
I bought two of these puzzles for birthday presents (for a 5 and 6 year old).

My first thought was, I wish they had pacakaged it in a "puzzle box" instead of a pouch, so that it would have a photo of the completed puzzle...like when you buy a puzzle at the store. Then the child would have a picture on the front of the box to reference as they work on the puzzle. It is a little to hard for young children to figure it out without a picture. So, I put the puzzles together myself and took pictures of them to include in the pouch before giving them as gifts.

Also, I had to glue the corners of two pieces because the cardboard was already splitting.

I paid $12 each because they were on sale (plus shipping--total $30 for two) and probably wouldn't buy them again for that price. They are only worth about $4-5. So, it's spendy for what you get, but the kids will probably like having a personalized puzzle.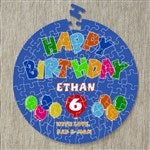 List number of pieces
By
Therese L.

(Springfield, OH) - December 21, 2010 (
See all reviews by this customer
)
Love the thought of a personalized puzzle, but didn't realize there are 100 pieces. Not the best choice as a 3rd Birthday present.

Too Small
By
Adele R.

(Bolingbrook, IL) - October 28, 2010 (
See all reviews by this customer
)
The item is nice but it is much too small and a bit flimzy. I expected a little more since this seems to be an item for a child, the pieces should be much bigger. However, the overall idea was cute and I would recommend this site to a friend and continue to shop from this mall.

Truly One Of A Kind but below usual standards
By
Anne C.

(Peoria, IL) - June 22, 2010 (
See all reviews by this customer
)
Love the idea of this puzzle & my 8yr old granddaughter enjoyed working on it (after I got it started). What made it intimidating for her is that it came in all 72 pieces, with no picture of how it was to look when completed. Because I'd ordered it, I was the only one who had any idea of how it was to look (although my memory was not all that clear). Also, the entire puzzle was awfully small for little hands AND the material used for the pieces was not the quality that I'm accustomed to from PersonalizationMall.
I'd suggest taking it off the market, make necessary changes, & then bring the new & improved version back for a successful product!

good
I think this is a very nice gift

Pretty Cool
By
ELIZABETH B.

(RUSKIN, FL) - January 20, 2010 (
See all reviews by this customer
)
The puzzle was much smaller than I expected. A larger puzzle with larger pieces would be much easier to work with. However, my granddaughter did think it was pretty cool.

Very small pieces
By
Shopper

(Norman, OK) - September 29, 2012
I expected this to be.a puzzle a child could work. The pieces are small and finished puzzle is about 8" round. Personalization was perfect

Birthday puzzle
By
Shopper

(Sacramento, CA) - October 22, 2011
I was a little disappointed with this puzzle...I wish I had been told that if you get the yellow puzzle the letter "I" doesn't show up very well on the puzzle. If I had know that I would have gotten a different color.

disappointed
By
Mary L P.

(Joplin, MO) - May 19, 2010 (
See all reviews by this customer
)
Just too small, way too much money.

too small
By
Linda D.

(Sterling Heights, MI) - February 12, 2012 (
See all reviews by this customer
)
I did not realize the puzzle was so small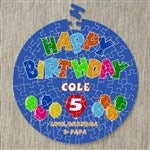 Disappointed!
By
Shopper

(Hampton Bays, NY) - February 5, 2011
Puzzle was extremely small...the price was expensive for such poor quality! The idea was exciting for a great birthday gift! However, I could buy a quality puzzle with the same personalization for half the price! I have ordered several things and have been very satisfied...this was very disappointing.