features
By
ann K.

(clinton, IA) - September 9, 2014 (
See all reviews by this customer
)
I absolutely love how this product turned out with only one exception. If the engraving could have been in color. It is very hard to read.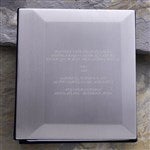 Attractive photo album
By
Rebecca P.

(Columbus, MS) - September 8, 2014 (
See all reviews by this customer
)
Nicely inscribed, compact for displaying your wedding photos or any photos you'd like to enclose as you can have anything you want inscribed on the cover. Very pleased with this purchase. Do not order a box for wrapping as it comes in a box already.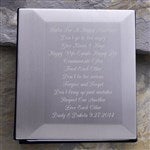 Loved it!
By
Shopper

(Cape Coral, FL) - August 17, 2014
I ordered this photo album as a bridal shower gift. I loved the quote that was offered by Dr. Seuss. The album was beautiful, it arrived on time and my friends loved it. Always a good experience with this company!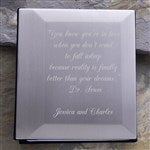 beautiful Photo keepsake
By
Bobbie G.

(Lewisville, TX) - February 9, 2014 (
See all reviews by this customer
)
I absolutely love the Photo album/keepsake. I ordered it for my sisters wedding in May and it is more beautiful than I could have imagined. The engraving was free and very classy looking!!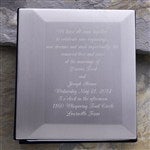 Engraved Photo Album
By
Juliann M.

(Alta Loma, CA) - January 18, 2014 (
See all reviews by this customer
)
It came out beautifully etched, but my husband said it is kind of hard to read. I am glad it fit as many words as it did, however, and I really like it. It is different and will be very special for many, many years.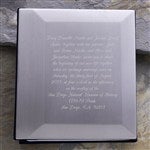 Great Service; "iffy" product
By
Shopper

(South Ozone Park, NY) - August 29, 2013
Prompt service; I ordered late, received within a couple of days. Will purchase from this company again, as the selections are great.
The product was well represented on the website; the instructions and size of the product are accurate a described. They delivered and I received what I ordered. This product would have looked more elegant and upscale if it were bigger and thicker and the cover was shiny, polished, steel. I wiped it with a soft paper towel to remove the dust from the beautiful writing/etching hoping it would become the "beauty" I was looking for; clearer, elegant and more appealing. It did not. You do have to angle it a certain way to be able to see the writing on the cover. I would not recommend this product. This is not the upscale wedding anniversary gift I was "thrilled" to give. Given the time limit, I gave it anyway. I hope they liked it.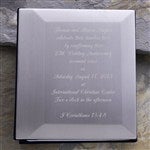 Beautiful Gift for Newlyweds
By
Christina A.

(Houston, TX) - May 13, 2010 (
See all reviews by this customer
)
I purchased 2 of these and both of the couples absolutely loved them. It is a unique way to preserve one of the important memories of a wedding, the invitation, along with pictures that capture the special day. Beautiful!!

Engraved Photo album
By
Vickie D.

(Indianapolis, IN) - July 23, 2010 (
See all reviews by this customer
)
I bought this album for my sister-n-law.. One word for this album...WOW!! It's beautiful. A sentimental gift that both the bride and groom can enjoy. I gave it 5 Stars for not only the quality but for the fast shipping!! I am telling everyone about Personalization Mall.com

Sarah's Wedding
I just ordered this album for my daughter's wedding. The thought was precious, just perfect.
I have ordered many items over the years and have been well pleased with everything I have received. Fast service too! Thank you so much for making my gifts special!

Awesome
By
Jodi R.

(Clinton, IA) - November 3, 2009 (
See all reviews by this customer
)
This was a gift for my future cousin's bridal shower. It went over so well she kept opening it up and showing it off to everyone.

Beautiful
By
Shopper

(Phenix City, AL) - February 25, 2011
This photo album is just amazing. Perfect wedding gift. The engraving was done beautifully.

Totally pleased!
By
Mary H.

(Cedar Park, TX) - February 25, 2011 (
See all reviews by this customer
)
Item is beautiful and classy, super fast delivery, very smooth transaction. This is my first time shopping at Personalization Mall but will surely come back.

lovely keepsake
By
NATASHA R.

(WESTBURY, NY) - November 7, 2010 (
See all reviews by this customer
)
I gave it to the bride at the shower and she loved it. It could be great for a coffee table album or one to hold proofs. It is not huge but holds a fair amount of pictures.

Great Gift For Anyone You Know
By
Ashley A.

(Columbus, OH) - August 11, 2010 (
See all reviews by this customer
)
We bought this album for two of our friends who were getting married and they absolutely loved it.

When they opened it at the wedding reception everyone gasped and murmured about how amazing a gift it was...the people we were sitting by even made the comment "well noone else will be able to top that" Little did they know we only spent $40 on it. I definitely recommend this for anyone, it will be a treasured keepsake and seems much more expensive than it really is.

Personal Gift
By
Barbara L.

(Janesville, WI) - October 27, 2010 (
See all reviews by this customer
)
It is a beautiful gift. I received it two days after I ordered it. I didn't have my niece's invitation engraved on it but had their wedding text and their names and date of the wedding engraved instead. It turned out beautifully.

Scratches easily
By
j B.

(surprise, AZ) - January 21, 2011 (
See all reviews by this customer
)
I like the idea of this photo album, however the front scratches VERY easily, so being careful in handling the album is must. But looks very nice and is easy to put pictures in to display them.

Nice idea
By
Ayana A.

(Brooklyn, NY) - October 2, 2012 (
See all reviews by this customer
)
I absolutely loved this album. Engraving was neatly and perfectly done. My only disappointment is I thought the album would have been a bit larger. Even though it was a perfect gift for a wedding

Pleased but not
By
Rita L P.

(Louisville, IL) - October 4, 2009 (
See all reviews by this customer
)
I was very pleased with the item once I got it corrected. I ordered this item and it was sent to me with an incorrect spelling on the name. I sent it back showing the error and hoped to get it corrected. Instead I received the item the same way the first one was sent. I was getting very upset as this was a wedding gift for my daughter and new son in law. I finally after SEVERAL phone calls received the correct item the day before I needed it!!! I have ordered several items from here and have always been please but this time I was not fully satisfied. I will say I have ordered other items since then.

Wedding Invitation
By
Towanda S.

(Newark, NJ) - October 29, 2009 (
See all reviews by this customer
)
I truly liked the engraved photo album. It was delivered on time and was truly a nice gift. The bride and groom enjoyed it. The only comment is that you have to hold it at a certain angle in order to read it - otherwise it is a great gift that a bride can use to carry photos instead of showcasing her large photo album. I would recommend it.

Freaky fast delivery
By
Shopper

(Brookfield, WI) - June 22, 2013
I ordered this for my friends wedding gift and wasnt sure if it would get here on time, but lone behold 48 hr after ordering it, there it was at my door. :)

The silver coating on front is nice, I should of read the dimensions better, I thought this was a normal size frame (hold two 4x6's a page) but apparently it is not. so smaller than I would had liked but thats my own fault for not reading its description more closely. i Have always been happy with all my purchases from this site. I order something at least 2x a yr for baby presents and weddings, etc. Everything is always great, my only wish is the the engraving was a little deeper, its barely etched on.. which in my opinion looks kinda cheap. Im sure the bride and groom loved it though!

Great Product
By
Frederick D.

(Carver, MA) - October 2, 2009 (
See all reviews by this customer
)
Purchased this for my wife on our 25th anniversary. It was a huge hit, she loved it. The engraving was perfect. The item arrived on time and was exactly as advertised. Will be doing more business with your company in the future. Thank you.

Unique gift for any formal event
By
Dana C.

(Clinton Township, MI) - October 11, 2009 (
See all reviews by this customer
)
This is the second time I purchased this photo album. The first was a wedding gift for my husband's boss. They absolutely loved it! This time I got it for a friend who gave her elderly mother "A Celebration of Life" party. Her mother was not expected to leave the hospital alive but made an unexpected recovery. The mom danced the night away at her formal party.

Almost a 5 star
By
Shopper

(Iron Ridge, WI) - July 14, 2013
Was very pleased with the engraved photo album. It was really pretty. My cousin really loved it. There were two things that I didn't care for. 1. I had to change a line or two to make it fit. Wish that it could have a couple more lines instead of 12. 2. The ETA time was friday at 5 pm and I didn't receive it till Tuesday. I was glad that I was able to give her the present. Will still come back.

A Little Disappointed
By
Patsy H.

(Columbia, TN) - November 18, 2010 (
See all reviews by this customer
)
I got this album for my niece for her engagment gift and I have to say I am a little diappointed. I think I would not have chosen it and I should have known better if I had gotten to see a preview. This is the only item I have ever purchased from you that I was not able to preview before checkout. I think it ended up looking cheap. Next time I will know if I can not preview it DON'T buy it. Lesson Learned. It is actually funny I can preview this review but not this item!

Useful and versatile
By
Shopper

(Baton Rouge, LA) - June 14, 2014
I have ordered this album a number of times to give as gifts for various occasions. Creating your own engraving makes it the perfect gift for any occasion. And, the quality is superb.


EXCELLENCE GIFT!!!!
By
Debra B. C.

(Kentwood, LA) - June 19, 2014 (
See all reviews by this customer
)
I bought this for my niece for a wedding gift. She hasn't received it yet because the wedding is the last Sunday in this month of June. As for me, I am glad that I made this purchase. This album is high quality and the monogram is excellence. I am very pleased with this album. THANK YOU.

Invitation Engraved Photo Album
By
Shopper

(Canastota, NY) - February 10, 2014
I HIGHLY RECOMMEND THIS PHOTO ALBUM to ANYONE that has/takes pictures. You WILL NOT be disappointed!! I ordered 2 of these as anniversary gifts for my daughters and son-in-laws, and I can't wait to see their faces when I give them to them! What an exceptional product!! The album itself is high quality with it's silver beveled face and soft velvet binding. It looks much more expensive than it is. This album holds 100 4x6 photos in single page (back to back) view, and it doesn't look overstuffed when filled. Adding their personalized wedding invitation to the front in either block or script writing is the icing on the cake. I chose script, and the engraving is professionally done and looks as amazing as the album itself. I filled them with photos to complete the gift, so I've done quite a bit of handling of the album, and it really does resist fingerprints which is also a very pleasing quality. I never cease to be amazed at the wonderful products and craftsmanship that I receive from personalizationmall.com. They are my go-to site for all my personalized gift giving needs. Thank you again for yet another amazing product!

Beautiful gift
By
Tammy R.

(Sula, MT) - August 3, 2013 (
See all reviews by this customer
)
Engraved just as ordered. Very beautiful and will make a wonderful wedding gift.

High Quality, Exactly as Described
By
Adam B.

(Brunswick, OH) - February 5, 2014 (
See all reviews by this customer
)
I was stunned at the high quality of this photo album for the price I paid. It was gorgeous, with very high attention to detail. I would recommend this company to anyone, and have.

Great wedding gift
By
Carolyn S.

(FORT MILL, SC) - September 1, 2014 (
See all reviews by this customer
)
We purchased this gift for a friends son getting married. It is a great way for them to remember their invitation and have photos on hand to show people their special day. great quality.

Beautiful Gift
By
Shopper

(West, TX) - September 8, 2014
I highly recommend this lovely personalized wedding album. It was a gift for my niece's wedding shower. All of her guests were impressed and gushed about how beautiful it was. My niece was very touched with photo album and with the amount of thoughtfulness put into a gift.

What I needed
By
opel H.

(Crawfordville, FL) - August 30, 2014 (
See all reviews by this customer
)
The things I order I found to be just what I needed and worth the money!


Perfect gift
By
Shopper

(westchester, IL) - June 28, 2014
Wrote my own poem on the cover. This gift brought tears to her eyes!! Best idea ever

beautiful
By
Jennifer C.

(Newark, DE) - August 29, 2014 (
See all reviews by this customer
)
Product is beautiful and arrived very quickly.

Wedding Inventation Engraved Photo Album
By
Shopper

(Broken Arrow, OK) - July 5, 2011
This was a great gift for our 25th wedding anniversary. It's silver in color and looks exactly like our original wedding invitation. Thank you.

Perfect gift for new arrival
By
Shopper

(Greenbrier, TN) - July 25, 2011
I didn't do the wedding invitation on my order, but instead put an adoption poem on the front of the album as a special gift for nephew and his family as they wait for their adopted son from China. It turned out beautifully and they loved it. Perfect place to keep pictures of his journey Home.

Confirmation Gift
By
Jacqueline B.

(Coleridge, NE) - May 2, 2011 (
See all reviews by this customer
)
I used the engraved photo album as a confirmation gift. I had the name, confirmation date, and her bible verse engraved on the album. The recipient loved the album!

Great Price and Great Product
By
Nicole S.

(Valrico, FL) - April 12, 2011 (
See all reviews by this customer
)
I received several items from this website for my upcoming wedding. You can't beat the price and the product is even better! It looks like you spent $60-$100 but you only spent $26!!

great product!
By
Shopper

(Brooklyn Center, MN) - April 26, 2011
I ordered two photo albums as gifts and wanted some extra space to write a short poem rather than using it as the wedding invitation. It worked out great. After I typed the poem into the box, I was mostly concerned about the placement since there wasn't a spot on the form to make specific requests. However, it was centered perfectly (right, left, top, bottom) and I'm very happy with the outcome. I can't argue at all about the price, quality, and product. It definitely fit my needs. However, be aware that the back of the photo album is not a metal cover; it's a solid black felt material. Quality is there, so I'm fine with it, just not what I was expecting.

Mother's Day Album
By
Shopper

(Castleton, NY) - May 16, 2013
I ordered this as a Mother's album, for Mother's day, from our wedding. It turned out beautiful! I LOVED, that I engraved our invitation on the front. She wanted something she could personalize, & have it actually like a "Mother's album". She opened it & cried! I have been ordering from Personalizationmall.com for every occassion & they never disappoint me.