Nice gift idea!
By
Shopper

(Indianapolis, IN) - August 29, 2014
Item arrived one day earlier than promised (selected two day shipping) just in time for my sons first birthday! Exact match of the preview on the website. Good, solid, quality baseball bat.

Perfect Gift for Coach
By Shopper (Howell, NJ) - July 31, 2014
This bat was given to my husband by his team and he displays it proudly in his office. It has been there for over a year now and stands up to people taking it down to swing and rubbing the words. They are still clear and dark with no smudging or sign of ware

Personalized Bat
By
Shopper

(Quincy, IL) - July 26, 2014
I ordered this for my Grandson's 1st Birthday. It was a huge "hit". The only thing I did different was they suggested the birth date, however I found that confusing as it was for his birthday not "birth" day. I used the birthday date and others agreed when asked. Of course, you are free to use whatever you wish. It will be treasured for years to come. Never disappointed with Personalization Mall!

BEAUTIFUL SOLID WOOD; ALL THE GIRLS WANT ONE
By
dana B.

(abbeville, AL) - July 19, 2014 (
See all reviews by this customer
)
We got this for our granddaughters birthday. When it arrived her sisters called to ask us if we would get them one too. It is beautifully crafted of solid wood and the personalization is obviously done by a professional. We will be ordering from this company again soon.

Kyle's 13th Birthday - Cooperstown 6/2014
By
Carol R.

(Mercerville, NJ) - July 11, 2014 (
See all reviews by this customer
)
Grandson just got back from Cooperstown 6/2014. His team placed 7th with 120 teams participating. hitting 5 Home Runs was amazing for first time. so his 13th Birthday was 7/3/2014 and what more perfect present to give him to remember. THE WORKMANSHIP WAS OUT OF SIGHT PLUS THE HOLDER. Your company is totally amazing - and so proud to give gifts from you. God Bless you all. Carol & Ed - Mercerville, N. J.

Perfect birthday memory
By
Nicole B.

(Frisco, TX) - June 10, 2014 (
See all reviews by this customer
)
This bat came exactly as expected. The inscription is a great size and still leave room to for handwritten signatures on the bat. It's an authentic Rawlings real wood bat. Highly recommend.

Very Pleased
By
Sonia B.

(Staunton, IL) - November 18, 2013 (
See all reviews by this customer
)
Not only was this as good as we expected but it was shipped before promised ... very pleased

Excellent and well done!
By
Ron A.

(Erdenheim, PA) - November 4, 2013 (
See all reviews by this customer
)
Great gift idea. Perfect size for a child and the quality is high. I was disappointed to have to pay extra because it's long. It is what it is!

Baseball Bat
By
Brenda H.

(Melbourne, FL) - October 7, 2013 (
See all reviews by this customer
)
Have always been pleased with all the orders from Personalized Items and this one is no exception. They ship always on time and the items are exactly as shown. Would recommend this site to anyone.

Super quality and value!
By
Kristine H.

(Tallahassee, FL) - September 7, 2013 (
See all reviews by this customer
)
Purchased this bat for the ring bearer at my son's wedding. It was absolutely perfect!!

PERFECT gift for a coach
By
Amanda G.

(Knoxville, TN) - July 20, 2013 (
See all reviews by this customer
)
We were trying to come up with a neat idea for a coach gift after winning our state tournament and finally decided on this bat. ALL of the kids, parents and especially the coach loved it The quality is superb! There are 3 lines to write whatever you want on it. We had the kids sign it with a sharpie. Such a great gift for a fab price. I also want to mention that the service at Personalizationmall.com is amazing. Will DEFINITELY do business with them again!!

Memorable gift
By
Shopper

(Syracuse, NY) - May 15, 2013
I ordered the bat for a 16th birthday gift. Not to be used but just as a momento. Quality was great along with the engraving. We were both very happy and once again Personalization Mall came through for me!

Grand slam gift for my 4yr old nephew
By
Dianna H.

(philadelphia, PA) - April 21, 2013 (
See all reviews by this customer
)
This bat is an amazing gift. My nephew just signed up for tball and thought this would be amazing gift to hang on his bedroom wall. He opened it an was immediately smiling ear to ear. It came out amazing and I think it's such a great keep sake for him and his family! Thanks again for another great gift that got smilies from everyone and for fast delivery!!!!

Awesome
By
Shopper

(Waterbury, CT) - April 12, 2013
This was delivered very quickly. I ordered this for my 11 year old niece who plays softball. She loved the bat immediately and then when she saw her name on there, she flipped out. She will use this bat decoratively in her room.

A wonderful product!
By
Shopper

(Rochester, NY) - February 8, 2013
We ordered from Personalization Mall before, so I knew I was going to get a great product with fast delivery. But I was pleased to open up and see that the engraving was deeper than I expected, which gave it a high-quality look. We gave this to our Godson on his 3rd birthday, and it was by far the best gift at the party!

Perfect gift for any sports lover!!!!
By
Shopper

(Cincinnati, OH) - December 5, 2012
I ordered this for my brother for his 30th birthday and it turned out great! He loved it. His face was priceless when he opened his gift.

This is a great gift
By
Dawn M.

(Holbrook, MA) - October 3, 2012 (
See all reviews by this customer
)
I gve this to my nephew for his second birthday, His mom and Dad loved it.

Great Product
By
Lance H.

(Silverton, TX) - July 6, 2012 (
See all reviews by this customer
)
Super Cute and Great Quality! Bat will be great for actual use or decor!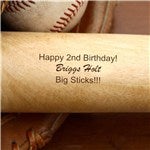 You hit a homerun with me.....
By
Shopper

(Louisville, KY) - June 25, 2012
I love the bat, and it will be really appreciated by the one year old Jackson. It was so easy to order and the bat arrived very promptly. I had no difficulty whatsoever. I will order from you again. Mom and Dad will appreciate it also, it will serve as a memento outlasting all the other gifts I know he will receive. He can keep this for life. Thanks for helping me "hit a home-run". Thanks.

Great Gift!
By
Jennifer D.

(Gilbertsville, PA) - May 7, 2012 (
See all reviews by this customer
)
Made well and looks great! The personalization tops it off. We're giving it to our grandson for his 1st birthday. You won't be disappointed.

GREAT GIFT FOR MY DAUGHTER
By
Sandy L.

(Delran, NJ) - April 13, 2012 (
See all reviews by this customer
)
MY DAUGHTER LOVED HER PERSONALIZED BAT. WE HUNG IT IN HER BEDROOM.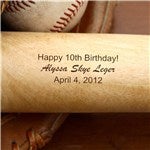 Great craftsmanship.
By
Patricia C.

(Ewing, NJ) - April 9, 2012 (
See all reviews by this customer
)
this personalized bat was a big hit with my 10 year old granddaughter. She plays soft ball and her father, my son, is one of her coaches. The bat is made of good quality and I like that it was made in the USA.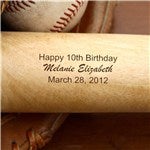 Beautiful finished piece
By
Shopper

(Richmond, TX) - January 16, 2012
The bat arrived and the wood carving looks beautiful. We would definitely use personalizationmall.com again.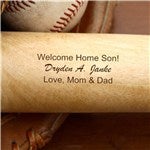 Great purchase
By
John M.

(Bethel Park, PA) - October 30, 2011 (
See all reviews by this customer
)
I purchased the bat for my nephew and he loved it. PM.com saw a promblem in my order, emailed me, and still mailed it out the day they said it would. Great prices, great delivery, and caring people. Thanks, I will be back as will my family and friends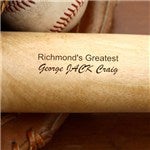 Perfect gift
By
Shopper

(Nogales, AZ) - August 12, 2011
I got this gift for my boyfriend , he loves baseball and so I thought this would be perfect and since he got it , he has never let it out of his hands , I am very satisfied with my purchase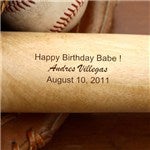 Perfect Boy Gift
By
Shopper

(Willards, MD) - July 22, 2011
While many girls would appreciate this too, its a perfect little boy gift. I bought this as a birthday gift for my 5 year old nephew. It was a huge hit. My brother and sister in law thought it was great, asked right away where I got it. They are going to buy a shelf/hanger so they can display it in his room. I'm sure it would make a fun bat to play with, but they want to save it as a treasure. I also bought one for my son who also turned 5 this year. They love having a bat with their name on it. Makes them feel really special. Love this!

Great Birthday Gift!
By
Kara N.

(Baltimore, MD) - May 24, 2011 (
See all reviews by this customer
)
We bought this gift for my brother's 30th birthday and it was a huge hit! He is a big baseball fan and we had friends and family "autograph" this bat to commemorate his 30th birthday. It was a very unique and fun way to collect birthday wishes!

PLAY BALL
By
Elizabeth D.

(Pottsville, PA) - April 2, 2011 (
See all reviews by this customer
)
MY NEPHEW LOVED THE PERSONALIZED BAT----BEWARE OF THE EXTRA SHIPPING COST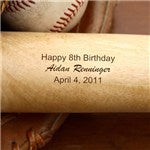 Wonderful
By
Carissa A.

(San Francisco , CA) - March 12, 2011 (
See all reviews by this customer
)
I ordered this item for my boyfriend who is obsessed with baseball. And he LOVED it. It is a smaller bat and not "technically" for adults, but it wasn't meant for hitting baseballs it was meant for decoration. At least that is what I was getting it for. And he brags about it to his friends all the time! Mind you, my boyfriend is 23 years old. And that says a lot.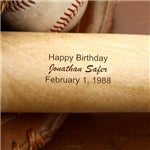 Return purchase
By
Janet R.

(San Jose, CA) - January 22, 2011 (
See all reviews by this customer
)
I bought one of these personalized bats for my grandsons 7th birthday, everyone loved it so much, that I purchased one for my sons 40th birthday.

Baseball Bat for my Grandson
By
Sandy B.

(Altus, OK) - January 16, 2011 (
See all reviews by this customer
)
I have ordered several things from here and this is no exception. All products have been excellent. This bat is great. My grandson loves it and that's what counts.

Very happy little boy!
By
Jennifer B.

(Silverdale, WA) - November 17, 2010 (
See all reviews by this customer
)
I bought this personalized bat for my "other" son's birthday and I'm not sure who was more impressed with it, him or me!! Great quality as well as workmanship.
Thank you, Personalization Mall!!

Great Bat
By
Cheryl H.

(Parma, OH) - September 26, 2010 (
See all reviews by this customer
)
It is a full size bat, and the engraving looks fabulous! This bat would be a great gift for any occasion! Cannot believe how inexpensive for what you are getting!

GREAT git!
By
Brandi S.

(West Monroe, LA) - July 22, 2010 (
See all reviews by this customer
)
I bought this for my son's 8th birthday. We are surprising him and taking him to a MLB game. I would love to be able to get some of the players autographs on it. However, he is going to be SO excited. The quality far exceeded what I had expected! The processing and shipping was amazing! I will definitely order again from personalizationmall.com and I will tell others about this item and my experience. If you are considering buy this as a gift...don't hesitate! I can't wait to see my son's face.

my grandsons birthday!
By
carol S.

(wappingers falls, NY) - July 14, 2010 (
See all reviews by this customer
)
My grandsons love baseball .They go to all the ny yankees games,and always wanted their own bats.I now have the chance to give that to them.They will truly love them.What quality and so personal with the name and birthday.They will always remember this birthday.Great quality bat,lettering clear and so ,so personal.Icant wait to give it to them.Such a nice piece to hang in thier rooms.

Home Run!
By
December D.

(Hart, MI) - May 19, 2010 (
See all reviews by this customer
)
My son loved this great keepsake for his 10th birthday! Great quality! I would definitely buy this again for that sports minded boy!

A++
By
Nicole O.

(Columbus, OH) - May 19, 2010 (
See all reviews by this customer
)
I bought this bat for my 9 year old son! You would have thought he won the lotto! Perfect gift for this boy!

Husband Loved!!!
By
Melanie C.

(Hazelwood, MO) - October 8, 2009 (
See all reviews by this customer
)
I got this for my husbands 40th birthday.. And we had all the guests sign it.. He loved it .. It is a great bat.. Just the right size.

As Advertised.
By
Shopper

(LAS VEGAS, NV) - June 11, 2014
Very nice looking. Not a regulation size bat, if that matters. Good value.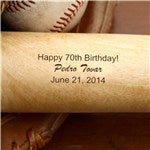 Good Quality
By
Shopper

(Canton, GA) - May 25, 2013
We ordered this bat for our little boy's birthday. It looks absolutely wonderful, great quality. The only reason I gave it 4 stars instead of 5, is because I think the font sizing and personalization could have been a bit bigger. Other than that, I would definitely recommend this product!