Awesome!!
By
Shopper

(Alexandria, VA) - October 25, 2013
The tie turned out amazing. Lots of compliments & friends wanted to know where we got this unique gift. Would highly recommend.

so cute
By
Shopper

(Baltimore, MD) - October 14, 2013
My friends dog, my "grand dog" is nearing the end of her life so I thought giving something that will always remind them of her would be great. I got a this tie for her husband and the mouse pad for her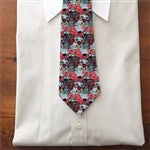 Wonderful tie
By
Doris J.

(Proctorville, OH) - October 1, 2013 (
See all reviews by this customer
)
My husband received many compliments at church on Sunday when he wore his tie of our two granddaughters picture. This is a great idea.

Awesome!
By
Shopper

(Atlanta, GA) - September 30, 2013
At first i was worried this was a legit site, but my Dad's bday was in the next week so I gave it a shot. Not only did the tie come out a perfect fit and with great shipping time, but the material was high quality and the photo as well. Dad loved it. Couldn't have asked for better.

Love it!
By
Shopper

(Morgan Hill, CA) - September 29, 2013
Such a sweet and fun idea!
Grandpa LOVES his new tie!

Excellent gift for the suit and tie man!
By
Shopper

(Las Vegas, NV) - July 20, 2013
Absolutely love it!!! Honestly I was apprehensive. The picture of the finished product looked so amazing but I wasn't fully convinced it would look that great in person! I was wrong! It was even better! Great product! He loved it as well.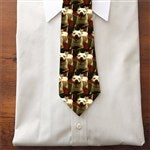 Love this tie!
By
Shopper

(OKLAHOMA CITY, OK) - June 28, 2013
The tie is adorable and daddy wore it for Father's Day and to work the next day.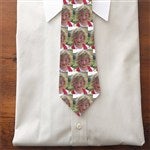 Great Buy
By
Shopper

(Dallas, TX) - June 27, 2013
This was a great buy. The photo was perfect on the tie, my husband just loves it. The price was great and it a day before it was scheduled.

My Husband Loves It
By
Ming Y.

(Dublin , OH) - June 26, 2013 (
See all reviews by this customer
)
It was for Father's Day gift. It arrived just like eye blink after ordering. And it looks even better than web sample. The tie quality is sooo good, beyond my expectation, could not be better. I am totally satisfied. I truly love their creative and unique ideas for personalized items. Will order more in future for sure.

I used a black background photo. It looks more standout and better looking than web sample in white background.

I introduced this web site to my friends, even share this site with friends in China. They all love their products. My nephew in China wants to wear his girlfriend photo tie for proposal.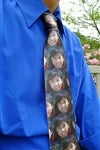 Great quality photo tie!
By
Shopper

(Fayetteville, NY) - June 26, 2013
I was worried about how it would look since the original photo was a little blurry due to being very zoomed in but the quality was great. Gave these as Father's Day gifts for dad and grandpa, who loved them!

Great choice
By
Tanya R.

(Corona, CA) - June 23, 2013 (
See all reviews by this customer
)
I ordered one for my dad and one for my husband and they both loved it! My husband wore it to a family dinner and it was a hit with everyone !

AWESOME!!
By
Shopper

(Calumet, MI) - June 22, 2013
This was a great fathers day present for a first time dad who was still in the first week glory of being a dad. Tie was even more than I expected. Very satisfied!

Perfect!
By
Shopper

(Santa Maria, CA) - June 20, 2013
Delivery on time and awesome products! Love it!

Great gift idea!
By
Cynthia G.

(Floresville, TX) - June 20, 2013 (
See all reviews by this customer
)
Loved the clarity of the tie, fabric was really nice. I have ordered a tie like this years ago and was also very happy with that item. Would definitely recommend it.

Personalized Men's Tie
By
Jacquelyn C.

(Winston-Salem, NC) - June 20, 2013 (
See all reviews by this customer
)
O! MY HUSBAND JUST LOVE IT AND SO DO I, MY BROTHER-IN-LAW JUST LOST HIS WIFE WHOM WAS BATTLING CANCER. AND I HAD HIM ONE MADE WITH THEIR WEDDING PICTURE, EVERYBODY JUST LOVE IT AND SO DID HE!!!!! BEST SIGHT EVERY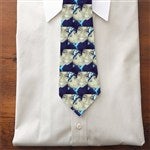 Grandpa loved it!
By
Angela N.

(Rolling Meadows, IL) - June 19, 2013 (
See all reviews by this customer
)
I ordered this item for my stepfather who has four grandchildren, for father's day. He keeps active working a few hours a week at a local grocery store. My mother told me how he takes in pictures of my daughter (8 months) and his other grandchildren to show to his coworkers and customers. He wears a tie as part of his uniform and I thought that this would be a perfect gift for him. He was so pleased with the gift, he told me he choked up a little when he received it in the mail. I can't comment to the quality of the material since I haven't yet seen it in person. All I can say is that his reaction was wonderful and I know he wore it to work his next shift. Definitely a great idea for someone who loves to show off their family! I will probably be buying more as the grandkids age or we add more to the family!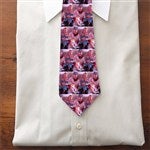 My Father Loves Them!
By
Shopper

(NOLENSVILLE, TN) - June 15, 2013
I bought my father one of these ties with the grandchildren's pictures on it for Christmas. He loves it, and wore it so much that this year for Father's Day, I got him 4 more ties with different pictures on each one. People are always asking him about the tie and he loves the attention. A fun and thoughtful gift.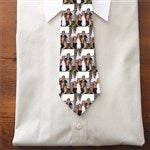 Christmas gift from granddaughter to grandfather
By
Zakiah B.

(Huntingtown, MD) - June 5, 2013 (
See all reviews by this customer
)
This was a gift from my daughter to her grandfather. Didn't know what to get the man that has everything and LOTS of ties so added the flavor of his granddaughter and made it like no other gift, no other tie. It's perfect!!!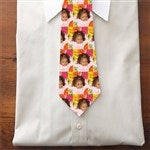 Cool...
By
Kristen M.

(Norwood, PA) - June 4, 2013 (
See all reviews by this customer
)
This tie has a glossy look to it that makes it shimmery. Very neat idea for dad; it's personalized for him, but looks like a colorful tie from further back. I think he'll love it.

Perfect gift!
By
Stephanie H.

(United Kingdom) - May 29, 2013 (
See all reviews by this customer
)
I ordered the photo collage tie with my child's picture on it to be given to my dad on Father's Day. The tie arrived and I just love it! The quality is great and the picture quality is really good. I am really pleased with this product and how quickly it arrived. I would definitely recommend this product. Great gift, thanks!

He's going to love it!
By
Madeline J.

(Topeka, KS) - May 28, 2013 (
See all reviews by this customer
)
I bought a tie from you several years ago with my older two children's picture on it. My husband proudly wears it every Father's Day. Now that we have 3 children, I had to get him another one since everyone always asks where the other child is. He always gets tons of compliments whenever he wears it. I know he will love it.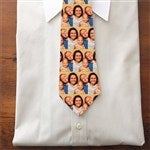 Excellent!
By
Shopper

(Waterford, MI) - May 20, 2013
I bought a personalized tie for my son for his first Father's Day. It was easy to order and the product is awesome. Very high quality and something he will treasure.

Awsome!!!!!
By
Nancy P.

(Fairburn, GA) - April 30, 2013 (
See all reviews by this customer
)
Just awsome i love this site i reccomend it ti everyone!!!!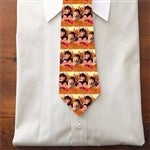 loved it
By
Shopper

(Herndon, VA) - April 19, 2013
I chose picture of Jesus Christ on the tie and my dad loved it.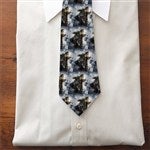 Memorable
By
John M.

(Worcester, MA) - March 15, 2013 (
See all reviews by this customer
)
My Administartive Assistant had one of these ties made for me after my 16 year old son passed away unexpectedly. I absolutely loved it and have since gotten myself another one and plan to get even more. It is a wonderful way for me to carry on his memory. Many people comment on it and ask if it is "my son" and I am able to proudly say, "Yes it is!" Thank you !!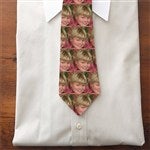 awesome for the second time
By
Shopper

(Laureldale, PA) - February 3, 2013
This is the second one that I purchased in the last month and both recipients of the photo collage ties Love them. Thanks for the great idea. Its so hard to buy for men.

gorgeous end result
By
Shopper

(Baltimore, MD) - February 2, 2013
easy to make, fast shipping, and a prefessional, gorgeous tie. What's not to love?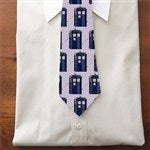 Perfect gift!
By
Shopper

(Davenport, IA) - January 28, 2013
I got this for my father for his birthday as a gift from my daughter. We went to dinner for his birthday and we got an adorable picture of him and my daughter together and used that picture for the tie. It is a nice tie and will match most of his suits for work. I ordered this and it arrived to the house in two days! Fast shipping, nice quality, picture is clear and beautiful, this was the perfect gift!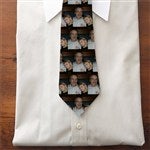 best gift idea ever
By
Shopper

(Laureldale, PA) - January 26, 2013
I bought it as a gift for my son-in-law and once I received it, I knew someone else who will love one too, so I ordered another. I'm sure this won't be the last one I order either.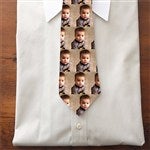 Awesomeness all over it!
By
Rain R.

(Jackson, WY) - January 22, 2013 (
See all reviews by this customer
)
I gave this as a gift for my brother and he just loved it! It's now his favorite tie!! Great quality and delivered earlier than expected! Been buying a lot from here and will definitely keep coming back!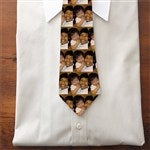 perfect gift
By
Shopper

(East Liverpool, OH) - January 22, 2013
This tie (which has our dog's face all over it) is exactly as I wanted it to be - as a gift for my husband. Perfect - and very quick turn-around. I especially like the preview function that lets me see exactly what it will look like before I ordered it.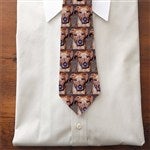 perfect gift for men
By
Shopper

(Phoenix, AZ) - December 28, 2012
I gave this gift to my brother and his friend with pics of us as children and they loved it. Good quality!!! Looks exactly as you think it would look.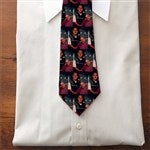 love it!
By
Shopper

(Farmington Hills, MI) - December 26, 2012
I bought this for my dad and he loves it. Granddad wore his to work to brag about his granddaughter. Nice quality, too.

Awesome gift!
By
Lauren M.

(Indianapolis , IN) - December 23, 2012 (
See all reviews by this customer
)
My boyfriend loves the Walking Dead series, so I had our portrait drawn into cartoon-like zombie characters & turned it into this tie & a poster. The material is silky & smooth. The picture quality is also great! This is a fantastic product that is worth every penny!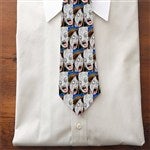 Great gift idea
By
Shopper

(levittown, NY) - December 21, 2012
The tie looks amazing. I now my father in law will love it.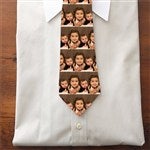 Spectacular
By
Shopper

(The Woodlands, TX) - December 19, 2012
When I asked my husband what he wanted for Christmas, he requested a special dog breed tie. I was surprised and thought maybe I could find a place that could make ties with a picture of our dog. I googled and surprisingly Personalization came up. Since I already had an account here and knew their quality, I ordered ties with our present and past family dogs…all the same breed. When they arrived, OMG they were gorgeous and beyond any expectations I had. Each one (ordered four) had its own personality. This is the gift I'm eagerly waiting to see his reaction to on Christmas day.

The only drawback may be the back of the ties are white...but I don't care because they are fabulous.


So so happy!
By
Brittany M.

(Mishawaka, IN) - December 19, 2012 (
See all reviews by this customer
)
I can't believe the quality of this tie turned out so great! Every other site wanted at least double of what I paid here. I joked that it would probably be made of some cheap material because it also was delivered a lot sooner than I expected. But it turned out beautiful. The perfect gift for my dad on Christmas!

great gift for men
By
jaime B.

(Belleville, MI) - December 18, 2012 (
See all reviews by this customer
)
Was very happy with my custom tie. It arrived quickly and is high quality. Price wise it was also slightly less than other websites i reviewed.

Love the tie!
By
Shopper

(Brookfield, WI) - December 18, 2012
My order turned out great! I am very pleased with the tie and i know my husband will love it.

Photo tie
By
James W.

(East Islip, NY) - December 17, 2012 (
See all reviews by this customer
)
The tie came out beautiful and I will love wearing it. Picture perfect and will always remind me of the wonderful day I took the picture.