Gift for my Wife to keep a few Rings,Ear Rings and Notes
By
Shopper

(Springfield, PA) - November 27, 2012
I like it, She loves it. Bought it for my Wife (just because gift) because She is always complaining She has no place to keep the love notes I write Her. Her rings, chains and ear-rings are always all over the place so I gave this a try. Well crafted and the personalization on the tile is what sold me. Could change up the dimensions (larger) or make deeper but overall I gave it 5 stars.

jewelry box
By
Annmarie B.

(Canton , MA) - October 23, 2012 (
See all reviews by this customer
)
I ordered this for an aunt to give her daughter, She was very impressed with the quality. It arrived exactly when it was supposed to. her daughter loved it. Great gift, and keepsake .I would use this company again for gifts!

Favorite gift...
By
Shopper

(Norwalk, OH) - May 19, 2012
I gave this to my Mom for Mother's Day. She absolutley loved it and said "it was one of the best gifts I've ever given to her", which meant a lot to me. The jewelry box is crafted very well and a lot larger than I thought. It is not cheap looking like some of the others I have seen at personalization shops in the malls. This was my first purchase from personlizationmall.com and I couldn't be happier with it. I will definitely be returning for more wonderful gifts! Thank you!

very beautiful
By
Charles A.

(FPO, AE) - May 13, 2012 (
See all reviews by this customer
)
very nice product and shipping was fast. recommend.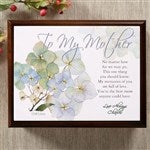 Beautiful Box!
By
Diane V.

(Frankfort, IL) - April 17, 2012 (
See all reviews by this customer
)
Beautiful, beautiful, beautiful! This item was a bit pricey and I'm happy I purchased this beautiful box. The box was larger than expected, which is a plus, the tile is again beautiful with lovely colors and incredible imprinting. I can't wait to present this beautiful jewelry box to my sister. It will be something to remind her of an incredible feat and how much her sister adores her with sweet inscribed sentiments. I most definitely will purchase this lovely box again. Awesome job once again!!!!!!!!!!!!!!!!!!!!!!!!!!!!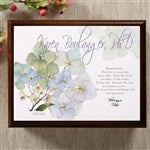 jewlry box
By
Shopper

(Panora, IA) - February 28, 2012
Was very impressed with the quality, bigger and much heavier than I expected and absolutely gorgeous, my sister was more than thrilled with this gift which was personalized just for her. Ultra fast shipping, user friendly website and I will be back for all of my gift giving. Thank you for a smooth and pleasant experience.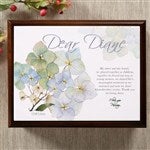 Beautiful jewelry box
By
Rebecca H.

(Hudson, MA) - September 13, 2011 (
See all reviews by this customer
)
I ordered 2 of these jewelry boxes for my mother and mother-in-law gifts for my wedding. I am extremely happy with the craftsmanship of the box. It is a very beautiful and solid jewelry box and I'm very excited to give them to our mothers at our rehearsal dinner. I would recommend this jewelry box to everyone!!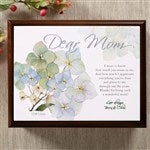 Jewelry Box
By
Yessenia R.

(Glendale, CA) - June 7, 2011 (
See all reviews by this customer
)
Extremely happy when I received it. Great quality. Would highly recommend this as a gift.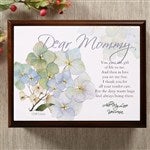 A home run
By
Felix S.

(New York, NY) - June 5, 2011 (
See all reviews by this customer
)
If I could give it 10 stars, I would. This was an absolutely fantastic purchase for my mother's 75th birthday. She was so thrilled when she saw how beautiful the engraving was done and the quality of the jewelry box is 1st class. This could easily be worth 2x the cost. My mom can't say enough how much she loves it. Shipping was super fast and it arrived perfectly packed.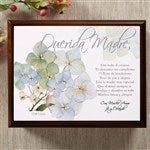 Beautifully Rich in Appearance
By
Kelly W.

(Grosse Pointe Park, MI) - May 10, 2011 (
See all reviews by this customer
)
I gave this jewelry box to my mom, for Mother's Day! She was so overjoyed, it brought tears to her eyes. The craftsmanship on this product is amazing, and the wood is incredibly rich. The box is sturdy and rather spacious as well! I plan on ordering this again, for other friends of mine, as I think it's quite unique, while providing a scentimental, and personal touch. This is a superb gift for any of the special women in your life! Two thumbs up. If I could give the jewelry box more than 5 stars, I definitely would. It's absolutely beautiful. Another fantastic product from Personalizationmall.com. As always, the shipping speed was lightening quick, and customer service is such a pleasure to converse with over the phone. I'm a huge fan of this site, and I just want to say thank you! ;-)

This was a beautiful keepsake!
By
Shopper

(GLEN COVE, NY) - March 28, 2011
This was a beautiful keepsake!
It was very rich looking. The receipent
who I gave it to was almost in tears.
Beacause of the personalization, this is
something my daughters sponser will cherish
forever. I give it a 100%.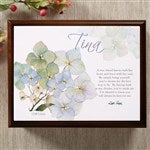 Great Gift for Mom
By
Shopper

(Hamilton, NJ) - February 13, 2011
This is an absolutely beautiful and high quality jewelry box. It brought tears to my mother's eyes when given to her as a Christmas gift. It would make a great Mother's Day gift as well. Nice, heavy wood with the poem beautifully printed on top. You can't go wrong with this one.

Deluxe Jewelry Box
By
Terry M.

(Webster, NY) - February 8, 2011 (
See all reviews by this customer
)
We loved it, the quality is very good and it shows very well.

Beautiful Jewelry Box
By
Jeff, Ang, Mary, Gab, Amanda F.

(Folsom, PA) - December 23, 2010 (
See all reviews by this customer
)
We bought this jewelry box for my daughter's Godmother. My daughter used her own wording...came from the heart! This touched her Godmother so much..happy tears! It's wonderful that you can personalize the whole thing yourself, and the jewelry box itself is just beautiful.

Great!
By
Rosa A.

(New york , NY) - December 19, 2010 (
See all reviews by this customer
)
this was my first time ordering from this site. I am satisfied and pleased with the quality. It's a perfect gift for my mom. It arrive on time. The best part was I was able to get it personalized in spanish. I am very pleased!

Perfect gift for a special woman in your life!
By
Julie H.

(Charlotte, NC) - August 31, 2010 (
See all reviews by this customer
)
These boxes are beautiful inside and out. I got them for my bridesmaids and had each of them personalized with a special message from me. It was perfect since my flowers were blue hydrangeas.

Thoughtful gift
By
Monique S.

(Los Angeles, CA) - July 8, 2010 (
See all reviews by this customer
)
My mom absolutely loved this and even teared up when she saw the top of the box. It's a very nice looking jewelry box on top of it being something so personal. If you're looking to make a woman smile and feel appreciated, this is the right gift.

Perfect Gift
By
Rhonda H.

(Weeki Wachee, FL) - June 14, 2010 (
See all reviews by this customer
)
A solid and handsome jewelry box with rich dark wood. Inside is lined with a cream felt and has plenty of room for rings and smaller items in the top section. Left out the top section and the bottom is completely opened and you have room for larger pieces and even photos. I wrote my own poem and the font is very pretty and everything is spaced just right. My daughter wants one now and I my husband wants one for his mother too. We will be purchasing more for sure. You just can't go wrong with a personalized jewelry box like this!!! Looking forward to giving it to my mom next month. (I ordered it way ahead of time thinking it would take a few weeks to personalize and mail... but I received it the NEXT WEEK!!! Super fast shipping on a great quality item.)

Expectations greatly exceeded
By
Steven B.

(Smithtown, NY) - December 22, 2009 (
See all reviews by this customer
)
Box was delivered and I was extremely pleased with what I ordered. The Message came out perfect and the box itself is incredibly beautiful. It is truly an amazing gift for any woman.

To A Loving Mom
this box is perfect for a loving mother..

Very nice
By
Jerome C.

(Fredericksburg, VA) - April 30, 2012 (
See all reviews by this customer
)
This is a great item...especially when personalized. Bought for mother-in-law and she liked it so much that she cried...