Summer
By
Elaine W.

(Bowling Green, KY) - March 23, 2013 (
See all reviews by this customer
)
I am very please with the quality of this design. The rug is a little thin but the design is such a cute idea!!! Thank you for providing this service!

Cute mat
By
Shopper

(Merrick, NY) - December 21, 2012
The mat was perfect for a gift, the only problem was that one of the names came out lowercase when all of the other names were uppercase. Besides that I can't complain. Great gift idea.


Fun doormat
By
Sharon B.

(Columbia, MD) - January 14, 2012 (
See all reviews by this customer
)
I ordered 5 of the personalized mats. The graphics were very cute. Different hair colors, skin tones and so forth. Great gift idea. The mats are very thin and it may be better used inside instead of as an out side door mat.I think the recipients will be pleased.










Summer Door Mat
By
Shopper

(Spokane, WA) - December 7, 2011
The mat arrived quickly and was close to what I expected. I thought that it would be thicker and a little heavier quality but it's still cute.

Adorable- but gets dirty quick
By
Kristen D.

(Tampa, FL) - September 12, 2011 (
See all reviews by this customer
)
This mat is adorable and sturdy. At our high traffic entrance, it has become very dirty, very quickly. I haven't tried to wash it yet, though.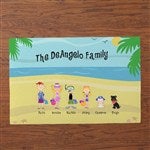 Fun family gift!
By
Shopper

(Santa Monica, CA) - August 16, 2011
I gave this as a gift. My friend loved it. I wish there were additional character choices.

Great gift!
By
Lisa P.

(Groveton, NH) - June 26, 2011 (
See all reviews by this customer
)
I ordered this mat as a gift for a family that goes camping with us. They absolutely loved the mat! It was a big hit. Thanks so much for doing such a great job.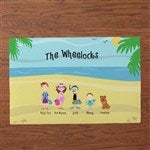 The cutest door mat ever!
By
Lissa F.

(Otsego, MN) - May 17, 2011 (
See all reviews by this customer
)
I love my door mat. It is great to spread some summer love at the entrance of the home and show off the cute family. I love that it is not just an iron on, as I kind of expected, but instead it is a true personalized good quality door mat. The mat is heavy and durable to allow my dog to run on top of it back and forth. The only down side is the color allows for those muddy paws to make it look dirty, I haven't tried washing it yet though so we'll see how it holds up. I love everything I get from Personalization Mall, I have never been disapointed (I am a real shopper too!) :)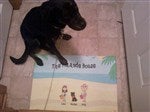 Make such a nice gift!
By
Paula K.

(Matteson, IL) - August 13, 2010 (
See all reviews by this customer
)
I have ordered many times from this site and as always have come through with a very enjoyable gift to send someone. The best part for me is being able to see how my personalization will look ahead of time before I order.
Great Job!!!

Cute Gift!
By
Shelley B.

(Durham, NC) - July 13, 2010 (
See all reviews by this customer
)
I purchased this item for my in-laws as a Christmas gift. They have everything, and thought with them retiring this year and moving to the beach, they would love it! Haven't given the gift yet, but I know they will get a kick out of seeing themselves as cartoon figures! The only "complaint" I would have is that the mat is not as thick as I would have expected. Still, great gift for someone who has everything! Happy to see it on sale at the time!

Nice mat
By
Mary R.

(Oconomowoc, WI) - July 10, 2010 (
See all reviews by this customer
)
The doormat is really nice but it was disappointing that my son-in-law's name begins with a lower case letter. All other personalization is fine.

fun in the sun!
By
Delata H.

(Glen Carbon, IL) - March 24, 2010 (
See all reviews by this customer
)
wish you could create more characters, because all my kids are teens and blonde, so they all look the same. also, thought this said indoor/outdoor, but it really shouldn't go outside.

Fun Mat
By
Martha C.

(Lindenhurst, NY) - October 9, 2009 (
See all reviews by this customer
)
We've received many compliments on this adorable mat. I gave one as a thank you gift & the recipient wanted to frame theirs!! Thanks for having such a variety of selections to offer. I will come back for more gifts!

More options
By
Shopper

(Lemont, IL) - July 30, 2014
Wish it had more characters to choose from, but the quality is great!!!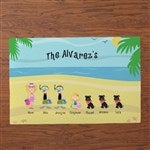 summer family doormat
By
Linda R.

(Columbus, OH) - July 4, 2012 (
See all reviews by this customer
)
Charaters adorable, my daughter is afraid to put by her pool. poor quality mat,worried about durability & fading I was dissapointed in quailty of mat, to thin, no nubby material to wipe feet on. :(

personalized rug
By
Shopper

(SYKESVILLE, MD) - July 1, 2011
Rug is "cute", but small. Does not appear to be very durable. More suited for indoor use.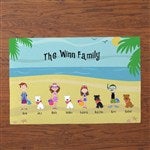 Color choices
This mat is beautiful, my only problem is I am white, and my husband is black, therefore our children are lighter than my husband's color, and we have a yellow dog. When i did the preview, my family was brown and i was very white, and there was no yellow dog so i chose brown. A second shade of brown would be wonderful! So more color choics would be great! :)

No choice of font
By
Shopper

(Texas City, TX) - May 3, 2013
I was disappointed that I did not have a choice on the font and that the letter J came out lower case in this font. The review did not show the dot clearly above the j and I was disappointed when it arrived and all the other names had capital letters to start the names but the j name was lower case.