Perfect Gift!
By
SANDRA C.

(Brownsville, TX) - January 28, 2014 (
See all reviews by this customer
)
I gave this to my boyfriend last year on Valentine's Day and it was a hit! I had my thoughts on ordering this frame after reading several reviews, but let me tell you it was the best thing I could've done! The quality of the frame was perfect and the cover was actual glass. I was able to put in horizontal and vertical 4x6 pictures in no time (I recommend you overlap the pictures on the back instead of cutting them out completely, so that you can move them around to fit perfect). You will get a tiny gap on the top and bottom, but it looks symmetrical since you will get that for all the letters (just make sure it's even the whole way). I just got in the mail my second order and it was just as perfect! Overall, I'm very happy with both of my purchases and I would definitely order more! It shipped in no time and it exceeded my expectations! Thank you once again for a great gift!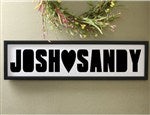 very nice
By
Michael B.

(Aurora, CO) - January 24, 2014 (
See all reviews by this customer
)
I'm very happy with my purchase it is a very nice frame and exceed my expectations! And it had very quick delivery!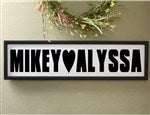 Pretty
By
Ralph C.

(Brooklyn , NY) - January 7, 2014 (
See all reviews by this customer
)
It's really pretty and I'm so excited to hang it! My one problem is that when you have a long name, the letters get narrower and u can barely fit a decent picture in! It would be nice if they could just make the frame a little longer for those of us with longer names.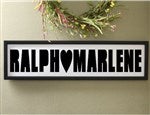 Leide *edson
By Shopper (Dorchester, MA) - January 6, 2014
Love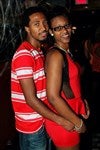 Leide & edson
By Shopper (Dorchester, MA) - January 6, 2014
Love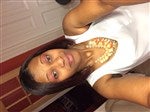 Amazing
By
Lindsey M.

(Norristown, PA) - December 27, 2013 (
See all reviews by this customer
)
This turned out so awesome! I would recommend it to ANYONE!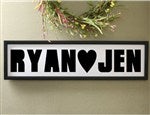 AWESOME gift!!!
By
Melody H.

(Irving, TX) - December 16, 2013 (
See all reviews by this customer
)
This is such a special gift idea...very unique!! Our friends saw ours and went crazy, so we got them all one for Christmas! They LOVE it!!!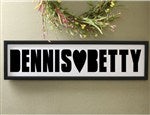 Love it!
By
Shopper

(Philadelphia , PA) - December 12, 2013
This is a Christmas gift and it came out very nice. The packaging was wonderful.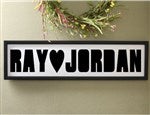 PERFECT
By
Shopper

(pennsville, NJ) - December 10, 2013
The frame was perfect and exactly what i expected..i got it for my girlfriend and it turned out amazing..the only problem i ran into was how small the cut outs were but other than that it came perfect and for a good price..recommend buying it to everyone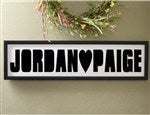 Don't forget to put an asterisk
By
Krista C.

(O'Fallon, IL) - November 22, 2013 (
See all reviews by this customer
)
One of the most important aspects of this frame is the heart in the middle of the names. I did not read the part where you have to put an asterisk between the names. So now I have two frames without the hearts.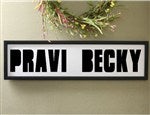 Poor quality
By
Shopper

(Gretna, LA) - November 17, 2013
The picture does a lot of justice for the actual quality. It is very cheaply made and not very durable. If it wasn't so much hassle returning it, it would already be sent back.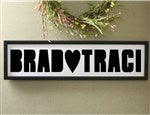 Nice, but smaller than I expected
By
Shopper

(Phoenix, AZ) - November 7, 2013
I'm hoping I will be able to find nice photos to fit in the small letters! "/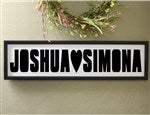 Gift was prefect for my anniversary gift
By
Valerie S.

(Whittier, CA) - October 13, 2013 (
See all reviews by this customer
)
I loved everything and this web site. Plus my order came in fast.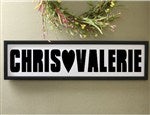 Wonderful!
By
Shopper

(Temple, PA) - October 6, 2013
Wonderful product! Quick shipping! Thank you so much!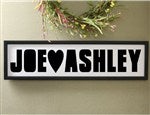 Anniversery gift!
By
Shopper

(phoenix, AZ) - October 4, 2013
I loved this product! Very fast shipping as well! I got my anniversery date instead of names and it looked great! I will definetly buy more products from this website!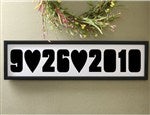 Very pleased
By
Shopper

(SHEFFIELD, PA) - September 12, 2013
This is exactly what I wanted and as described. :)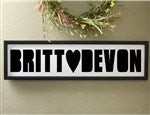 Great anniversary gift
By
Rickey J.

(Little Rock, AR) - September 5, 2013 (
See all reviews by this customer
)
I ordered this for my girlfriend for our anniversary and she loved it. It's currently hanging in our bedroom. No pictures have been added to it yet but we are in the process of taking pictures to fill it up. Highly highly recommended!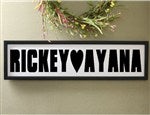 Loved it!
By
Shopper

(Boca Raton, FL) - August 20, 2013
It was perfect ~ keep in mind you'll have to use small pictures to fit.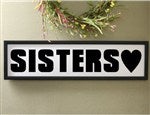 Really sweet gift idea
By
Shopper

(Shorewood, WI) - August 12, 2013
Product arrived quickly exactly as described. My friend loved this gift.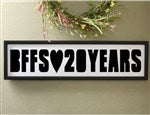 GusLo
By
LORRAINE D.

(RANCHO CUCAMONGA , CA) - August 4, 2013 (
See all reviews by this customer
)
loved the finished product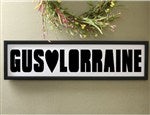 Great sign!
By
Shopper

(Lowell, IN) - July 23, 2013
The seller did a great job with the gift and it shipped quickly! I was very impressed and love that this gift is a little bit more personal than something that can be bought at a large retail store!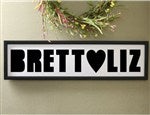 Good size
By
Shopper

(Calistoga, CA) - July 20, 2013
The product arrived fast, and was just like the picture shows.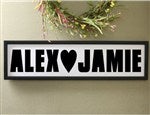 It was a hit!!
By
Shopper

(Leander, TX) - June 30, 2013
I ordered this and sent direct to my husbands niece. I have not seen it myself, but she said she absolutely loved it!!! She lost her mom a yr ago and still having such a hard time, so I did something special for her, she will be able to add her on pics of her mom. She really liked it. I will be ordering again.
Signed, Tx Aunt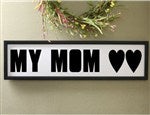 Nice Personal Touch
By
Lindi J A.

(Canada) - June 18, 2013 (
See all reviews by this customer
)
I got this frame for my brother for his anniversary. I've bought frames with words before ("Memories," "The Bay," etc.) but this is the first frame I've seen that could be personalized. The frame turned out just as it did in the preview photo, and it was still in one piece when it got to my brother. I will probably use this for other gifts as well.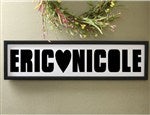 Great
By
Shopper

(Hendersonville, TN) - June 2, 2013
My girlfriend thought this was the sweetest thing I've ever gotten her.
Very satisfied with my purchase.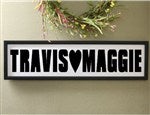 Great Wedding Gift!
By
Julie G.

(Oak Ridge, TN) - May 29, 2013 (
See all reviews by this customer
)
I bought this for my cousin's wedding gift. It was made very well, and looked very professional! She loved it so much!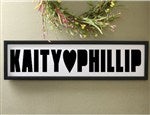 LOVE- AMAZING
By
Melissa B.

(Edinburg, TX) - May 17, 2013 (
See all reviews by this customer
)
Super fast shipping and the bride to be absolutely LOVED this gift. So unique!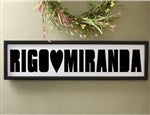 Wonderful!
By
Shopper

(Little Elm, TX) - May 14, 2013
I love this frame, I was surprised by the size! I can't wait to hang it up on my wall. The hard part is trying to decide what pictures to put in it.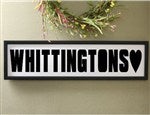 family collage
By
Robert H.

(Lenox, IA) - May 11, 2013 (
See all reviews by this customer
)
This is a very cool twist in the regular photo collage! It looks nice & appears to be sturdy.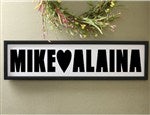 Perfect Bridal Shower Gift
By
April S M.

(Glasgow, KY) - May 7, 2013 (
See all reviews by this customer
)
I purchased this for my best friends bridal shower and with the help of her future husband i picked out the perfect pictures to put in the frame. It turned out beautiful. It adds a personal touch without being cheesey. Everyone loved it, especially the happy couple. They are so excited to hang it in there home and replace the stock art work they have in their house to make it feel like a home. They liked it so much they thanked me for it several times and exclaimed how perfect it was. I would recommend this to anyone for any occassion. Birthday, marriage, christmas, baby shower. You name it. It's great!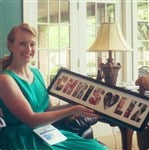 Perfect as always
By
Kimberly F.

(Lake Park, MN) - May 5, 2013 (
See all reviews by this customer
)
I've been ordering stuff like this from you for years and I have always loved the product for the price and great customer service. The gift was a big hit!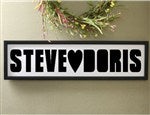 Perfect Gift
By
Shopper

(Normal, IL) - April 30, 2013
It was a wonderful product! It's quality was good, priced well and arrived quickly. Will be purchasing more if these in the future! Hope I'm just as pleased later!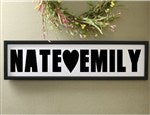 beautiful product
By
Shopper

(Las Vegas, NV) - April 26, 2013
I think this frame is wonderful. I was a little worried about the quality of the wooden frame but it was better than I expected. I am using this product as a mother's day gift and I love it so.much that I am going to order one for myself. Its absolutely beautiful.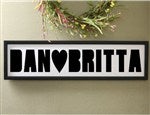 Love it
By
Kristen P.

(Bensalem, PA) - April 20, 2013 (
See all reviews by this customer
)
I bought this frame as a gift for my sister who got married in 2011. Instead of using her and her husband's names, I used their wedding date. She loved it, and I got a lot of compliments when everyone saw it. I filled it with black and white photos of their wedding day. I just ordered one with my wedding date to hang in our new house. Only thing is that I wish you could choose a wood colored frame as opposed to only black. But I love it!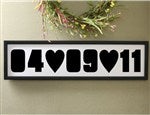 Cool Idea, shotty construction.
By
Shopper

(Joliet, IL) - April 15, 2013
I didn't think this item was TOO cheap of a price, but the construction is pretty cheap. The back does not secure very well, and it is cheap particle board, but it is still cute idea.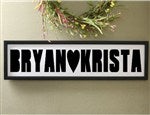 It was good but did not fulfill my expectations
By
Shopper

(Dinuba, CA) - April 12, 2013
I was actually disappointed with this frame because the glass was too small for the frame and the whole thing was kinda lose inside. I had to add paper to it to make it tight so it would not wobble around.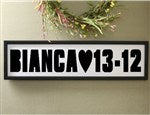 PERFECT!
By
Vanessa C.

(Chula Vista, CA) - April 3, 2013 (
See all reviews by this customer
)
It was a perfect Valentine's gift for my husband, something I could hang up in the house with our names attached. Then my daughter was invited to a Quince and we thought what a perfect gift for her with pictures that they have taken together. Once the photos are placed in the frame the whole things looks super cute. We then bought a silver pen and she signed the back, came out adorable!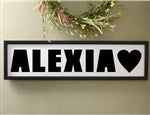 Awesome!
By
Shopper

(Revillo, SD) - April 2, 2013
I needed this for a shower gift that was only 10 days away. It was here in plenty of time. I have ordered from this company before and I knew it would be great quality, but it was even nicer than I was expecting...I loved it. Better yet...the future bride absolutely loved it. I will order more of these for gifts. This is a great company.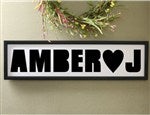 Great Idea
By
Camber C.

(Mount Pocono, PA) - April 2, 2013 (
See all reviews by this customer
)
After reading many reviews I was a little nervous ordering, but my order came in fine. Yes the frame is a little cheap but for the price its worth it!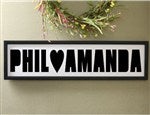 Amazing Product
By
Leah G.

(Kingsford, MI) - April 2, 2013 (
See all reviews by this customer
)
I love this product! I have purchased many of them - one for myself, some for wedding gifts (I love the black and white photos in them, sometimes I will put a color one in for the heart), a few for baby showers. Everyone has loved this gift, especially since names are now so unique it is a great gift!