chiller
By
Stephen A.

(Manchester, NH) - October 2, 2009 (
See all reviews by this customer
)
The chiller and engraving were well received. The promptness of the shipping even with the engraving was unexpected. Again thank you

Great Anniversary Gift
By
Gloria P. C.

(Cape Coral, FL) - October 1, 2009 (
See all reviews by this customer
)
I was in a quandry as to what to buy my son and daughter-in-law for their 25th anniversary. I did a google search and found your company. I am not the most computer literate person in the world, but found your website easy to use. I ordered the ice bucket, with personalization, on Sunday and was so happy that they received it by Wednesday. They could not have said more nice things about the gift, they just raved about it. Thank you for making the ordering process so easy, and thank you for carrying such great merchandise. I will visit your site again and again.

Cute
By
cassandra K.

(Chicago, IL) - July 11, 2014 (
See all reviews by this customer
)
This is smaller than I was hoping. Similar to an ice bucket you'd get from a hotel. It does the job though

Nice
By
Dale G.

(Findlay, OH) - May 31, 2014 (
See all reviews by this customer
)
Very nice quality.

Good purchase
By
Shopper

(Chicago, IL) - May 29, 2014
This was purchased for my 11th wedding anniversary, and was exactly what I was looking for. Solid product, nicely turned out, spelled correctly, and delivered overnight for a decent price. The handles are held on with screws (which is nice), but they aren't flat headed, or counter-sunk, so they stick out a little into the bucket. This is a very minor flaw, and really my only gripe. Otherwise, it's exactly what you see in the picture.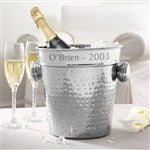 Lovely Gift
By
Rose B.

(Danbury , WI) - March 4, 2014 (
See all reviews by this customer
)
We ordered several of these to present to clients and they loved them! The personalization takes it over the top.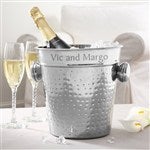 opinion
By
Shopper

(Goldsboro, NC) - January 31, 2014
Looked nice, but was much lighter than I expected.

Nicely Detailed
By
Jessica T.

(Baton Rouge, LA) - December 27, 2013 (
See all reviews by this customer
)
This is a large bucket, the name came out nicely on the bucket, only complaint is the metal seems pretty thin.

Wedding gift
By
Alexis A.

(Santa Ana, CA) - June 3, 2013 (
See all reviews by this customer
)
It was a good gift, but just abut cheap in the quality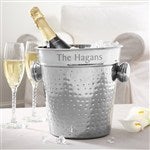 Light, but beautiful!
By
Shopper

(Oxford, OH) - May 7, 2013
This was a beautiful wedding gift for our friends. I was suprised by how lightweight it was when I received it, but it is nonetheless a great purchase!

Ice Bucket
By
Shopper

(La Grange, IL) - March 3, 2013
I put a bottle of champagne in the ice bucket & gave it a a shower gift.
The LOVED it!
Card said "celebrate love"

Very Nice!
By
Shopper

(Tucson, AZ) - April 9, 2012
I'm sure this wedding gift with personalization will be a "hit." It looks very sharp and I only wish it had been a bit heavier. For the price, it is a good value. Delivery was speedy and I will use Personalization Mall again soon!

Great for a party!
By
Daniel M.

(McKinney, TX) - December 27, 2011 (
See all reviews by this customer
)
I wish the engraving was a bit bolder, but the look stands out! It's a great gift for anyone who entertains.

Nice for the price. Good quality.
By
Shopper

(Havertown, PA) - November 21, 2011
Very pleased with the quality of this ice bucket. Was a little disappointed with the engraving.Thought the name would be a little bit larger.

A Lovely Wedding Gift!
By
Shopper

(Jackson, MO) - October 2, 2011
I bought this with the ice scoop (definitely worth the additional $$, the scoop is nice and heavy) for my cousin's wedding. Shipping was super fast. I ordered on a Saturday and received it Wednesday! While it does come wrapped in a cellophane bag with a red ribbon, I re-did the presentation to look more expensive. I filled the bucket with a nice bottle of champagne and two beautiful champagne flutes. While I am pleased with the ice bucket, the personalization is stamped on, it's not engraved, that's my only qualm regarding this product. Thank you!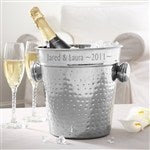 Nice wedding gift
By
Jennifer C.

(Fostoria, OH) - August 9, 2011 (
See all reviews by this customer
)
Very nice wedding gift...would reccomend.

Nice wedding gift!
By
Shopper

(Cottage Grove, MN) - July 12, 2011
I think this bucket is a nice touch for a wedding gift. It is good quality and the personalization was well done. My one complaint would be that it was slightly overpriced for an ice bucket.

Quite Pleased
By
Stacey S.

(Sanborn , NY) - September 21, 2010 (
See all reviews by this customer
)
The shipping was faster than I ever imagined. The chilling bucket arrived and I was pleased with the size. The quality was acceptable and the engraving was done very well.

Great service!
By
Paula R.

(Austin, TX) - July 27, 2010 (
See all reviews by this customer
)
Very pleased with my purchases and good quality for the money. Great service--I received my order in record time!

Ice bucket
By
Jessica F.

(Corpus Christi, TX) - June 1, 2010 (
See all reviews by this customer
)
The ice buckets I ordered came out great. I got them as gifts, but I'd love one for myself. My only negative comment is the handles are very loose so they spin. Hopefully I can tighten them up with a screw driver.

great purchase!!!
By
christy I.

(mount sinai, NY) - March 22, 2010 (
See all reviews by this customer
)
The chller ice bucket is such a great gift, it looks sooo nice and worth the price, it could be a bit thicker in the material a little tinny, but still well worth it...

good quality
By
Deborah T.

(Freehold, NJ) - January 18, 2010 (
See all reviews by this customer
)
This ice bucket was a fairly nice item for the value. The monogramming was done beautifully as well.

Great Gift
By
Maureen B.

(Saint Joseph, MO) - November 23, 2009 (
See all reviews by this customer
)
I ordered this Ice Bucket w/ice scoop for a wedding gift. It was perfect. I wish I could have picked my own design for the "scoop handle." Otherwise, I loved it & think the couple will too.

Not quite as solid as I expected, but I still like it
By
Kaya L.

(New York, NY) - November 19, 2009 (
See all reviews by this customer
)
I think that I would still buy it again, but it doesn't look as solid and strong as I expected. The metal is thinner than it looks in the photo, and the packaging plastic was dirty, and in a normal brown cardboard box but once I dust it off, add a bottle of wine and package it nicely with plastic wrap and ribbons it'll be a classy Christmas gift for my Aunt this year.

ok order
By
Dennis W.

(Havertown, PA) - July 13, 2013 (
See all reviews by this customer
)
just ok for price

Not as expected
By
Shopper

(Bridgeton, NJ) - December 5, 2012
Bucket is smaller than I imagined and much lighter than I expected it to be. However, the name looked perfect!

pricey for what you receive.
By
Shopper

(Racine, WI) - July 23, 2012
The bucket itself is beautifull but I would have liked the personalization on both sides of the bucket and in larger print. Kind of pricey considering these issues.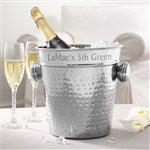 Ice bucket
By
Shopper

(Dyer, TN) - July 9, 2012
I didn't like how the engraved name wasn't centered on the ice bucket, it was off to the side which made it look awkward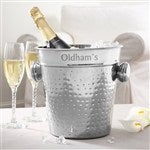 Wished the ice bucket had a cover
By
Shopper

(Peabody, MA) - March 17, 2012
I bought this for a housewarming gift, great looking ice bucket my only disappointment it did not come with a cover.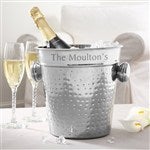 Bucket great...engraving slants.
By
Shopper

(Reston, VA) - January 10, 2012
Ordered for my Anniversary. Great item, and I also got the scoop. If you are going to max out on the engraving size, it seems that the machine that does it starts to slant the message on the curved surface. We asked for a replacement, and while the second one was better, still not a straight engraving. That said, ordering was fast and perfect, and the items arrived in great shape. Just seems that someone enjoyed some champagne before putting on the engraving. After you have a bottle, like me, you may not have too much of an issue with it. 3 stars.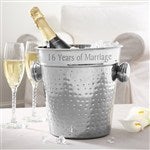 Okay
By
Veronica M.

(Fort Wayne, IN) - May 5, 2010 (
See all reviews by this customer
)
More lightweight than I thought it would be and have concerns whether the personalization will rub off when wet or with age.

Nice but not quite what i expected
By
Rebecca F.

(Springville, CA) - March 21, 2010 (
See all reviews by this customer
)
I was dissapointed that the engraving was not actually engraved. It looks like stamped names instead of etched in to the bucket. Names don't stand out.

Ice bucket shower gift
By
Shopper

(Raymore, MO) - August 23, 2014
This bucket was very lightweight to the point it seemed cheap. I had to add to the gift to make it a sufficient wedding shower gift. I would not recommend as a gift. It would be adequate as a show piece in the liquor cabinet.

less than expected
By
Shopper

(Mahwah, NJ) - October 19, 2013
I had ordered this item before and sent it directly out of state so I never saw it, I ordered another one for a shower gift, recieved it this week and am a little embarrassed by the cheapness of it. It is not a strong solid item but rather weak. I would not purchase again. I am disappointed. Even the engraving is not great.

Looks cheap
By
Shopper

(O'Fallon, MO) - July 19, 2013
The personalization looks nice, but overall the product looks cheap. I wouldn't recommend it and would return it if I could.

Ice Bucket
By
Shopper

(Anoka, MN) - August 21, 2011
This product is poor in quality. It is extremely light in weight. There is a defect on the seam and one of the handles is crooked.

Also note that there is not a lid. - The description does not indicate that there should be, but someone might assume that an ice bucket would have a lid.

Not the best quality
By
Shopper

(Groveport, OH) - March 25, 2014
This ice bucket looks beautiful online, but when I received it, I was not pleased with the quality of it. Its very thin and light weight. It could easily be dented if not handled properly. I purchased this for a wedding gift, but decided that it wasn't a good enough quality for a wedding gift so I will just save it for another occasion for that couple.

Big Mistake
By
Walter K.

(Andalusia, AL) - June 1, 2010 (
See all reviews by this customer
)
The bucket is about as thin as a tin can. They did not send me the scoop. The engraving not only doesn't look like an engraving and very cheap but, by the second letter they had some type of problem in whatever process they used that just looked terrible. On top of all that one of the handles was loose and, when I tried to hand tighten it; it never would get beter than very loose. So I unscrewed it, when I saw how the screw was fastening to the handle (like a punch in thin sheet metal) I knew that I would not be taking a replacement (if there were time for my anniversary) but, would be getting my money back and getting something elsewhere. I would NOT recommend this to anyone.