wonderful gift
By
Shopper

(New York, NY) - August 22, 2011
These look beautiful and were a wonderful, much appreciated gift. And they shipped super quickly, as well! Highly recommend.

Anniversary glasses
By
Shopper

(Oak Park, CA) - August 19, 2011
I was very impressed with the fast service and quality of the glasses. I ordered them for my 20 year anniversary for a trip I have yet to take. A surprise for my husband when we pop the bottle of champagne. The packaging was excellent - no room for damage. And the glasses look beautiful!

Fast service!
By
Jeanne K.

(Warren, OH) - August 1, 2011 (
See all reviews by this customer
)
I bought this product for my friend and her husband. It turned out beautiful and was the hit of the party! The best thing about it was that it arrived in 4 days! I will be ordering again. Thanks!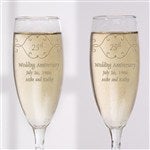 Awesome Product , Awesome service
By
Lorie S.

(Watauga, TX) - July 31, 2011 (
See all reviews by this customer
)
I am thoroughly pleased with everything about Personalization Mall so far. I was able to purchase a great product at a great price. The monogramming was beautilful, service was unbelievably fast, and the communication was also a plus. I'm sure that I'll be doing more business in the future, as well as referring my friends & family. Thank you very much!

Toasting Flute Set
By
Beatrice L.

(San Antonio, TX) - July 26, 2011 (
See all reviews by this customer
)
Was leery about buying these at first. Thought there would be imperfections. Not so! Came in perfect condition. Great for the price too. Highly recommend this product.

Wonderful Product, Excellent Customer Service
By
TIFFANY C.

(HENRICO, VA) - July 18, 2011 (
See all reviews by this customer
)
These flutes are beautiful - My parents loved them for their 25th anniversary! One of the flutes had a scratch on the glass, and customer service rushed out the replacement super fast, you can't find great customer service like this any more!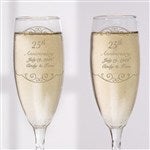 Beautiful Toasting Flutes
By
Shopper

(Butler, OH) - July 10, 2011
I am very pleased with these flutes. They will be perfect for my parents 50th wedding anniversary! I am also very pleased with Personalization Mall! I recieved these within 3-4 days of placing my order. Wow!! Thank you personalizationmall.com!

beautiful toast glasses
By
Annie R.

(Wellesley, MA) - June 28, 2011 (
See all reviews by this customer
)
Just loved the 50th anniversary toast glasses! It was a lovely touch to the celebration!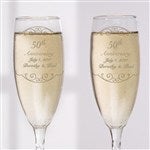 Toasting Glasses
By
Shopper

(WILMINGTON, DE) - June 22, 2011
I am very pleased with this product! They are beautiful!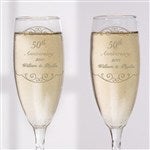 anniversary flutes
By
Michelle M.

(Kuna, ID) - June 20, 2011 (
See all reviews by this customer
)
Wow such fast service and they look great. I could not have gotten them anywhere else for the price. Thank you again Personalization Mall.

Michelle

flute set
By
Shopper

(flushing, NY) - June 19, 2011
.....quick delivery..........as per picture.

Extremely pleased with the product
By
Shopper

(San Bernardino, CA) - June 12, 2011
The 25th toasting glasses look better in person. I was very pleased and would buy from PersonalizationMall.com again. Thanks.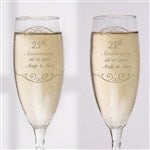 simple and elegant
This is the perfect gift for my grand children who wants to give their parents a gift to always have on display and to use each year.

Anniversary Gift
By
Shopper

(Mohegan Lake, NY) - June 5, 2011
I purchased this item as a gift for good friends. They received it within a matter of two or three days and told me that they were very pleased with the engraved champagne glasses. They said that it was a thoughtful gift and that the engraved flutes were very "classy".

I agree with them. A classic look, without being too gaudy or ostentatious. I think it's the perfect gift choice.

Beautiful Product!
By
Jenny G.

(Oneonta, NY) - May 31, 2011 (
See all reviews by this customer
)
The glasses were gorgeous and everything was exactly how I wanted. Packed extremely well and would recommend to everyone.

Personalized flute set is a great buy.
By
Lynn V.

(Holtsville, NY) - May 25, 2011 (
See all reviews by this customer
)
The personalized flute set is great for an Anniversary gift. I received only one glass. I called the 800 number and got customer service. The customer service were understanding and great at solving my problem. Sent out a new set right away. Would recommend this company to everyone.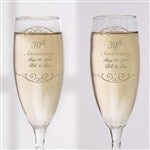 Best Anniversary Gift
By
Shopper

(Creswell, OR) - May 22, 2011
The Anniversary Toast Glasses are awesome! Best Gift Ever.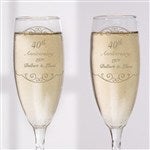 It was a gift for a 50th Wedding Anniversary...
By
Shopper

(Mount Joy, PA) - May 21, 2011
We bought these for a 50th wedding anniversary for some family friends... The etching was elegant, the glasses classy and the gift receivers LOVED them... Need a unique gift idea, this is IT!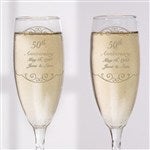 beutiful memorable gift
By
Cindy H.

(Galion, OH) - May 10, 2011 (
See all reviews by this customer
)
excellent product - just what we wanted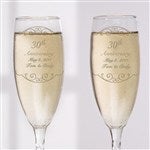 Great Glasses!
By
Shopper

(Piscataway, NJ) - April 23, 2011
Super cute! They made a great gift!!

Very satisfied
By
Shopper

(Cumming, GA) - April 21, 2011
For the money these were right on! My parents loved their gift! I really liked the braided stems - it really added to the look of the glasses. They were shipped and delivered within 5 days. They were very professionally packaged - I was worried about them breaking during shipping but this is not an issue! No complaints! I would not hesitate to order from them again!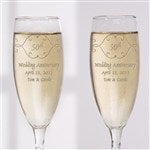 Amazing!!
By
Carly O.

(Fort Collins, CO) - April 19, 2011 (
See all reviews by this customer
)
I ordered these for my parent's 30th anniversary. I was very pleased with how quickly I received them, as well as the packaging - they were packed so well there was no chance they would break. I haven't given them to my parent's yet but I am completely confident they will love them! They turned out amazing, the engraving looks wonderful. I'd definitely order these flutes again.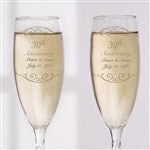 Fantastic website !
By
Shopper

(Saint Augustine, FL) - April 16, 2011
I highly recommend this website to anyone !Especially if you are in a jam and cant find a gift ! I look forward to ordering more products for other family occasions.Very Fast delivery .I got My parents 30th annivesary gift which they loved !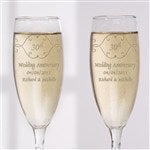 25th wedding anniversary success
By
Bethaney S.

(Gloucester, MA) - April 11, 2011 (
See all reviews by this customer
)
I ordered these champagne flutes for my parents' SURPRISE 25th wedding anniversary. I was surprised at how fast they arrived. They were tightly wrapped and arrived at my house in perfect condition. The flutes are beautiful and the crystal stem is gorgeous. The names were written correctly and beautifully on the flutes. Overall I was very happy with these glasses and I would definitely recommend them.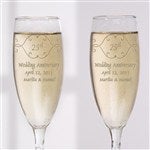 WOW
By
Joseph V.

(Binghamton, NY) - April 10, 2011 (
See all reviews by this customer
)
I am extremely pleased with the products I have purchased both recently and in the past and the delivery service provided. I have highly recommened "Personal/zation MALL.com to many friends and family members. In my opinion you are the BEST !!!!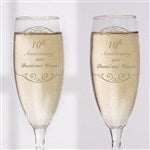 Anniversary Toast Personalized Flute Set
By
Shopper

(Pismo Beach, CA) - March 28, 2011
Product was exactly as described on the website. Shipping was timely, and the flute set was packaged very carefully and arrived intact. This was a good purchase. Thanks!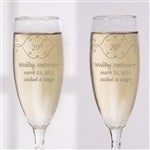 Awesome
By
Amy T.

(Sebastian, FL) - March 26, 2011 (
See all reviews by this customer
)
A beautiful gift!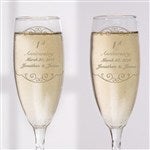 Checked many sites but this was awesome
By
Patricia B.

(Leesburg, FL) - March 25, 2011 (
See all reviews by this customer
)
After so many sites that offered flutes,NONE compared, I decided on theses glasses for the simplicity and by my previous experience with PersonalizationMall in the past. Particularly their engraving techniques.
They furnished my 10th anniversary Renewal of Vows albums and I about fainted when I opened it and literally lost my breath. Both sit here in anticipation of the big day.
At this point in your life, and a second chance at love, aftering having already celebrated too many candles on the cake looking forward to the 10th and finding such AWESOME pieces is exciting and a wonderful experience. YOU WILL NOT BE DISAPPOINTED with any purchase from this company!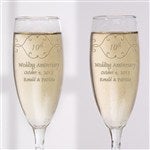 Special Occasion
By
Michelle K.

(Seguin, TX) - March 14, 2011 (
See all reviews by this customer
)
These 25th Anniversary Flute are exactly what I wanted and the engraving is beautiful. They will be a very special part of our celebration.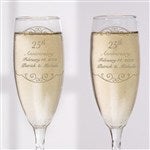 A beautiful set
By
Shopper

(Chestnut Ridge, NY) - February 11, 2011
My daughter and her husband were very pleased with this set celebrating their 1st wedding anniversary.

The order was processed and delivered in 4 days even though I used only the standard delivery.

Great service!

Great purchase
By
Shopper

(Stone Mountain, GA) - February 6, 2011
I was happy when I found personalizationmall.com and realized what they had to offer. I was even happier when I recieved my Anniversay Toast Personalized Flute set. I just love it. I feel it's personal because it has information engraved that make me feel special. Thank you for making it easy for me to love this product. I would recommend to family and friends.

Excellent Service
By
Shopper

(SUMMERVILLE, SC) - January 31, 2011
I placed this order and received it about 5 days later with a weekend in between even though it had to be personalized. The flutes themselves are beautiful and the quick delivery was excellent.

Great Set
By
Kimberly H.

(Carlisle, PA) - January 25, 2011 (
See all reviews by this customer
)
Very nice. The glasses are good quality & the print looks great!!!

Very Pleasantly Surprised
By
Gerard A.

(Sarasota, FL) - January 24, 2011 (
See all reviews by this customer
)
This beautiful Flute Set not only speaks of high quality, but it gives the purchaser a sense of receiving a "very good deal" for the price during these rough economic times. Not only is the product of high quality from this company, but their shipping, packing and customer service are outstanding as well. A top notch business transaction.

Beautiful gift
By
Shopper

(Stafford Township, NJ) - January 21, 2011
Exceeded my expectations. Nice glasses, love the swirled stems. Etched design really adds elegance and personalization. Can't beat the price either. They look like I paid much more. Did arrive packaged well. If you can't decide on this gift, I hope this review helps.

Elegant glasses
By
Shopper

(Windsor, CO) - January 17, 2011
Very impressed with the keepsake glasses. The etching is beautiful and will be a treasured memento

Anniversary
By
Gail J.

(Pasco, WA) - January 17, 2011 (
See all reviews by this customer
)
I love this. The engraving was beautiful. We enjoyed a nice glass of champion in them. The price was just right.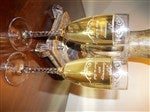 Happy Customer in Georgia
By
Shopper

(Walterboro, SC) - January 12, 2011
These are precious! Great quality for the money and just beautiful! I ordered these along with several other items and was very shocked to see that my order was ready and shipped the very next day! I shop online often and hardly ever do you get such fast shipping and delivery and especially with personalized items. I highly recommend this product and this website to everyone who loves to give meaningful, beautiful gifts. Also, love that you can review your personalization to make sure it's just how you want it...perfect!

Pleased
By
Cathy H.

(Bellefonte, PA) - December 1, 2010 (
See all reviews by this customer
)
I received these in record time, was very pleased with how they wrapped and shipped the order. Will order from them again.

Anniversary Toast Personalized Flute Set
By
Kristin U.

(Tonawanda, NY) - November 26, 2010 (
See all reviews by this customer
)
I had a set designed for my sister Sharon's 21st wedding anniversary to her husband Chuck! They loved the glasses, and cracked open a bottle to enjoy right away! They appeared to be very happy, and here's to many more years of happiness for them! Thanks PersonalizationMall.com!