Good Bottle
By
Nicole G.

(Beaufort, SC) - March 20, 2010 (
See all reviews by this customer
)
The bottle is good size and the pictures are very colorful. I gave it 4 stars because it's aluminum but I thought it might have had a plastic coating on the outside. If I put cold water in it, the outside also gets very cold. Other than that, it's a great water bottle.

Very cute
By
Nicole O.

(Austin, TX) - October 7, 2009 (
See all reviews by this customer
)
This water bottle was very cute. It looks just like the picture. My 3 year old loves it. The only problem is that the aluminum dents when it is dropped, and my daughter drops hers a lot. This is probably true for all aluminum bottles, so I'd say give this to older kiddos.

Perfect water bottle
By
Stacey G.

(Land O Lakes, FL) - October 7, 2009 (
See all reviews by this customer
)
Love this and it is so easy to recognize

Disappointed in the Quality
By
Shopper

(Belle Plaine, MN) - August 19, 2013
I bought this water bottle for my six year old daughter. She absolutely loved the design and her name being on it. Within the first week of having the water bottle it was dropped on the asphalt and now has a deep dent in the water bottle. I was hoping that the quality of the steel would have been strong enough to take on a few drops before becoming deformed:(

nice water bottle, except
By
Shopper

(Port Reading, NJ) - August 11, 2013
I bought this water bottle for my granddaughter's 3rd birthday (personalized with a monkey and her name). Even though she loves the look of the bottle, my daughter and I both wish that "spout" portion of the bottle was one that pushes down to close and up to open. In order for the child to drink from this bottle they must remove a lid which then leaves this spout open at all times. This lid/open spout combo can be disastrous for a child who wishes to be independent with no adult controlling the drinking process. So, probably, the bottle will contain mostly water so that in the event of in inevitable spill, it won't be too much of a problem.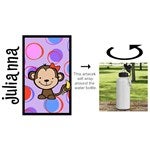 bottle is good quality not so much the print
By
Shopper

(El Paso, TX) - December 27, 2012
I liked the water bottle material but didnt like the qualityy of the print nor the fact that you print personalization mall on the bottle, i have bought other products where they have a sticker or something so people know is it a presonalization mall product but is their choice to take the sticker off to use it.. i didnt like that this didnt have this option

Colors not as bright as in picture
By
Martha G.

(Austin, TX) - March 15, 2010 (
See all reviews by this customer
)
I was a little disappointed when I received this water bottle. The bottle itself is fine but the colors of the name and picture are really dull. I expected a much more brightly colored water bottle since in the pictures it looks so bright.

Looks great but quality improvement needed
By
jasjit S.

(shreveport, LA) - October 19, 2009 (
See all reviews by this customer
)
Gave these as gifts to 5 year olds..... Look great and love the aluminum "non plastic" container. The spout attachment is low quality. Most of them did not work properly. Either did not open or was too loose. Not good when giving as a gift. But they are cute!

Cute but gets bent out of shape quickly
By
Julie R.

(Hutto, TX) - October 9, 2009 (
See all reviews by this customer
)
I have to say that this is the first aluminum water bottle we've had. Bought this for my 5 year old daughter. It's really cute, but it has dented really badly because she's dropped it several times. I don't know if this is an issue with all aluminum water bottles, though.

insulated would be better
By
Samantha B.

(Montgomery, TX) - October 8, 2009 (
See all reviews by this customer
)
This bottle is very cute but since it is not insulated it sweats and leaves a mess behind. Also it is not a wide mouth top so getting ice cubes in it is a challenge.

Bad Harness
By
Lillian P.

(South Pasadena, CA) - March 30, 2010 (
See all reviews by this customer
)
We got the two personlized water bottles I ordered for my two girls. The delivery was fine. But the color is not very vibrant or sharp which I was pretty upset about. I don't think they used enough ink or painted more layers, plus it's painted only one side, does not cover the whole bottle. Worst of all, two minutes after my 6 year old got the bottle and tried to hook it to her pants, the harness was broken, she was so upset. All in all, not a quality purchase. I do not think that I will purchase anything from this vendor soon.

dent easily
By
Lisa B.

(Abingdon, MD) - January 17, 2013 (
See all reviews by this customer
)
I love Personalization Mall and their service has always been great. This product is not. I purchased two for Christmas for my daughter who is 9 to take to school. They are beautiful and she loves them, but within two weeks both were dented. I contacted customer service to make them aware of the problem. They said it was a result of dropping them, which I knew, and that aluminum would not hold up against drops. I did not know that prior to purchasing them or I never would have. She is a kid, kids drop things. PM did offer to replace them for the cost of shipping as a one time courtesy, but I'm sure she would drop the new ones too so I declined. As always I am happy with the service from PM, but would stay away from these water bottles for children.