Great value!
By
Shopper

(Fairfax, IA) - July 25, 2011
I bought this large stone for my parents anniversary. It is beautiful! It is heavier than what I expected, which is nice.

LOVE IT, LOVE IT, LOVE IT!
By
Cyndi W.

(Saint Johns, MI) - July 25, 2011 (
See all reviews by this customer
)
I am a repeat Personalization Mall shopper becuase I absolutely LOVE your items! This is my third or fourth purchase and I am always in awe at your amazing prices and speedy shipping! Everyone always raves about the gifts and I love your selection. I can't say enough good things about you! I will return again and again, always finding a unique and beautifully personalized gift! Thanks so much!!!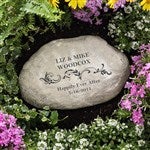 The perfect gift!
By
Shopper

(Palmer, AK) - July 18, 2011
I got married at my aunt and uncle's house. I gave them this stone as a thank you gift for allowing my husband and I to get married in their garden. The stone is realistic looking and quite heavy. I was very pleased with my purchase!

Love it!!!
By
Marci V.

(Hinckley, IL) - July 5, 2011 (
See all reviews by this customer
)
This rock is exactly what I was looking for and is so pretty under our tree. It is beautiful and the best part was how quick it came!! i was so excited to receive it so fast!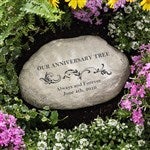 Fast Service
By
Shopper

(Bertrand, NE) - July 1, 2011
I ordered this for a gift on Monday and had it by Friday. I loved
the product, very excellent quatlity.

Garden Stone
By
Tracy B.

(North Bellmore, NY) - June 21, 2011 (
See all reviews by this customer
)
This Item was beautiful and nicer then i imaged. I'm very please with this new Item! It looks so pretty in my girlfriends rose garden. Great gift idea, I'm glad i purchased it!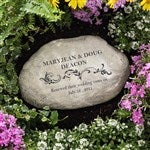 Love it!
By
Yvonne M V.

(Orleans, VT) - June 13, 2011 (
See all reviews by this customer
)
I ordered this for my parents new garden as they moved to Florida. I wish I could have been there to see their surprised faces when they saw their name on it!
Would highly recommend. I just love everything from personalization mall!

Personalized garden stone
By
Shopper

(Greenwich, NJ) - September 21, 2013
This is an ideal wedding gift. My only reason for not giving it the fifth star is because I wish it had not had a hollow center underneath. I would like for it to have been heavier and closed in.

Great
By
Barbara L.

(Marseilles, IL) - September 16, 2013 (
See all reviews by this customer
)
I always look for great wedding gifts and this was it...the quality was excellent and the size was great.....loved it

Quality
By
Shopper

(Chestertown, MD) - July 29, 2013
The design on this garden stone is very nice.

Nice garden stone
By
Debra B.

(Bolingbrook, IL) - September 28, 2012 (
See all reviews by this customer
)
The stone is lightweight but should be fine in a protected part of the garden. The engraving turned out great. I would recommend this purchase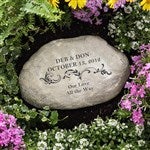 Personalized Garden Stone is great
By
Shopper

(Houston, MN) - August 2, 2012
I bought the gift for a wedding and thought it was great quality and very personal for the bride and groom.

Perfect gift!
By
Kerry H.

(Mapleville, RI) - May 1, 2012 (
See all reviews by this customer
)
Bought it as an anniversary gift for my parents. It's perfect! Just like everything else I've ever bought from this site, the quality is great. So glad I bought it.

A nice gift for a garden
By
Shopper

(Mahwah, NJ) - February 13, 2012
The engraving came out very nice but I didn't realize it wasn't a real rounded stone. The back is hollow, but it certainly looks like the real thing - I guess it is a lot move cost effective to ship than a real river stone.

Decent Gift
By
Shopper

(Berryton, KS) - February 9, 2012
I bought this for my Grandma who loves gardening. The writing isn't really engraved on the rock though it still looks nice. I didn't use the date format but instead wrote "Dorothy's Garden" for the 1st two fields and a quote about gardening for the last two fields. Turned out great.

very sweet
By
Merrill K.

(Fort Myers, FL) - December 10, 2011 (
See all reviews by this customer
)
I was impressed with this gift. It looks personal, festive and durable for the long life of the recipients' garden!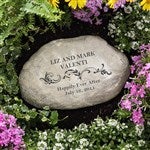 Great gift
By
cassy G.

(kissimmee, FL) - August 24, 2011 (
See all reviews by this customer
)
The only problem I have is I think if you scratched the ink with your nail I think it would scrape off.

Better than a greeting card!
By
Shopper

(Simi Valley, CA) - August 19, 2011
This was such a cute idea. For those times when you want to give a little something ~ not a heart's desire gift, but a gift that is unique, has a decorative purpose but won't force the recipient into putting it into their main decor; a gift that says "I remembered or I just wanted to let you know that I didn't forget or that I care"...then this is the gift!

OK, the words are not REALLY carved into the stone, but the ease and flexibility of creating your own special wording, the REALLY quick delivery time and the look and feel of the stone (it's not heavy) and the presentation of the stone in the box, make this a gift that will be appreciated. The only drawback is that it doesn't REALLY feel like a stone and it was hollow on the backside.

However, you aren't going to be carrying it around and when you do put it in your garden, or on your porch it won't stand out as faux rock; the color and size are realistic. I gave it 4 stars, only because I was expecting it to be the shape of a rock from all sides. The hollow back doesn't take away from the item and I would imagine it does help keep the cost of shipping down.

I'd order this again...how cute to put someone's name on it and state "you rock"!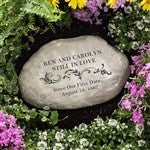 Nice, but writing could be darker
By
Shopper

(Grapevine, TX) - July 24, 2011
I ordered this stone as a memorial garden stone for my mother. It was the only stone on the site that let me fully customize the writing. Overall, I'm happy with the stone. The only issue is that in some places the writing is very dark and in others it is very light, almost so much that it makes it difficult to read. I wish the writing was more consistent in coloring.

Loving Couple Personalized Garden Stone
By
Shopper

(Antelope, CA) - July 4, 2011
The garden stone is exactly what I expected. The actual test will be how long the product "survives" the elements.


Nice Rock!
By
Constance J.

(Wheaton, IL) - June 13, 2011 (
See all reviews by this customer
)
I was very happy with the quality of this item and the weight of it. I had this made for my parents 50th wedding anniversay and can't wait to give it to them.

Garden Stone
By
Joan W.

(Broomall, PA) - April 12, 2013 (
See all reviews by this customer
)
I was very surprised when receiving the "garden stone" that it was not in fact a "stone" but just a shell of a stone. This is a gift and I would have preferred a full stone - not just half.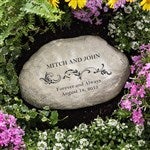 nice but disappointed
By
Shopper

(Mequon, WI) - July 5, 2011
We purchases this because it said it was "engraved". I took that to mean that it would be carved into the stone. It arrived with the letters "painted" on the rock. As this is a gift, I am really hoping that the paint will not come off over time.