Law Office Engraved Rosewood Pen Set
By
Sylvia R.

(Laredo, TX) - May 22, 2011 (
See all reviews by this customer
)
I got this item monogrammed. It makes a great law graduate gift. I highly recommend it. Fast service.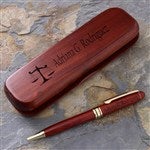 Great for Graduation
By
Shopper

(Charlotte, NC) - April 11, 2014
I ordered this and a folio with the law symbol on the front. What an awesome duo. I can't wait to give them to our future attorney.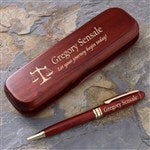 A gift for a rising star
By
Luis M.

(Carolina, PR) - June 15, 2013 (
See all reviews by this customer
)
Regards;

By accident got into this website but in time for a gift for my daughter in law that just pass the lawyer's Bar exam. Was surprised with the promptness that order was processed and the short time I received it. Of course when I had the product on my hand it was more than I expected for an email product.

Thanks for such great products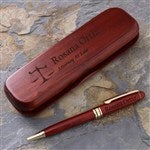 Wonderful Gift!
By
Raymond K.

(Fairfield, CA) - May 18, 2012 (
See all reviews by this customer
)
My good friend got into law school and I thought of her immediately when I saw it. I sent it to her without her even knowing and she was so surprised and at first didn't look through to box to see that I had sent it, but she knew it was me because under her name I had written To A Whole New World. She loves the pen and the handsome case. This is a great gift for anyone for any occasion or even no occasion at all!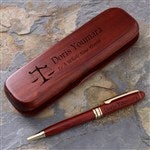 law school grad
By
Vanessa B.

(Franklin, TN) - May 26, 2010 (
See all reviews by this customer
)
I gave this pen set to my law clerk who I have known since he was a baby for a law school graduation party--he will be a very gifted young lawyer--he loved it

Beautiful pen and engraved box
By
Mark H.

(Temecula, CA) - May 6, 2010 (
See all reviews by this customer
)
The rosewood cover is beautifully finished and the engraving looks great. I hope my daughter loves her graduation present.

Personal and Professional at the same time
By
Claudia S.

(Lakeland, FL) - May 8, 2010 (
See all reviews by this customer
)
This item solved the problem of what to get the daughter of friends of ours who is graduating from laws school. We have never met the graduate but wanted to personalize the gift and this monogramed pen and a case that is also monogrammed with law scales on it as well were perfect. The item came very promptly in the mail.

Great Deal! Great Gift for a Law School Grad
By
erica F.

(plumas lake, CA) - May 20, 2010 (
See all reviews by this customer
)
I am so impressed with this website. i have been a customer for years and every order seizes to amaze me. This Pen Set look and is made of a very nice quality for such an unbelievable price! Best deal ever!

Great gift
By
Edie R.

(Berwyn, IL) - May 27, 2010 (
See all reviews by this customer
)
I bought this as a gift for passing the bar exam.
The wood is beautiful and the engraving came out very well.
Definately recommend this item.

Pen set for my friend
By
Vivian R.

(El Paso, TX 79924, TX) - December 15, 2010 (
See all reviews by this customer
)
This is a great gift with excellent craftsmanship, great price an it arrived within a reasonsable amount of time.. I will definitely shop with you all again.


pen set
By
lee J.

(Richmond, VA) - December 26, 2010 (
See all reviews by this customer
)
great product, great service, very pleased. thank you

Quality gift
By
Emily B.

(Minneapolis, MN) - September 16, 2010 (
See all reviews by this customer
)
I ordered this as a gift for my brother, also the officiant at my upcoming wedding. Very beautiful and high quality. My fiance said, "I want one!" As always, Personalization Mall was extremely efficient in the processing of the order, even with personalization!! I received my order days ago, and am still waiting for orders that I placed elsewhere BEFORE this one!

PERFECT Law School Graduation Gift!!!
By
Theresa K.

(Foxboro, MA) - May 29, 2010 (
See all reviews by this customer
)
5 STARS+++++! I couldn't believe how quickly it arrived and the ease of ordering something so personal. Received my order in about a week. Immediately opened the package and was very impressed. It was as or more beautiful in person as it was in the picture. This was my husbands graduation gift. He absolutely LOVES it, even tearing up (1st time seeing Attorney at Law under his name). The look on his face when he opened this is something I will never forget. My advice:It's a perfect gift! Ignore complaints regarding the engraving and cheapness of the pen. NOT my experience at all! Yes, the pen does "rattle" in the box a bit. I felt and my husband concurred most aren't going to carry the entire case with them everywhere, it will be proudly displayed on their desk. Only the engraved pen will be carried around. FYI the pen writes very smoothly!

High quality at a great price
By
Susan R.

(Raleigh, NC) - June 9, 2010 (
See all reviews by this customer
)
This was a very good quality pen at a great price. The rosewood and engraving were beautiful. And our recipient really enjoyed this as her law school graduation gift. We highly recommend this gift!

Very Professional Looking
By
Christina M.

(Laveen, AZ) - May 5, 2010 (
See all reviews by this customer
)
I am very please with how this product turned out. The engraving is clear and concise. The case and pen look terrific. Very professional. A perfect gift!

LOvely Gift
By
Shopper

(Escondido, CA) - April 29, 2012
My daughter was very impressed with this rosewood pen

Gift for a graduate, pretty.
By
geralyn M.

(harrison township, MI) - May 12, 2012 (
See all reviews by this customer
)
The whole experience from beginning to end was wonderful. Ease of ordering to emails letting me know the process of being delivered. I will definetly use your site again.

Good Gift for Graduate
By
Shopper

(Blacksburg, VA) - May 14, 2011
Pen seems to be good quality. No spelling errors in the personalization, and the pen case is very nice. The pen case opens and closes very smoothly and has no noticeable play in the hinges. The pen has a good weight to it, which I like. The pen open and close is the twist style, instead of a clicker. I can hear a faint grinding noise when I twist the pen open. The head of the pen seems to be a standard ball point, with more of a bold point as opposed to a sharp point. I'm sure you can get refills to make the head of the pen sharper if desired. In all, I think the pen was well worth the money and is a great gift for a graduate.

Disappointed. Should offer just the case.
By
Aurelia S.

(El Cerrito, CA) - February 11, 2010 (
See all reviews by this customer
)
I choice the wood pen over the metal comments on the metal pen said the engraving was hard to read. The engraving on the wood pen is also not very good and is difficult to read. The pen sounds flimsy, it makes a rattling sound when you move it. When the pen is put away, it slides around inside the box.
The box, however,is nicely done. The lid stays open by itself, and the wood is very beautiful.

Nice but not great
By
Nicole J.

(Sioux Falls, SD) - December 29, 2009 (
See all reviews by this customer
)
I would have liked something other than wood to choose from, the box is very nice, the pen is a little light and cheap feeling. Overall I am happy with the purchase

Pen
By
Shopper

(North Tonawanda, NY) - May 20, 2014
The pen was nice and engraving lovely, unfortunately, I did not receive it in
time to take upstate to graduation as a gift meant for my son.


engraved rosewood pen set
By
Glenda B R.

(Fort Payne, AL) - December 12, 2009 (
See all reviews by this customer
)
beautiful,iwill do business with again . great service.

GREat!
By
Lauren L.

(Rochester, NY) - February 26, 2010 (
See all reviews by this customer
)
After reading the reviews on this pen, I was a little weary about ordering it since there was mention that the pen felt lighter/cheaper than expected. I was pleasantly surprised when I received it in the mail. The pen case is very good quality and the pen felt nice as well. The engraving turned out great, and the pen was shipped very fast! I will definitely be back for future purchases!

Beautiful Gift
By
Gayle E.

(Bowie, MD) - November 10, 2009 (
See all reviews by this customer
)
I am really impressed with this beautiful gift. It is so rich and definitely classy. It was purchased for a professional and will be a hit for someone that has everything. The company was so prompt with their service, best yet of any that I have ordered form. Thank you for catering to your customers. I will definitely order from your company again.

The Law Office Engraved Rosewood Pen Set
By
Shopper

(Dunwoody, GA) - July 8, 2014
A great value. I bought the pen set as a gift. I give it only 4 stars because I don't know the quality of the pen itself but it looked very presentable. The person who received it loved it.

Quality product, quality engraving
By
Elliot P.

(Olney, MD) - October 16, 2009 (
See all reviews by this customer
)
This is a perfect gift for the new law school grad! Beautiful construction makes this a very handsome gift.

Perfect delivery
By
Shelly U.

(Elmont, NY) - June 5, 2012 (
See all reviews by this customer
)
The pen perfect. The imprint made it even more sophisticated. Delivered as promised. Thanks.
I will definitely order again.

Law school graduate gift
By
Sharon R.

(Petersburg, WV) - October 1, 2012 (
See all reviews by this customer
)
I recently bought a Rosewood Pen, which came in a wooden case..and had it personalized for a friend who had just been accepted to the bar. I couldn't have been more pleased. The pen is beautiful, as well as the case and it writes so nice and smooth. It has the same quality as the higher end pens but was very reasonably price. I received it just a few days after ordering. My friend was so pleased with it. I would suggest to everyone to check out your products. Thank you so much for the great product and service.

Well worth the price
By
Shopper

(Camarillo, CA) - May 16, 2012
I purchased this pen as a gift for my son's law school graduation. When ordering it, I was worried about the quality because of the low price, but was pleasantly surprised. The pen and case are beautiful. The engraving was perfect. The case is wider than I thought but that actually improves the look. It's a perfect gift to help commemorate a memorable moment.

Great gift
By
Shopper

(metairie, LA) - April 27, 2012
Got this for a law student for his graudation and he loves it. Great quality

Very Pleased!
By
Shopper

(Youngtown, AZ) - April 28, 2012
This is such a nice gift and just what i was looking for with the Scales of Justice!! The quality of the Rose wood is excellent! Very nice grain in the wood and absolutly flawless! The Engraving is top quailty as well. Im very pleased! The pen is also very nice and good quality. The Engraving is a little less deep on the pen of course, but so nice. Who ever turned the wood to make the pin, they did a wonderful job!

Perfect!
By
Peter M.

(Yorktown Heights, NY) - November 2, 2012 (
See all reviews by this customer
)
Exactly what we were looking for as a gift to a new law grad. While it's tad smaller than we thought from the photos, it's still perfect. Both the box and the pen are quality products and the engraving came out as good as we could have hoped. Thank you!

GORGEOUS
By
Shopper

(grottoes, VA) - January 29, 2014
absolutely love the product i got for my boyfriend who just passed his bar test to be a lawyer and what a great gift. thanks for making all these amazing items available!

Beautiful
By
Shopper

(Memphis, TN) - April 27, 2014
My order arrived as expected. It is beautiful, the case and the pen. I will definitely use Personalizationmall.com again for my personalization needs. Thank you

Very Satisfied
By
Shopper

(Sour Lake, TX) - June 8, 2013
Arrived extremely quickly. It was just as advertised! Personalization Mall is now in my favorites and will order from them again! Prices are so affordable. Thank you!

Perfect gift for the occasion
By
Guay C.

(Port Saint Lucie, FL) - December 14, 2012 (
See all reviews by this customer
)
I purchased this Engraved Rosewood Pen Set for a friend who works in the legal field. She lives 1,500 miles from where I live and had this item directly shipped to her. She called me immediately after receiving this gift to explain the beauty of the pen and case. All engraving was exactly as I ordered, and the gift arrived several days before the estimated timeframe. I felt totally comfortable sending this gift direct to her because I have never been disappointed in any of the items I have ordered from Personalization Mall over many years.

Excellent
By
Oretta B.

(Bridgton, ME) - May 28, 2013 (
See all reviews by this customer
)
I was very pleased with the product, the service and the prompt delivery.

Quality Pen
By
barbara P.

(wimberley, TX) - November 1, 2011 (
See all reviews by this customer
)
Beautiful pen for the price. Carving on the wood is excellent!

100% Happy
By
Shopper

(Pomona, CA) - December 17, 2011
Great quality, super fast shipping, and terrific prices...thank you so much I will look forward to ordering again.

Great gift idea!
By
Shopper

(East Syracuse, NY) - May 14, 2011
Purchased this for my brother as a graduation gift from law school. It is very nice and he liked it a lot. Would recommend.