Loveeee
By
Shopper

(Scarsdale , NY) - February 19, 2012
Great valentines day gift...heavier than expected also larger than expected..

An Excellent sentamantal
By
Shopper

(Johnston, RI) - February 15, 2012
Great present for someone you love. From the original concept of a fortune cookie to your own customized message that you are able to express inside the cookie. Great for any occasion.

Love the idea and creativity you are able to give out.

cute little fortune
By
Shopper

(San pablo, CA) - February 13, 2012
I ordered this silver fortune cookie for valenties day with a cute little fortune insides and i loved it! It was a great size, bigger then actual fortune cookies. And Soo worth what I paid!

Gorgeous Product
By
Shopper

(Miami, FL) - February 13, 2012
This was a perfect gift for a 20 year aniverssary since 20 years is celebrated with "China" and platinum. The silver fortune cookie is gorgeous and of great quality!

AMAZING
By
Jennifer C.

(Canada) - February 9, 2012 (
See all reviews by this customer
)
This fortune cookie is AMAZING....great quality and worth every penny!....I am giving to boyfriend...this would make an EXCELLENT gift to propose with and it would hold an " engagement ring"...hint, hint all you guys out there :)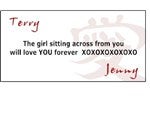 Product Quality
By
Shopper

(Hayward, CA) - February 7, 2012
I received this product and was amazed at the quality. It was exactly as the product description and the actual fortune inside was of high quality. I'd recommend this product to anyone and I'd buy it again myself.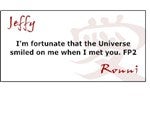 Very Pleased =)
By
Shopper

(uniontown, PA) - February 5, 2012
Very well made and alot bigger than i expected
got it for my boyfriend for valentines day i
know he will love it as much as i do =)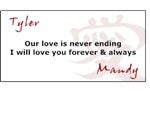 The Perfect Keepsake Gift!
By
Ceara R.

(Aurora, CO) - February 4, 2012 (
See all reviews by this customer
)
I saw this gift online and it stayed in my mind for when I needed to get a gift. I finally decided to buy the Fortune Cookie for a valentines day gift and absolutely loved my experience and the gift itself! The shipping was very fast and the product was durable. The Fortune Cookie is nicely plated and the presentation of the gift is amazing! Perfect keepsake for the perfect person! Already referred my friends to the website and they've loved it as well.

Fortune
By
Cheryl S.

(Fresno, CA) - January 29, 2012 (
See all reviews by this customer
)
This product was even a better quality than I expected. I am sure my husband will be thrilled on Valentine's Day!

LOVED IT
By
Shopper

(Alexandria, VA) - January 9, 2012
Got it for my boyfriend for our One year together :) We both Love Chinese food and I thought it would be a great idea when I saw this. How I gave it to him was very interesting that I will recommend for other people to do. We were spending an evening together when I said we should get Chinese food :) the food came in and we put it in the table I told he to go wash his hands while he did that I put the gift with the rest of the Chinese boxes. When he was going to get the food he grabed that box and was suprized he loved it :))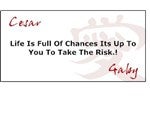 Very nice!
By
Shopper

(Elkton, VA) - December 24, 2011
My bf and I enjoy reading our fortunes when we get Chinese food, so this was a very cute idea! I love that it came in a Chinese takeout box! Love it!

very pleased! :]
By
paige S.

(hodges, AL) - December 1, 2011 (
See all reviews by this customer
)
Loved this! Bigger than I imagined! Will be a GREAT gift for my Boyfriend! Very unique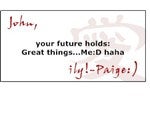 Personalized Fortune Cookie
By
Shopper

(allentown, PA) - November 6, 2011
The fortune cookie itself is beautiful and made very well! I was very pleased with the product. I presented these to my bridesmaids as an announcement of my choice to include them in my wedding party. They were given to them after I took them out to dinner at a Sushi/Asian restaurant. The gift receivers loved the creativity and thought the fortune cookies were really neat! They were impressed! The display was really great too- the box, red ribbon confetti, and sticker added a "real" touch to the whole idea! Definitely would recommend! Thank you Personalization Mall!!!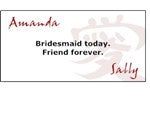 Loved it!
By
Vanessa G.

(Garland, TX) - November 1, 2011 (
See all reviews by this customer
)
Oh my goodness! I loved this so much and so will my boyfriend! This is the perfect birthday gift!

Love this!
By
Tiffany Z.

(Westland, MI) - October 24, 2011 (
See all reviews by this customer
)
I ordered this for a gift and want one back! It's beautiful and a great quality.

Perfect Gift!
By
Shirley B.

(Coxsackie, NY) - October 23, 2011 (
See all reviews by this customer
)
I was looking for a unique gift for very dear friends on their 25th anniversary. This was perfect!! Not only is it silver (typical gift for 25 years), I was able to put a personal message inside. The take out container it comes in also has Love on it in English as well as Chinese characters! My friends absolutely LOVED it!! I am very pleased with my purchase and would HIGHLY recommend it to others!! Thank you!!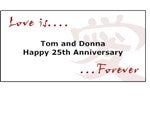 Great for fun loving gifts
By
Veronica H.

(Nacogdoches, TX) - October 15, 2011 (
See all reviews by this customer
)
My wife and I each got some fortunes, while eating out one day. Hers said she would receive a gift that would leave a lasting impression, and mine said I would give someone a loving gift. So I knew I had to get her something, it was too much of a coincidence.

I didn't want to get her anything to elaborate because this whole thing was cute. I also wanted something to remind both of us of this for years. Huge edible fortune cookies were a no-go because we live in texas and it would have definitely melted.

The silver fortune love cookie was perfect! The presentation of it in the take out box is so cute. And I absolutely love that you can write your own fortune! My wife loved it, it is a great product!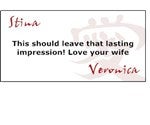 Anniversary Gift!
By
Joelene L.

(Canada) - September 27, 2011 (
See all reviews by this customer
)
Perfect gift and fast delivery! A great buy!!

Such a unique keepsake
By
Shopper

(Oceanside, NY) - July 28, 2011
I ordered these as a way to ask my sisters and friends to be in my bridal party. I put unique messages in each and everyone loved them. SUCH a unique and beautiful keepsake.

Excellent!!
By
Shopper

(Albuquerque, NM) - June 28, 2011
I purchased this item for my boyfriend and he loved it! I was very happy with the quality of the item, the presentation and the prompt delivery.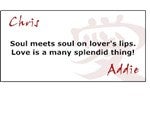 PERFECT GIFT
By
Shopper

(SLIDELL, LA) - April 22, 2011
My daughter recently earned her black belt in karate. She also is graduating from High School, I bought this adorable fortune cookie to put her graduation money inside it. It will be perfect!! It really is unique. I was so surprised to see how quick it came too. Great presentation for the gift box!!

LOVE IT.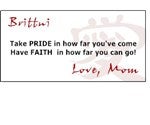 A real hit!!
By
Michelle A.

(Dumfries, VA) - March 6, 2011 (
See all reviews by this customer
)
I ordered this gift for my boyfriend's Birthday and had it shipped to him. I wanted something different - and Personalization Mall delivered. He loved it and still talks about it. The turnaround was unbelievable as well. I placed my order on a Firday, and he received it on Wednesday (and there was a holiday that Monday). I recently discovered Personalization Mall and so glad I did. Thanks!

So original and cute!
By
Shopper

(Springfield, OR) - February 19, 2011
I've been looking for something like this for a bit and when I found it, I knew it was perfect!

Perfect Valentine!
By
Amber H.

(searcy, AR) - February 17, 2011 (
See all reviews by this customer
)
My boyfriend and I are long distance because I attend school out of state but I wanted to do something meaningful and unique for his birthday. WE both looooove chinese food and there's a long story behind one particular fortune cookie I received while out with him. He was so surprised when he received a take-out box! It was bigger than I had though, but only made it better! I will be ordering from this site again, just awesome!

Couldn't have been more happy!
By
Al D.

(Huntington Beach, CA) - February 15, 2011 (
See all reviews by this customer
)
If you like what you see in the pictures, then you'll love what comes in the box! Gave it to my girlfriend on Valentines day and she thought it was great. Plus, the folks at Personalization are truly the best! I'm a long time repeat customer and have never been disappointed and the customer service is above and beyond what you'll find anywhere else!

Good quality
By
Shopper

(New Albany, IN) - February 15, 2011
It's larger (almost 3" across) and heavier than I expected. I think its real metal, not silver coated plastic. The lid snaps closed. The carton that it comes in looks just like Chinese take-out. A unique gift for someone who likes Chinese food.

Very Pleased!!
By
Shopper

(Manassas, VA) - February 15, 2011
The fortune cookie was ALOT nicer then what I thought it would be. I was pleasantly surprised by the size ... its very large.

BIG fortune cookie!
By
Shopper

(Canada) - February 12, 2011
It looks exactly as the pic, and the quality is much better than I thought. Love it!! will definitly become a fan of personalization mall and recommend it to my friends!

unusual
By
Hilda T.

(Buckhannon, WV) - February 12, 2011 (
See all reviews by this customer
)
This was a great valentine day gift for my boyfriend as one of the places we go to eat often is Chinease and we always have fun with the fortune cookies. Besides it is a very unusal gift

Big for a fortune cookie
By
Arvinder S.

(Dayton, TX) - February 7, 2011 (
See all reviews by this customer
)
The fortune cookie was sort of large, but still a great valentine's gift. It comes just as chinese takeout so it works well if you want to surprise him/her at dinner. Great product!

Never Disappointed
By
Stacey W.

(Antioch, CA) - January 31, 2011 (
See all reviews by this customer
)
I started using this website at Christmas when I was at a loss for gift ideas for a long time friend. I found so many perfect gifts it was hard to choose just one. It was so easy, came on time and it was beautiful.....I proceeded to order more gifts for my relatives, husband and friends. The last gift was this pesonalized fortune...it was packaged perfect and its just adorable for the man that has everything!! THANK YOU!!!! I will continue to use you!!

Way too cute for the price...
By
Shopper

(Atco, NJ) - January 24, 2011
This was my first order from this website and was very nervous. But I must say, the product is adorable. It's much larger and heavier than what I had expected. Although the chinese take out box is just a plain white box with a sticker on it, it doesn't take away from the real gift inside. My only suggestion would be to add a space for a date, maybe on the back of the fortune. Overall, very very happy.

Cute Little Cookie!
By
Shopper

(Newport, OR) - January 24, 2011
This is a very charming, surprise gift. Not only is it beautifully made, but very clever in design, as one can have personalized their own messeage that is tucked into the fortune cookie. It arrives boxed like Chinese food. The whole of the application and delivery is very charming.
Thanks!

Great but
By
Amanda L.

(Hazleton, PA) - October 19, 2010 (
See all reviews by this customer
)
Great, bigger then I expected but the message inside was in poor shape but not that big of an issue. Fast shipping!!!

Awesome!
By
Bryan M.

(Queen Creek, AZ) - October 13, 2010 (
See all reviews by this customer
)
This is such a great gift! Its unique, and fun. The size of the cookie is a little bigger than the normal fortune cookie. The personalized message was great--and it arrived very quickly! My fiance said "i think this is my favorite gift that you have gotten for me" (and i give some pretty great gifts) If your thinking about buying it, but arnt sure, just do it! You wont find this product anywhere else, and the person who recieves it will be impressed!

AMAZING!!
By
Khaled A.

(newark, DE) - August 10, 2010 (
See all reviews by this customer
)
GOOD STUFF!!

Great!
By
Chen C.

(Atlanta, GA) - May 4, 2010 (
See all reviews by this customer
)
The special design and the creative idea make this silver fortune cookie a very nice gift for my friends.

Love it!!
By
Sue W.

(Severn, MD) - April 29, 2010 (
See all reviews by this customer
)
This is the second time I've gotten this as a gift and it works perfectly. The first one I got was several years ago and it looks the same, did not tarnish at all.

Love the fortune cookie
By
Nancy N.

(Overland Park, KS) - March 12, 2010 (
See all reviews by this customer
)
I am giving the fortune cookie to my daughter and fiance as a good luck gift for their wedding.
I was impressed at how quickly the item arrived.

She loved it!
By
Derek R.

(El Segundo, CA) - February 22, 2010 (
See all reviews by this customer
)
It was unique and personal! Made it just in time for Valentines Day and she was so happy it was the average candy and hearts.