gifts
By
Melody S.

(Staten Island , NY) - June 18, 2013 (
See all reviews by this customer
)
The quality of your gifts are very good. I like ordering from your site.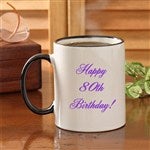 Great price, pretty good quality
By
Rebekka S.

(Chevy Chase, MD) - June 17, 2013 (
See all reviews by this customer
)
We bought this cup and personalized it for my daughters teacher. The cup came out looking great (letters in red) and her teacher loved it. Great present for the price!!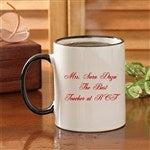 Mugsy
By
Shopper

(Broomall, PA) - June 11, 2013
Mug is very well done. Should have chosen one of the colors instead of black, but still attractive
and a good size.

Exactly what I wanted
By
Shopper

(Goose Creek, SC) - May 14, 2013
The mug is great! I was worried about its size, but it turned out just right. I use it every day.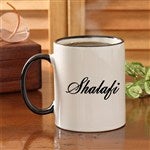 Gift for Instructor
By
Shopper

(Townsend, DE) - May 12, 2013
A good looking cup. Gift was well received.

Son-in-Law Gift
By
Julia D.

(Spring Hill, FL) - April 5, 2013 (
See all reviews by this customer
)
The Mug we bought for our son-in-law for his birthday was
a great gift, because he is so hard to find something "special"
for and we thought the Mug would be perfect...

Loving it
By
Carolyn B.

(Las Vegas, NV) - April 5, 2013 (
See all reviews by this customer
)
The cup came out perfect...just what I wanted

A Gift
By
Shopper

(Hyde Park, NY) - March 19, 2013
The final destination of this mug "Lilyberg" was a small community in
Panama. It arrived in perfect condition (your packaging is superb!)

Lilyberg is the nickname of a very dear friend who re-located to Panama 6 years ago. She was absolutely delighted.

Thank you.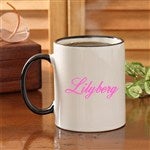 beautiful idea
By
Shopper

(SMITHTOWN, NY) - March 3, 2013
Bought this cup for each of my granddaughters, and they loved it.
They were pleasantly surprised and now they each have they own
personal cup. Beautifully written up and Personalzation did again a great job.
Would definitly recommend this to all my friends.
Thank you.

congratulation gift
By
Shopper

(somerville, AL) - February 17, 2013
coffee mug was exactly like i wanted and ordered

coffee cups
By
Shopper

(Lemay, MO) - February 17, 2013
quality cup. Delivered as promised.

.Personalized Mug
By
Shopper

(Brookfield, MA) - February 12, 2013
Received the coffee mug I ordered & I am very pleased how it turned out. The script is nice, the red lettering is perfect for a Valentine gift and the large size of the mug is perfect. Love it ~~ thank you, Personalization Mall for sending it in a timely fashion.

Perfect
By
Shopper

(gilbert, AZ) - February 12, 2013
This was just as I had expected. Very nice quality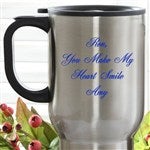 AS ALWAYS very HIGH QUALITY items here.
By
Shopper

(Magnolia, TX) - January 5, 2013
My daughter-in-law broke my sons "favorite mug" that I'd gotten a couple of years ago at this site.
I was able to replace it this Christmas. He is thrilled to have "his mug back"
Always have quality gifts and good sales at Christmas.
I am a very satisfied customer and will continue to look for gifts here.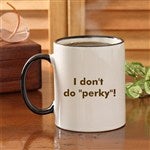 Great buy
By
Kelly B.

(morgan city, LA) - December 26, 2012 (
See all reviews by this customer
)
Everything was perfect, exactly what I ordered and came in very quickly!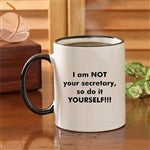 the best
By
Neil C.

(Mattapoisett, MA) - December 26, 2012 (
See all reviews by this customer
)
Ordered 4 they were beyond what I expected. You have a customer that will spread the word.

awsome
By
Toni C.

(Toledo, OH) - December 23, 2012 (
See all reviews by this customer
)
This was a Christmas gag gift for my Mother. When she opened it....everyone, including her, laughed like crazy at the saying. The quality of the cup was top notch and the script was beautiful. I will order from your company in the future without hesitation. Thank You.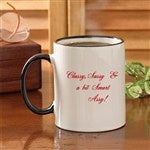 Personalized Coffee Mug
By
Robert S.

(Charlotte, NC) - December 16, 2012 (
See all reviews by this customer
)
I ordered a personalized coffee mug for my daughter for Christmas. Everything was perfect, the printing, colors and very fast shipping. The mug was well packaged to ward off any possible shipping damage. I could not be happier with my purchase. Thank you.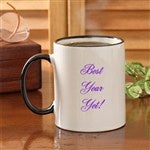 Very pleased
By
raymond S.

(barnesville, PA) - December 13, 2012 (
See all reviews by this customer
)
Everything was perfect all around.
Speedy delivery, packed perfectly, received exactly the way I ordered it.

Perfect Boss' Day Gift
By
Shopper

(Meridian, MS) - November 3, 2012
This gift was a HUGE hit......my office co-workers and I ordered a personalized travel mug for our boss for Boss' Day, and he loved it so much he had us order another one for another boss in another department. Way to go:) Great gift and the ordering process was super easy. The best part is being able to view the finished product on line before you ever receive it.....that was awesome. I think we may end up ordering a few more for other dept. heads in the future. Again, GREAT product.

The bride
By
Stephanie B.

(Hillside, NJ) - October 16, 2012 (
See all reviews by this customer
)
I rdered these gifts for my wedding a party, and they are beautiful.

Good Mug!!
By
Shopper

(New York City, NY) - October 14, 2012
I needed a mug for a friend of mine who is always on the run. I got him this mug to keep his coffee hot and to remind him that someone cares. The delivery was top notch, and so was the mug. I will continue to order from Personalization Mall whenever the need arises. Good Stuff!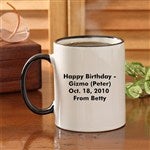 Perfect for my Keurig
By
Carol M.

(Ferndale, MI) - September 17, 2012 (
See all reviews by this customer
)
This travel mug fits perfectly in my Keurig!!! Just what I was looking for!!!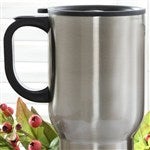 Better than Expected!!!
By
Shopper

(New York City, NY) - September 4, 2012
I have had dealings with Personalizations and their reputation is strong and helpful. The cup that I had ordered is for a friend with fancy tastes and I was not sure that he would enjoy this cup as a birthday present. But Lo and Behold! He LOVED IT!!! Thank you personalization.mall for making my life a whole lot easier.

Good product, great service
By
Shopper

(Canada) - August 31, 2012
The mugs are great. Comfortable to carry and fit in small car cup holders. Coffee stays hot and doesn't spill. But the best is that they arrived earlier than promised to an address in the middle of nowhere.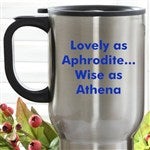 I keep loving your co.
By Shopper (tampa, FL) - August 29, 2012
I started ordering in june. You have endless variety of products all can per personalized. my family has loved the gifts & I have enjoyed giving them. My husband wishes I never found you.

Birthday Present
By
Shopper

(North Las Vegas, NV) - August 28, 2012
Fast response. Fast shipping without paying extra shipping charges. Great product and received well. Can't go wrong with this site. Very helpful in every respect.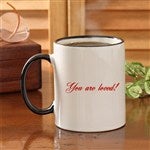 excellent customer service & product
By
Shopper

(Carrollton, TX) - August 16, 2012
I have just received my first order from Personalization Mall and I can not say enough positive words about my experience. The mugs I ordered are of very good quality, the inscription is exactly as I requested, and the customer service was first rate. I had several questions regarding this order and the rep was extremely patient & helpful. Even a broken item was replaced immediately, no questions asked. I could not have asked for better service.
I will continue to use Personalization Mall for gifts in the future. I encourage you to do the same as I know you will not be disappointed.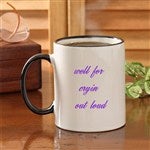 Beautiful script on mug
By
Shopper

(Marshfield, WI) - July 10, 2012
The mug was for my wife's sister and the blue script on it was just beautiful. Definitely will be buying more mugs in the future.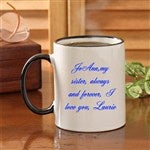 made just the right impression!
By
gail E.

(salinas, CA) - June 27, 2012 (
See all reviews by this customer
)
After being reunited with my first love, my childhood sweetheart after 41 years, I wanted something special to mark our (new) first anniversary. I wrote him a poem and wrapped it inside a personal gift. As an added special touch, I ordered two of these cups and had the first line of the poem inscribed on the cups, successively (the line would not fit on one cup). He was absolutely thrilled! The cups sit prominently on display on a shelf in his den, where he proudly shows them to everyone! Another great product from you guys, thanks! Here is the first cup.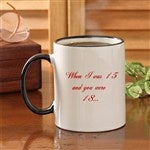 Great Gift Idea
By
Betty M.

(Freehold, NJ) - June 26, 2012 (
See all reviews by this customer
)
This mug gave me the perfect chance to put a personal sentiment on a gift for a very good friend who recently turned 80 years old. The lettering was clean and concise. The turnaround time was as promised and delivery was even quicker than I anticipated. I wouldn't hesitate to order from this company again.

Personalized coffee mug
By
Lisa D.

(Gaston, OR) - June 26, 2012 (
See all reviews by this customer
)
The company shipped this really fast to me.When I got the product I was amazed on how it looks. This is going to be a nice gift for all the groomsmen.

Fun mugs
By
Jasmine B.

(Roanoke, IN) - June 23, 2012 (
See all reviews by this customer
)
The price is great for this mug! You can put whatever you want on it to make it special.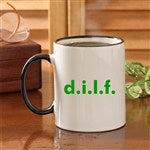 Well crafted and good size
By
Ron E.

(Schenectady, NY) - June 12, 2012 (
See all reviews by this customer
)
The product was shipped in a timely manor and arrived in good shape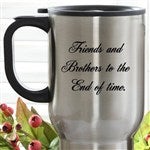 Mothers Day for my daughter
By
Sarah R.

(Moundsville, WV) - May 15, 2012 (
See all reviews by this customer
)
I purchased this for my daughter from my granddaughter, my daughter almost started crying. This was her first mothers day, and her and her hubby is not together. So this helped make my daughter's day.

A Mug with a Message
By
Robert R.

(Batavia, IL) - May 1, 2012 (
See all reviews by this customer
)
This is one of my wife's favorite birthday gifts . . . she LOVES it. It's perfect.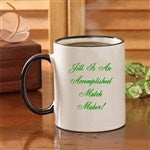 Fabulous Idea
By
Kristin S.

(Nashua, NH) - April 27, 2012 (
See all reviews by this customer
)
I love this website. My husband found it while looking for a gift for my brother-in-law. We usually don't exchange gifts but it was a special birthday so my husband wanted to get something little. We created his and her mugs using the personalization form. They were awesome! My brother- and sister-in-law thought the mugs were so cute. It was a small gift (that didn't cost a lot) but it showed that we were thinking of my brother-in-law on his special day.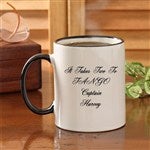 Great gift
By
Shopper

(north lauderdale, FL) - April 20, 2012
The letters are perfect and the travel mugs is perfect too my only concern is that the letters look like is just an sticker on top of the mug looks kinda cheap. But the important thing my husband likes it and use it everyday to take coffee to work. Good gift!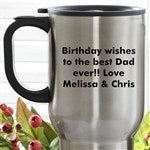 Nice Commute Mugs!
By
Diane J.

(Highlands Ranch, CO) - April 9, 2012 (
See all reviews by this customer
)
Personalized 2 mugs (1 serious - 1 fun) for husbands new title at work to use on his driving commute. Printing well done. I am hand washing as advised - because mugs are new. After "not so new" will probably end up putting in dishwasher - as I do other pre-printed brands we own (that have retained printing). Also, mugs don't seem to stain inside - even when he leaves in car for days like some other brands we have had.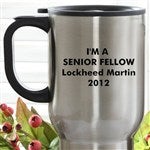 Commuter
By
Julia J.

(Jackson, MS) - March 30, 2012 (
See all reviews by this customer
)
It was a very nice cup. The work was beautiful.