A Mug with a Message
By
Robert R.

(Batavia, IL) - May 1, 2012 (
See all reviews by this customer
)
This is one of my wife's favorite birthday gifts . . . she LOVES it. It's perfect.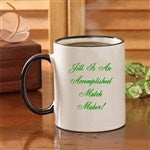 Fabulous Idea
By
Kristin S.

(Nashua, NH) - April 27, 2012 (
See all reviews by this customer
)
I love this website. My husband found it while looking for a gift for my brother-in-law. We usually don't exchange gifts but it was a special birthday so my husband wanted to get something little. We created his and her mugs using the personalization form. They were awesome! My brother- and sister-in-law thought the mugs were so cute. It was a small gift (that didn't cost a lot) but it showed that we were thinking of my brother-in-law on his special day.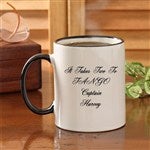 Great gift
By
Shopper

(north lauderdale, FL) - April 20, 2012
The letters are perfect and the travel mugs is perfect too my only concern is that the letters look like is just an sticker on top of the mug looks kinda cheap. But the important thing my husband likes it and use it everyday to take coffee to work. Good gift!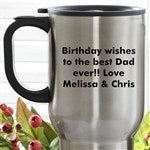 Nice Commute Mugs!
By
Diane J.

(Highlands Ranch, CO) - April 9, 2012 (
See all reviews by this customer
)
Personalized 2 mugs (1 serious - 1 fun) for husbands new title at work to use on his driving commute. Printing well done. I am hand washing as advised - because mugs are new. After "not so new" will probably end up putting in dishwasher - as I do other pre-printed brands we own (that have retained printing). Also, mugs don't seem to stain inside - even when he leaves in car for days like some other brands we have had.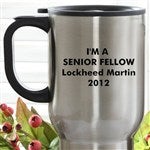 Commuter
By
Julia J.

(Jackson, MS) - March 30, 2012 (
See all reviews by this customer
)
It was a very nice cup. The work was beautiful.

love, love, love
By
Shopper

(Alford, FL) - March 25, 2012
the cup handle are perfect size.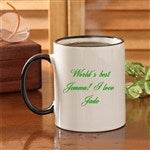 Great mug
By
Shopper

(Enola, PA) - March 11, 2012
The mug is very nice and the printing is bold and looks great!

service
By
Shopper

(alma, GA) - March 4, 2012
was very pleased with the procuct and your attention to getting it deliverd. Thanks. Will be using you again.

Great Gift for Dad!
By
Shopper

(Pittsburgh, PA) - February 27, 2012
My fiance and I ordered 2 of these mugs for our fathers as wedding gifts to them. They turned out perfectly and i think they will love them.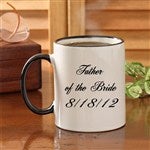 A Lovely Gift
By
Joanna S.

(Walnut Creek, CA) - February 26, 2012 (
See all reviews by this customer
)
Super fast service on this item. Nice, heavy, quality ceramic mug. The personalization looks very classy. Happy with the purchase. Don't know why they suggest buying a gift box, though, as it comes packed in a strong, plain white cardboard box which is perfectly suited to giftwrapping. So no need to buy another! Overall, I am super pleased with product and service.

Great!
By
Shopper

(Saint Louis, MO) - February 15, 2012
I received my personalized mug in just a matter of days! I was shocked that it was delivered so quickly. The quality is great, and I think my boss will love it. Thank you!

A-1 PRODUCT AND SERVICE
By
Betty B.

(Essex, CT) - February 12, 2012 (
See all reviews by this customer
)
I am a Race Director and needed to order 48 personalized mugs as awards for a running race. The mugs came within a week of my order. They are very good quality. I couldn't have asked for better service. I needed to call customer service and they were pleasant and helpful. I was also offered 20% off my order which added up to a huge savings.
I will definitely do business with them again. Great company to deal with!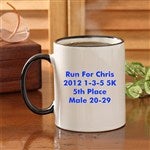 Pleased
By
Shopper

(Madison, AL) - February 6, 2012
I ordered this for my friend and she loved it. Says she'll take it on all her travels.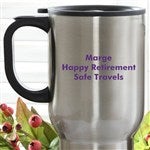 Perfect Gift in Record Time
By
Shopper

(North Muskegon, MI) - February 6, 2012
I was looking for a gift to take to a birthday party for a male friend. I decided I had they perfect saying to personalize a gift for him and found this mug which could be personalized with exactly what I wanted to say. The ordering was easy, there were many different styles of lettering to make it a little more masculine and it arrived in a few days without the need for "rush" delivery. The gift was a huge hit!

Best Gift Ever
By
Shopper

(Redondo Beach, CA) - January 8, 2012
These mugs were purchased for our neighbors and everyone LOVED them. See them every day, coming over to my house with coffee in them. Absolutly great!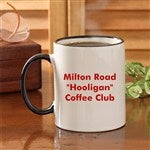 Great Cups
By
Shopper

(Wichita, KS) - December 30, 2011
These cups were great! We were looking for something more personalized for my son's grandparents, and with these we could put the names that he calls them on the cups. The different fonts for the writing is also nice!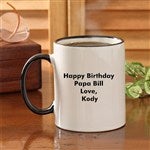 Perfect Gift
By
Charlotte B.

(Clyde, NC) - December 26, 2011 (
See all reviews by this customer
)
I got such a wonderful feedback from the receiver of this gift...It made me happy to make her so happy. She has been my mail carrier for years and after she received her Christmas gift, she let me know she was retiring....I will miss her, but I am so glad I got this special gift for her this year.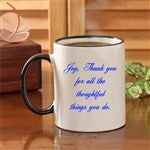 Heart felt gift
By
Shopper

(Fort Worth , TX) - December 22, 2011
This was a gift for my father on his birthday, I surprised him by it being delivered to his home. When he opened it and read what it said tears came down his face. He was very pleased with it. I am happy to have found your website and will always shop for friends and family.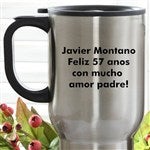 Great gift
By
Shopper

(Murfreesboro, TN) - December 21, 2011
Got this for my son who will soon be a father. Love it.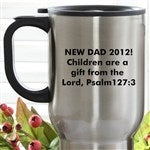 Great gift
By
Shopper

(Philadelphia, PA) - December 18, 2011
I bought this product for my friend and he absolutely loved it. It gave me the opportunity to write what I want and not having a generic writing.

Awesome product, awesome quick delivery!
By
Laura G.

(Martinez, CA) - December 15, 2011 (
See all reviews by this customer
)
I was very pleased with the personalized mug i received from them. It was
beautiful executed and arrived very quickly. 5 Stars!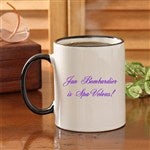 Great Gift
By
Shopper

(Arundel, ME) - December 15, 2011
This mug made a very nice gift. I got it for a co-worker for Secret Santa and had wrote "Dave's coffee, if found please return to his desk." Everybody loved it and wanted to know where I got it.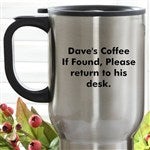 Love this Mug!
By
Mary K.

(Chesnee, SC) - December 14, 2011 (
See all reviews by this customer
)
Very well made and the writing is beautiful!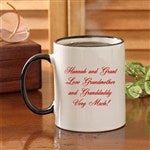 Great Quality
By
Dana L.

(Spartanburg, SC) - December 13, 2011 (
See all reviews by this customer
)
I absolutely love the mug I've ordered for my husband for Christmas. The mug is heavier than expected which is great, and the wording is on the mug where it will not peel off. I'm now waiting on my second order for five more mugs! I will definitely use this site in the future, as I love personalized gifts for myself AND others. The turn around time for shipping is excellent as well! Thanks again!!

Cherri's Review
By
Shopper

(Canada) - December 6, 2011
The mugs looked fantastic, so good that I ended up ordering another product.

Thanks a bunch and happy holidays!

"Between you and me....."
By
Shopper

(Horseshoe Bay, TX) - November 30, 2011
Ordering was a breeze, the comunication on it's status was very accessable. Thank you for making online shopping easy and especially this time of year. The cup was very professional done. Made my daughter in law very happy, and being it was personalized helped the bonding between us. Thank you.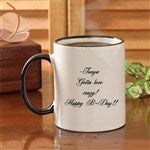 Personalized Coffee Mug
By
David B.

(Gackle, ND) - November 28, 2011 (
See all reviews by this customer
)
The mug had heft to it and was not delicate, and that is good as we run it through the dish washer. The writing on it came out perfect and we are happy with the way it looks and feels.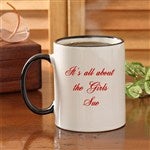 SO1X2
By
Shopper

(Ruskin, FL) - November 18, 2011
That was the nicest cups for us-we LOVE THEM and use them everyday now for our coffee-was supposed to be for Christmas Presents-but we did not wait--too nice to keep for a whole month-glad we ordered them-when I need more personlazition items-will buy from you-thanks again-PERFECT!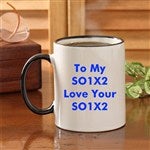 Travel Mug
By
Shopper

(Knoxville, TN) - November 14, 2011
This was as good as it looked online. It will make a wonderful Christmas gift. The lettering was perfect & made the mug look fancy.

Personalized Coffee mug
By
Shopper

(Phelps , KY) - October 23, 2011
The personalized message on the stainless steel mug was exactly what I was looking for in a birthday gift. This was a great gift because of its durability and dependability.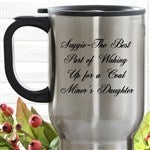 just like i ordered
By
Shopper

(roy, WA) - October 22, 2011
these mugs came fast and are good quality, very pleased will shop here again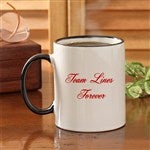 great travel mug!
By
Luz S. T.

(Miami, FL) - October 15, 2011 (
See all reviews by this customer
)
Gave this mug for my son's birthday, its very sturdy, the lid stays on pretty tight, the silver is beautiful and the lettering came out great, thanks!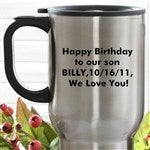 Exactly what I wanted
By
Karen M.

(Los Osos, CA) - October 14, 2011 (
See all reviews by this customer
)
Got a cup with a message concerning a future birth of a child. The cup arrived in a very timely manner and looks exactly like what I saw on the monitor when I ordered it.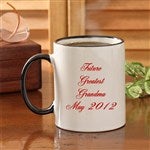 Personalized Cup
By
Michele S.

(Pottstown, PA) - October 6, 2011 (
See all reviews by this customer
)
The cup is BEAUTIFUL!!! Absolutely Beautiful!
Thaks so much. It's reallly neat how you can see the fiished product BEFORE you order it, although the photo didn.t do it justice. :) The red lettering makes it look so elegant.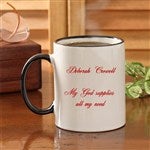 Excellent Mug
By
Robert L.

(Coventry, RI) - October 1, 2011 (
See all reviews by this customer
)
The mug was all that I expected and even more. It was personalized exactly as I had asked. The mug was a gift to a good family friend. She was especially impressed by the fantastic job that was done in gift wrapping of the mug. I would definitely do business with this seller again. The mug also was delivered to me in record time.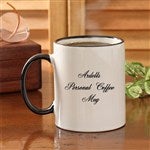 perfect lil something extra
By
agnes T.

(philadelphia, PA) - October 1, 2011 (
See all reviews by this customer
)
This is the perfect lil something extra gift, it looks great and the personalization makes it so special. I am sure all will love them.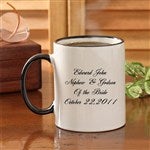 what a great mug!
By
Lisa-Marie W.

(milford, PA) - September 30, 2011 (
See all reviews by this customer
)
My bff and i live pretty far a part now....every morning when she has her coffe she will remember that i love her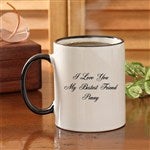 He Absolutely Loves These!
By
gail E.

(salinas, CA) - September 21, 2011 (
See all reviews by this customer
)
After 42 years I was reunited with my first love. Things have been just amazing for us. So great in fact, I wrote a poem for him entitled, You, Me and Mother (My mother thought I was too young to be "really" in love). Well, his birthday was in August. I bought 4 of these cups and had the first four lines of the poem inscribed on the cups; in sequential order; one to two lines on each cup. They came out beautifully! Personalization Mall did an excellent job of centering and placement of the words. I ordered red lettering in cursive. I have included a photo of the first cup with the first line of the poem. He loved them! He says that next to finding me again and my writing such a wonderful poem for him; this was the most special gift he has ever received. He has them displayed on a shelf in his den. Thank you, personalization mall, for giving us such a delightful way to add to our amazing love story!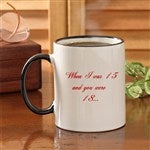 Turned out great!
By
Shopper

(Vermillion, SD) - September 19, 2011
Turned out exactly how I wanted it to.

Love them!!!
By
Shopper

(Bethel, CT) - September 9, 2011
We love our new 'Granny & Pa' coffee mugs! They are really nice, strong cups and the lettering was done very nicely! Thanks!